WAKE UP! HOSTEL SYDNEY CENTRAL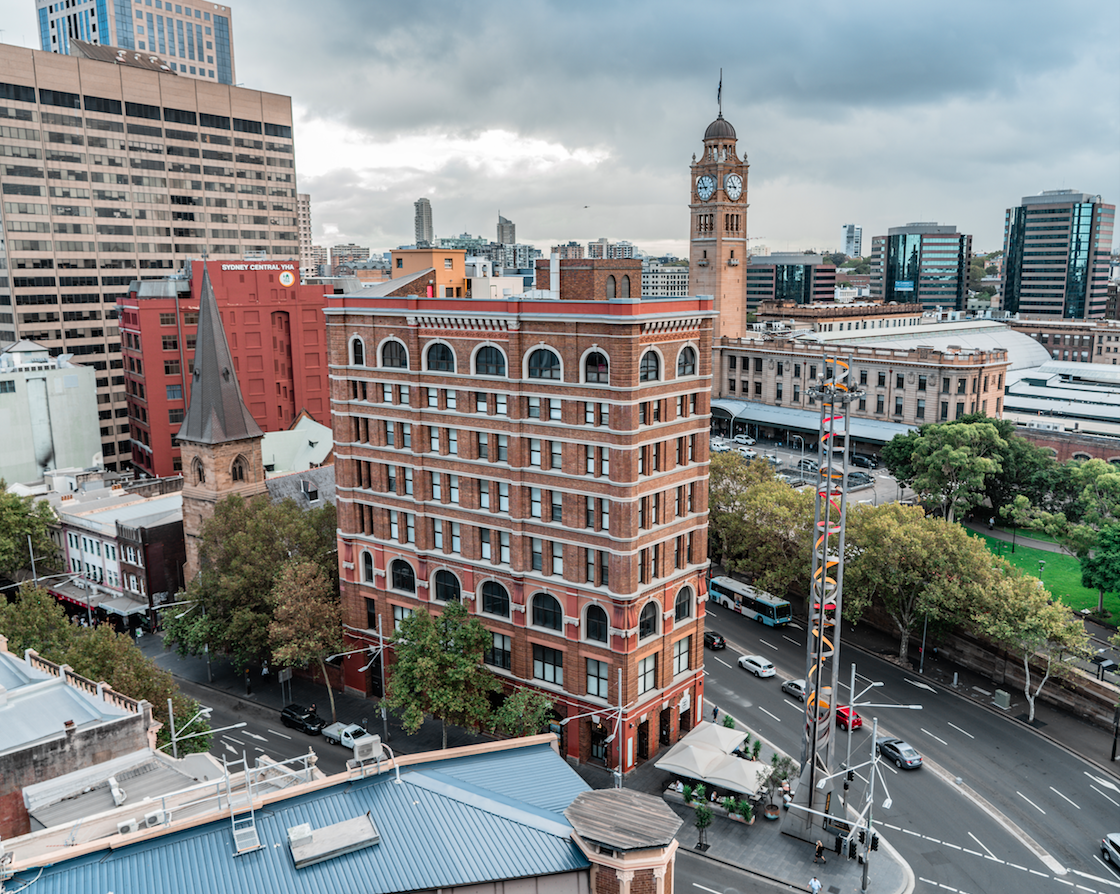 Wake Up! Hostel Sydney Central is located in the heart of the CBD, right next to the Central Station.
Wake Up! Hostel Sydney Central is a 540 bed hostel located in an old iconic building in the heart of CBD – with its own bar, restaurant, café and travel agency. Having traveled around the world and stayed in more hostels than we dare to count, we can easily say that this is one of the best hostels we have ever stayed at. And something like that doesn't come easy. Self-proclaimed or not – we totally agree with that this is Sydneys best backpacker accommodation, and if the above mentioned USPs is not impressive enough, then there is the location itself, right next to Sydney Central Station.
Now, we have travel almost the entire East Coast in Australia and usually live in our campervan, but once in a while we like to mix it up with either a stay at a hotel or in this case a hostel so that we get to meet people from all over the world and socialize a little bit. Whether you are looking to meet interesting people or simply have a wonderful stay in a great hostel – this is a must when visiting Sydney on a budget.
We stayed in a private room located on the 6th floor with a beautiful view over the central station and the crossing of George St and Pitt St. It was spacious and equipped with a comfortabel double bed/bunk bed as well as a TV for those cozy movie nights. We absolutely loved our stay in this room and stayed for a whole week, but could easily have stayed longer.
In the hostel you can of course also find other accommodation options such as mixed dorm rooms and so on. The possibilities are endless and so is your options for having a fantastic time.
The kitchen is located on the first floor with plenty of space to both store your food and cook it. With its fresh and modern interior this area in the hostel is a nice place to chill with a cup of tea and a nice book, as well as having your breakfast, lunch and dinner.
The kitchen common area is one of the locations for those lovely wine and cheese nights as well as a gathering point for anyone looking to join the pub crawl or other activities.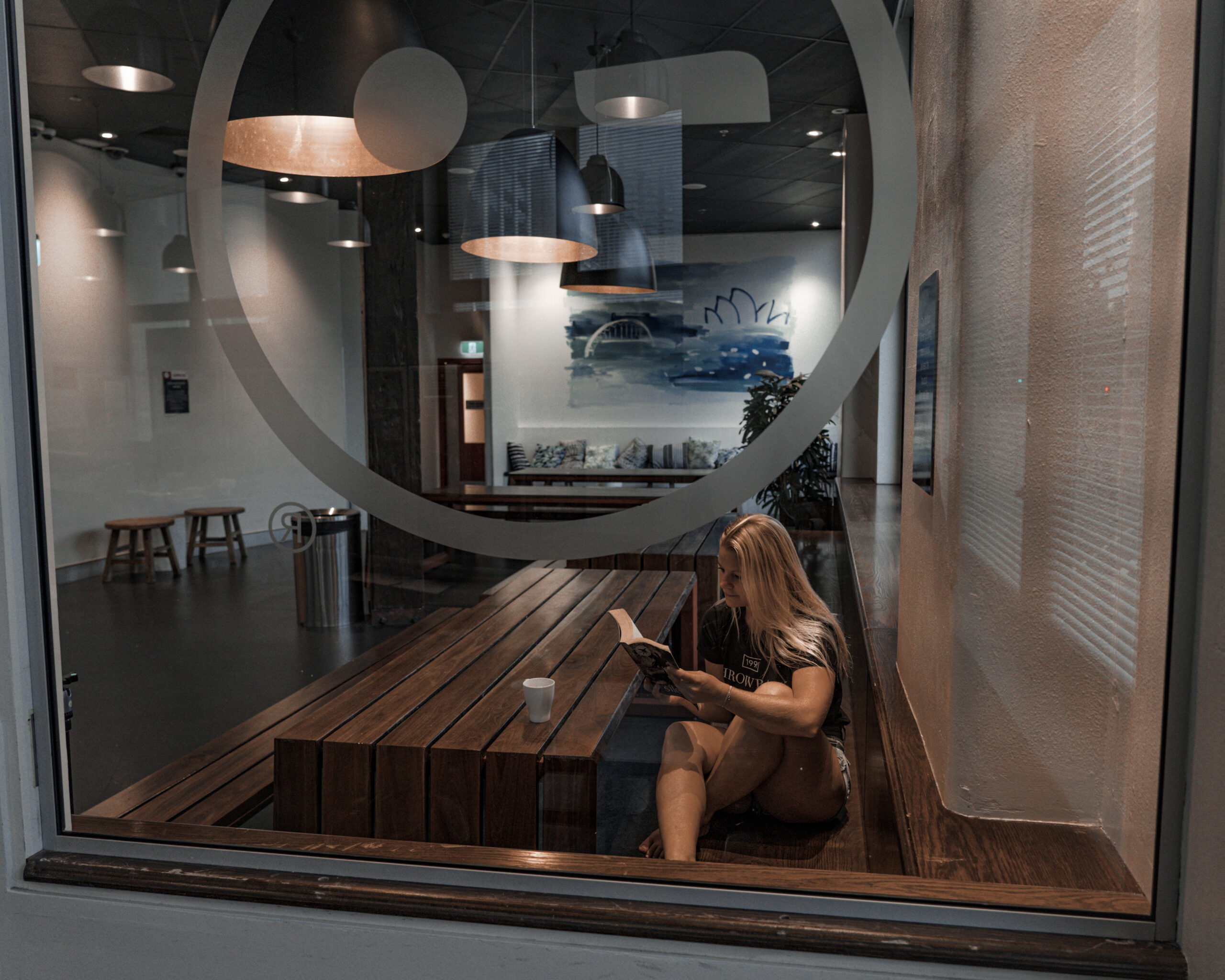 Sofia enjoying an exciting book in the kitchen common area.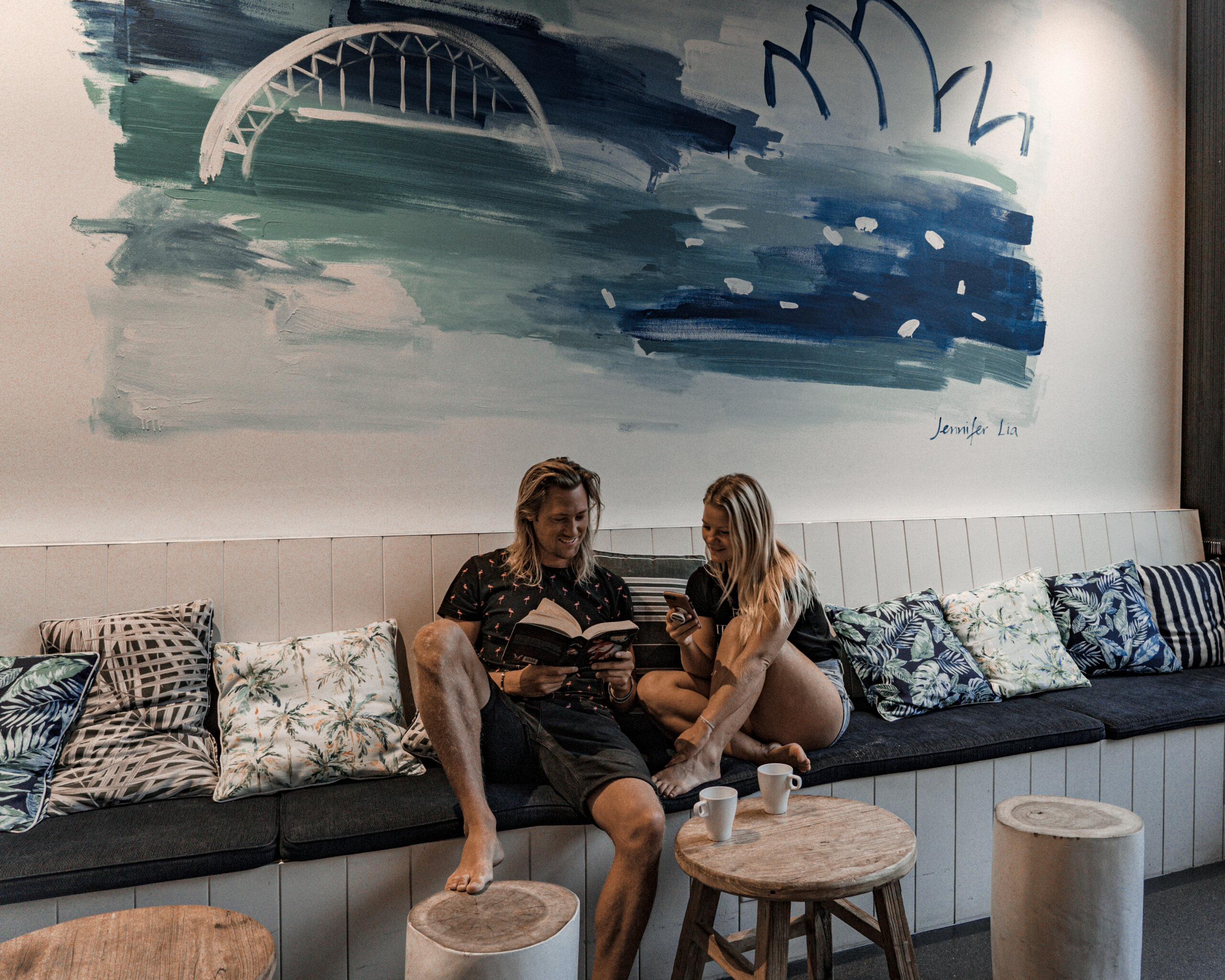 Offering probably one of the best pizzas we have tasted on our journey through Australia – Roy's Café is located at ground floor level in the corner where Pitt St and George St meet and has the big city pulse on both sides. Here you will have plenty of options to choose from on the meny and we recommend winding down with a beer and pizza just listening to the hectic city life.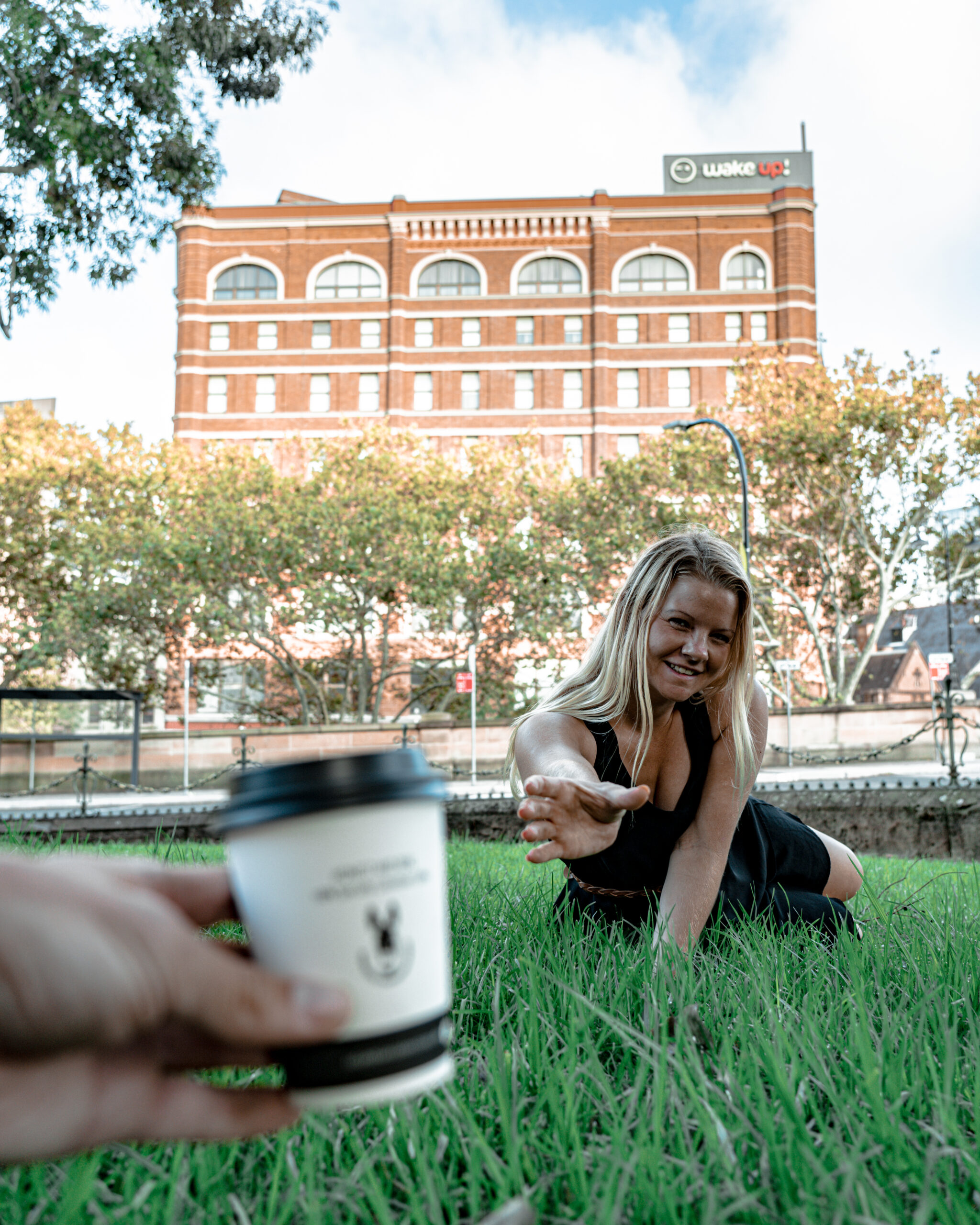 Take away coffe from Roy's Café.
Located in the basement beneath the lobby and Roy's Café you'll find the Side bar – which is Sydney biggest and busiest backpacker bar. THE place to either start a night out or finish it. Plenty of space with a huge bar and the perfect sized dance floor to show off some moves. Every day there is themed events as well as a DJ playing a range of different kind of music to suit everyone. This is where you end up after the pub crawl and it sure is the perfect finish to an epic experience.
One of the great things about Wake Up! Hostels Sydney Central is the activities. There is a new activity each day of the week, and it can be everything from pizza night, to pub crawl, trivia Tuesdays or wine and cheese party. You'll definitely want to join in on these activities since they are the perfect way to find new friends and maximize your overall experience with Wake Up!
Although we didn't use it ourselves Wake Up! Hostels Sydney Central actually has its own travel agency – Travel Up! – located right next to the reception. If you are already thinking about your next adventure then this is the place to turn. They will help you with booking day trips or even packages with set itinerary for your travels along the East Coast.
The cozy area located between the travel agency and the reception. 
One of the best, if not the best locations in the city – right next to Central Station with a myriad of things to do in the close vicinity. Its easy to get here and easy when you unfortunatley have to leave – no matter if you are traveling by bus, taxi, train or on foot.
Wake Up! Hostels Sydney Central is located within walking distance to Paddy's Market, Darling Harbour, Sydney Fish Market, Kings Cross and many other places. If you don't feel like walking, there is of course always the easy access to the bus, train or trams.
So, you have decided you want to stay here upon your visit to Sydney. Excellent choice! Its simple from here really – all you do is either surf to Wake Up! Sydney Central Hostel website right here, or click the button below to book your accommodation. You won't have to worry at all about not having a wonderful time, but rather how long time you'll want to stay.
THANKS FOR READING OUR BLOG ♥
Hi! We are Sofia and Fredrik - and we have been traveling
the world for more than 10 years. We live a travel lifestyle
and create travel content as bloggers, photographers and
digital nomads. Our aim is to inspire you to explore the world
and enjoy the freedom that comes with it.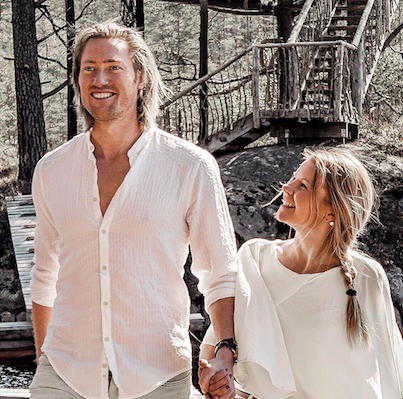 Copyright © 2019 Vagabonds of Sweden. All rights reserved