Whenever we travel the world we always utilize the services of the companies that are listed below. From booking accommodation and flights to investing in a good travel insurance and gear – these companies usually provides the best deals on the market and will help you have a wonderful travel experience. We are more than satisfied with what they offer and we believe you will be too. Chances are you are already using them when you travel. 
Make sure you stop by our website when planning your trip to see any available updates. Each company logo is clickable and will direct you to their website. We only recommend the best, in no particular order. 
When it comes to booking accommodation these are the best companies that offers the best deals for any type of accommodation you are looking for.
One of the best booking sites on the market and always our first go-to source. They have 1.3 Million properties in over 200 countries.
The world's number one hostel booking website – with the largest inventory, best search interface and highest availability.
If you wanna stay with the locals and get a local vibe of a city – Airbnb is by far your best resource when searching for apartments.
When you wanna meet the locals and sleep on their couches or spare rooms for free. Yes, for free.
Agoda is one of the world's fastest-growing online travel booking platforms. If you are looking for accommodation in Asia – this is where to look. 
Here you can bid on hotels and save a lot of money instead of booking directly. You can save up to 60% on Priceline Hotels with express deals.
Booking flights can be time consuming and there is no need to search the whole web trying to find the best deals.
Momondo is a travel search engine that searches over 1000 airlines, online booking sites, travel agencies, search engines and other online travel discount sites.
Skyscanner is a leading global travel search site, a place where people are inspired to plan and book direct from millions of travel options at the best prices.
Expedia is part of the Expedia Group – the world's travel platform. You can search over a million flights, hotels, packages and more. Include this site in your flight search.
An excellent flight search engine to start with. Here you can enter your departure airport – see flights all over the world in a map – and find the cheapest destination.
World Nomads covers almost every activity imaginable. Their plans are comprehensive and designed for adventure and long-term travelers.
The best travel insurance for on-the-go travelers who want optimal coverage with excellent rates.
It is one of the few travel insurances that you can obtain and extend while on the road. It can save you thousands of dollars. Don't leave home without it.
If you are planning to start your own blog then DreamHost and Bluehost offers some of the best deals for web hosting services worldwide.
1.5 Million websites rely on DreamHost to power their dreams. With nearly 20 years of hosting experience, DreamHost focus on successful sites for web designers, developers, bloggers and online businesses. Their community and support helps you create a website fast and easy!
Powering over 2 Million websites worldwide – Bluehost is a leading web hosting solutions company. Bluehost has continually innovated new ways to deliver on their mission: to empower people to fully harness the web.
Intrepid is the world's largest provider of adventure travel experiences and Viator is the world's leading resource for researching, finding and booking the best travel experiences worldwide.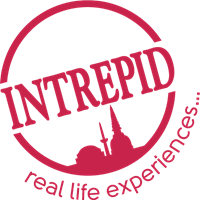 Intrepid is part of the Intrepid Group – specialized in creating immersive, off-the-beaten-path adventures for every type of traveler – from the young to the young-at-heart – with over 1000 itineraries in 100 countries catering to all budgets, travel styles, and appetites for adventure.
Viator is the industry leader in online tours and activities. They've helped travelers discover millions of experiences in more than 1300 destinations worldwide since 1999. They connect travelers to great experiences—from traditional sightseeing tours to once-in-a-lifetime moments.
When you are planning your next trip it helps knowing where to look for guidance and read reviews from fellow travelers.
The best travel review site out there. With over 500 million candid traveler reviews, we can help you make the right choice when you shop for hotels, restaurants, and attractions. Read about what others are saying and easier make your decision. 
Find guidebooks for the country and city you are about to visit and uncover the top sights and most authentic experiences.
When you are not traveling by air – the best ways to see a country is by traveling overland either by bus, train or car.
The number one distributor of train tickets and rail passes in Europe. Traveling by train is the best way to see the wonders of Europe, large and small. And with Rail Europe, you can choose from 35+ countries and 15,000+ cities and towns, as well as the widest selection of train tickets and rail passes.
Arranging car hire in 160 countries and 42 languages, Rentalcars.com is the world's biggest online car rental service. Working with leading suppliers such as Herz, Alamo and AVIS – they offer great prices on all car groups, including luxury cars, people carriers, minivans and automatic cars.
From the world's trusted currency authority to free offline maps worldwide – these resources are invaluable while on the road.
XE.com is the world's most popular currency site – with 280 Million visitors a year. You can easily check up to date currency exchange rates.
Maps.me – offers detailed offline maps of the whole world. Its perfect for the times when
We use top quality gear from companies like Icebreaker, Marmot, Haglöfs, Eagle Creek, Bear Grylls and Sea to Summit.
REI offers great products for outdoor recreation – such as sporting goods, camping gear, travel equipment and clothing gathered in one place from the above mentioned companies.
We use some of most awarded products on the market including but not limited to Sony A7III, GoPro, DJI Mavic Air and MacBook.
Copyright © 2021 Vagabonds of Sweden®. All rights reserved