The Royal Suite at InterContinental Sydney Double Bay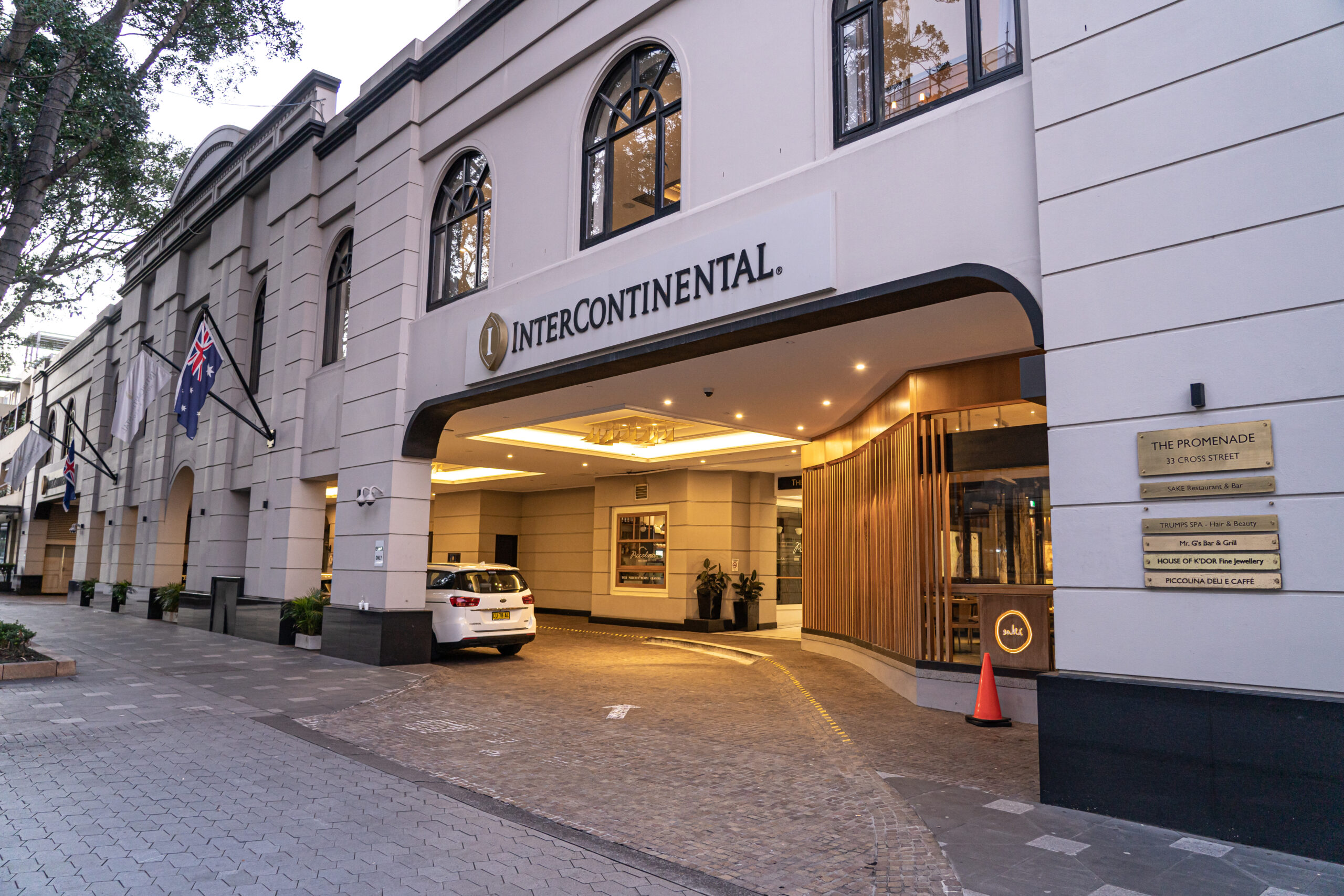 The award-winning, five-star InterContinental Sydney Double Bay is a luxury boutique hotel featuring 140 light-filled and spacious guestrooms and suites with private balconies and courtyard garden views overlooking the yacht-dotted bay or village. This is Sydney´s most exclusive bayside retreat located in the Eastern Suburbs village of Double Bay. We stayed two nights in The Royal Suite and have never experienced anything quite like it. It's not often we feel like spending more time in the actual suite than out there exploring the city. Its like a home away from home, only a whole lot more extravagant.
InterContinental Hotels Group (IHG) is one of the largest hotel chains in the world with many luxury hotels under its umbrella, but a stay here in Double Bay surely is in a league of its own. Here you'll be pampered with world-class service and greeted by the warmth and friendliness of the highly professional staff and the "InTheKnow" Concierge team. No matter where you go in the hotel you are embraced with and subtly caressed by the unique signature fragrance of InterContinental, a scent with a touch of sophistication blended together with elegance in a way we have never felt before while staying at a hotel. It sure had that five-star luxury feel to it and it's only one out of several memorable experiences that we brought home with us.
The Royal Suite is InterContinental Sydney Double Bay's most luxurious suite with four balconies overlooking the marina and 167sqm of elbowroom. This magnificent apartment consists of a spacious lounge, dining room with butler's kitchen, bathroom and powder room, study room and bedroom. It's the ultimate indulgence at a cost of around $3000 per night and staying here you will undoubtedly feel like royalty.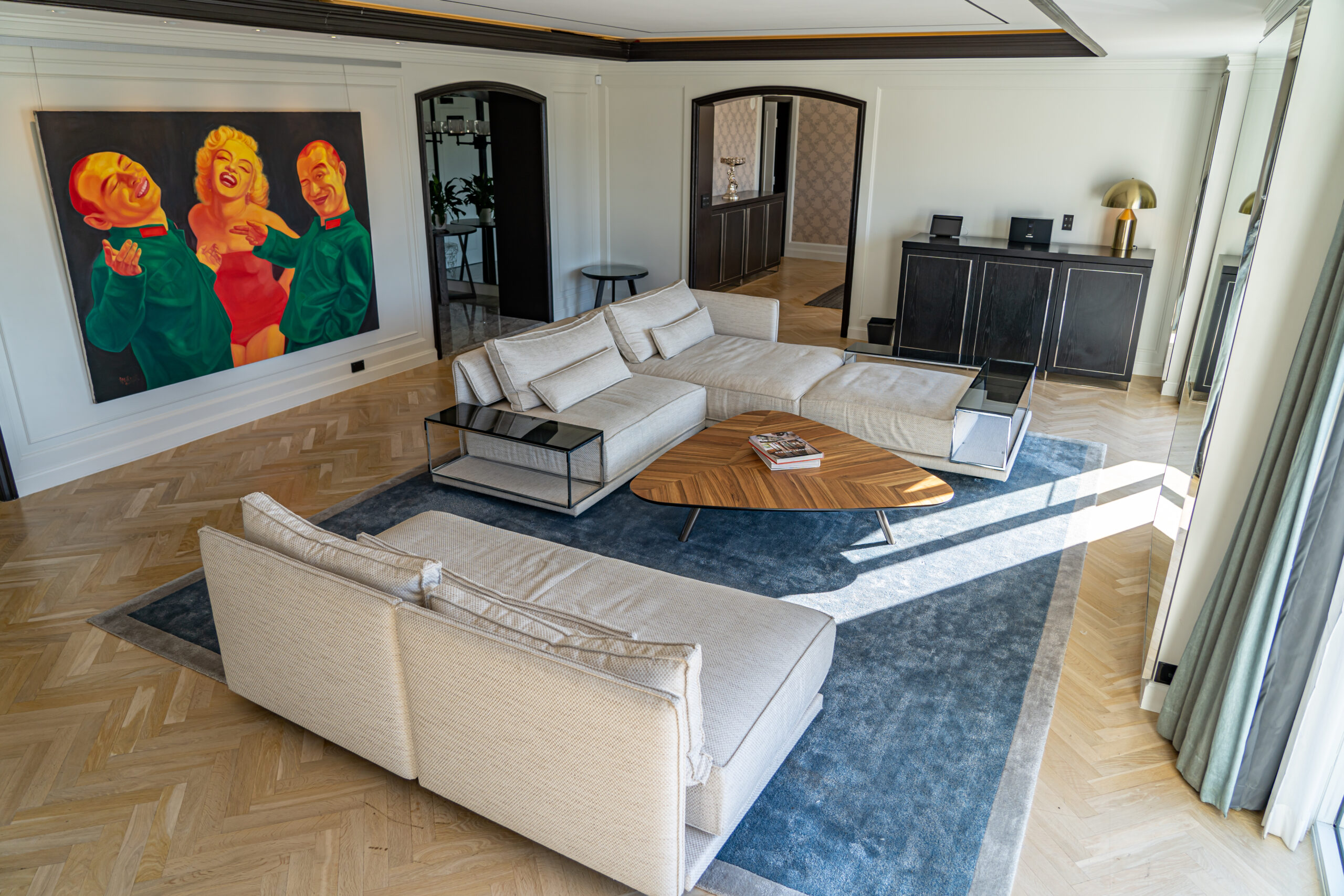 The Royal Suite – something more than your ordinary luxury suite.
Upon entering The Royal Suite for the first time the curtains and shades were syncronized to open up in all the rooms at the same time revealing extraordinary views over the bay with its many sailboats. Talk about a grand entrance that is certain to leave a lasting impression.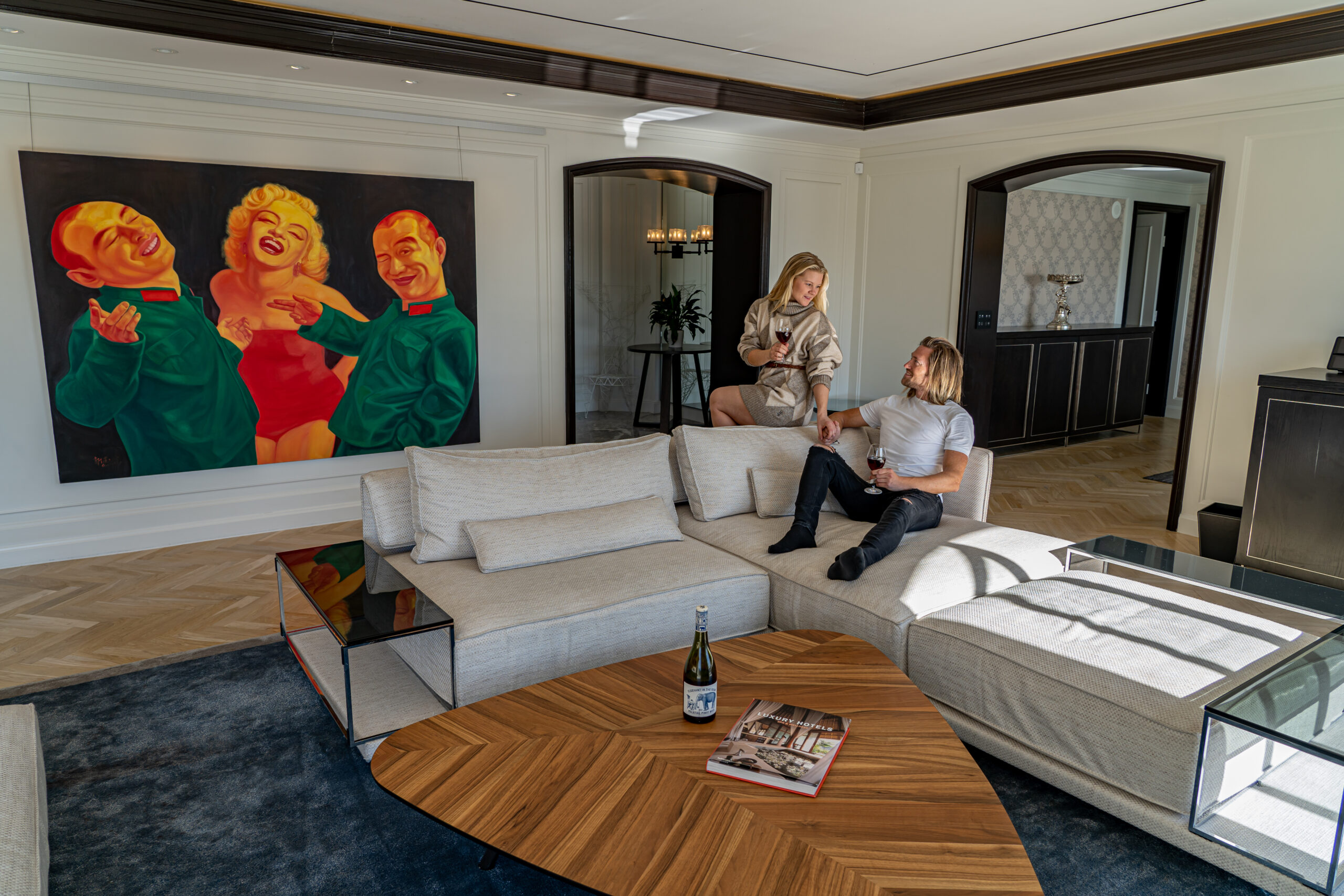 Relaxing in the lounge after a day full of adventure.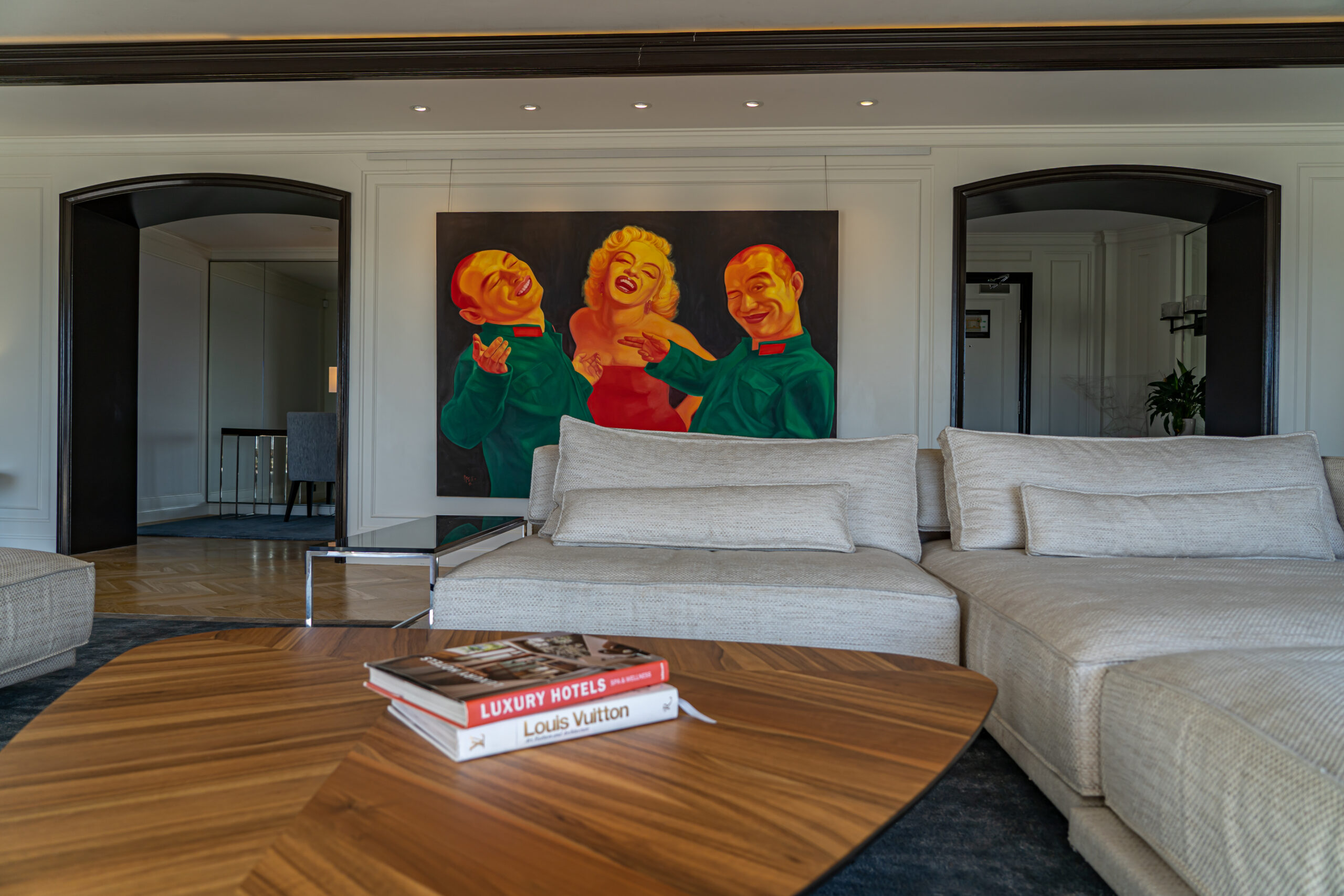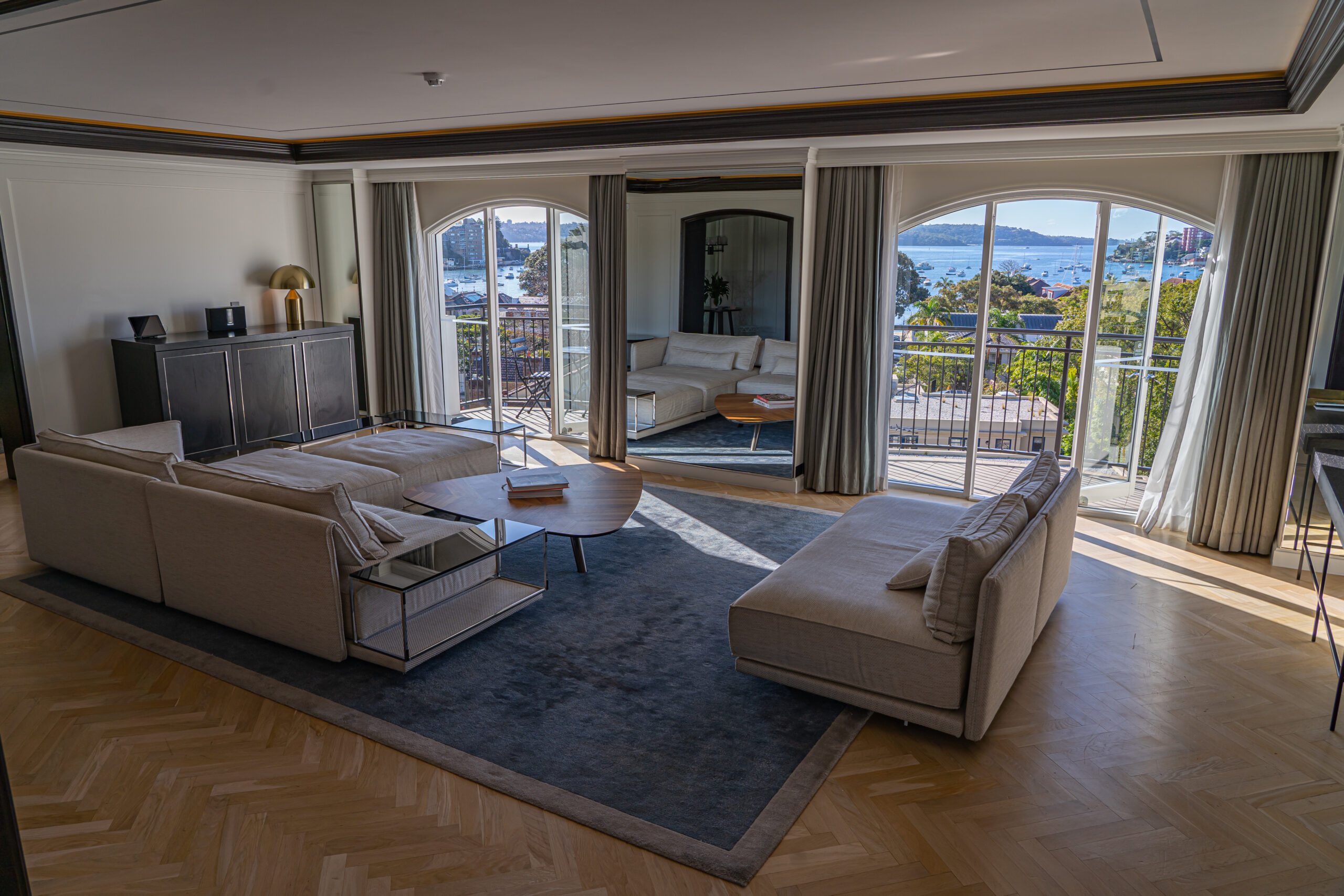 Million dollar views from the comfort of your sofa.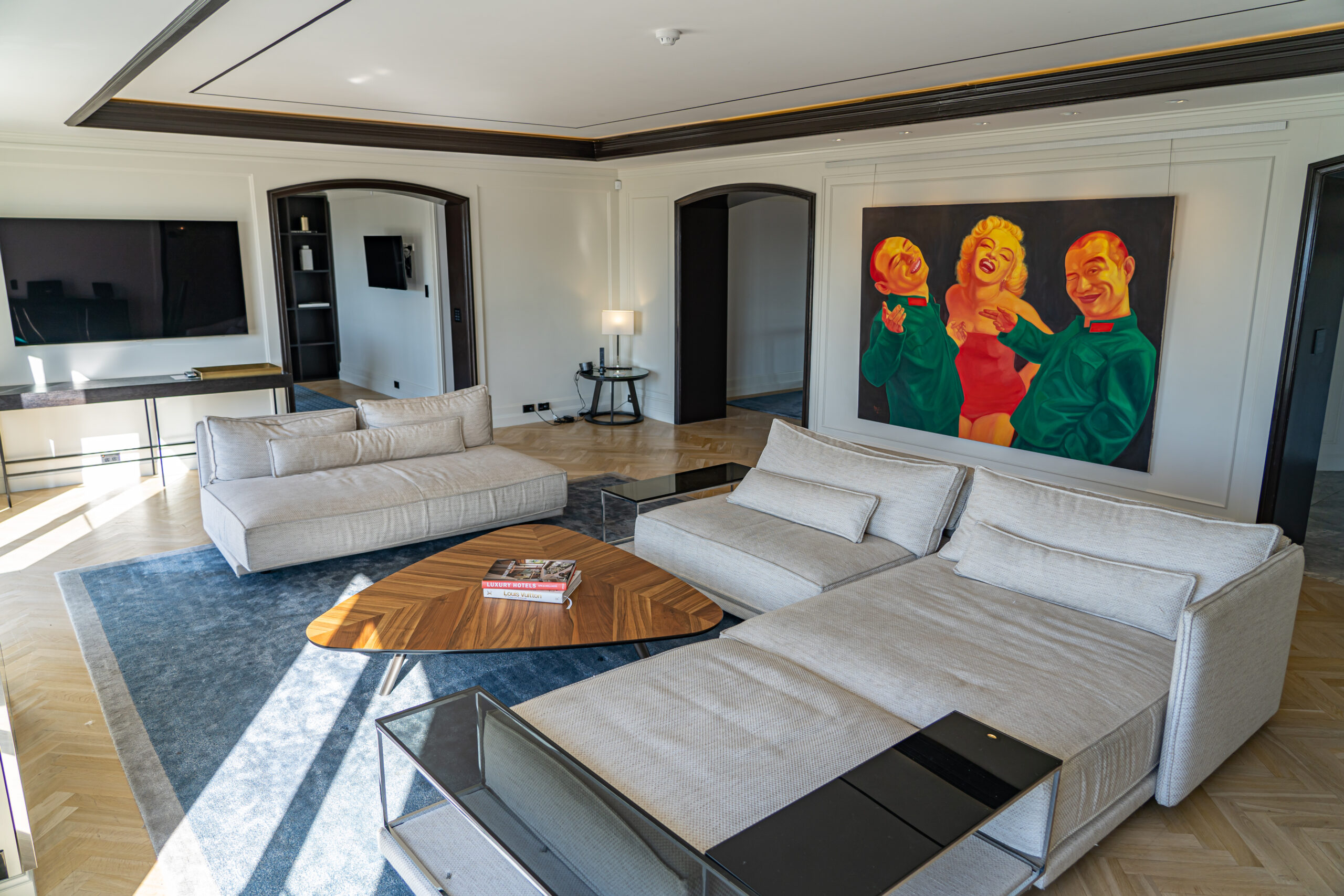 You'll find state-of-the-art technology such as touch screens and iPads – where you could easily access the hotel services, control your environment and comfort and have everything at your disposal with the touch of a button. This inbuilt system let's you personalize your experience and control not only the lighting and air-conditioning but also open or close the shades and curtains. On the iPad you could order food to your suite, read about activities in the vicinity, control the music system or find out information about the hotel and so on.
The large and luxurious lounge combines chic and elegant furnishings with a lot of breathing space and light-filled interior. It was decorated with a comfortable big sofa as well as a two seater perfect for either mingling or those lazy days when you feel like receiving entertainment through the flat screen TV which offers cable television and in-room movies.
The cozy lounge in the evening light.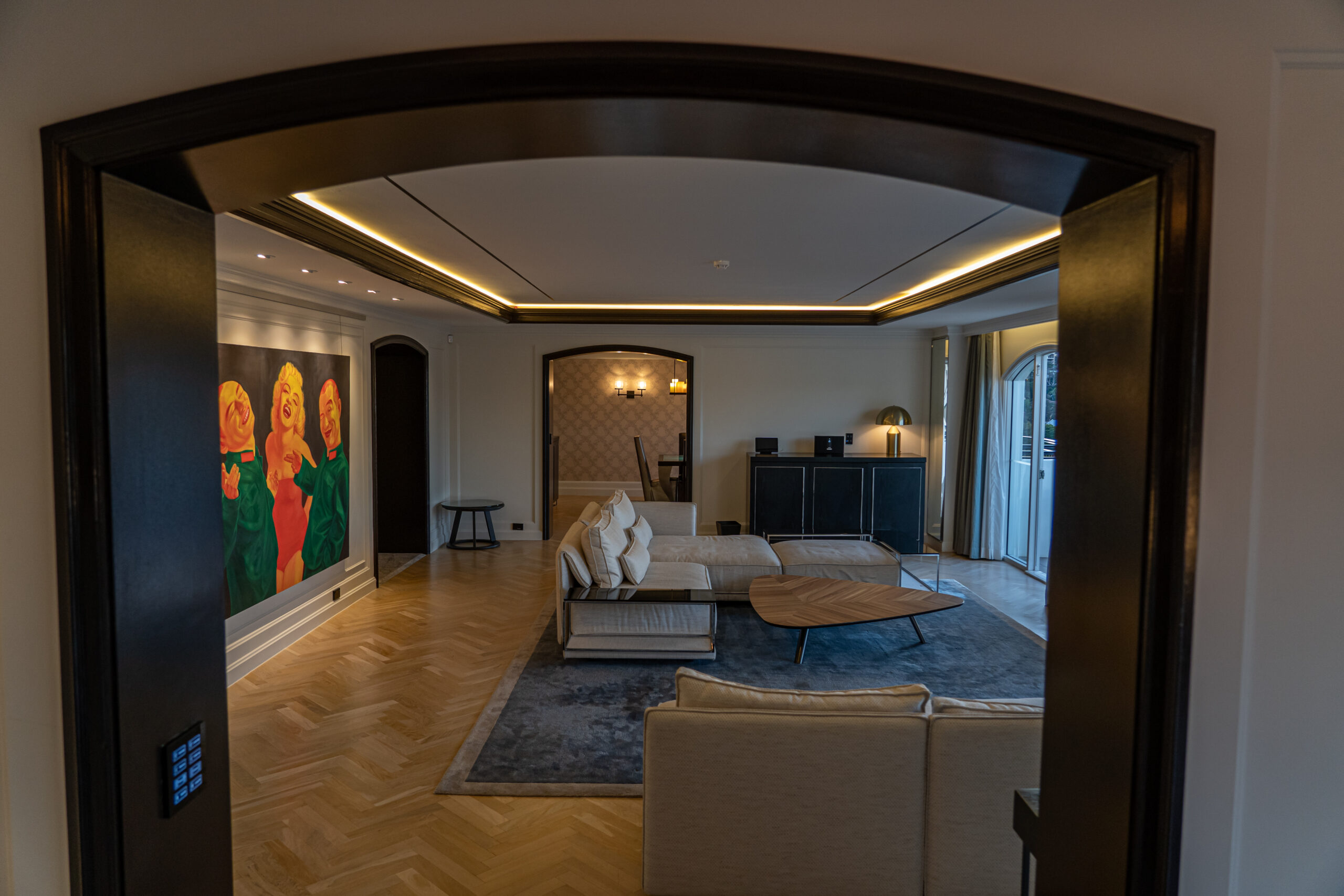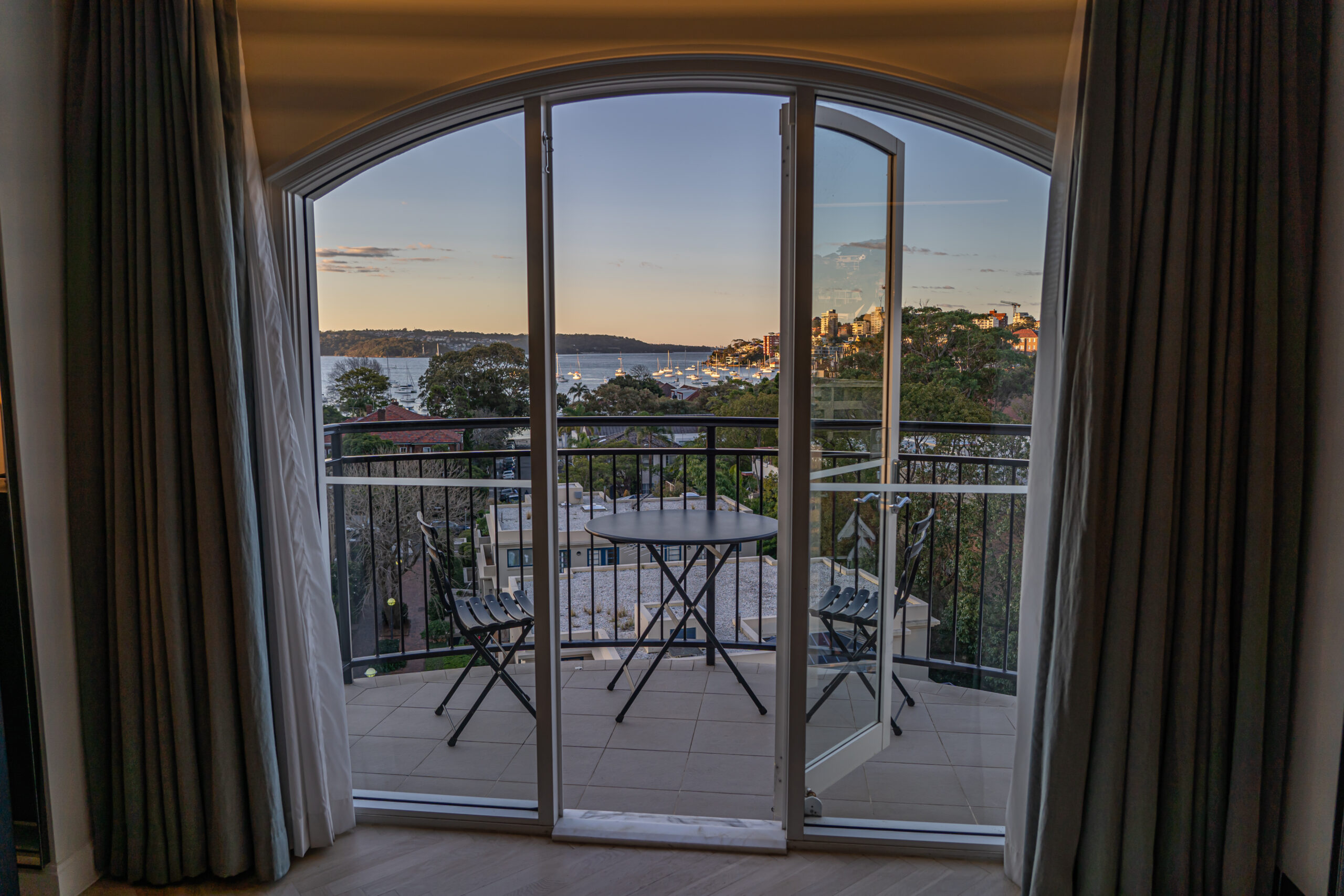 Sunset views over Double Bay.
The lounge opens up to two balconies facing the bay and connects directly to the dining room and study room on each side. Easily the place after the balconies to just unwind an have a glass of wine. Just sitting in the sofa enjoying the spectacular views overlooking the bay was actually quite relaxing in itself and something we took advantage of as often as we could.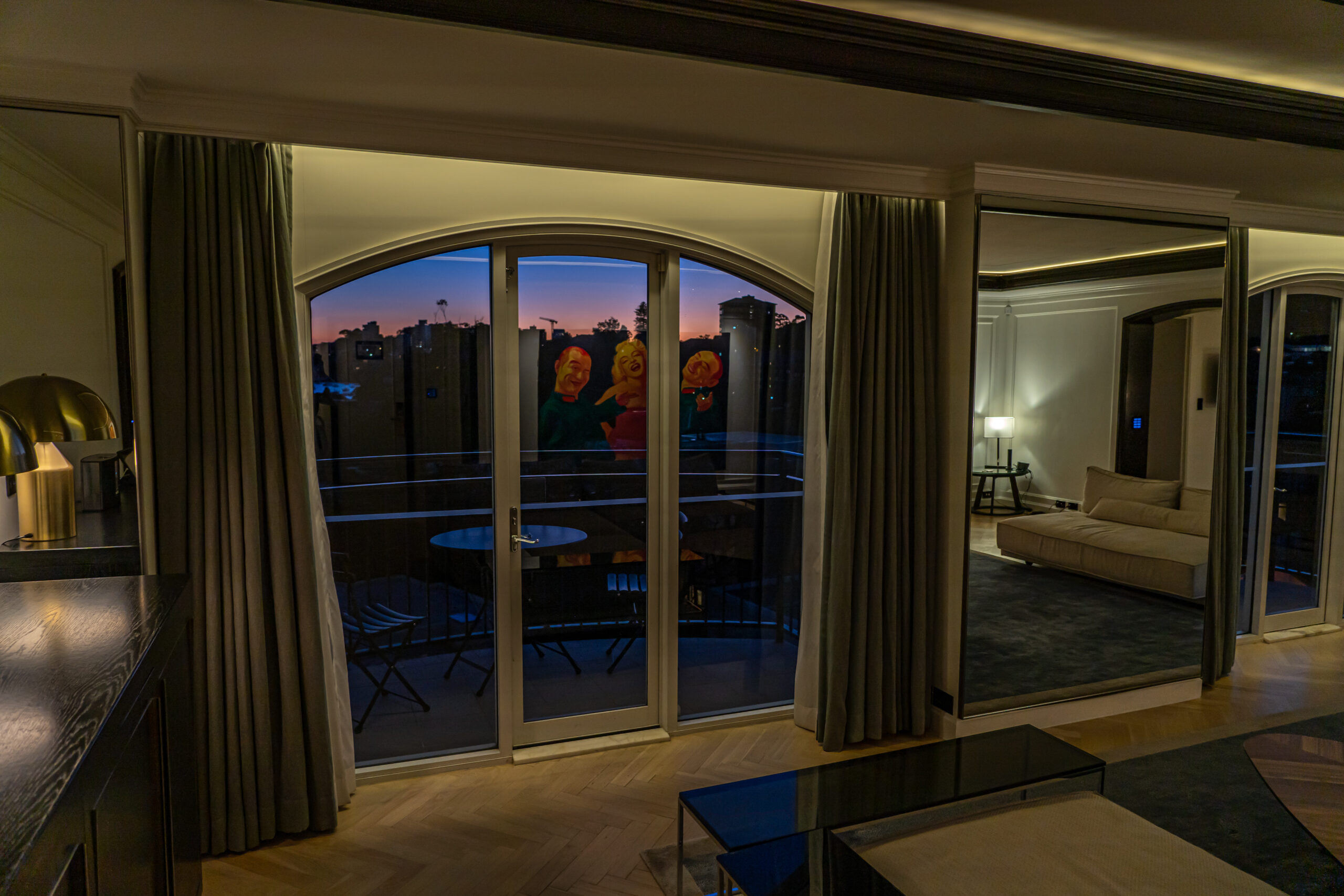 We went up early one morning and were greeted with beautiful colors over Double Bay.
The bedroom is made up of one extremely comfortable King Size bed, a sofa, flat screen TV and on the nightstands you'll have access to the same high-tech as in the other rooms where you can turn the lights of in the bedroom or why not close the curtains when you have just crawled under the sheets – simply by pressing a button on a device. Couldn't be easier or more comfortable. 
Extremely comfortable King Size bed with accompanying village views.
We took the liberty of utilizing room service to order breakfast one morning and started to wonder why we haven't done this more often. It went so smooth and the breakfast was as good in bed as down at the restaurant.
Breakfast in bed with high comfort and exquisite tastes – thats the way to start your day.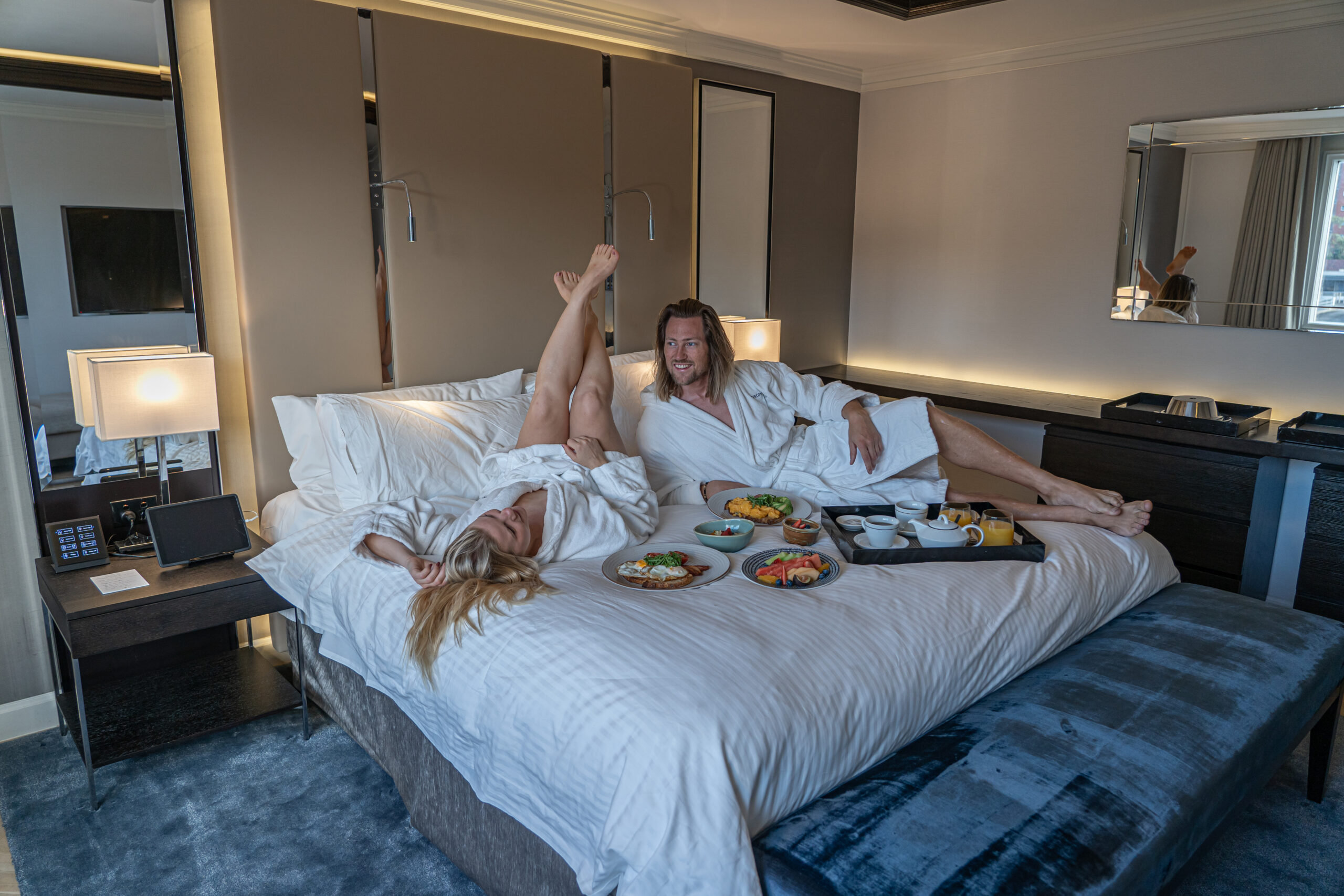 DINING ROOM AND BUTLER'S KITCHEN
The separate dining room features an eight-seater dining table perfect for hosting bigger get togethers between family, friends or why not colleagues. It offers direct access to one of the balconies and of course fabulous views over the bay.
The eight-seater dining table with fabulous views over the bay. 
There is also a butler's kitchen for dinner preparations or serving snacks and beverages. It's not the biggest kitchen, but anyone rich enough to stay in The Royal Suite a couple of nights will most likely eat out every night anyways and therefore don't need a kitchen equipped with all the necessary cooking utensils.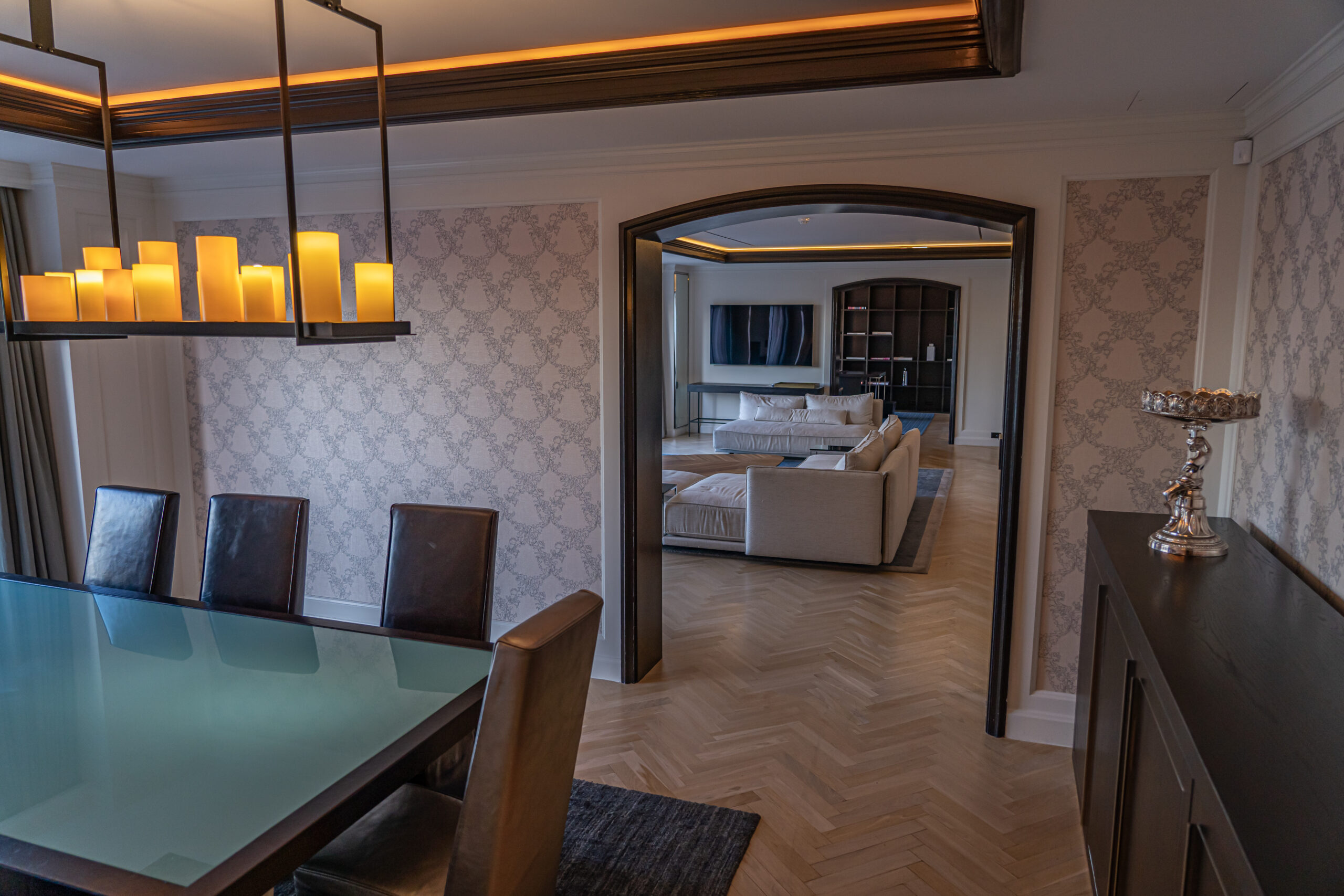 Separate dining area, with Butler's Kitchen to the right and Lounge and Study Room straight ahead. 
With four balconies to choose from, of which two of these are furnished – all balconies are easily accessible via the dining room, lounge and study room, and you are guaranteed stunning views over the bay no matter which one you pick. If you stay for four days, you could even choose a new balcony every day just for the sake of it.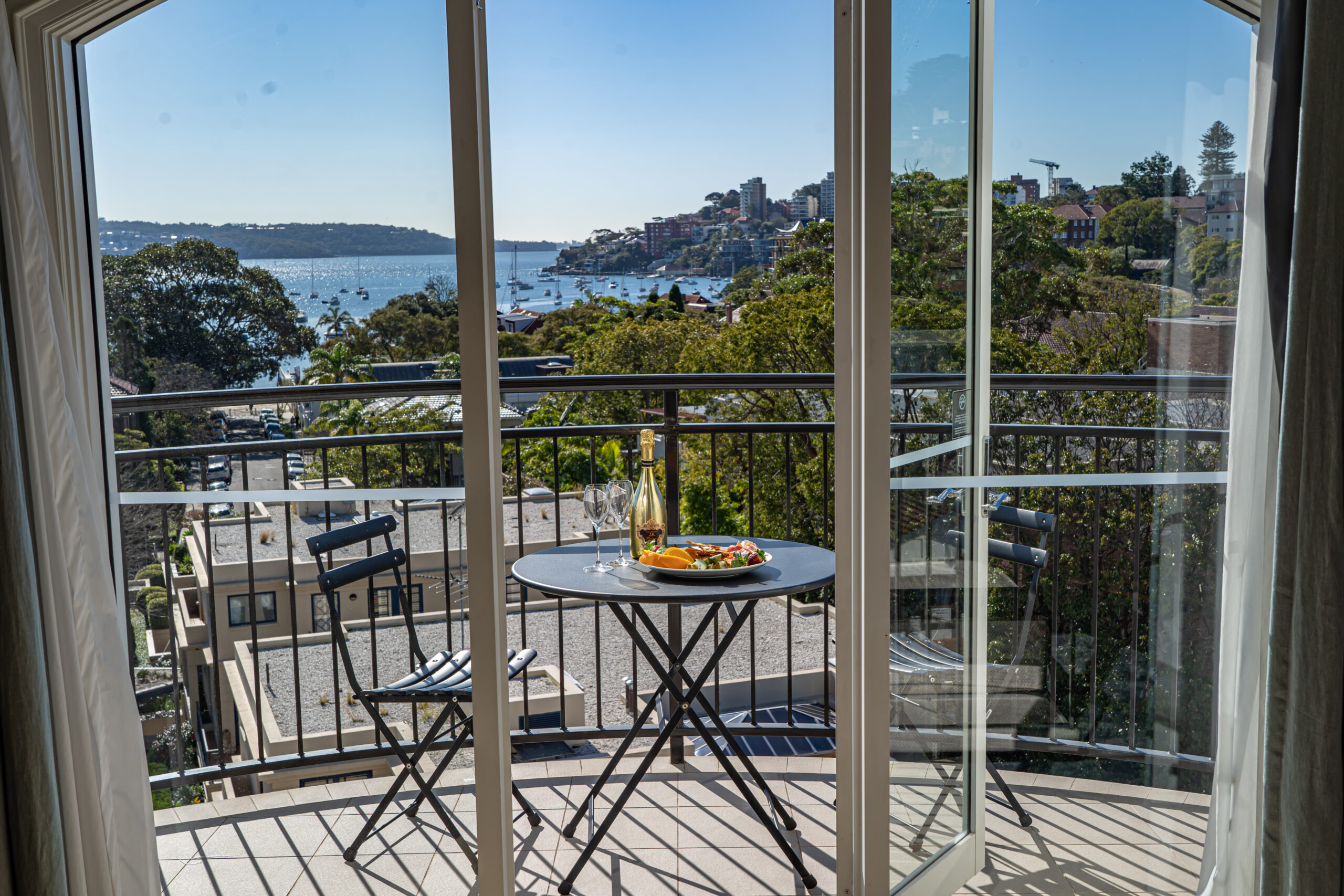 We enjoyed a glas of wine and some cheese and crackers on one of the balconies and were even lucky enough to have fantastic weather during our stay. It really is a mesmerizing view over Double Bay and the sunsets and sunrises doesn't exactly make it worse. Along with views over the close by roof tops and the beach you'll have a direct overview of all the yachts and sailboats in the bay.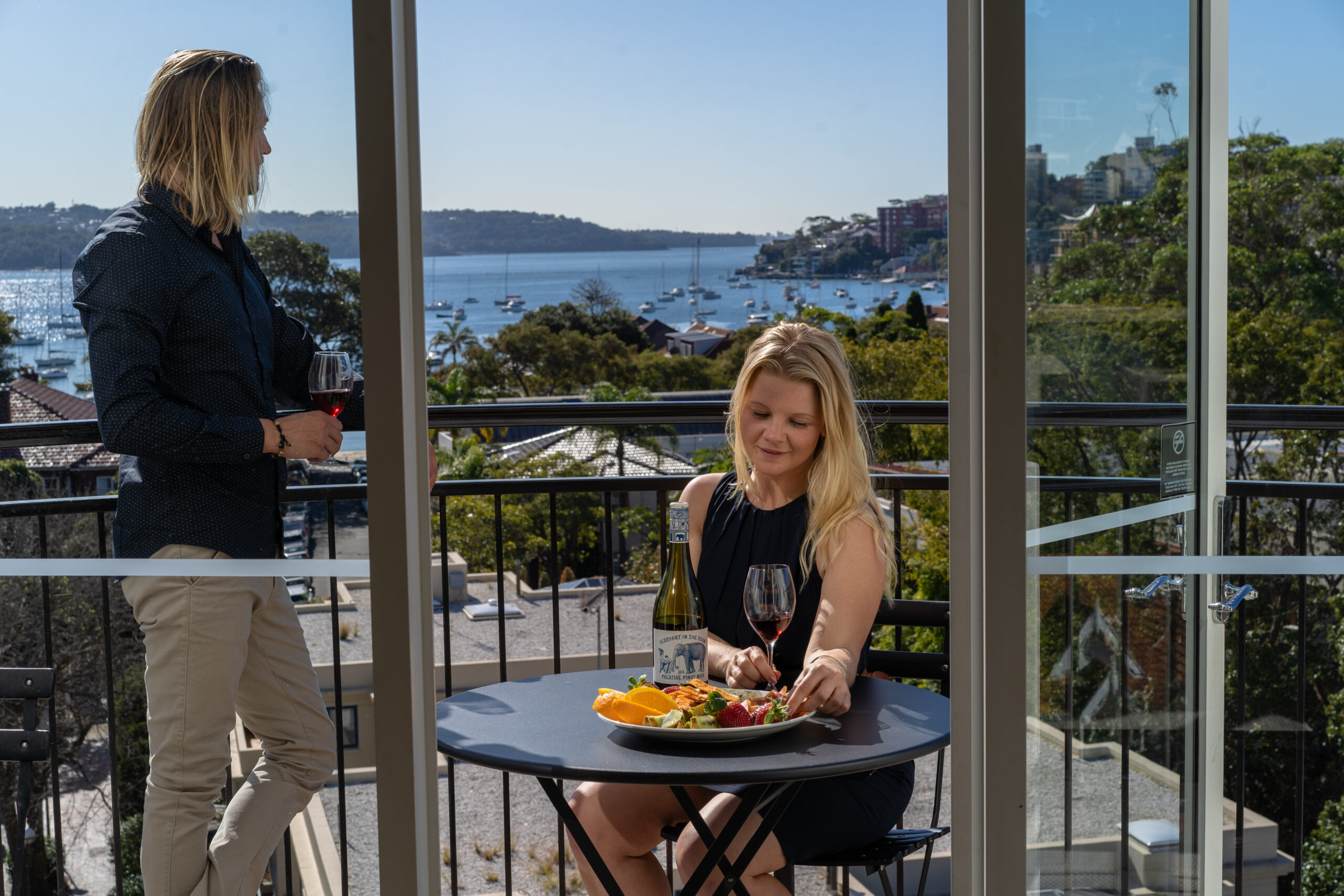 No luxury stay is complete without cheese, crackers, fruits and wine on the balcony. 
With THAT view! The yacht-dotted bay sure made the perfect backdrop. 
Sunset colors from the Study Room balcony.
Nothing like a cup of coffee in the morning as you welcome the sun and a new day full of opportunities.
The perfect work space for anyone doing some business while traveling or just a library to relax and read a book in the comfortable armchair. You even have your own TV if you get lazy.
The perfect work space. Gotta love a desk where you can sit down and roll up your sleeves. 
The study room opens up to its own furnished balcony. Be careful once you sit down here though so that it does not end with you not getting anything done due to the fact that it will be hard not to let your eyes wander dreamily towards that bay.
View from the Study Room, with Lounge and Dining Room straight ahead. The bedroom is located to the left following a corridor.
In The Royal Suite there is one small and one large ensuite bathroom which also connects to the separate bathtub and shower. In the large bathroom decorated with polished Italian marble and double vanity you have a walk-in dressing room with closets and a powder room.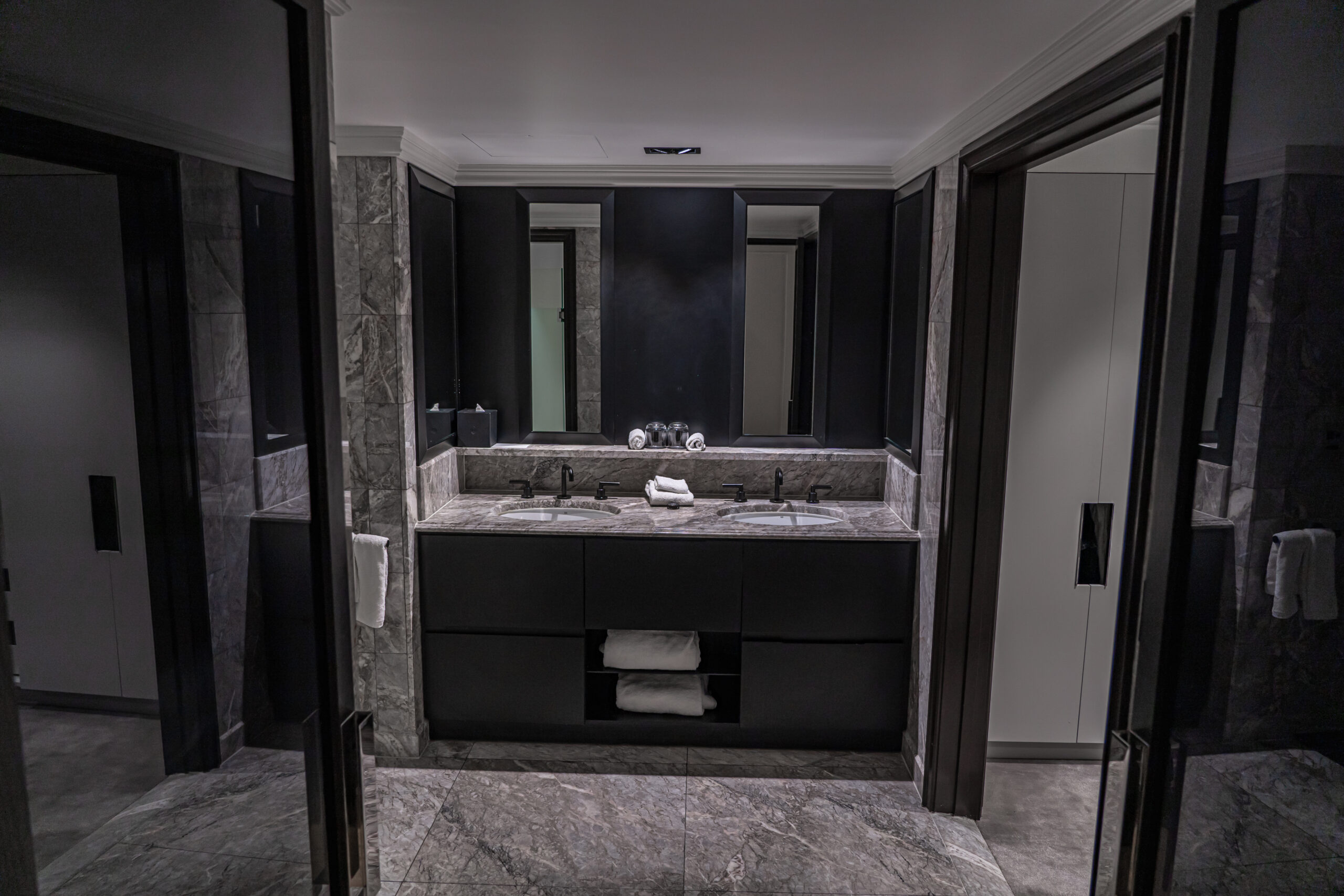 The large ensuite bathroom with double vanity. Walk-in dressing room to the right and the bath, toilet and shower to the left.
Why not enjoy a nice bath or a shower using the Appelles Apothecary and Lab Amenities which consists of native essential oil blends and powerful extracts.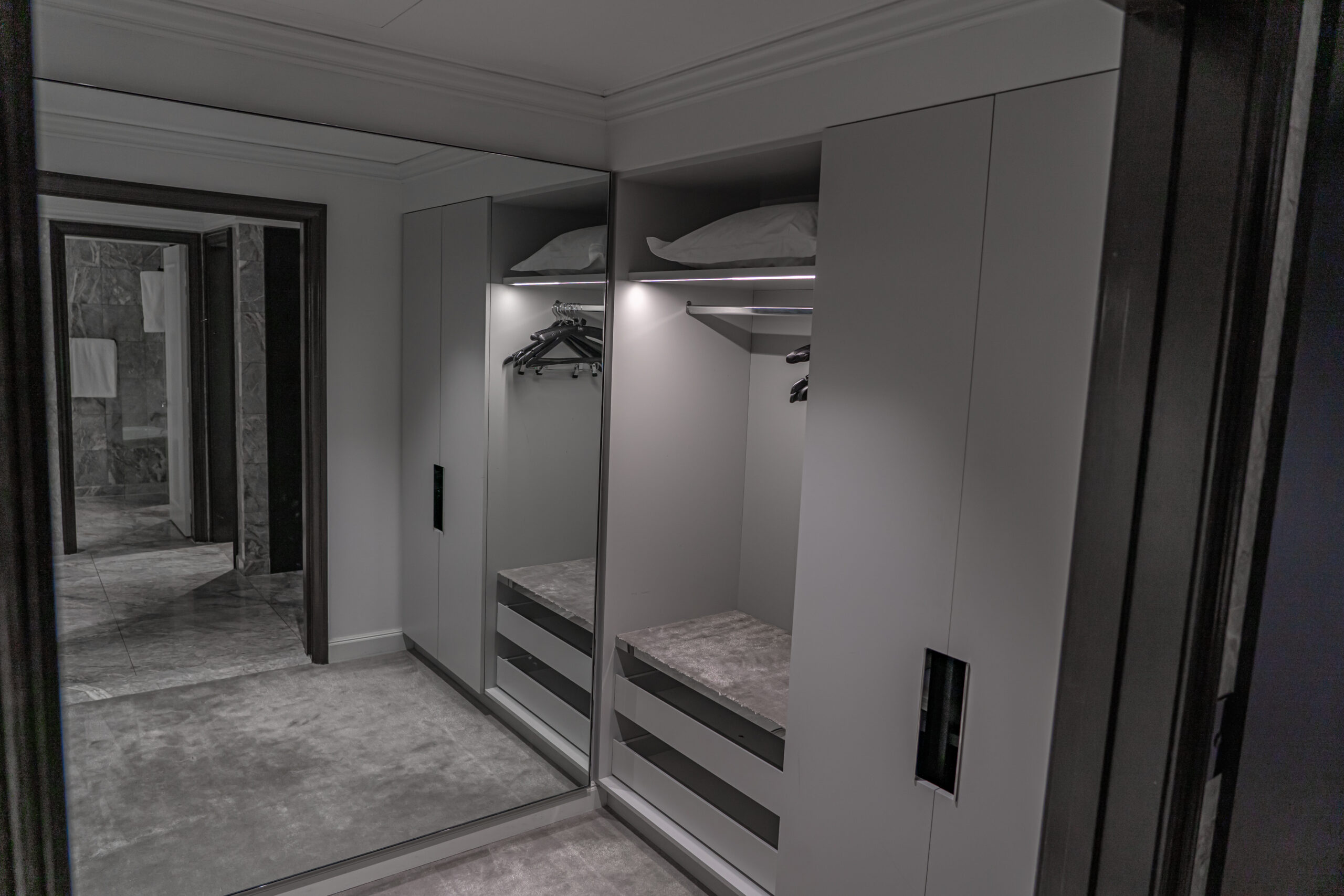 The walk-in dressing room with closets and two safes. 
For an unforgettable culinary experience you shouldn't miss the elegant and charming Stillery Bar & Dining. We enjoyed a wonderful breakfast here one of the days but the next day we took the liberty of ordering room service which was equally good.
Stillery Bar and Dining offers breakfast, lunch and dinner with accompanying village views. You can choose from a selection of locally-sourced native produce and seasonal freshness and top it of with a cocktail in the bar before you call it a night. 
For the ultimate relaxation, order a drink at the Rooftop, a stylish and iconic poolside bar with breathtaking harbour views. With sunbeds, sunchairs and a lounging area to choose from you will certainly find the right comfort to satisfy your needs.
With a menu where you can choose between beers, signature cocktails or a glass of Perrier-Jouët champagne, there is something for every occasion. Share some laughters with your loved ones or friends, enjoy the atmosphere and stop for a moment to turn down a glass while you drink in the vistas of Double Bay. 
You don't have to visit the heart of Sydney to find something to do. The picturesque suburb and charming little village of Double Bay consists of leafy laneways, beautiful beaches, marina, high-end fashion boutiques and a lot of cafés and award-winning restaurants. You'll find there is plenty to keep you busy in the area just right outside the doors of InterContinental.
Should you however feel you want to explore a bit more there is always the iconic Bondi Beach or the Coogee Coastal Walk nearby, easily accessible via ferry, bus or car. Just ask the Concierge Team and they will happily assist with local recommendations.
InterContinental Sydney Double Bay is located in the Eastern Suburbs village of Double Bay – a chic and elegant village just 5 kilometres from Sydney's Central Business District. It is easily accessed by car or ferry and you are never far away from all the action Sydney has to offer. It takes only about 15 minutes to take the ferry to Cirqular Quay Wharf.
For a more detailed overview of the exact location and how to get here you can find more information here.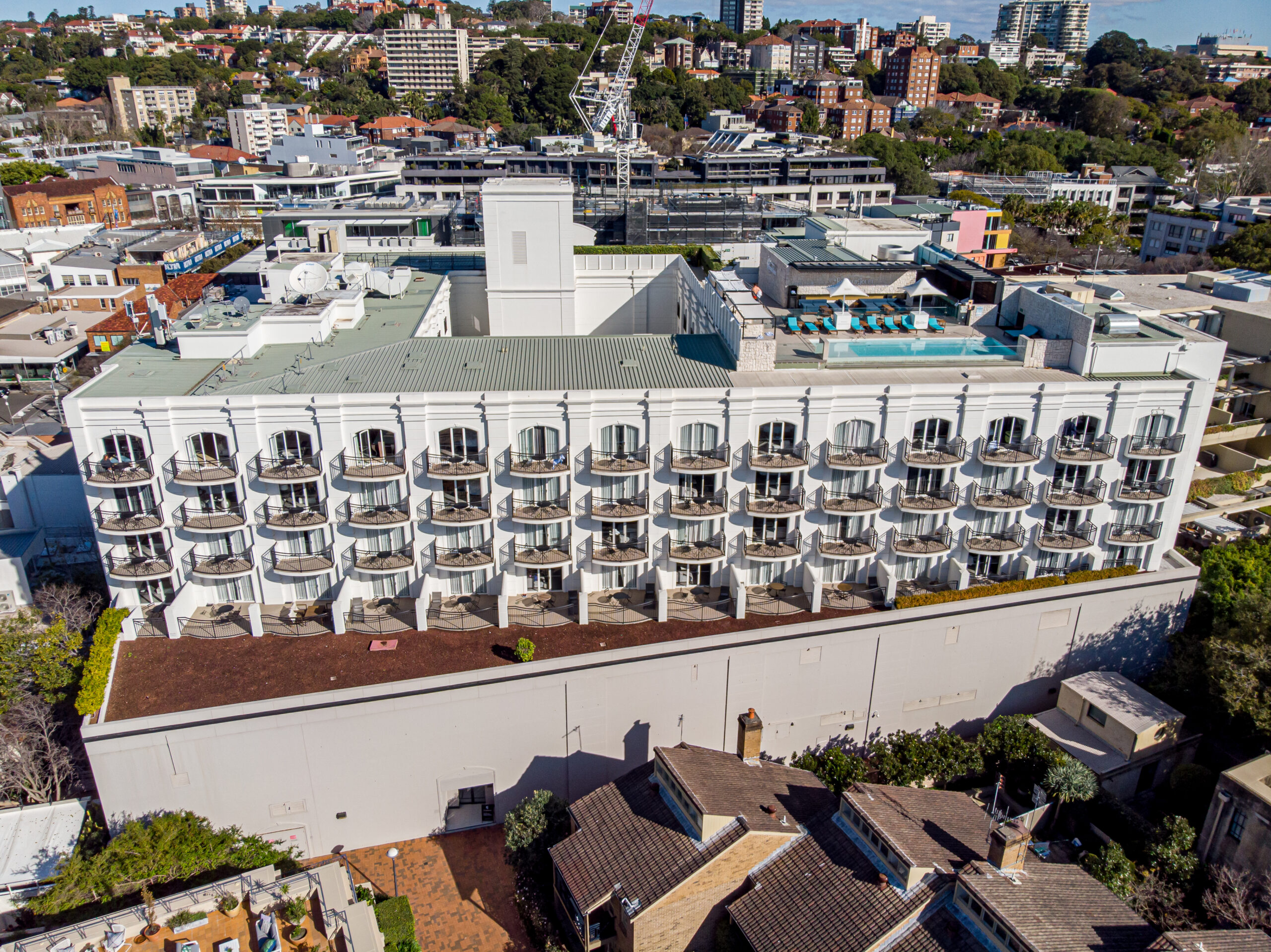 The Royal Suite occupies all four balconies at the top level far left corner.
Pool and Rooftop bar to the right and in the center of the hotel is the Club InterContinental private courtyard.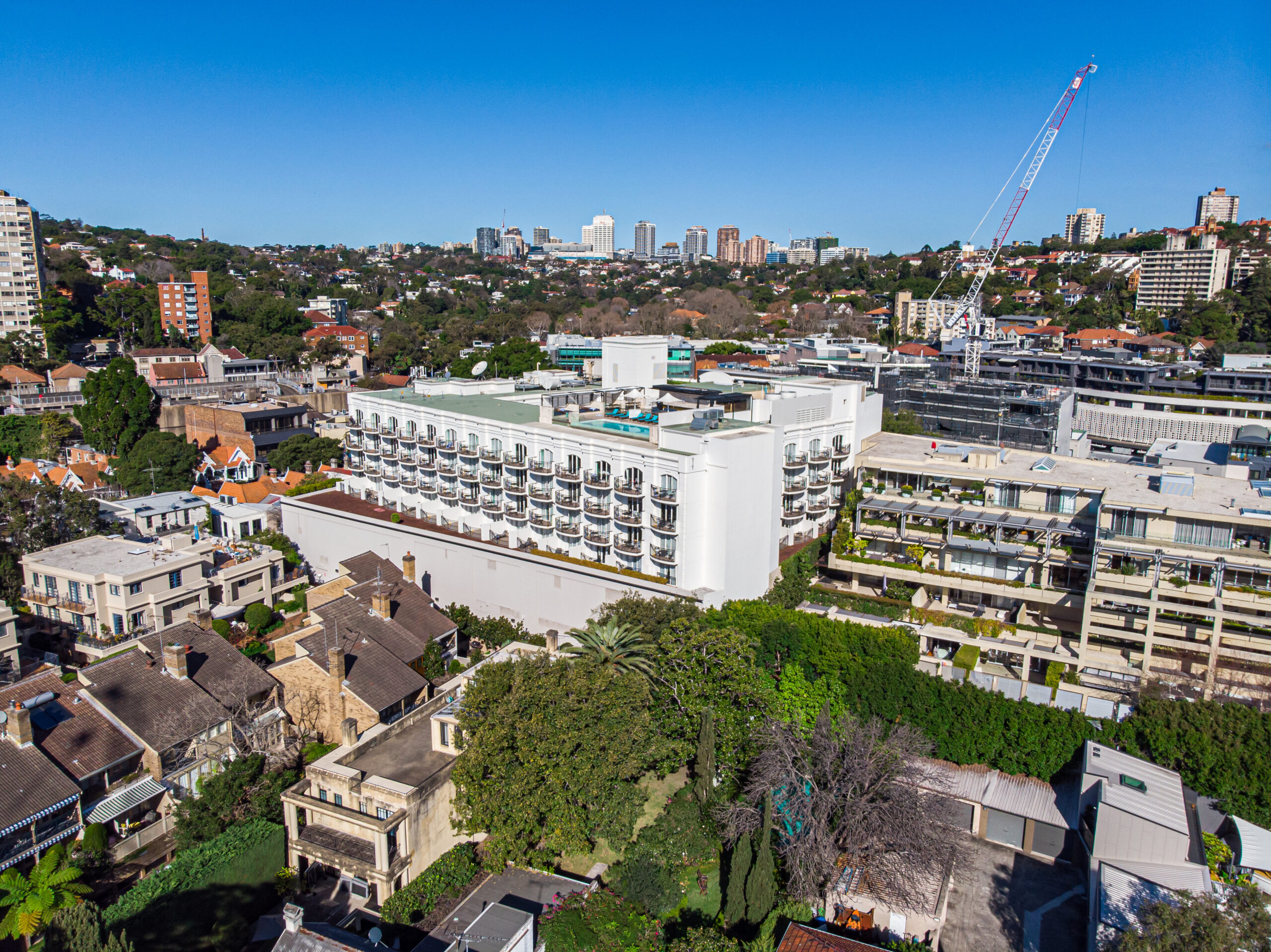 A stay at the five-star InterContinental Sydney Double Bay will leave lasting impressions that will be hard to forget. No matter the occasion there is a room or suite that will meet your budget and exceed your expectations.
Let yourself be pampered by world-class service and book your stay at InterContinental Sydney Double Bay today either by clicking the book your stay button below or simply by searching in the search box below. 
THANKS FOR READING OUR BLOG ♥
Hi! We are Sofia and Fredrik - and we have been traveling
the world for more than 10 years. We live a travel lifestyle
and create travel content as bloggers, photographers and
digital nomads. Our aim is to inspire you to explore the world
and enjoy the freedom that comes with it.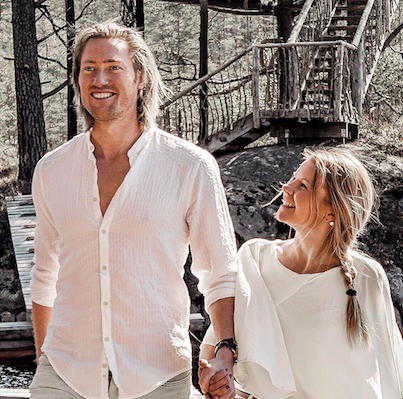 Copyright © 2019 Vagabonds of Sweden. All rights reserved