Snowmobile Tour with Outback Abisko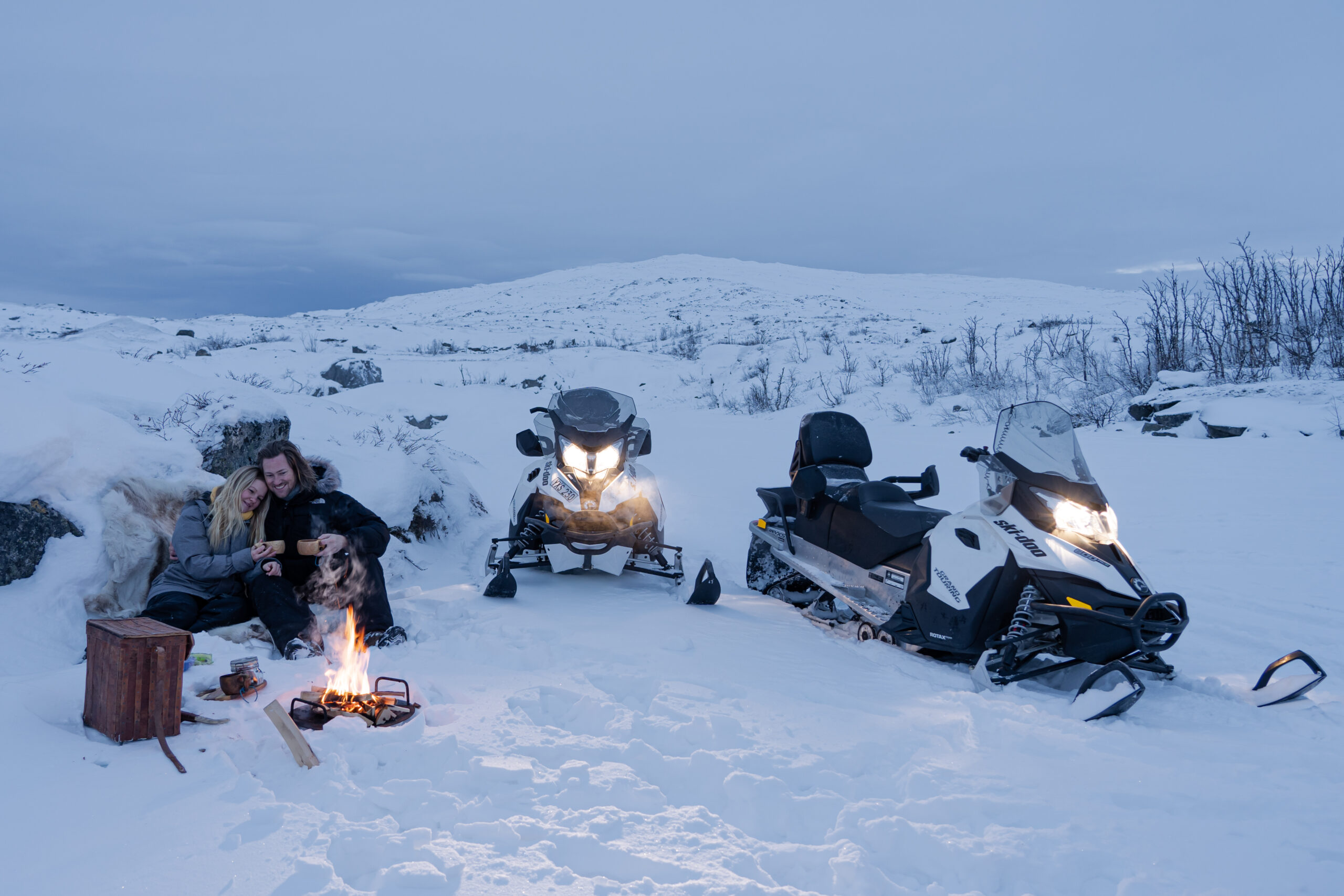 Outback Abisko is a tour operator in Abisko up in the Northern parts of Sweden and they offer adventures such as Snowmobile Tours and Mountain Bike Tours. If you are looking to experience a great outback adventure when visiting Sweden or if you live here, then this is the perfect tour company that will help you reach that goal. It's a beautiful part of Sweden with breathtaking surroundings, local wildlife such as reindeers and Sami culture.
We joined Outback Abisko on one of their Snowmobile tours and had the pleasure of being guided by Åsa, the owner. Since we had never even been on a snowmobile before it was naturally a bit nervous in the beginning, but all that went away as soon as we had been riding for a few minutes. It's so much fun and definitely a great experience for anyone looking to combine adventure with nature and fresh mountain air.
We explored the wonderful winter landscape on a frozen river close to Riksgränsen and although it was sometimes hard to steer due to the tracks – that feeling when you speed up a bit and go through fresh snow, is kind of hard to beat.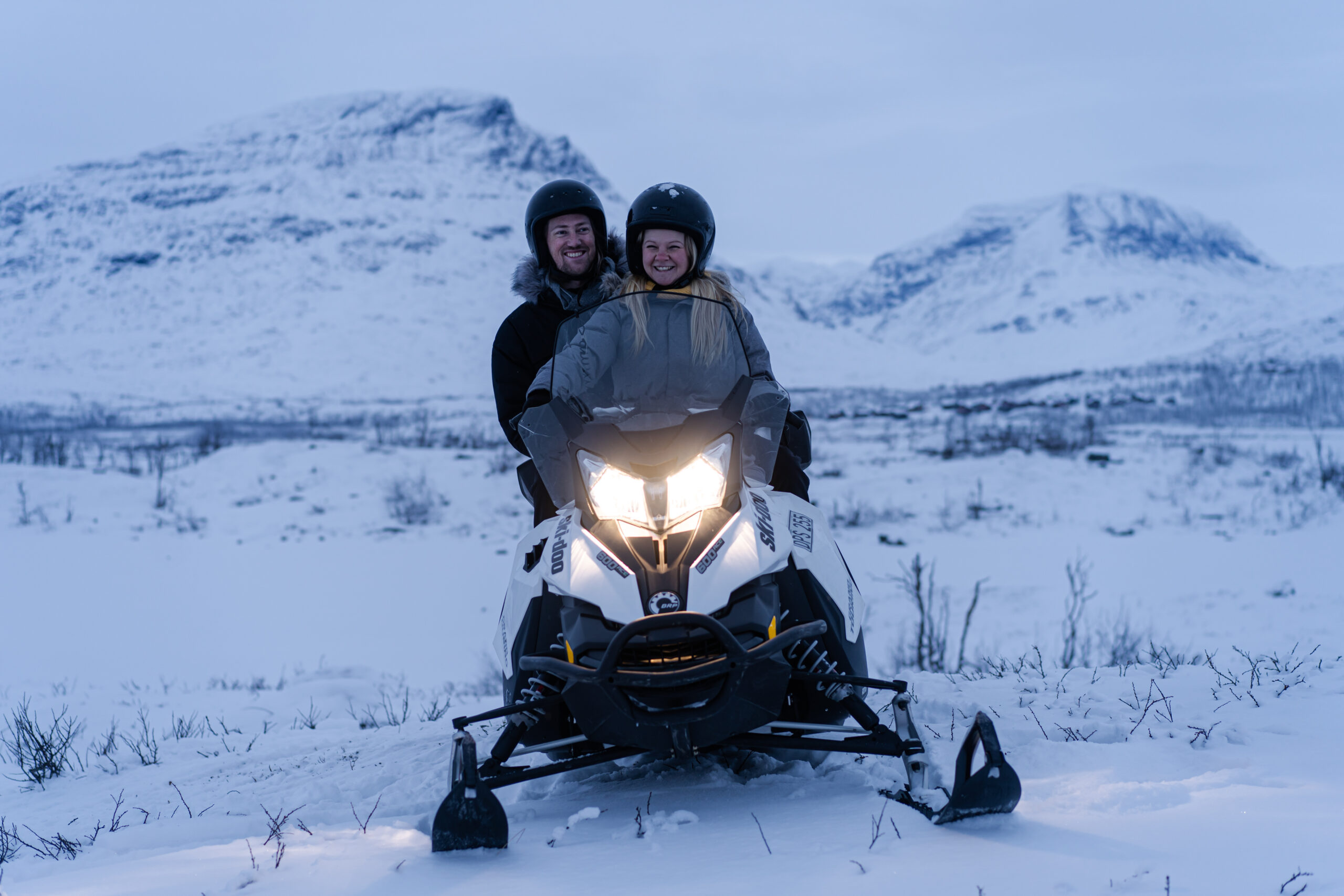 Nothing but good times and a steady flow of adrenaline. 
On our guided tour we also stopped for some picknick near an open fire that Åsa prepared for us. It was such a cozy and wonderful experience to sit down on warm reindeer fur with a hot cup of mulled wine and some muffins as you embrace and cherish the nature around you. 
A short break during our Snowmobile Tour.
A chance to wind down and truly appreciate not only the experience in itself but also where it takes place and who you are with. 
Outback Abisko offers tours in both Summer and Wintertime, ranging from Snowmobile and Dog Sledding tours to Abisko National Park Hikes, Aurora Borealis Viewing and Mountain Bike tours. These cover some of the best adventures one can have in the area around Abisko and no doubt these are some of the best experiences in Sweden.
Outback Abisko is located in the center of Abisko but their tours cover an expanse area, not only around Riksgränsen, the border between Sweden and Norway, but also across the border and into Norway.
The easiest way to book your Snowmobile Tour or whatever adrenaline pumping adventure you might be interested in, is to surf to the Outback Abisko website or click the book your adventure button below.
We can certainly highly recommend anyone to book with Outback Abisko for once in a lifetime arctic experiences.
THANKS FOR READING OUR BLOG ♥
Hi! We are Sofia and Fredrik - and we have been traveling
the world for more than 10 years. We live a travel lifestyle
and create travel content as bloggers, photographers and
digital nomads. Our aim is to inspire you to explore the world
and enjoy the freedom that comes with it.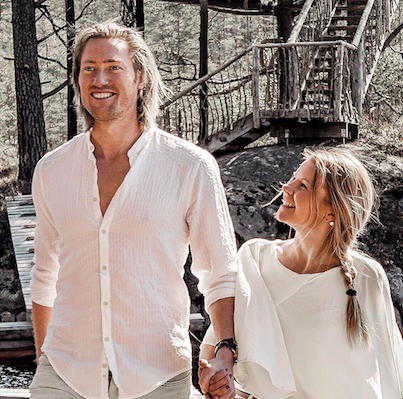 Copyright © 2021 Vagabonds of Sweden. All rights reserved