Skydive Australia – Home of The Ultimate Adrenaline Rush
Skydive Australia – offers people from all over the world the opportunity to jump out of an airplane at as high as 15,000ft and freefall for up to 200km/h.
Skydive Australia offers the experience of a lifetime where you can safely jump out of an airplane at 13 different locations throughout Australia and 3 in New Zealand. It's Australia's most trusted skydive company where you get the opportunity to enjoy spectacular views, the highest tandem skydives and the best beach landings for a very resonable price – and it all started with two optimstic young mates and a six-seater Cessna back in 1998. Now the whole world gets to overcome fear and break out of their comfort zones as they step outside of an airplane mid-air. If that's not escaping the ordinary, then what is?
To skydive has been an unchecked box on our bucket lists and something we have longed to do for a very long time, and we couldn't have experienced it all for the first time with any better crew than Skydive Australia. It was a unique experience and the ultimate thrill ride that surely left a lasting impression.
The easiest way to describe a skydive would be to say that it's a jump out of an airplane that offers breathtaking views that literally takes your breath away. This because the first seconds of your fall goes so fast and the wind pressure is so rough that for a split second it actually does take your breath away. But then the views imprint on you even harder, and nothing else exists besides you, the free fall and the extraordinary bird's-eye view.
And we are all coming down together. You have about 5-7 minutes of floating in the sky once the parachute is opened. 
But besides a horror-mixed delight and that first rough part where your fear might still have a grip of you – after a few seconds you certainly feel free as a bird with an overwhelming happiness as you fall through the air. 
The grass field where we landed at Lake Macquarie Airport.  
Keep your legs up for landing.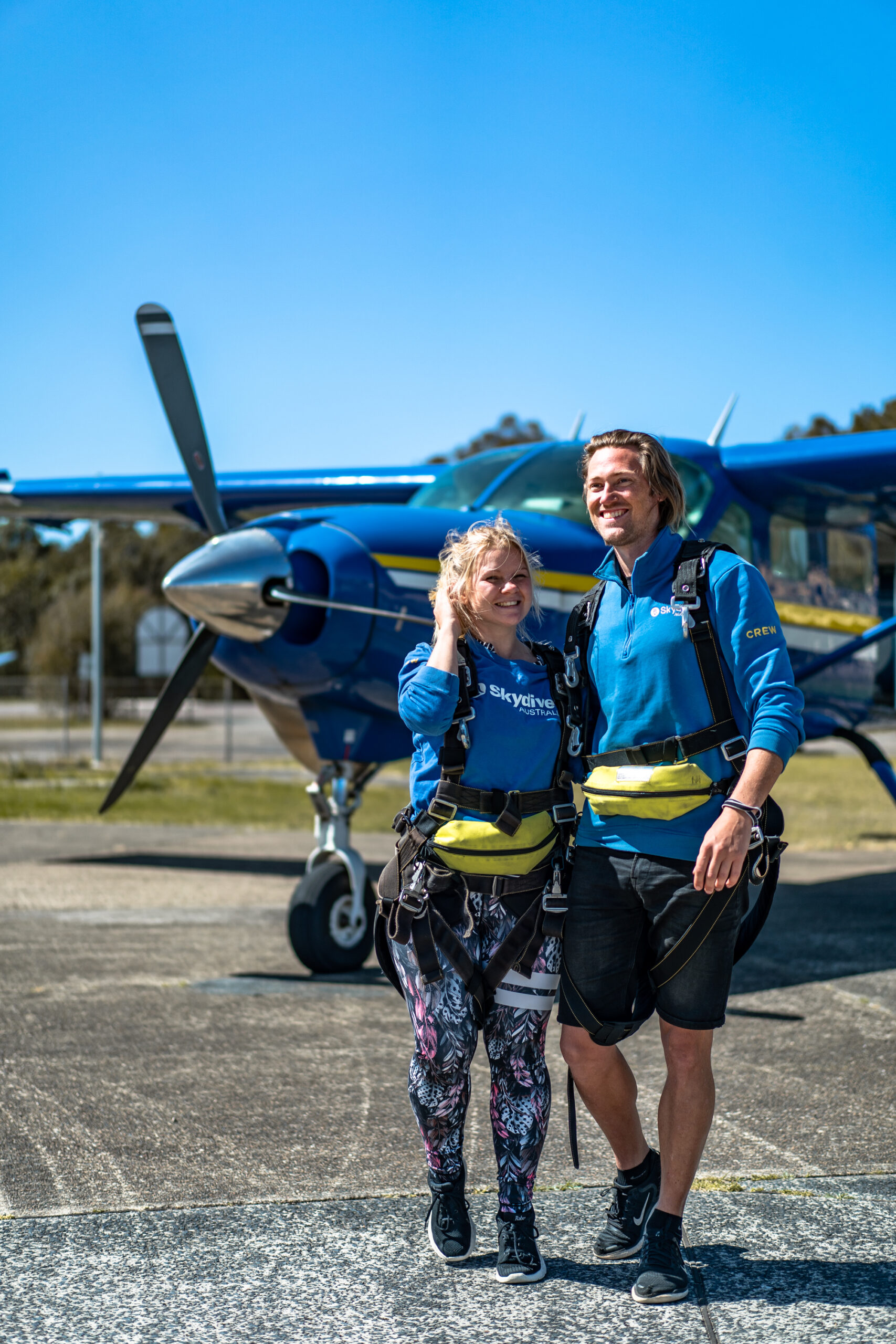 Feelings of joy and accomplishment afterwards. 
We would highly recommend purchasing a photo package so that you can immortalize this very special moment and watch it over and over again as you reminisce back home. They do get some really epic shots with their wrist-mounted high-resolution cameras and its totally worth it. 
In our opinion, nothing can beat the 15,000ft tandem skydive. You get about 60 seconds of freefall at around 200km/h – who wouldn't wanna try that? But if it's your first time then the 7,500ft skydive is a great way to go. It's also possible to do a group booking if you have a bunch of crazy friends that's up for the challenge.
We chose to fullfill our dream with Skydive Australia Newcastle which is located at Lake Macquarie Airport in the suburbs of Marks Point about 15km south of Newcastle.
But there are several other locations where you can do the same and you will find all of them in the footer of Skydive Australia's website.
Skydiving was one of the most adrenaline packed experiences we have had while traveling the world and we will undoubtedly do it again sometime in the future. For anyone looking for that extra special activity where you face your fear of heights and embrace your love of adventure – skydiving with Skydive Australia is the way to go. Join the exclusive club of people all over the world who have done the same, jumped out of a perfectly good airplane. 
Skydive Australia provides skydive experiences in 13 different locations in Australia and 3 in New Zealand. Once you have decided in what location you wish to do your tandem skydive you then click the book now button on their website and choose your date and product.
Skydive Australia is owned and operated by Experience Co an adventure tourism and leisure company with many great brands in their portfolio offering once in a lifetime experiences to people who love to escape the ordinary and be a part of something extraordinary.
THANKS FOR READING OUR BLOG ♥
Hi! We are Sofia and Fredrik - and we have been traveling
the world for more than 10 years. We live a travel lifestyle
and create travel content as bloggers, photographers and
digital nomads. Our aim is to inspire you to explore the world
and enjoy the freedom that comes with it.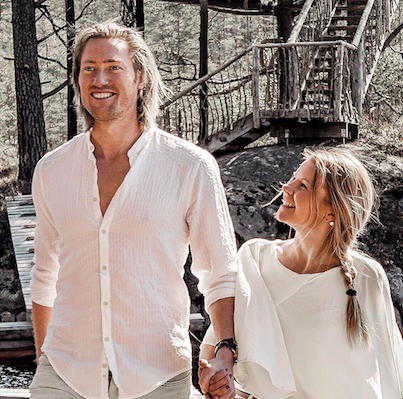 Copyright © 2020 Vagabonds of Sweden. All rights reserved