Sails In The Desert Hotel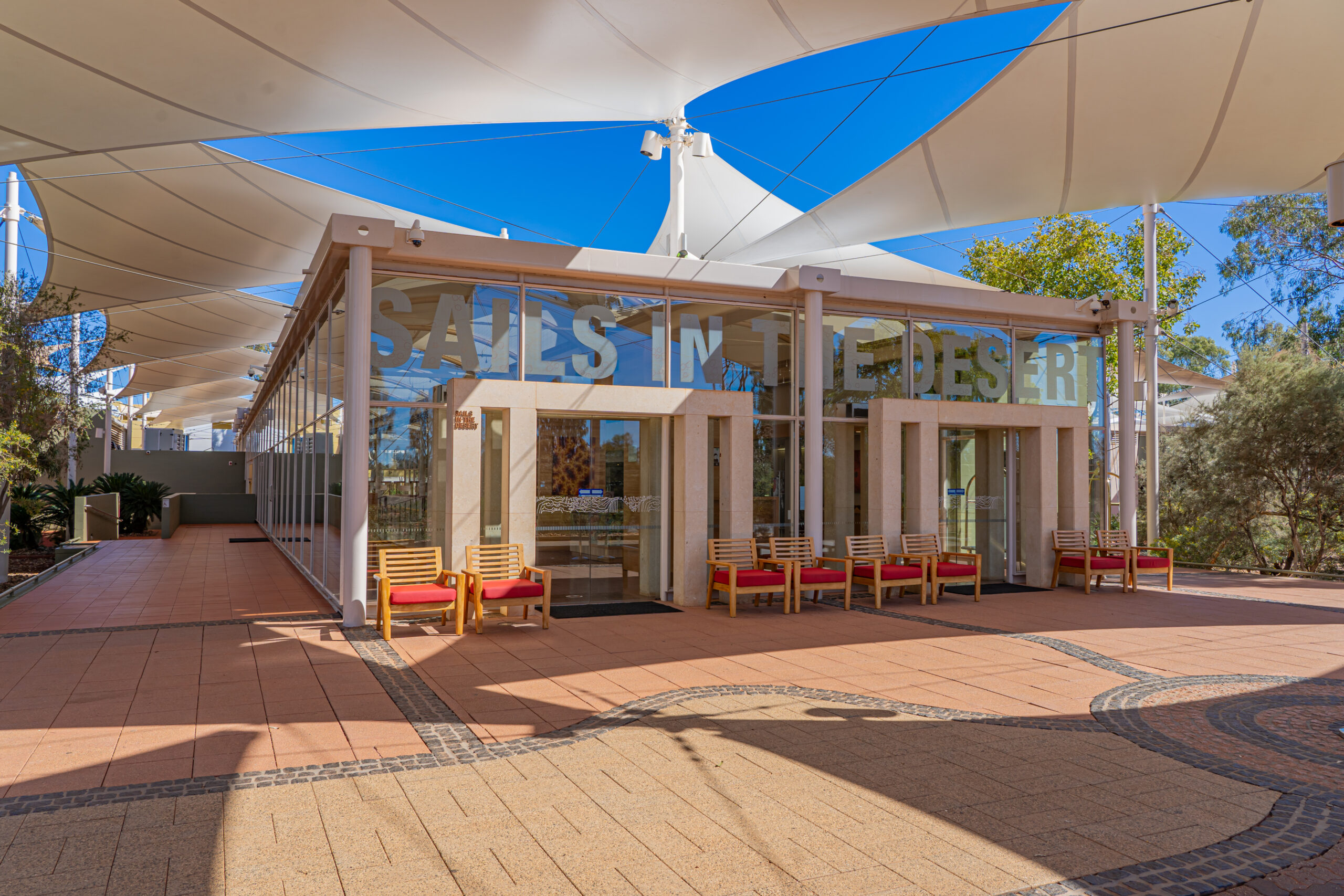 Ayers Rock Resort's Sails In The Desert Hotel is an award winning 5-star luxury hotel that offers 228 beautifully-appointed rooms and suites in the heart of Australia's Red Centre in the middle of the desert. Located only a few kilometres away from Kata Tjuta National Park and the iconic Uluru, this is your perfect base for exploring the area and let yourself be engrossed by the captivating history of the Anangu people – one of the oldest living cultures in the world. 
The Ayers Rock Resort is a collection of five hotels and a campground within the same resort, surrounded by endless plains and red sand dunes. This gives you a variety of accommodation options no matter your taste or budget. But if you are looking for something special, where modern design is blended with touches of ancient culture – then there is really only one place to stay. With soaring bright white sails the contrast between Sails In The Desert and the surrounding red sand is distinct and you will find out that it is not impossible to combine an outback desert experience with a luxury escape.
We stayed two nights in one of the newly refurbished terrace rooms and absolutely loved it. With a king-size bed and an open floor plan that gives you direct access to the spacious terrace the luxurious terrace rooms are full of light and decorated with an elegant interior. The terrace rooms are inspired by the outside surroundings where you will see patterns of red and grey colors along the carpet and bedside lamps designed with the cultural landscape in mind.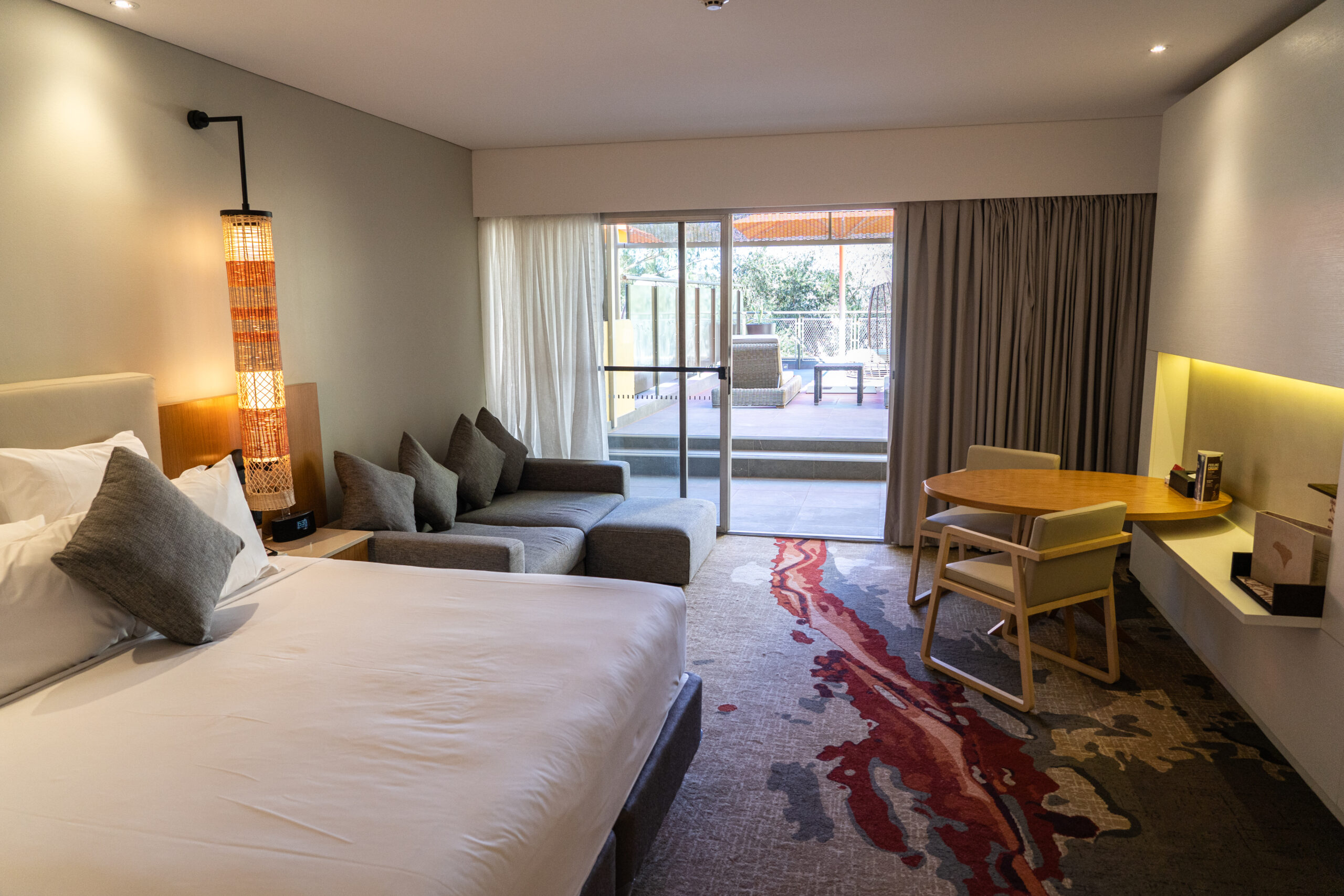 Inspired by the outside surroundings. 
There is nothing better than a private terrace where you can enjoy sunbathing or simply relaxing on the daybed perhaps while playing with thoughts of tomorrows adventures. It is also the perfect place to start your day with a full breakfast and a cup of coffee or tea, and we certainly took advantage of this.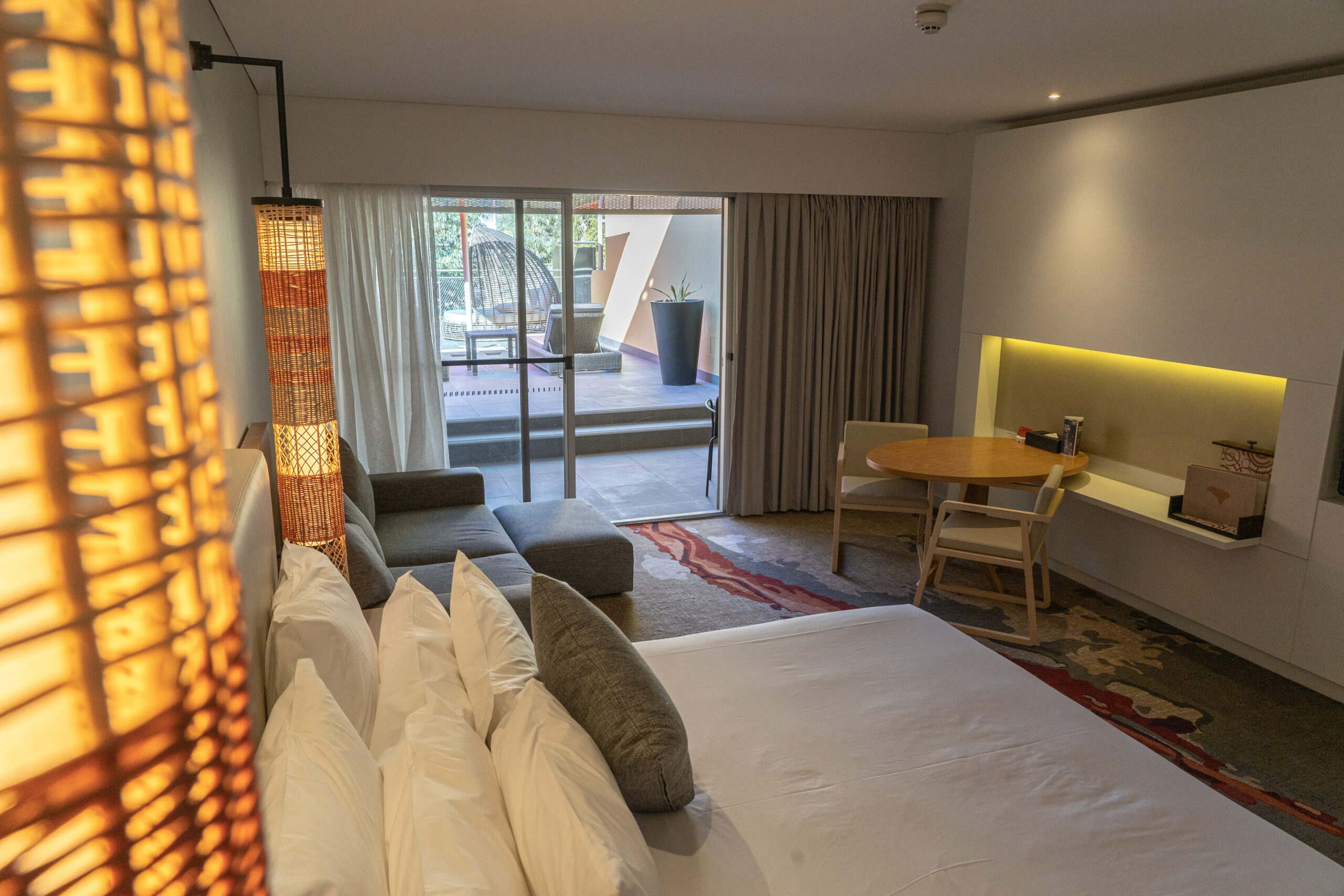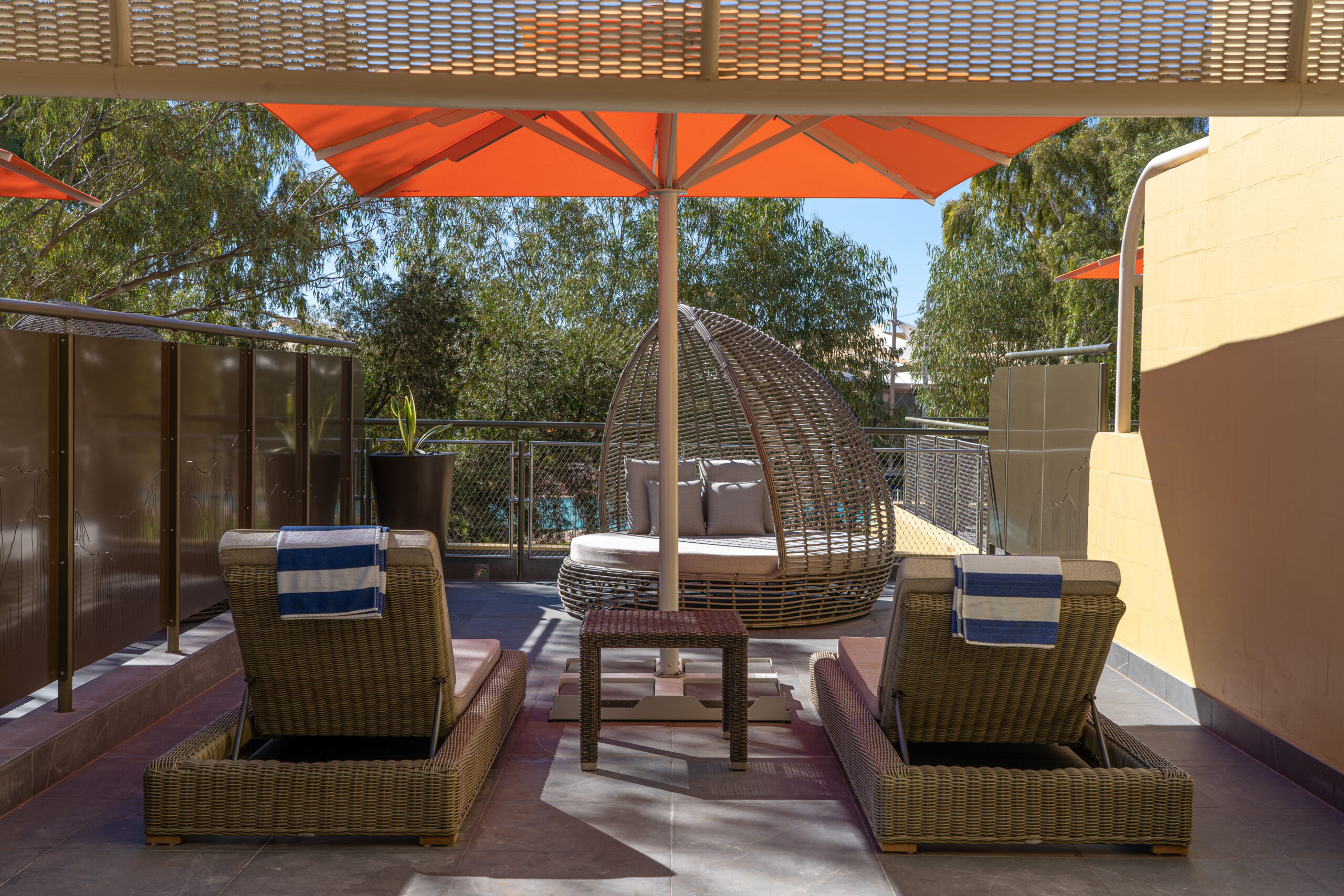 The cozy daybed and sunchairs on the terrace.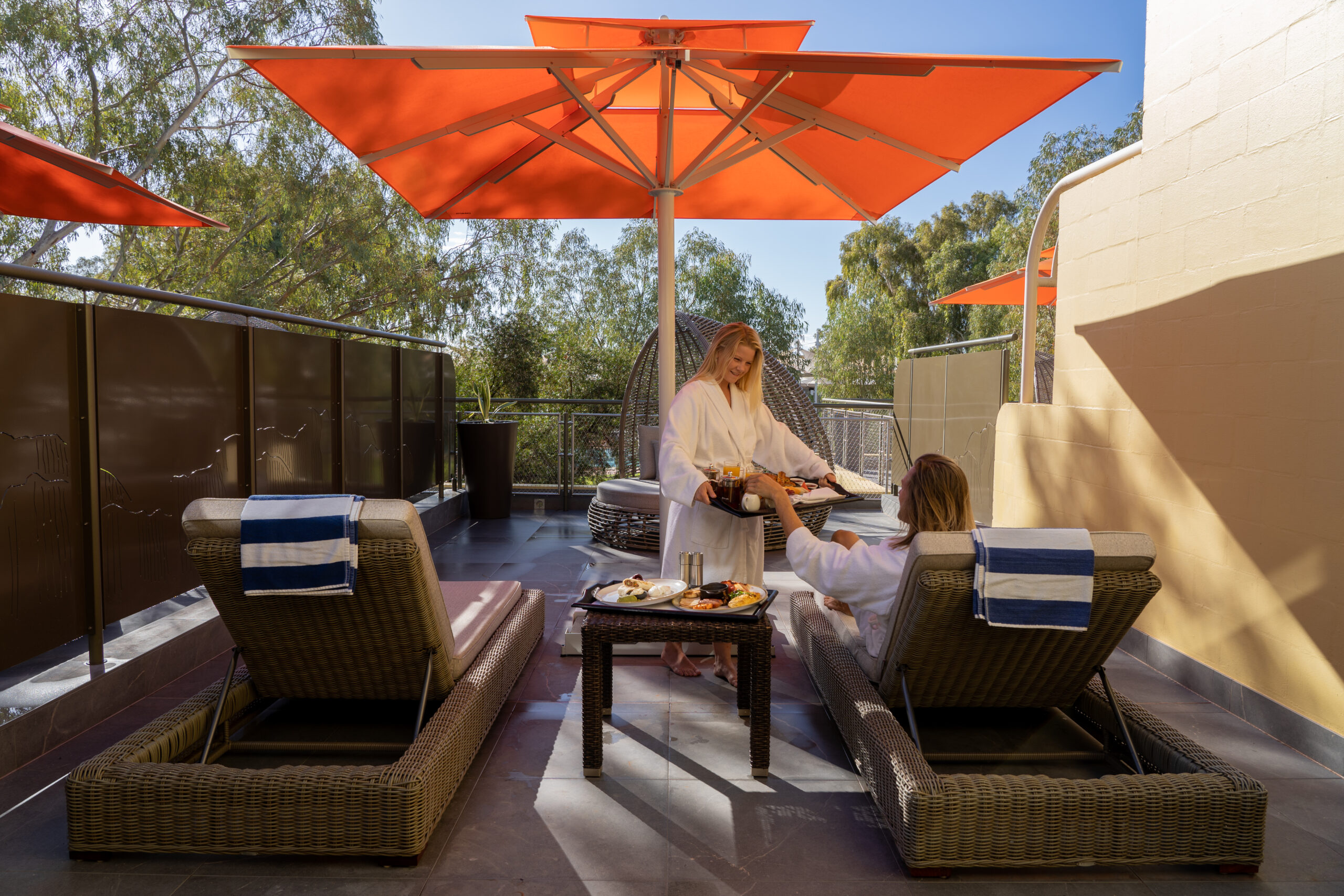 Relaxation and pampering on the daybed after a day of discovering the outback.
No better way to go than red wine and some cheese and crackers.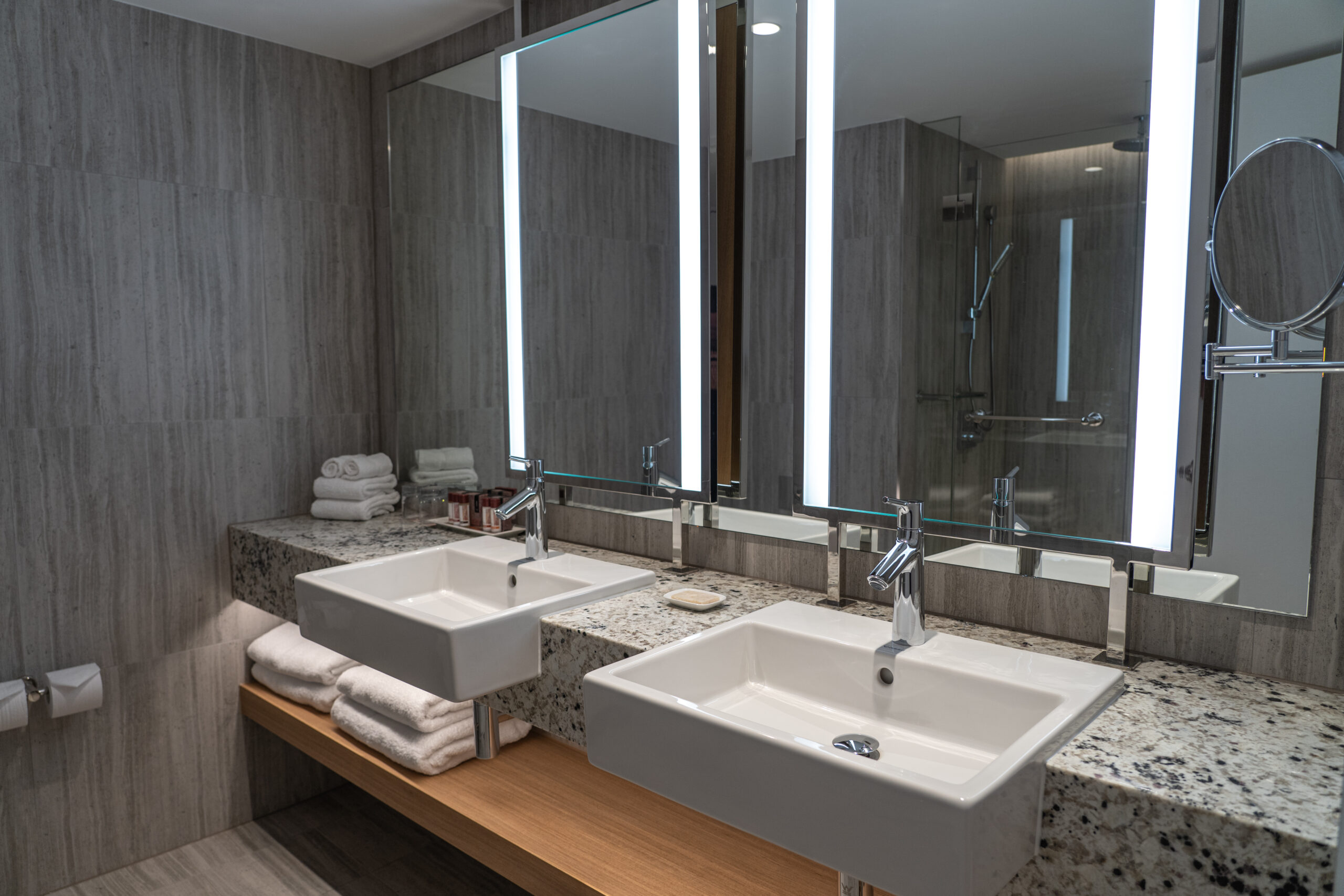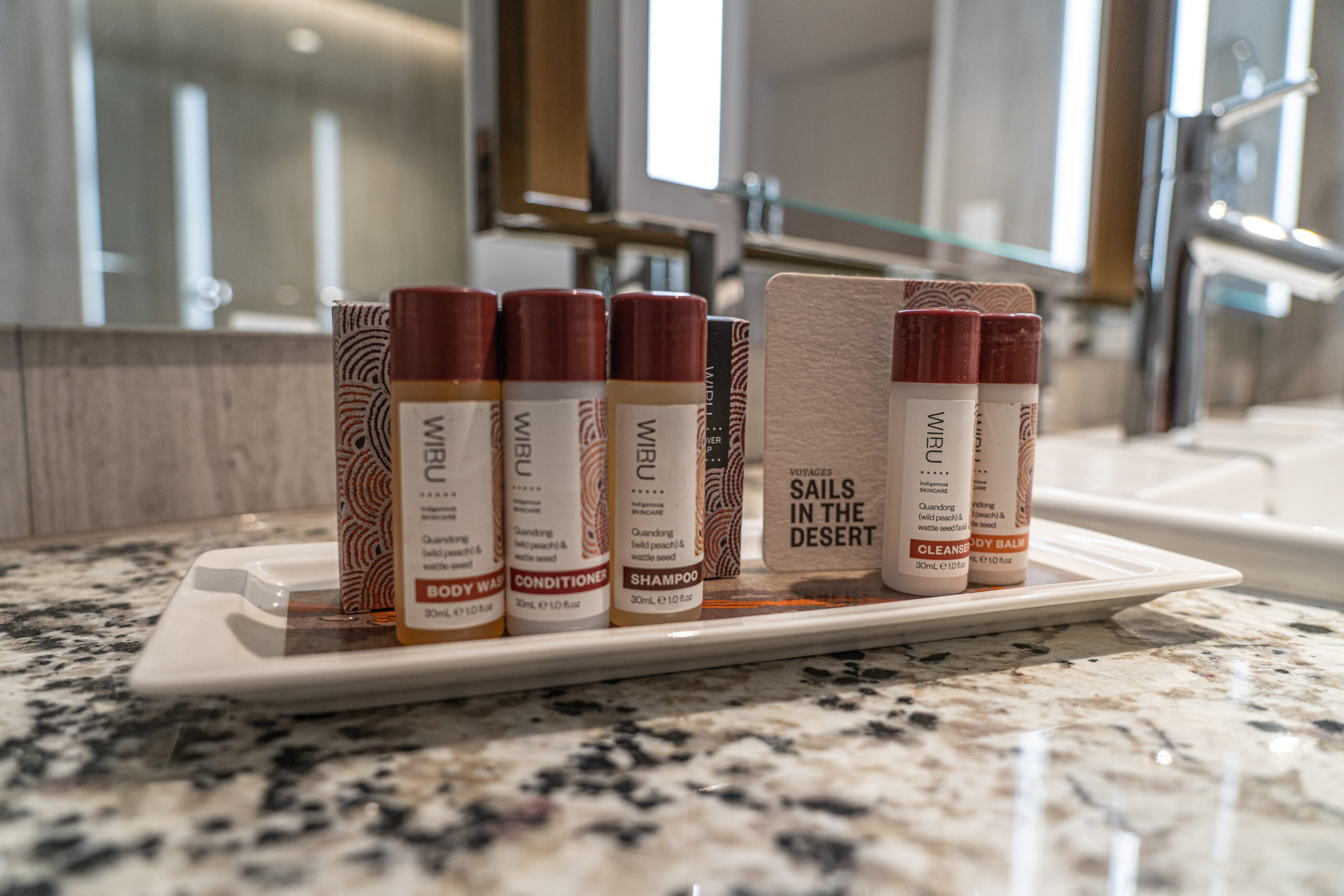 Ensuite bathroom with complimentary amenities.
The brasserie-styled Ilkari restaurant offers an international menu where you can choose between three-course dinner experiences such as seafood, antipasto, cured meats and soups as starters and pasta, roasts or a grill selection cooked-to-order for mains and why not top it off with a creamy chocolate fountain or a selection of sweet treats. No matter what you choose you are guaranteed to find something to your liking.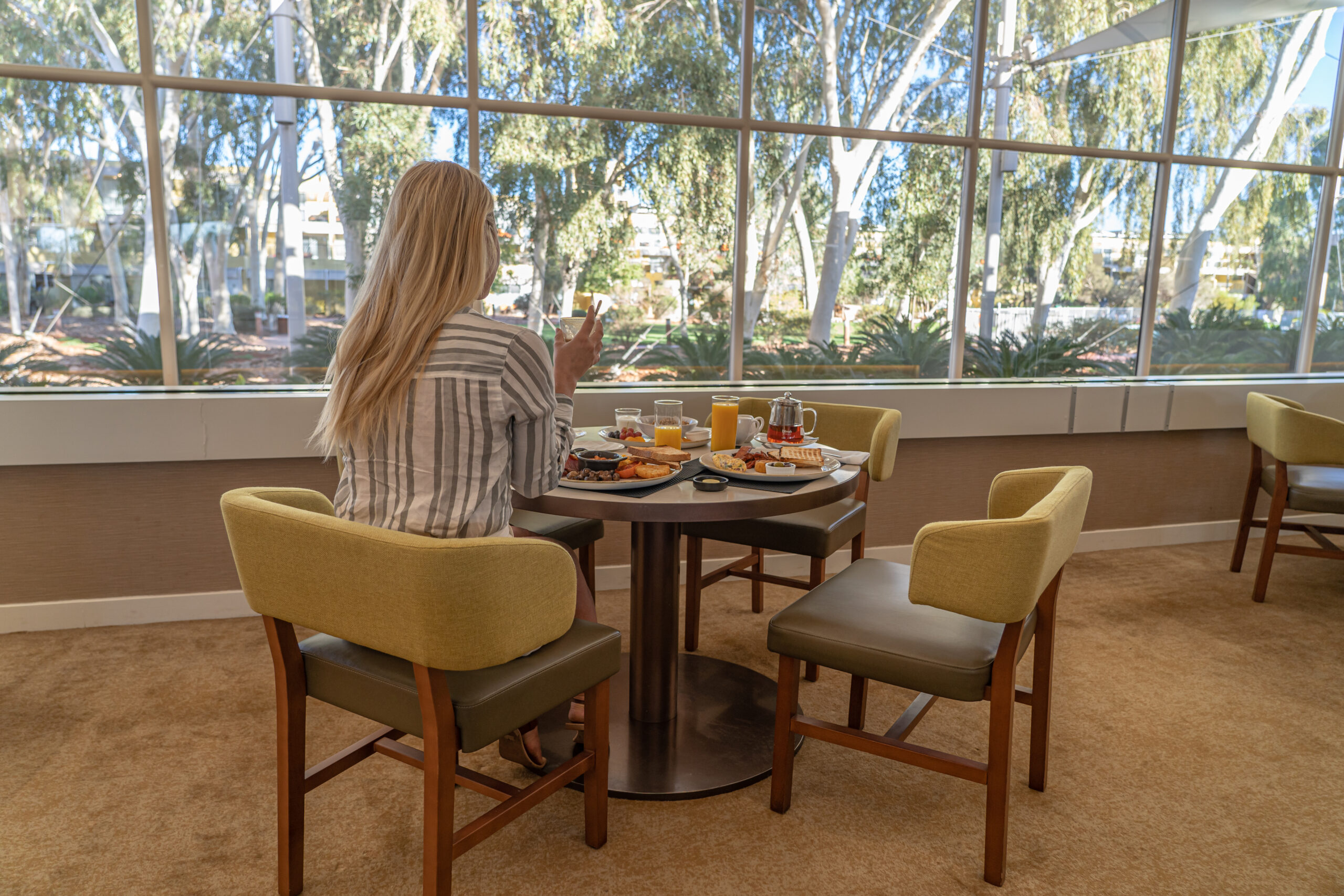 Full buffet breakfast with views of the gumtree lined garden and pool area. 
We enjoyed a full buffet breakfast at Ilkari restaurant one of the days and decided to order it to our room the next. It was just as exquisite in our room as in the restaurant but we really liked the relaxing atmosphere and the wonderful staff at Ilkari. 
Beautifully stylished Ilkari restaurant with a soothing atmosphere. 
An expansive gumtree lined swimming pool with a large pool area and plenty of daybeds. The perfect place to enjoy a casual lunch or perhaps a cocktail. Although we didn't use the pool while we were there it looked really nice and easily the place to be on a hot summer day.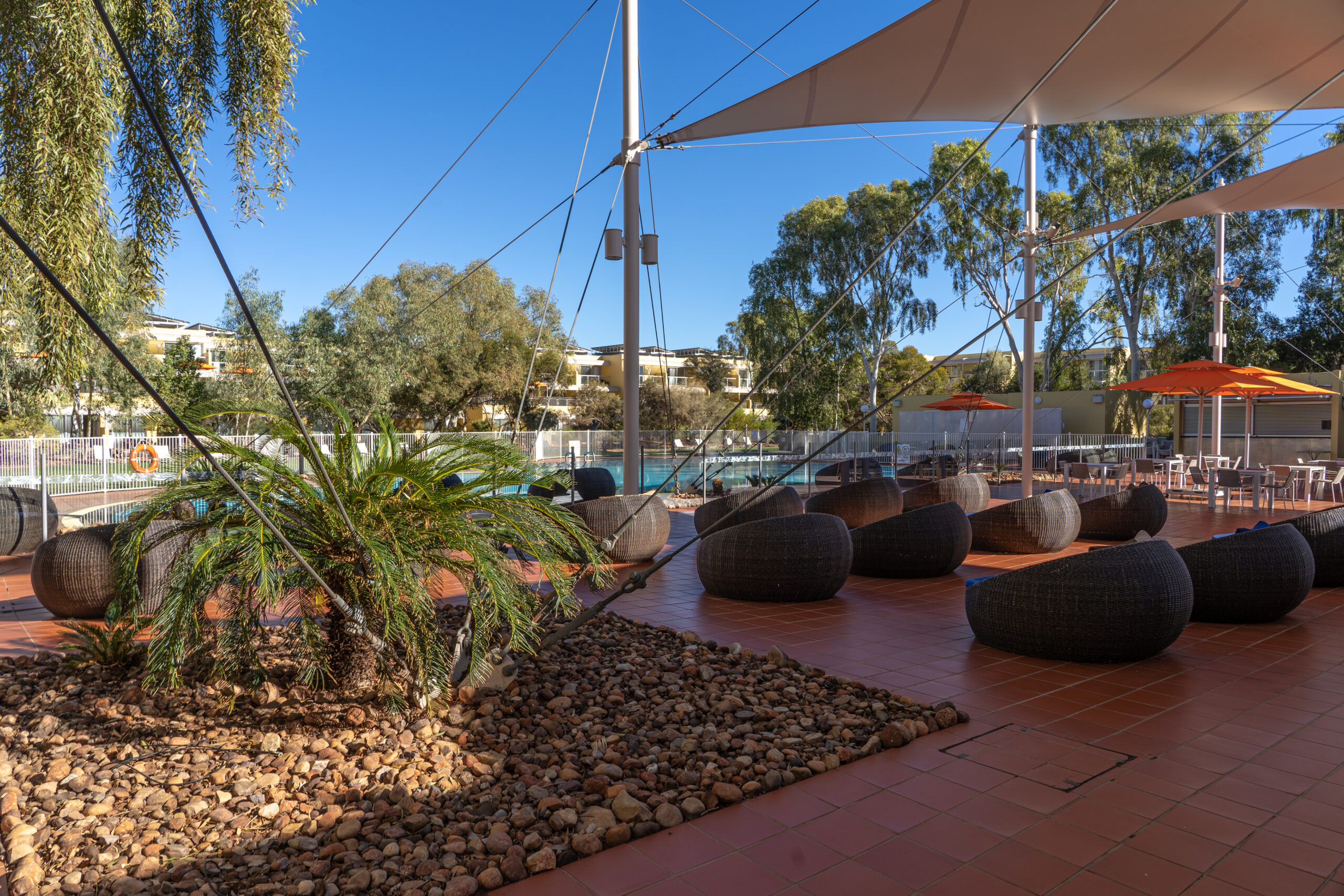 The many comfortable daybeds dotted along the pool area. 
There are more than 65 tours, local activities and attractions in and around Ayers Rock Resort and the National Park. With that kind of variety to choose from there is something for everyone. With Kata Tjuta National Park just a few kilometres away you can easily reach both Uluru and The Olgas (Kata Tjuta) by car. This will probably be some of your main priorities while visiting the Red Centre.
Some of the more interesting walks is the Uluru Base Walk that goes all the way around Uluru, but if you wish to do something that is a bit shorter we recommend the Mala Walk. If you travel to The Olgas (Kata Tjuta) we certainly recommend The Valley of the Winds walk where you will be rewarded with extraordinary views from Karingana Lookout, about halfway in.  
In addition to the obvious activities in the area, your stay at Sails In The Desert includes Free Indigenous Activities Program – where you can for example learn more about the intriguing aboriginal culture, take self-guided garden walks and experience the flavors of indigenous bush food. These activities don't require any booking so you can simply just show up.
Bruce Munro's Field of Light experience. The sun is about to set over Kata Tjuta National Park and Uluru.
Then there is the Bruce Munro's Field of Light, which is an interesting experience and easily something we can recommend. Step out into the desert and enjoy a glass of sparkling or red wine while waiting for the sun to set and the 50.000 spheres of light to slowly start to glow in various colors. To mix something like that with the ancient and iconic landmark that is Uluru is extraordinary.
The magnificent Field of Light when darkness has come. 
50.000 spheres of light in the middle of the desert.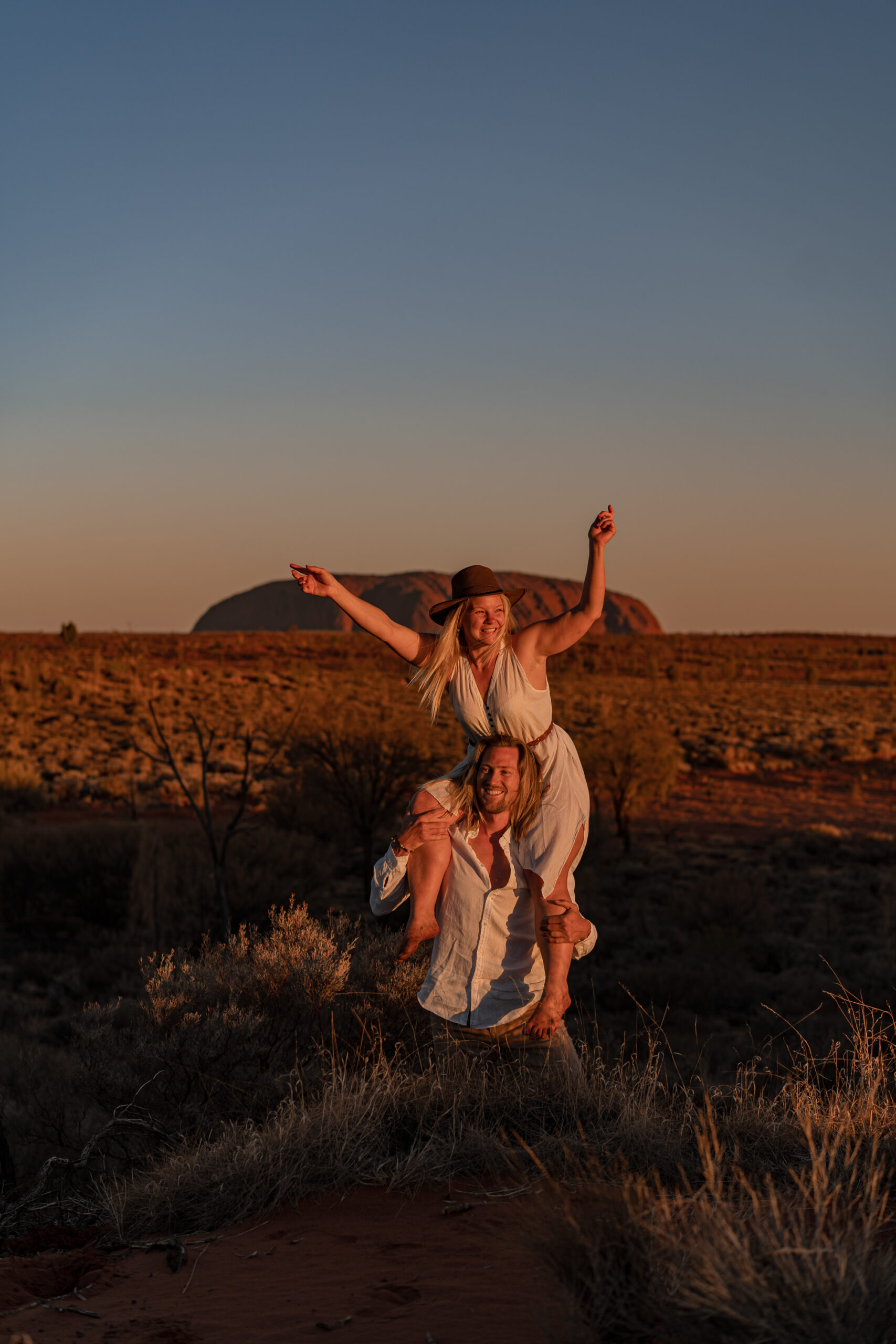 One of the most epic locations we found while exploring the red centre. Uluru right behind us while the sun is about to set. 
Sails in the Desert is a part of Voyages Ayers Rock Resort which is located 20km away from Uluru (Ayers Rock) and nestled in the desert, among endless open plains and red sand dunes. It is the ultimate base for exploring the Kata Tjuta National Park and a premium holiday experience not to be missed.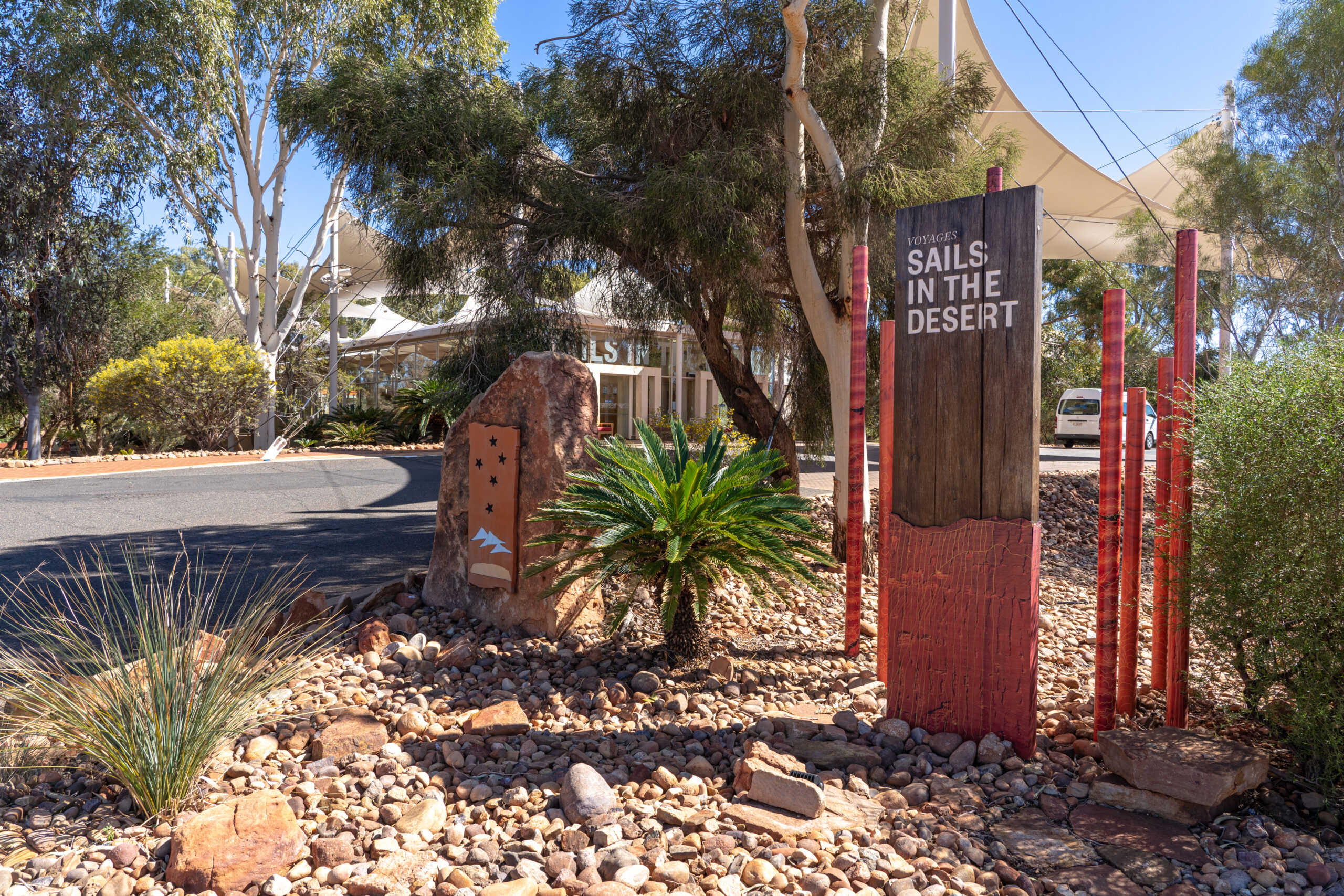 Located only 20km away from Uluru. 
The Resort Town Square, only a 5 min walk from Sails in the Desert – provides a comprehensive range of services and facilities such as a tour and information centre, IGA supermarket, bank and ATM, shops, restaurants, cafés and bars as well as a petrol service station. You will find anything that is truly essential, but if you are looking for special items we suggest you buy these already in Alice Springs if you are coming from that direction.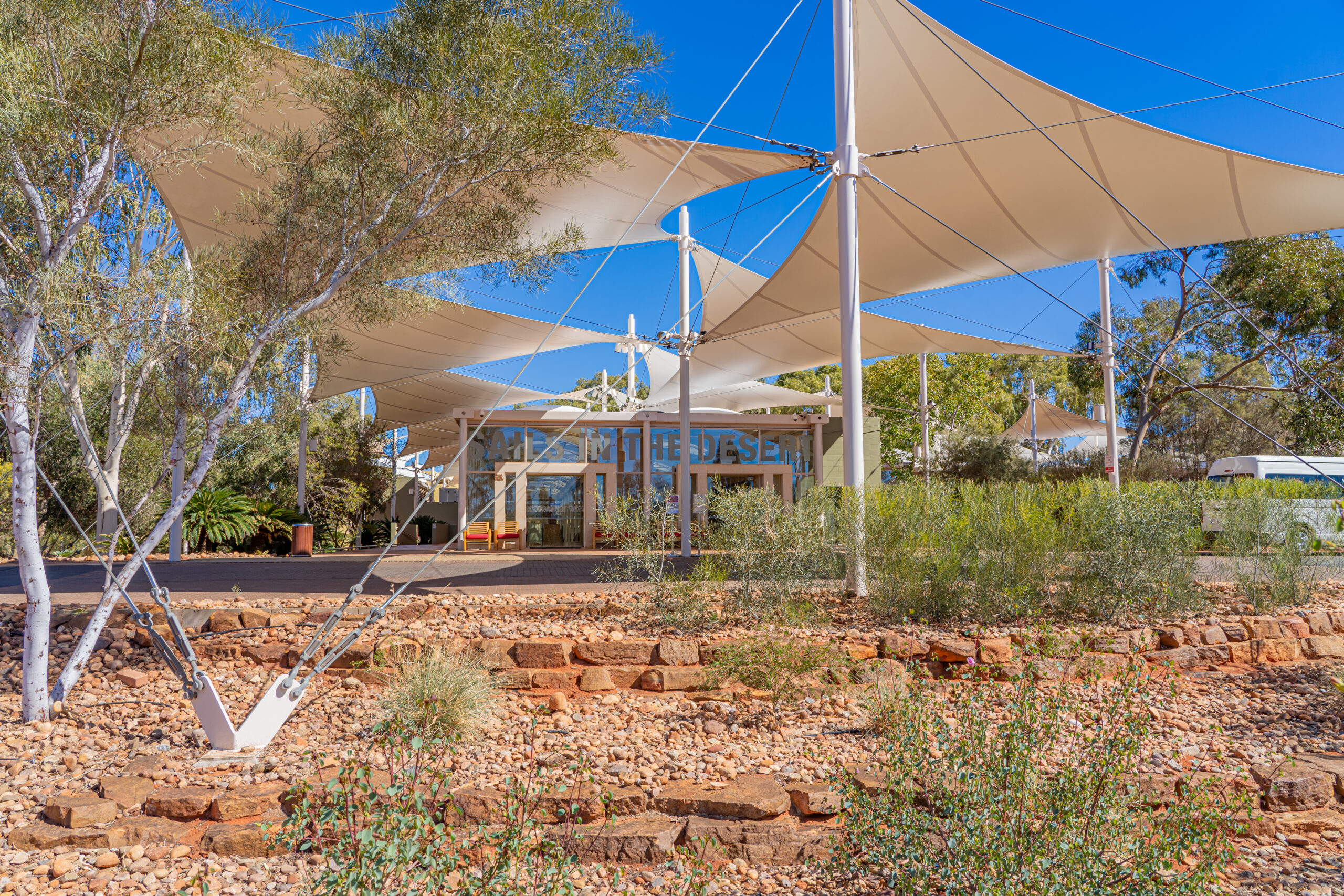 For a more detailed overview of the exact location and how you get here and get around, you can find that here.
The easiest way to book your stay at Sails In The Desert is to surf on to their website right here or click the book your stay button below. We recommend staying in one of their terrace rooms but there are other options as well such as the Superior Room or the Deluxe Suite. 
In our opinion, this is a really beautiful hotel in the perfect location. With only a couple of minutes away to the entrance of Kata Tjuta National Park there is really no question where you should stay when visting this part of the red centre. Here you will find exquisite food, luxurious accommodation, wonderful people and a relaxing atmosphere – surely enough to make your holiday a great one. 
THANKS FOR READING OUR BLOG ♥
Hi! We are Sofia and Fredrik - and we have been traveling
the world for more than 10 years. We live a travel lifestyle
and create travel content as bloggers, photographers and
digital nomads. Our aim is to inspire you to explore the world
and enjoy the freedom that comes with it.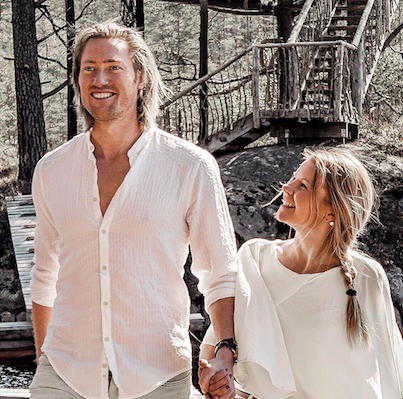 Copyright © 2020 Vagabonds of Sweden. All rights reserved