Pullman Quay Grand Sydney Harbour
Pullman Quay Grand Sydney Harbour is a 5-star luxury hotel situated in a prime location right in the center of all the action offering spectacular Circular Quay and Sydney Harbour views. With only a short walking distance to the Sydney Opera House, Royal Botanic Garden and the charming The Rocks district – you'll have everything form entertainment to relaxing and peaceful greenery as well as nightlife atmosphere at your fingertips.
As a part of the Accor Group with hotels all over the world – Pullman Quay Grand Sydney Harbour is a gem polished by apartment style luxury suites, world class service, chic style and the ultimate sophistication. This is definitely THE place to stay when visiting Sydney if you are looking to be pampered by luxury and have a 5-star experience. In total there is 70 one and two bedroom suites and we highly recommend getting a suite with harbour views. You won't regret it. 
DELUXE HARBOUR VIEW SUITE
With 79m² room size the newly refurbished Deluxe One-Bedroom Harbour View Suite is in a league of its own when it comes to first-class hotel accommodation. It has that elegant and sophisticated touch guaranteed to dazzle you. And on top of that you get to enjoy iconic views of Circular Quay and Harbour Bridge from the comfort of your own lounge. That's pretty hard to beat.
We simply loved to be able to appreciate the location and the accompanying views no matter if we were cooking dinner in the kitchen, relaxed in the sofa, had a glass of wine on the balcony or called it a night and laid down in our bed.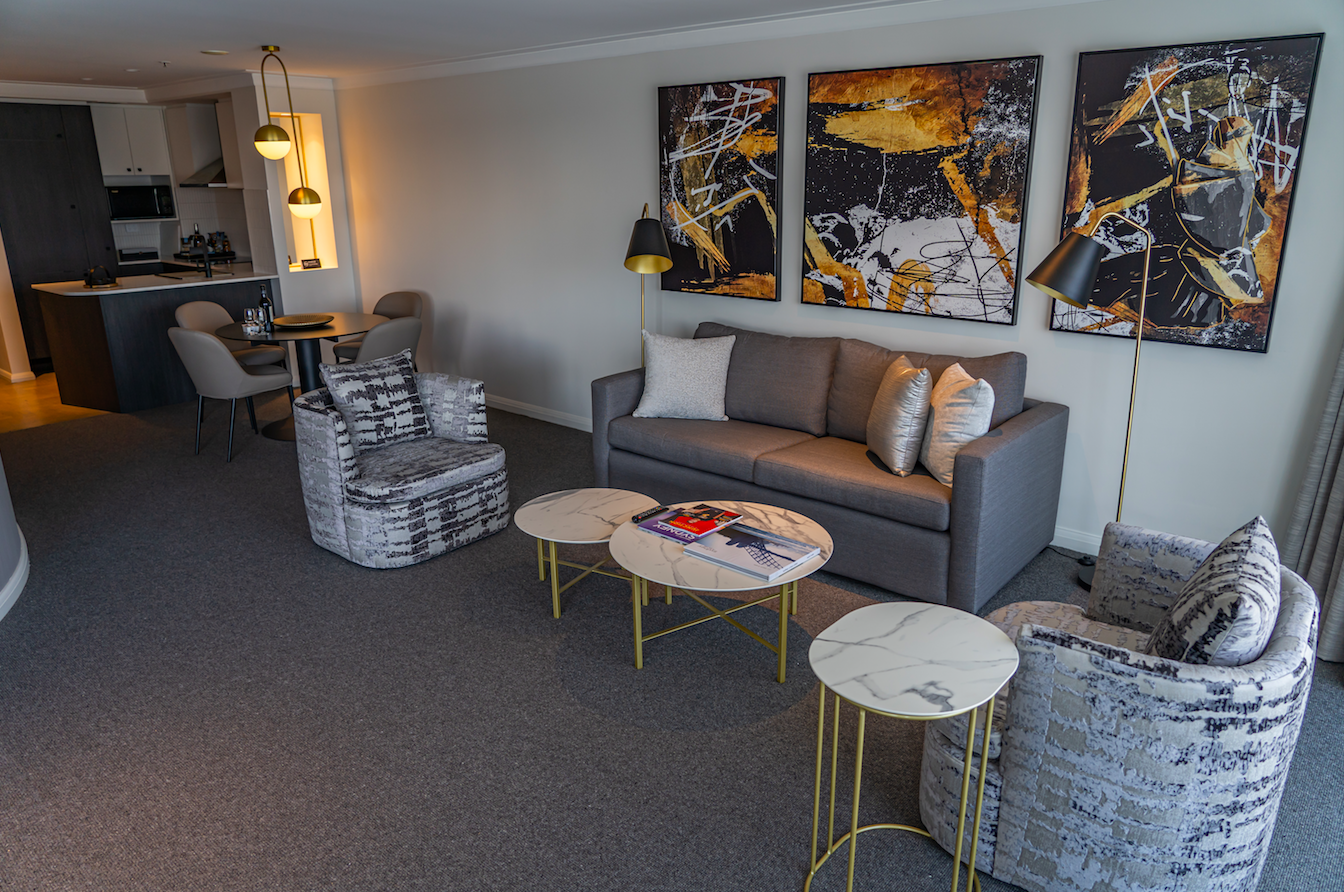 Luxury apartment-styled hotel suite.
In this luxury apartment-styled hotel suite you'll find a king size bed, ensuite bathroom with spa bath and a fully equipped gourmet kitchen among other amenities. We also loved the way the suite was designed – with its curved walls, fresh colors and open floor plan.
How about a good nights sleep in a king size bed that comes with extraordinary harbour and city skyscraper views? Well, that's what we had and laying there in bed in the eveneing you actually found yourself switching focus from Skyscraper views through the bedroom window to the TV and then back again.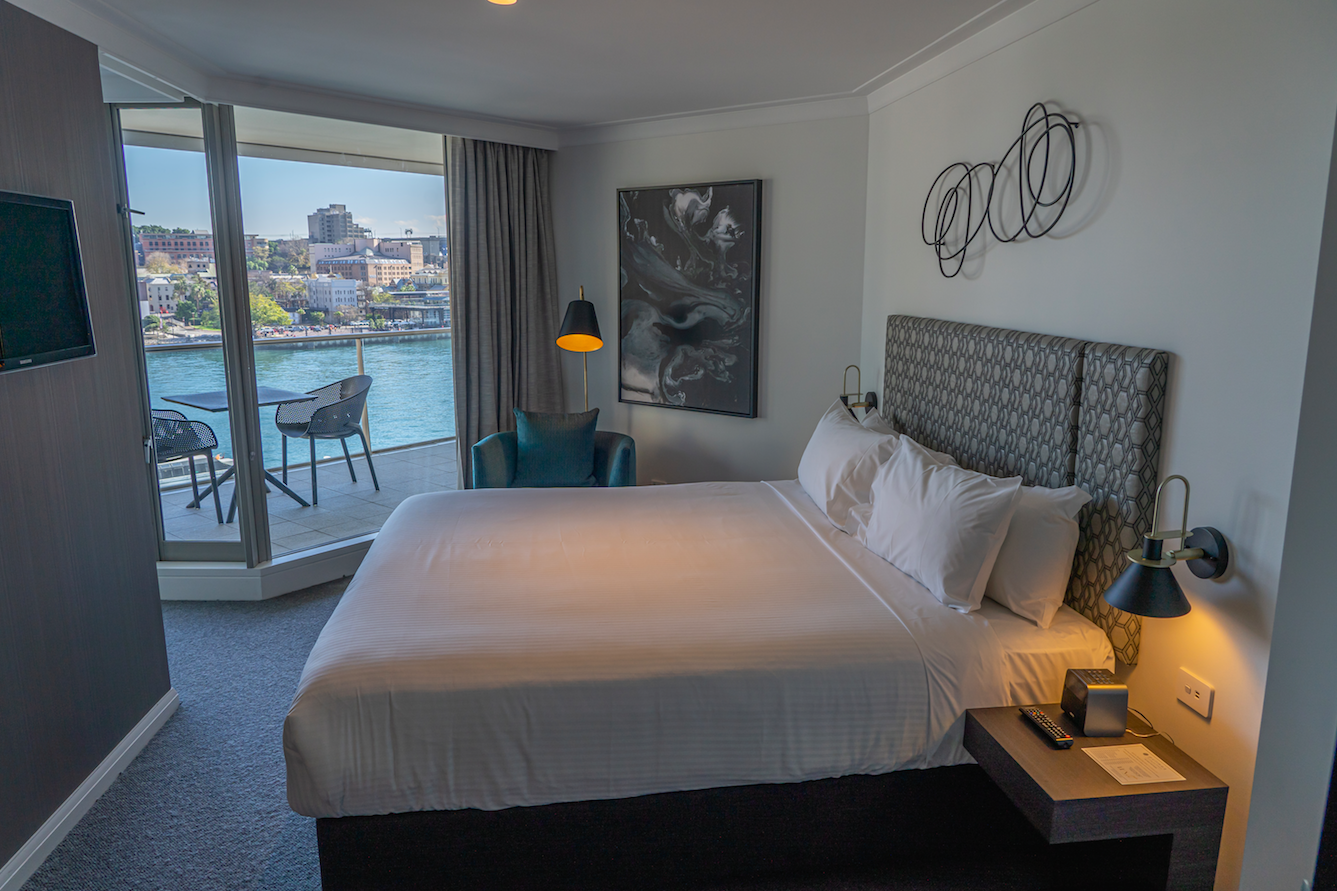 The extremely comfortable King size bed, with harbour views as a bonus.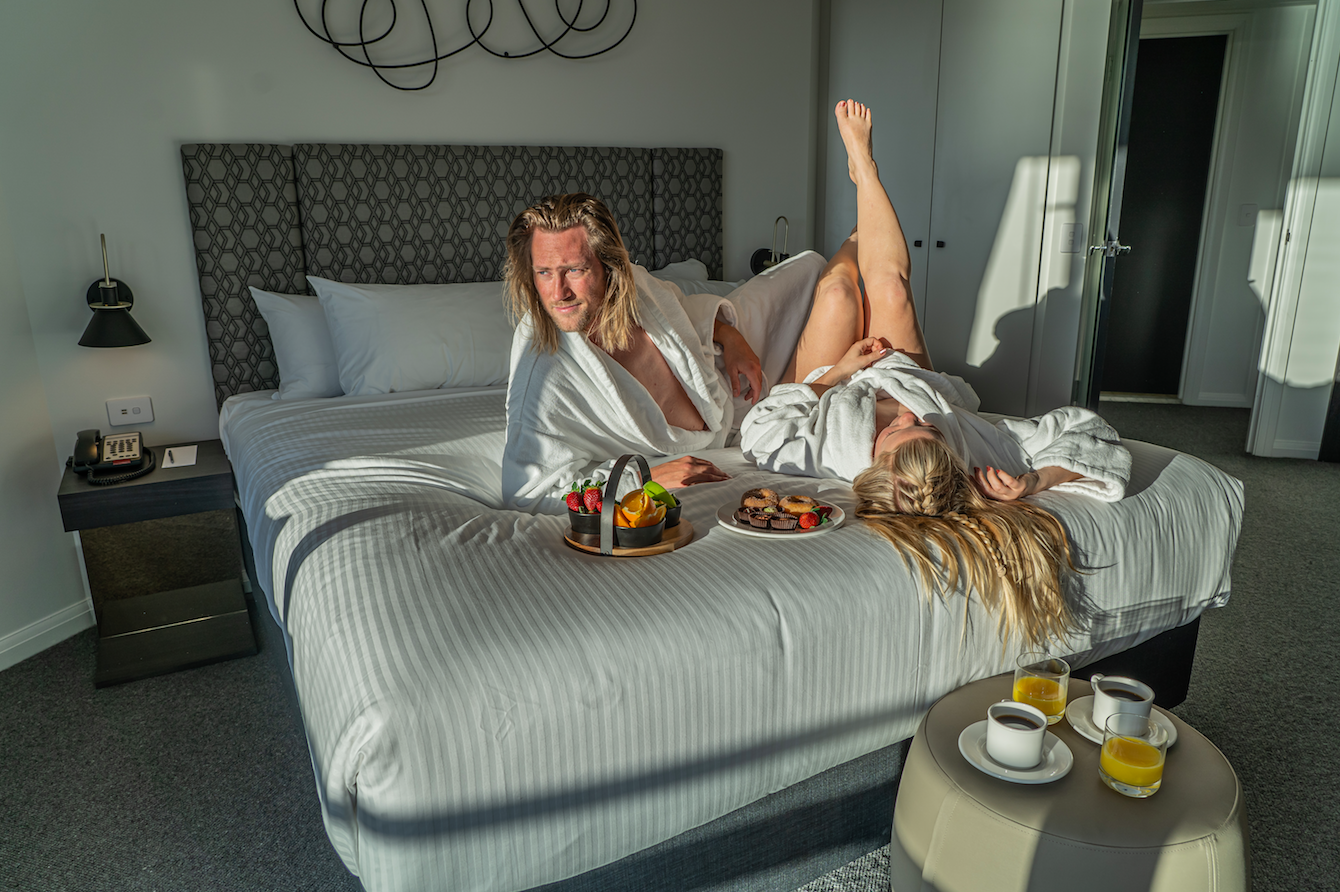 Breakfast in bed with a view. Not a bad way to start your day.  
The king size bed gave us the best nights sleep we have had in a hotel for a very long time. It was so comfortable that the frase "slept like child" don't even do it justice and in the morning you struggled with the thoughts of either getting up to explore the city or just hit the snooze button, again!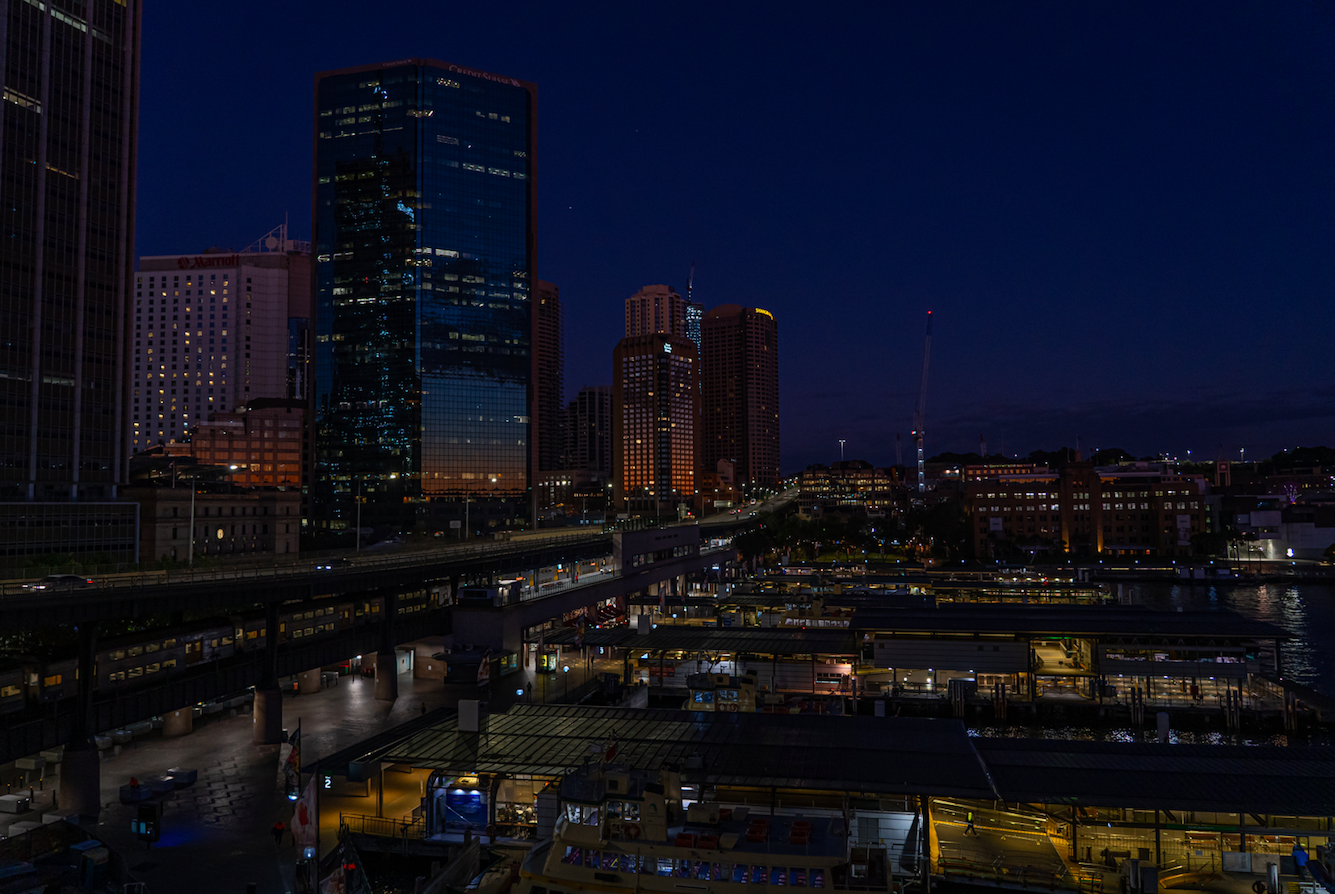 City skyscraper views at night.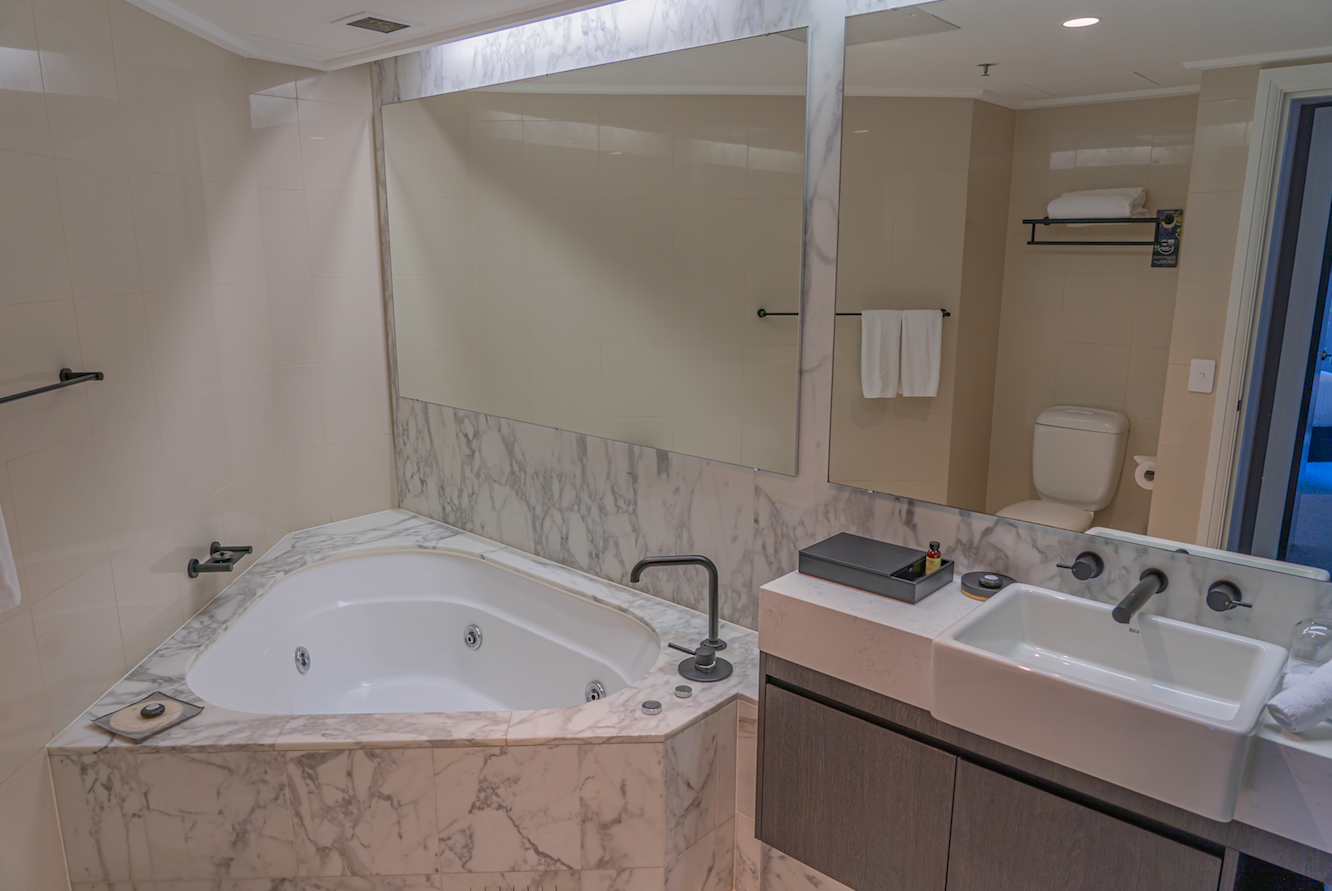 The ensuite bathroom with spa bath.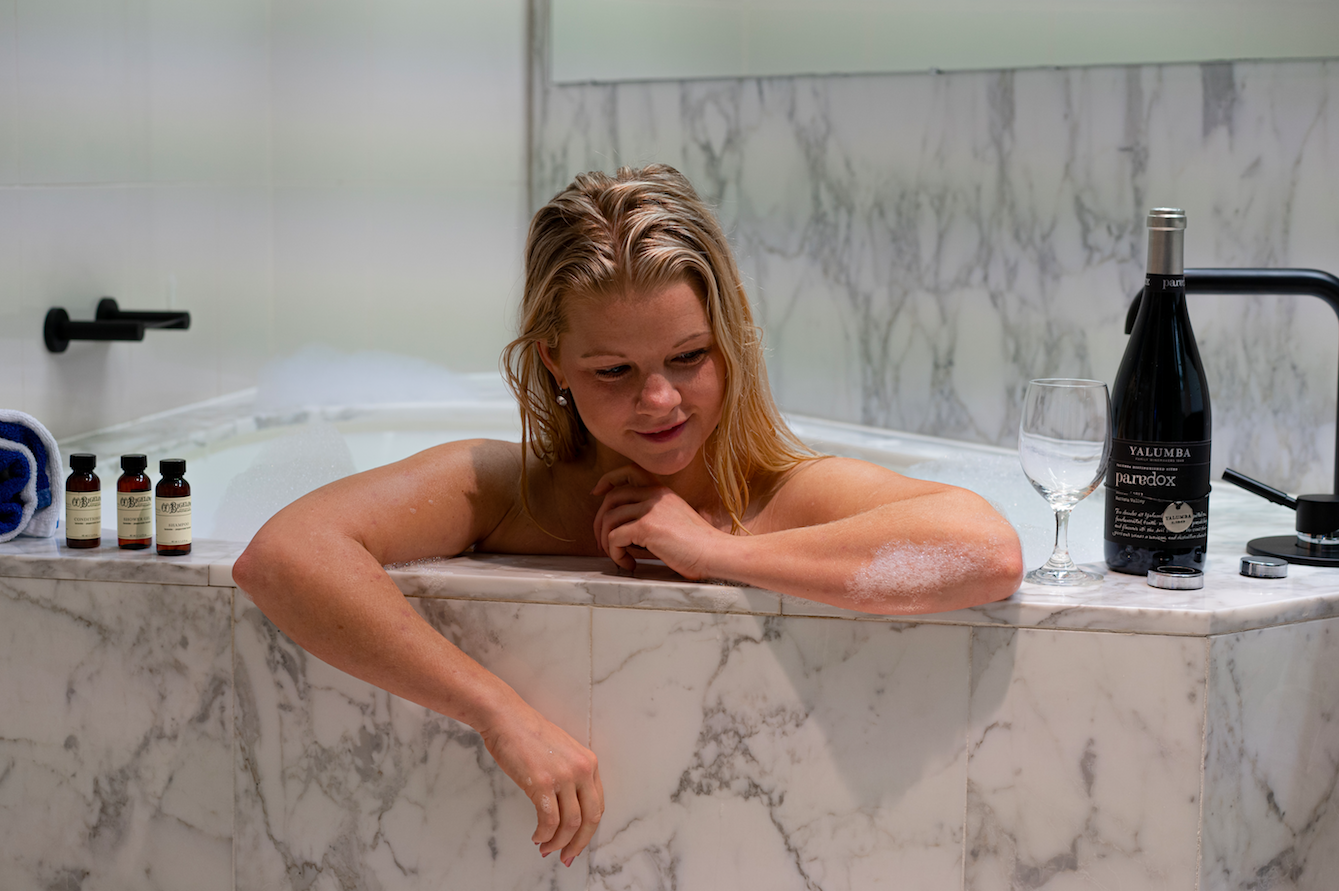 The Harbour View Suite at Pullman Quay Grand offers one of the better kitchens we have seen in a hotel. Fully-equipped with all the necessary cooking utensils for you to cook any gourmet meal you can possibly think of. You'll find a microwave, dishwasher, a big fridge with a small freezer, stove and oven as well as a Nespresso coffee machine.
This is the dream kitchen for anyone staying at a hotel and it sort of puts the icing on the cake for this luxury suite.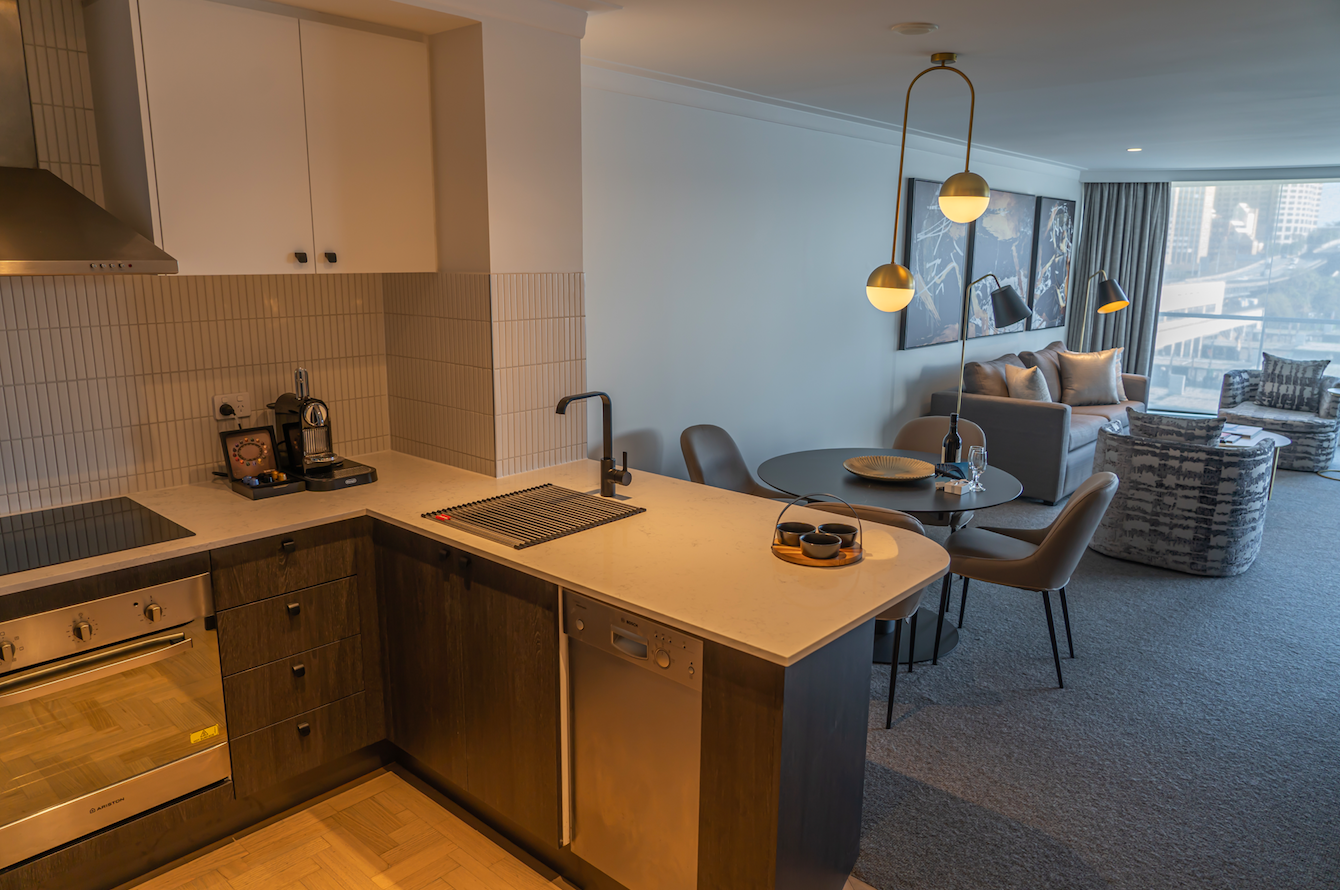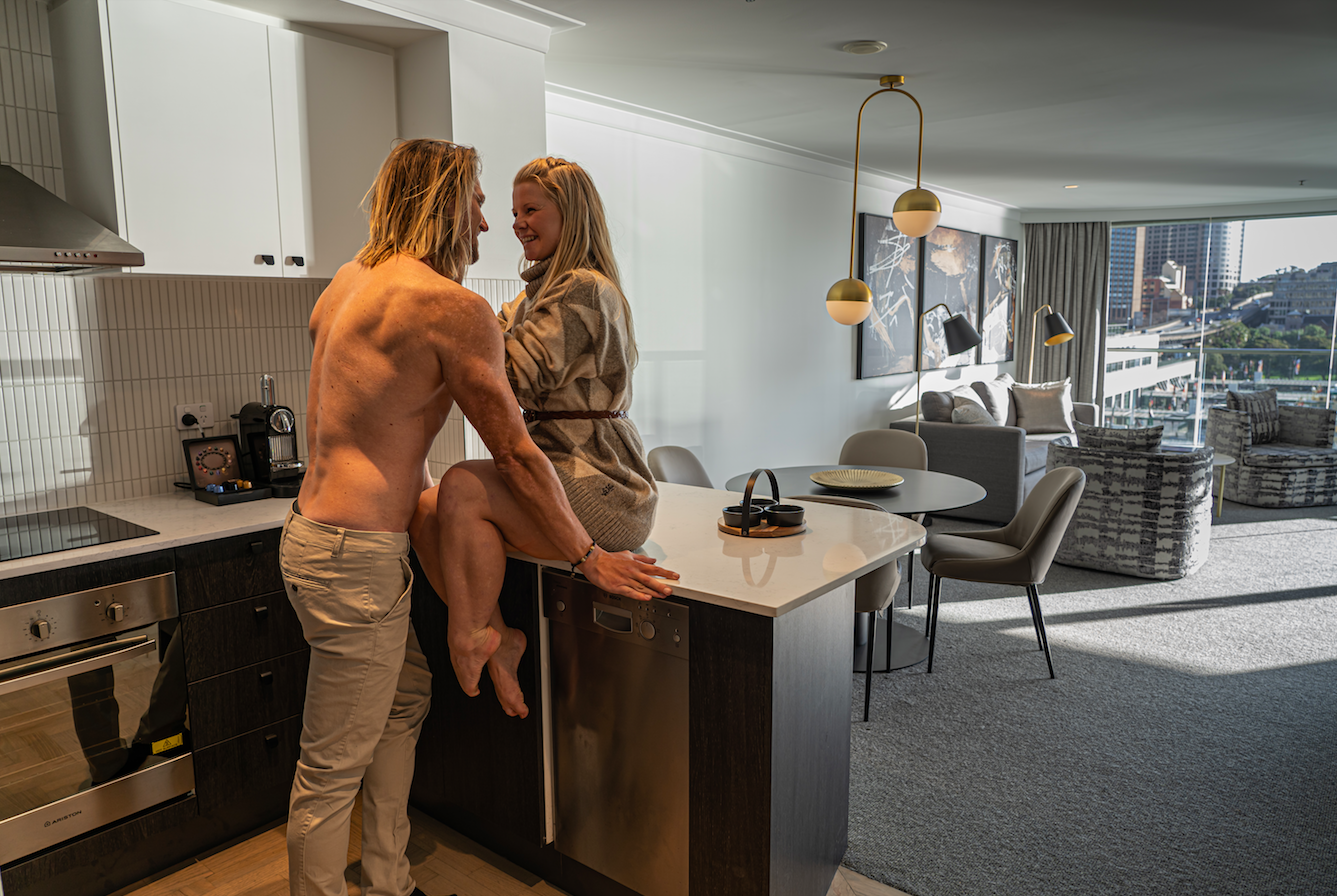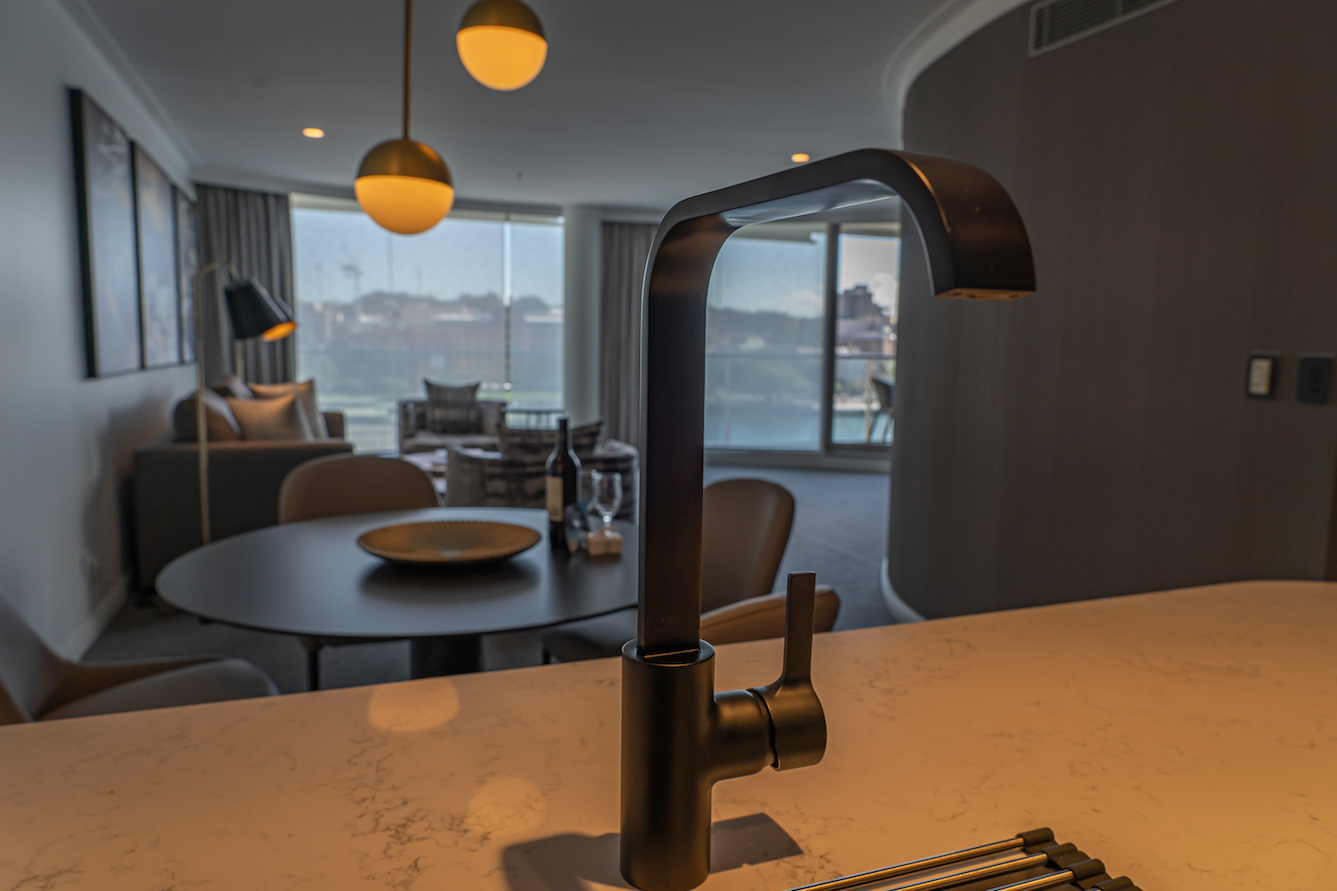 Million dollar views from the kitchen.
The very first feelings when stepping into the lounge is a mix of amazement and awe. You are instantly greeted with mesmerizing views and a room where high-standard luxury are blended with relaxed vibes in a perfect harmony. Spending quality time in the lounge either during daytime or in the evening felt a little extra elegant.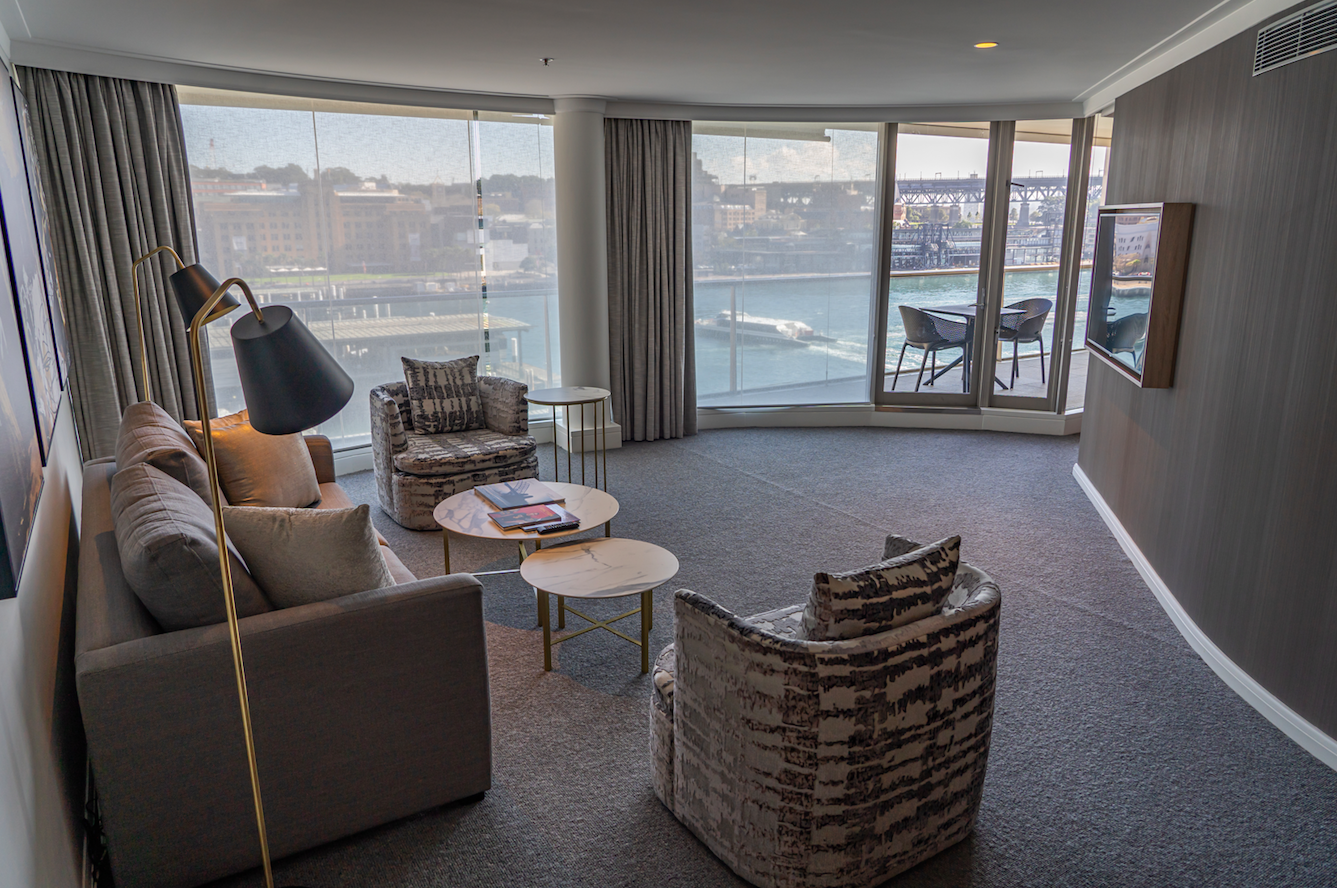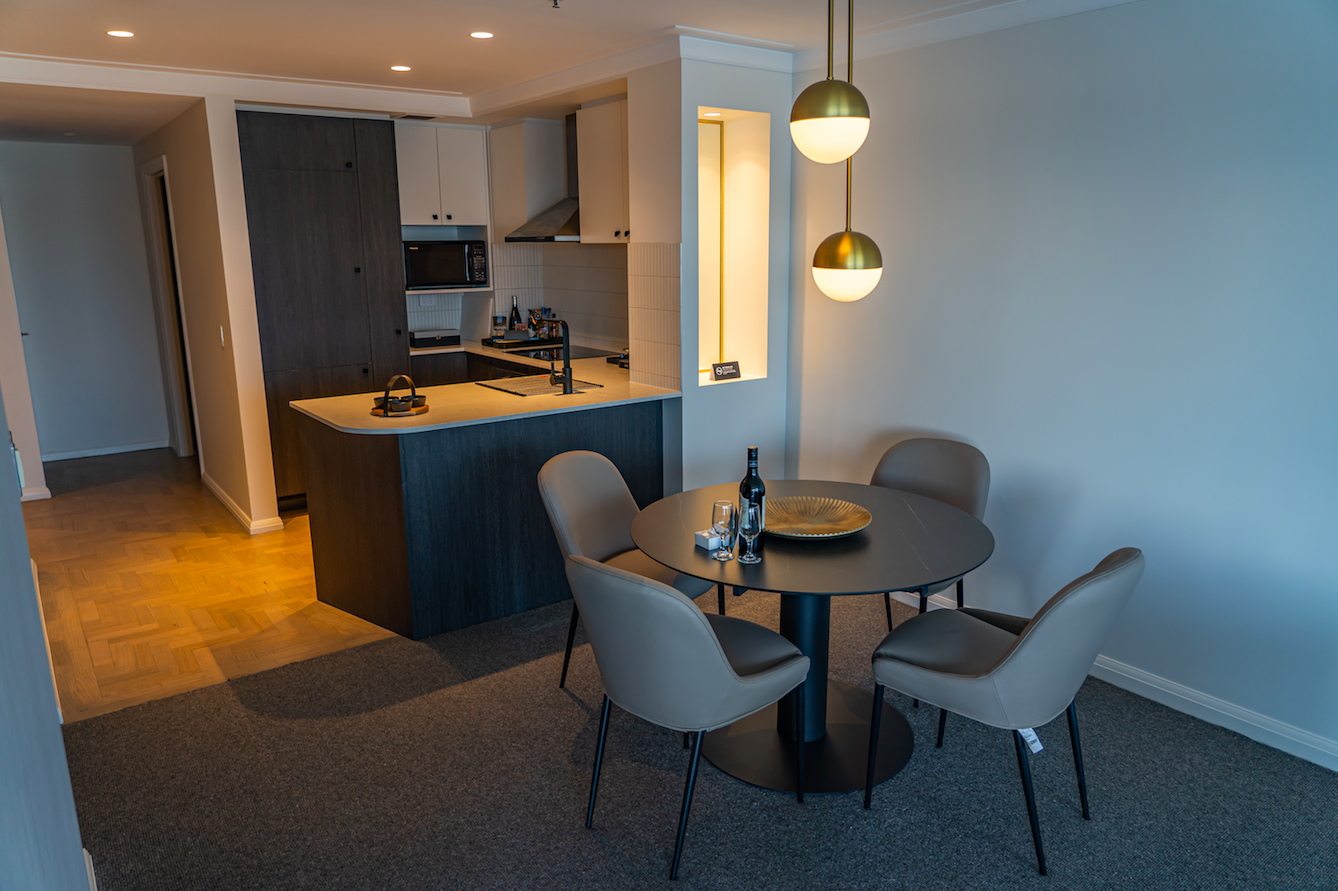 The dining area is right between the kitchen and the lounge intertwined in an open floor plan layout which allows for some breathing space and a lot of light.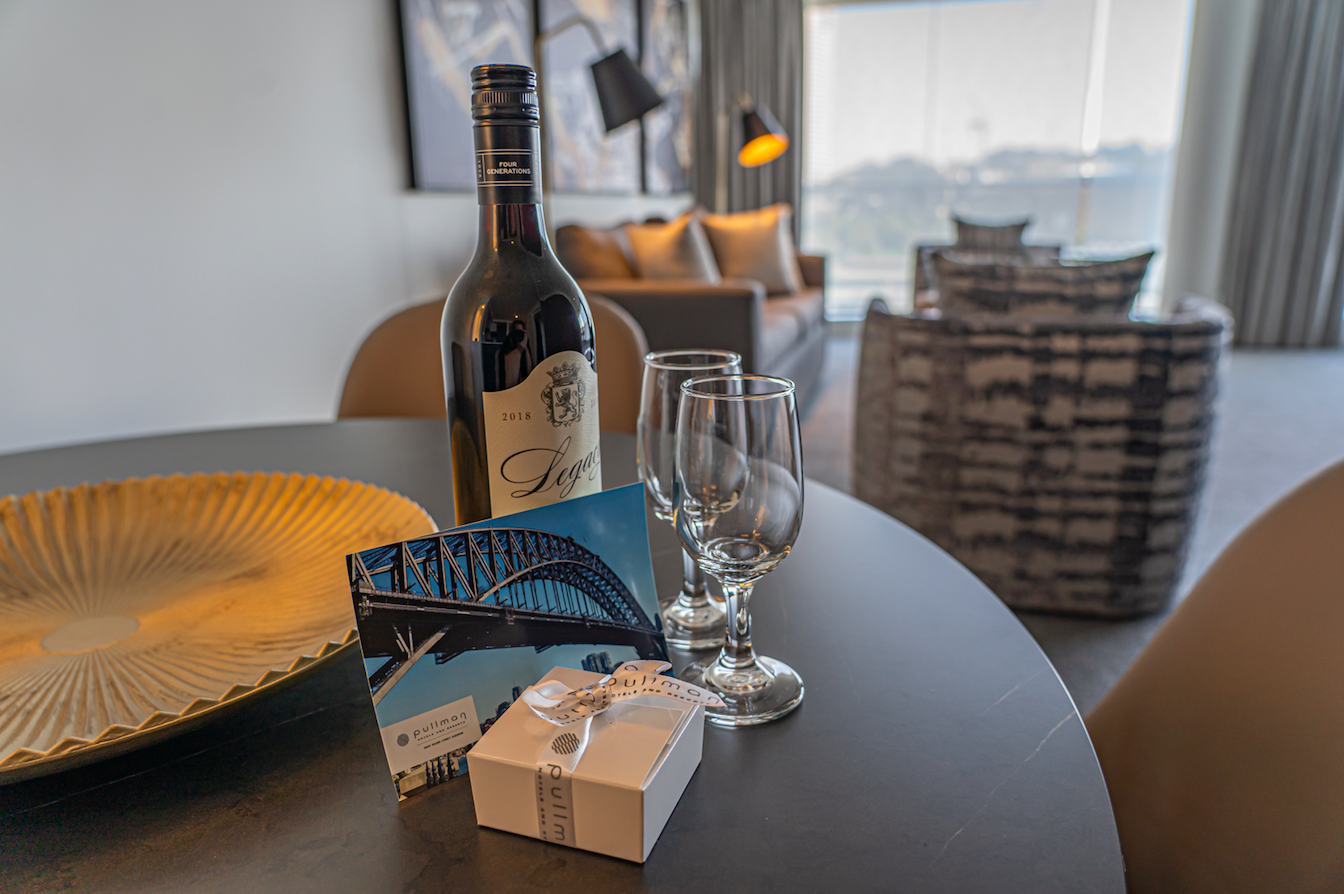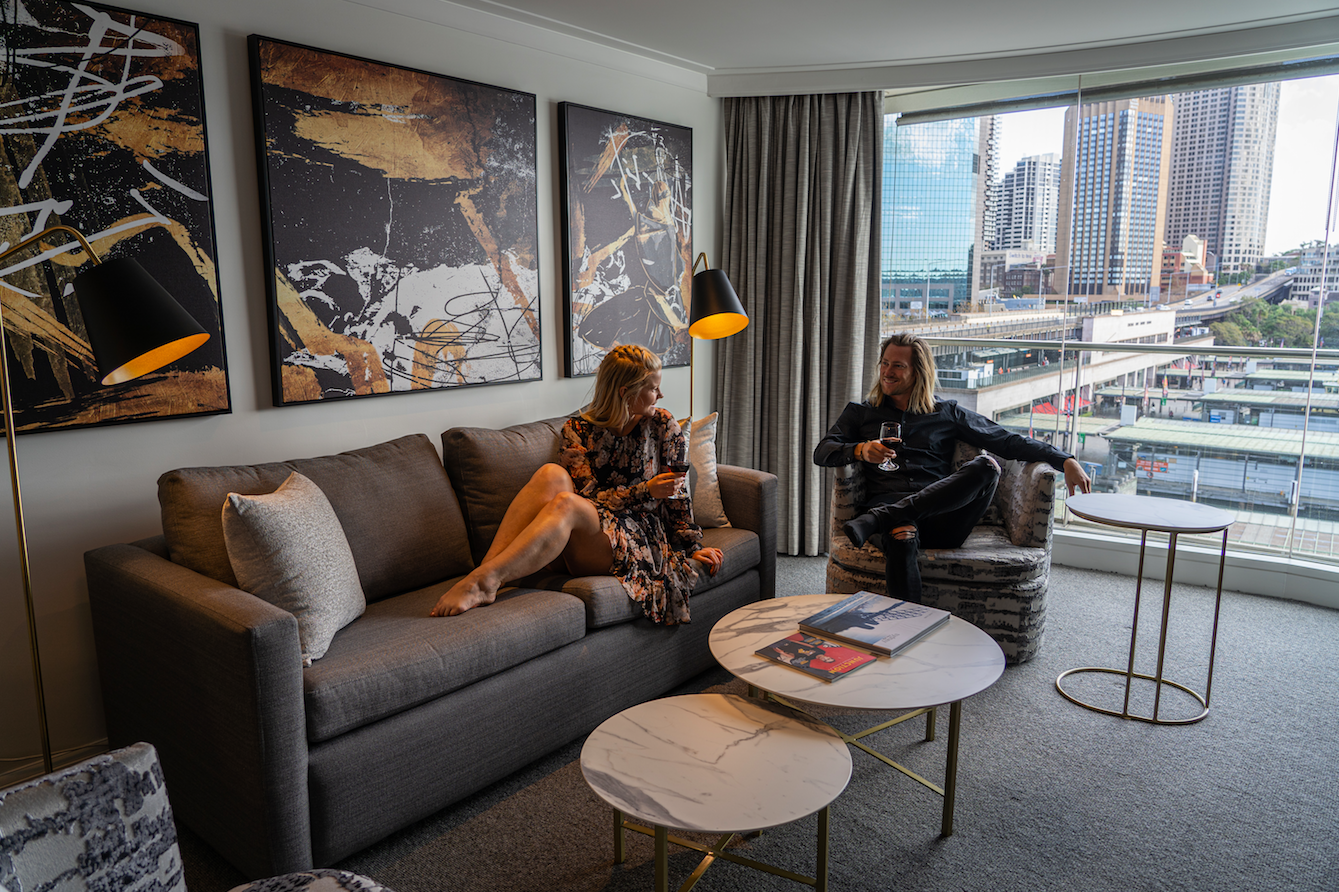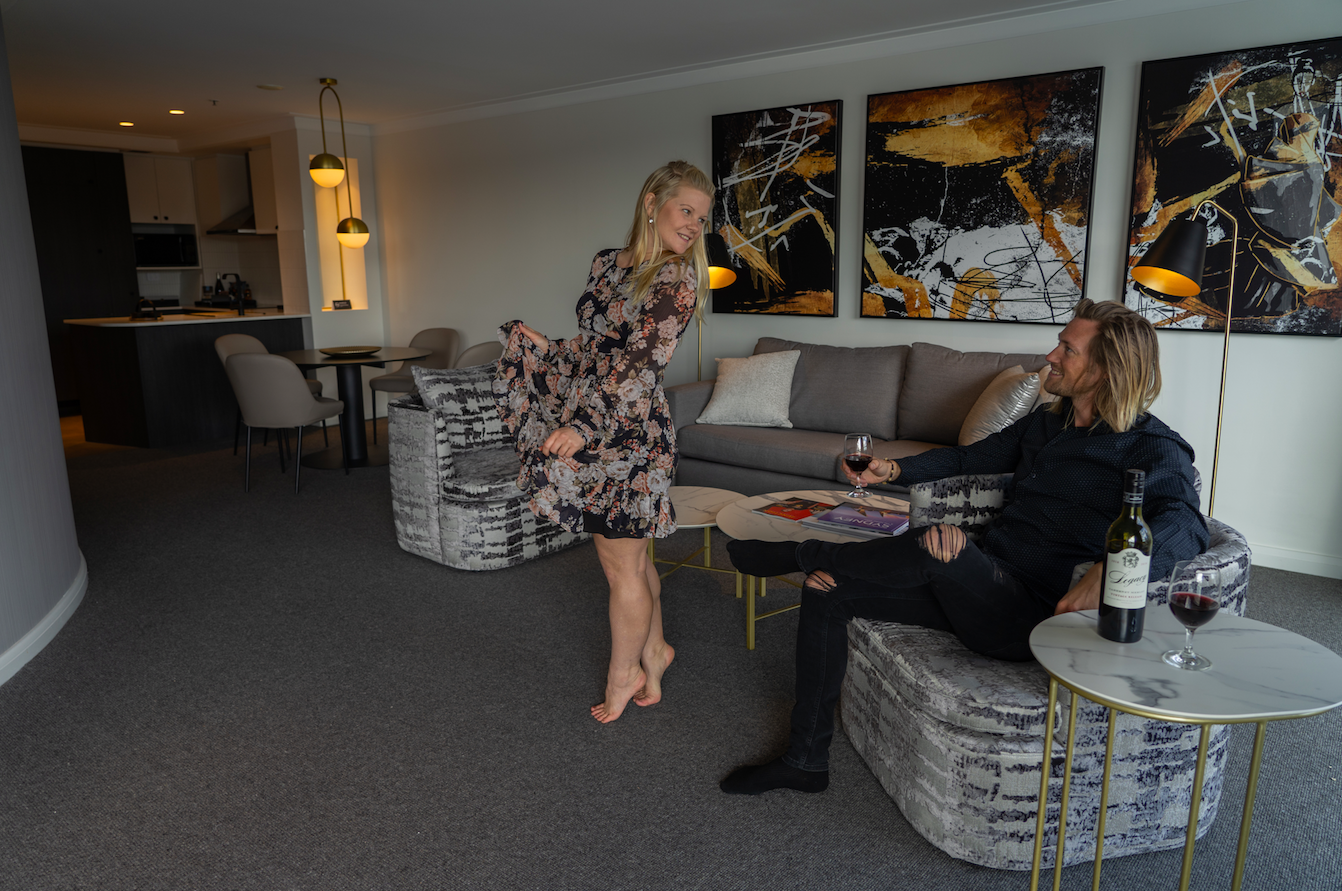 Walking out on the private furnished balcony will undoubtedly leave you breathless. With jaw-dropping views we got a glimpse of Sydneys CBD and its skyscrapers as well as Circular Quay and the Harbour Bridge from a unique vantage point – during both day and night as well as sunrise and sunset.
With views like that we could follow the hustle and bustle of everday life from people below as well as drink in the moments of gratitude and admiration.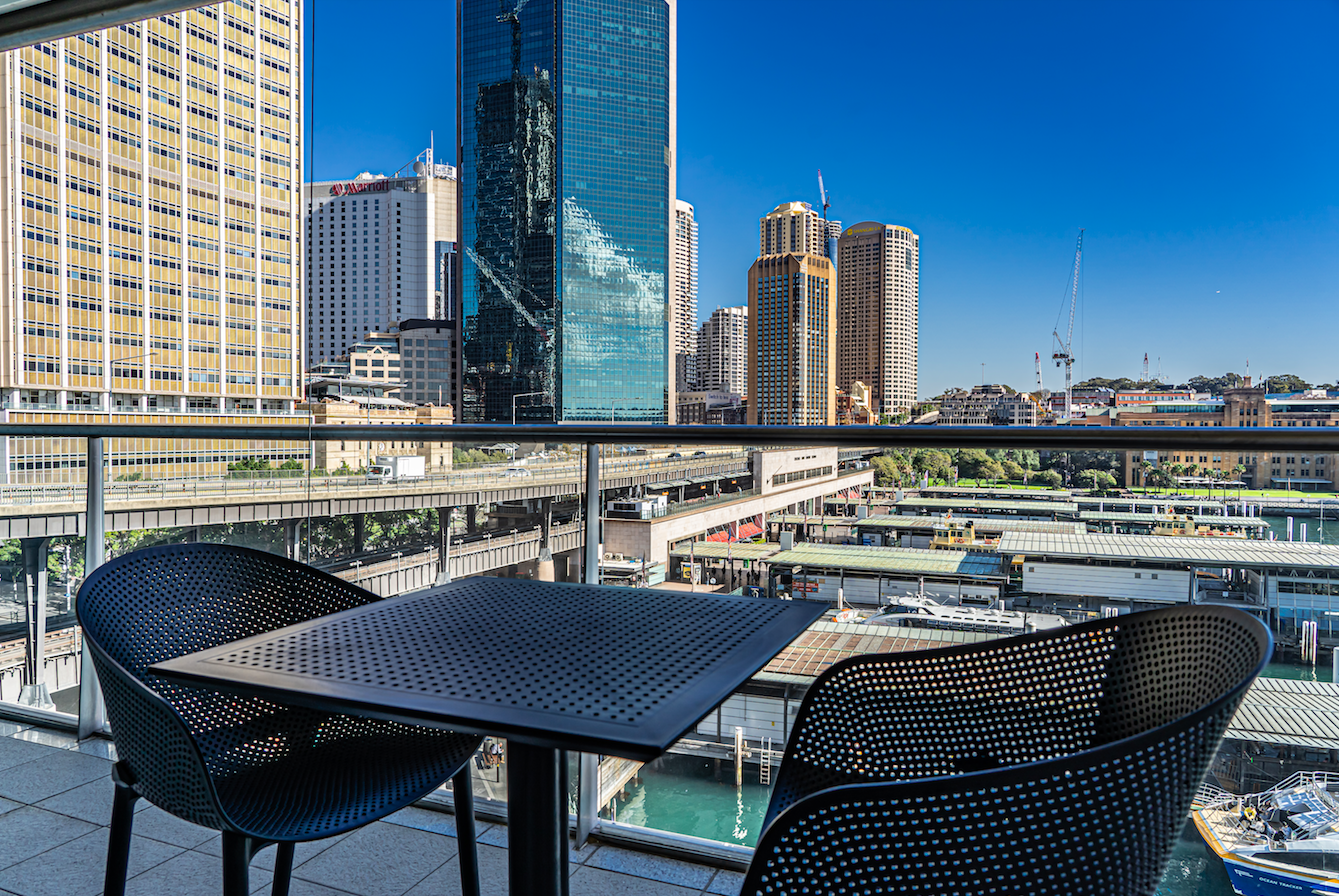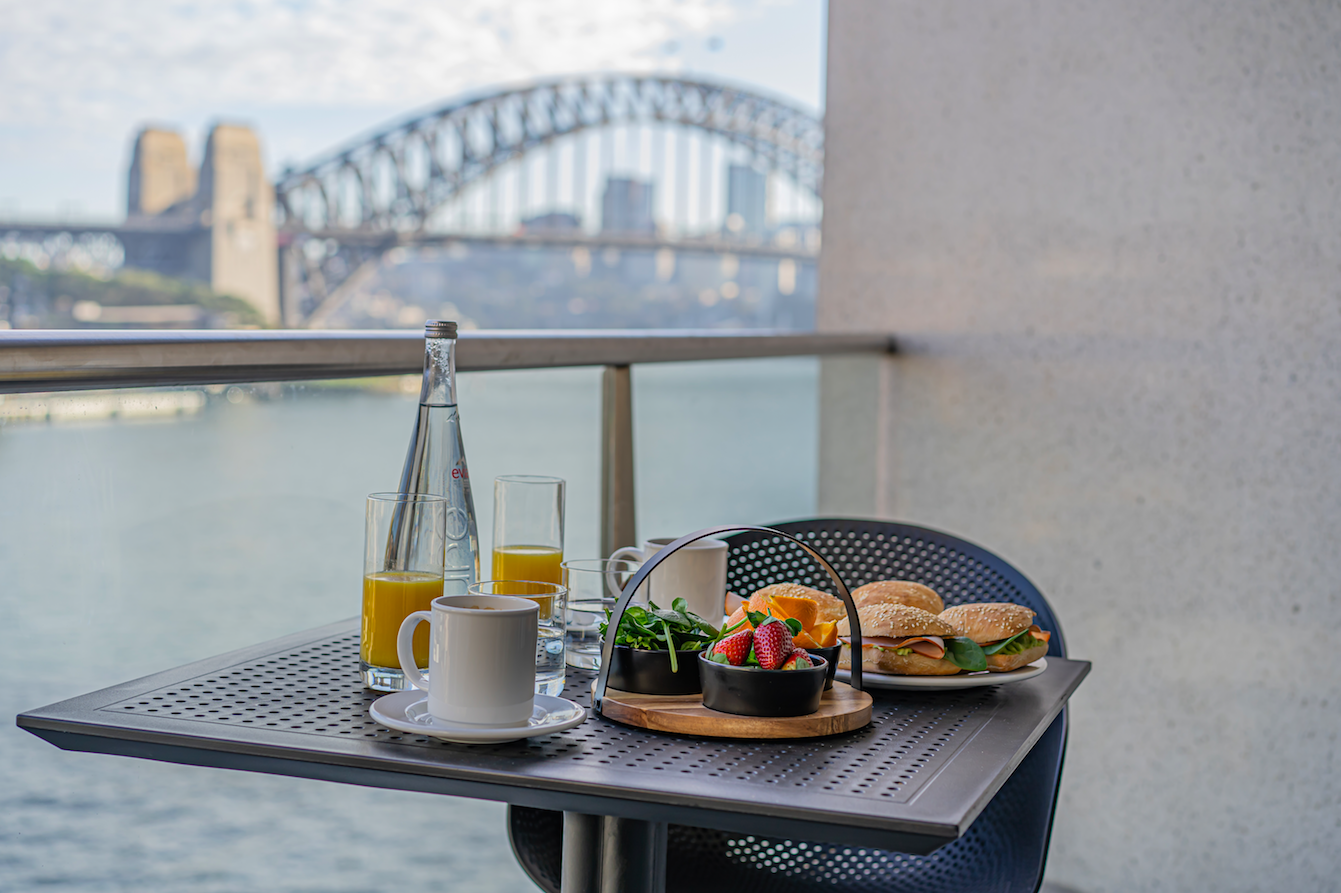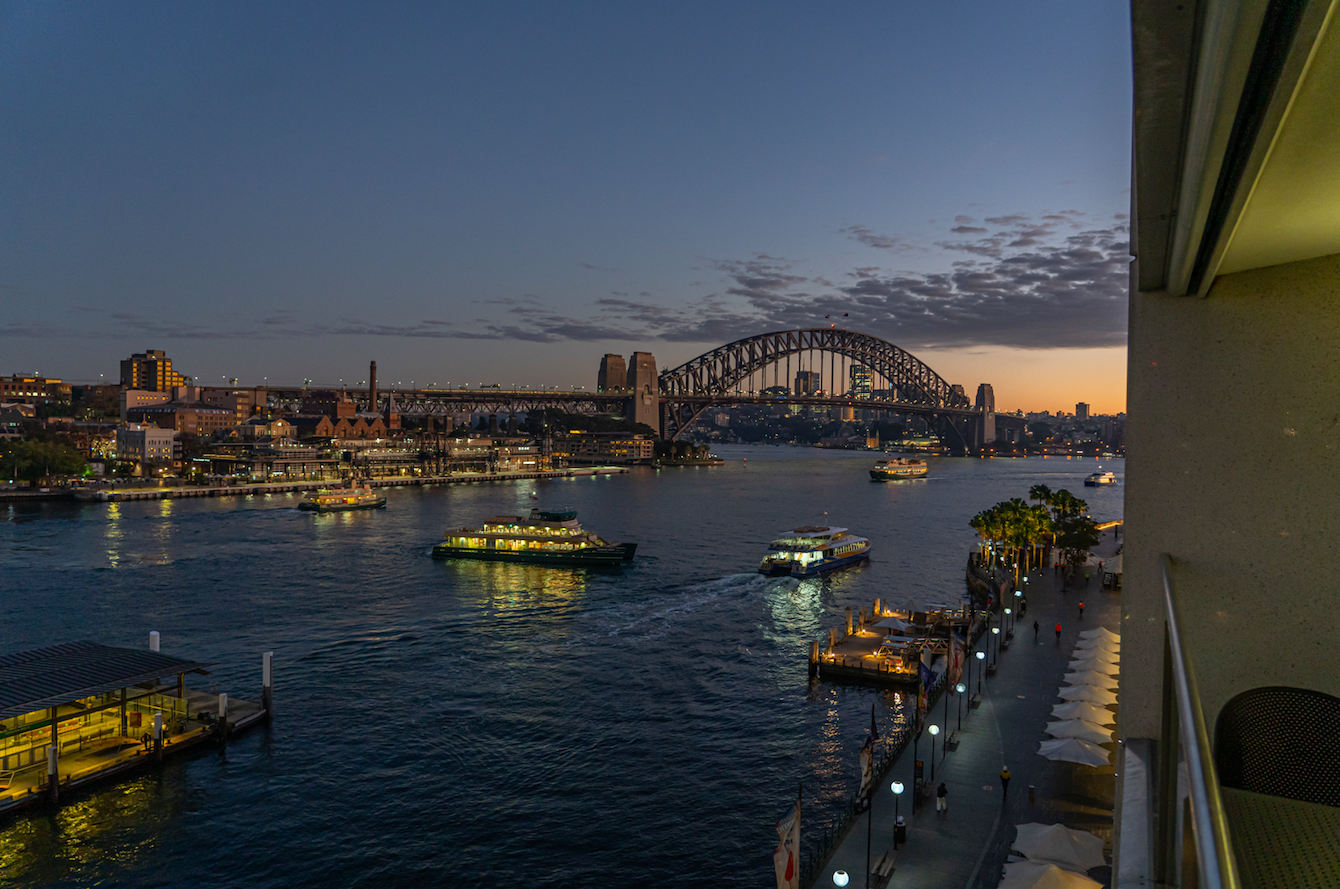 A beautiful evening with a pink and blue coloured sky.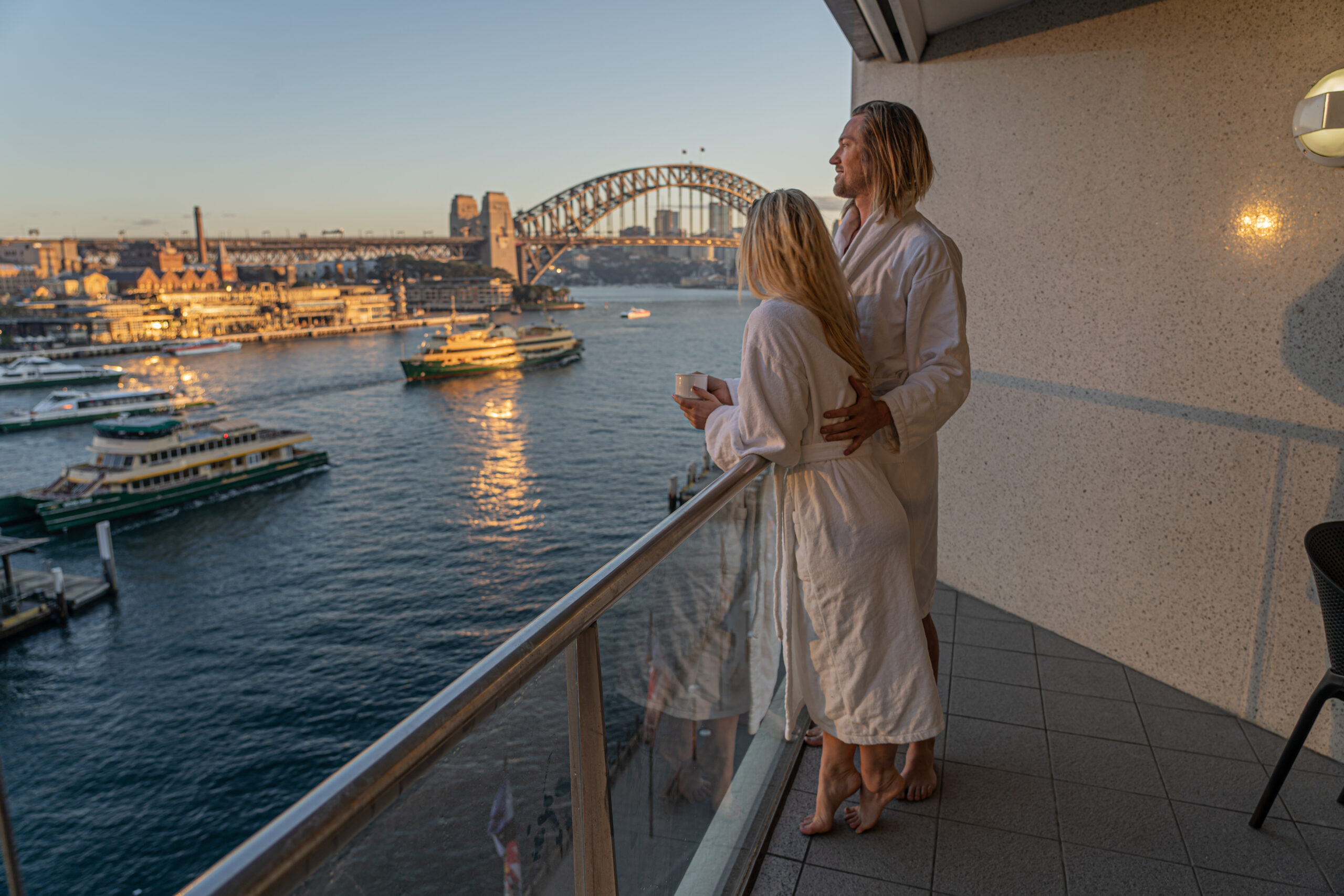 Circular Quay and Harbour Bridge views while enjoying a cup of coffee. Good moring Sydney. 
Pullman Quay Grand Sydney Harbour is located on the exclusive address in East Circular Quay in the heart of Sydney with only metres to the iconic Sydney Opera House, Royal Botanic Garden and the charming The Rocks district – with its colorful history. It's the perfect base for exploring Sydney – either on foot, by metro, light rail or bus. You'll also find its close to shopping, restaurants and bars.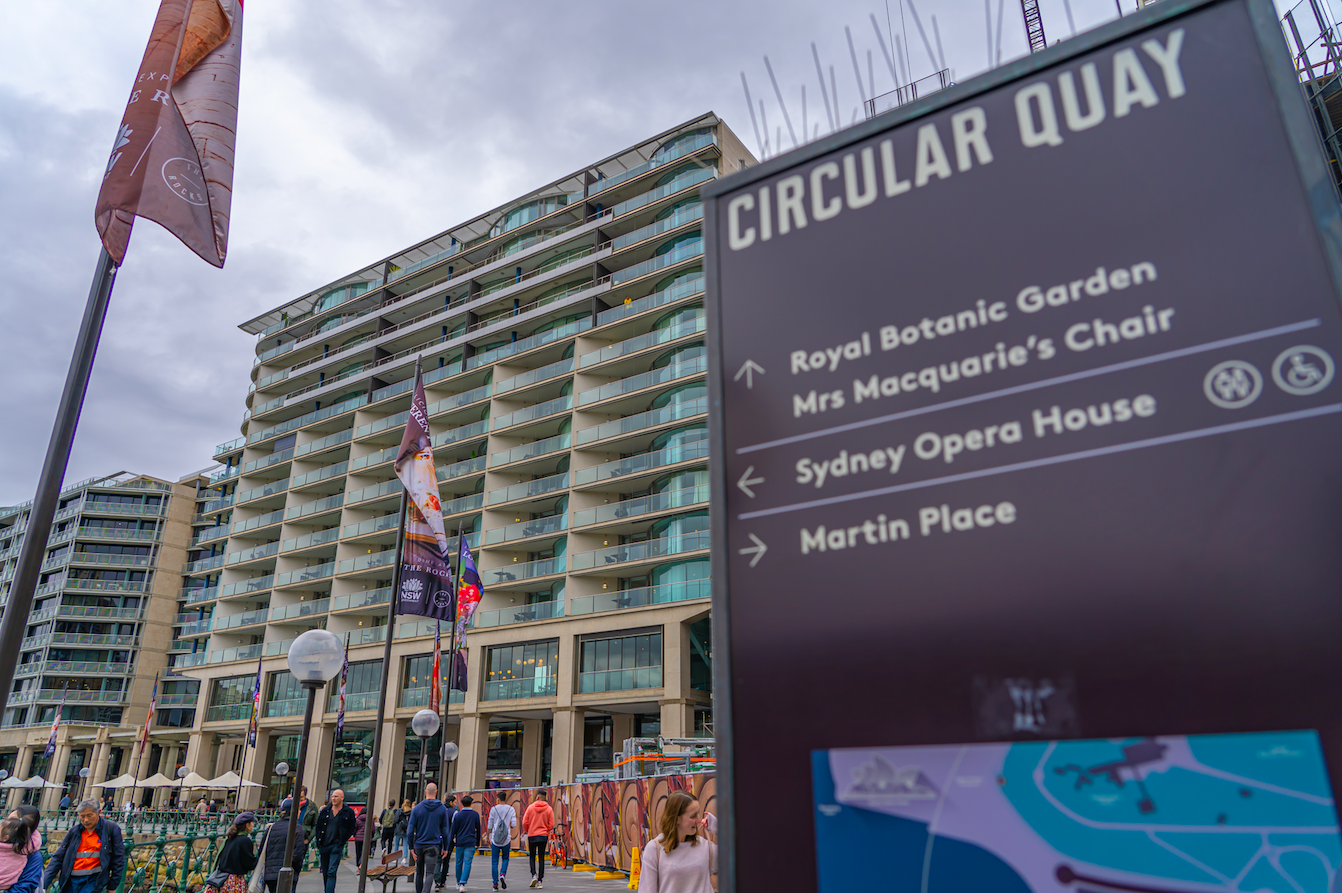 Located on the exclusive address in East Circular Quay with only metres to the iconic Sydney Opera House and Royal Botanic Garden.
For anyone looking to explore the suburbs of Sydney, Manly is only a short 30 min ferry ride away from Circular Quay Wharf, or 18 minutes if you take the fast ferry – and it's a very beautiful way to travel.
12 km from Sydney airport

400 metres from Circular Quay Station
200 metres to Circular Quay Wharf
From Sydney Central station to Circular Quay its about 8 minutes train ride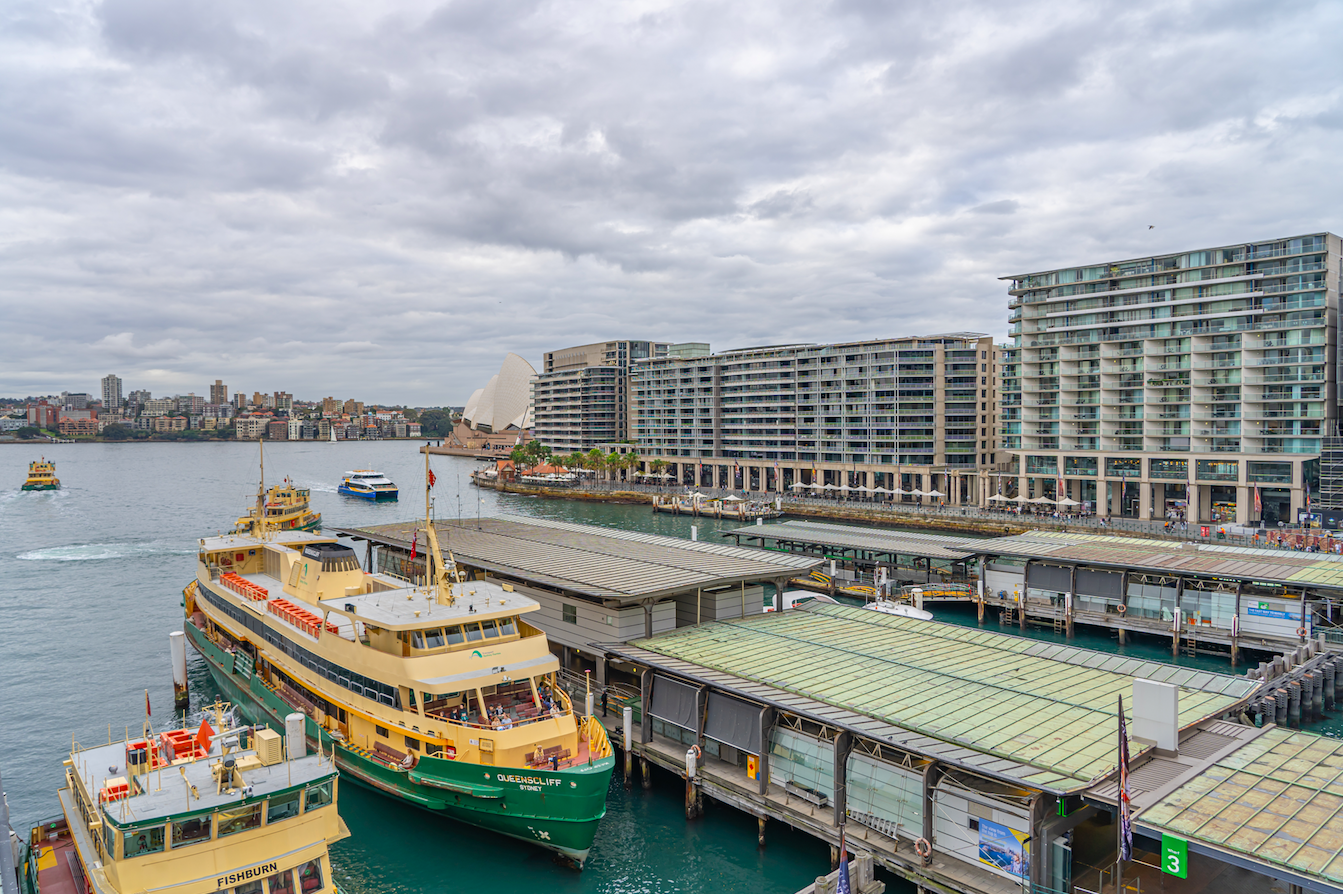 Circular Quay Wharf with Sydney Opera House to the left and Pullman Quay Grand to the right in the image. 
In our opinion, even though this is of course a luxury accommodation and not for all people traveling on a budget – we definitely recommend staying with Pullman Quay Grand since you get a lot of value for the price. Its also perfect for those special moments when you wanna celebrate a birthday or anniversary.
Make your stay in Sydney a memorable one and book a few nights at Pullman Quay Grand by clicking the book your stay button below. 
THANKS FOR READING OUR BLOG ♥
Hi! We are Sofia and Fredrik - and we have been traveling
the world for more than 10 years. We live a travel lifestyle
and create travel content as bloggers, photographers and
digital nomads. Our aim is to inspire you to explore the world
and enjoy the freedom that comes with it.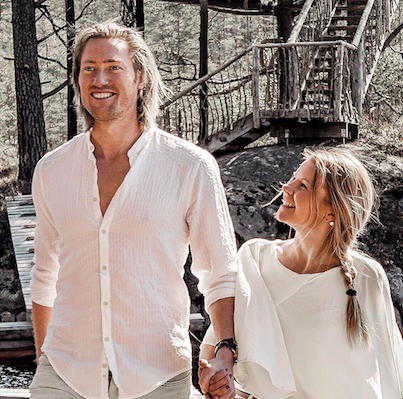 Copyright © 2019 Vagabonds of Sweden. All rights reserved