Novotel Sydney Manly Pacific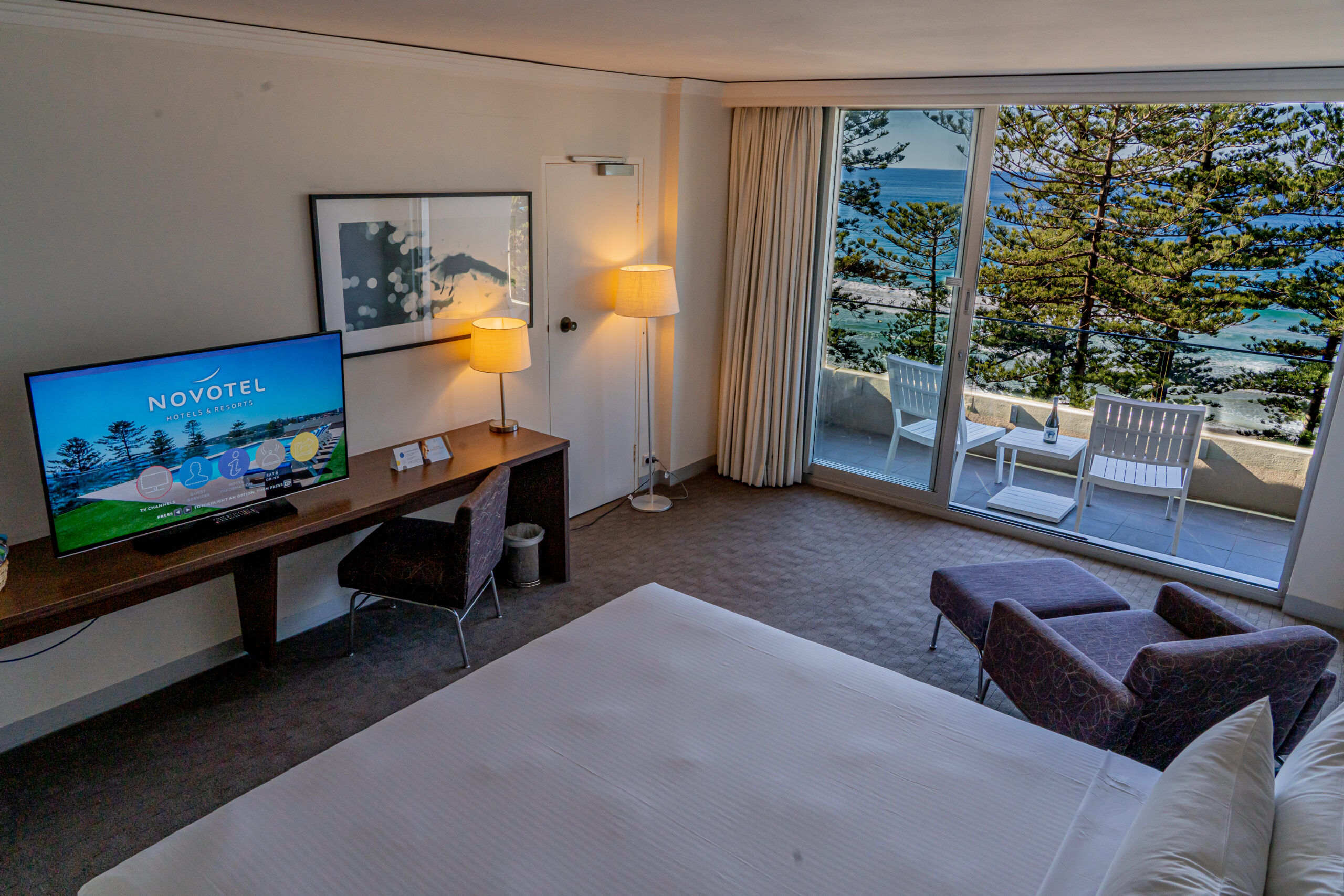 Novotel Sydney Manly Pacific is a 4-star beachfront hotel offering spectacular views of Manly Beach, Manly District and the Tasman Sea. This is the ultimate seaside getaway perfect for couples, families and anyone looking to relax smack dab in the middle of Manly within walking distance to everything. Here you can just grab your surfboard, cross the street and hit the waves. It's as easy as that. Or why not discover the surroundings on foot. No matter your activity preferences, this is the perfect base for exploration.
Reopening on July 1st due to previous Covid-19 restrictions – Novotel were very happy to welcome their guests back. We were lucky to experience one nights stay before we left Sydney going South and if we ever come back to Manly we know exactly where to stay.
Home to 213 guestrooms and suites, Novotel Sydney Manly Pacific has something for everyone. We stayed in a Superior Ocean View Room and had a wonderful time. With its relaxing atmosphere, stylish interior and light-filled space it satisfies your expectations of a spacious ocean view room. You´ll find an ensuite bathroom, private balcony and king-size bed among other amenities.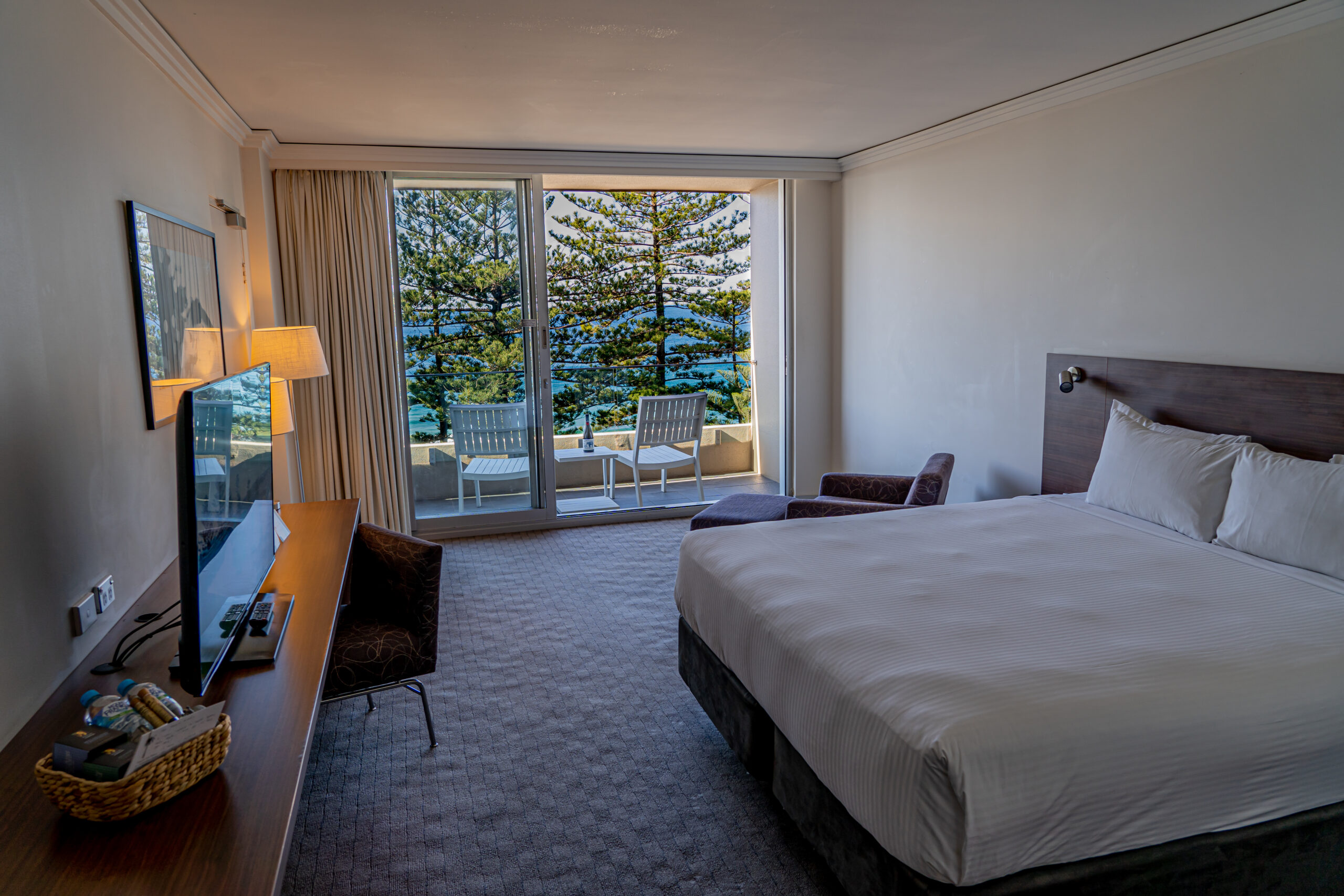 Relaxing vibes and a spacious ocean view room.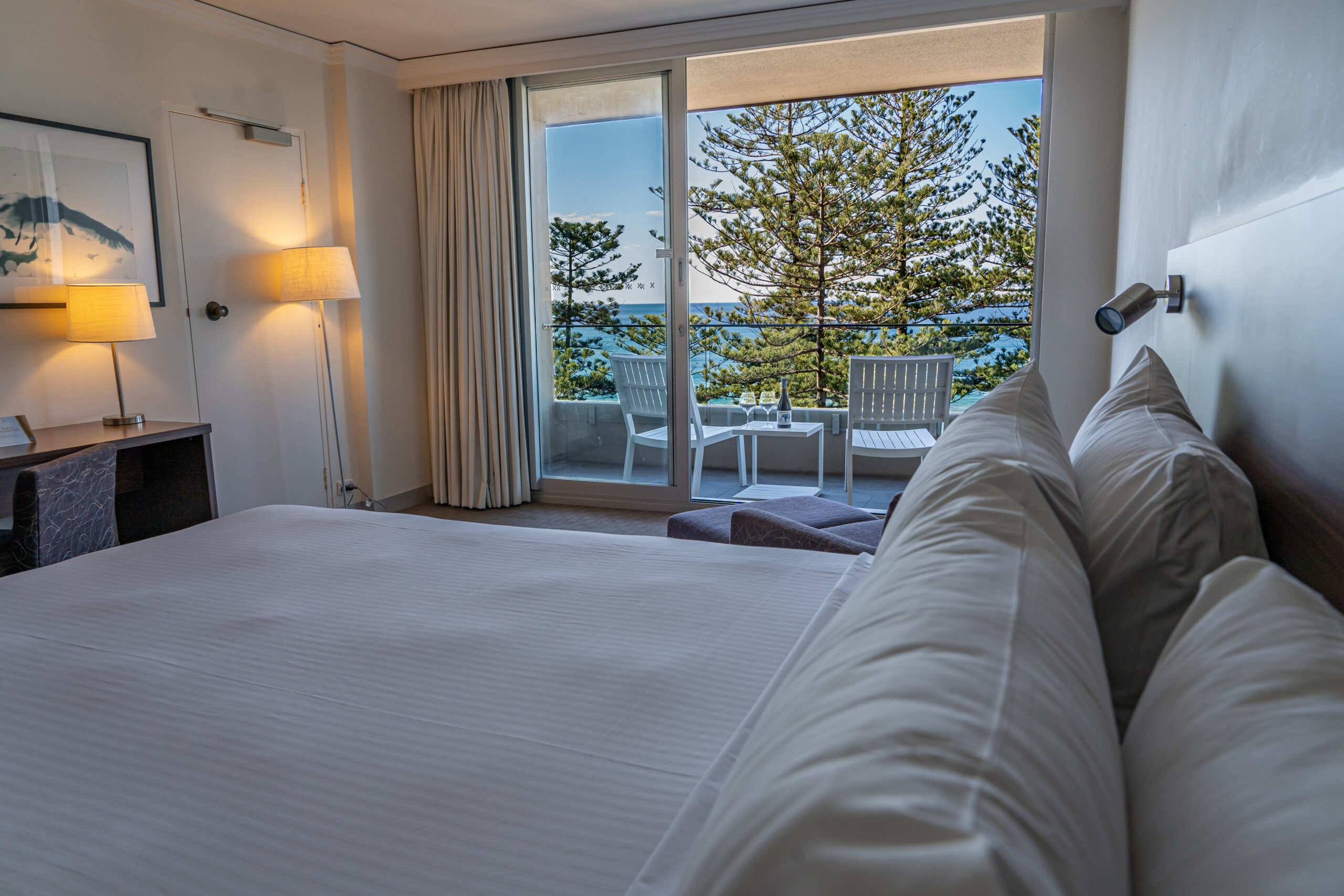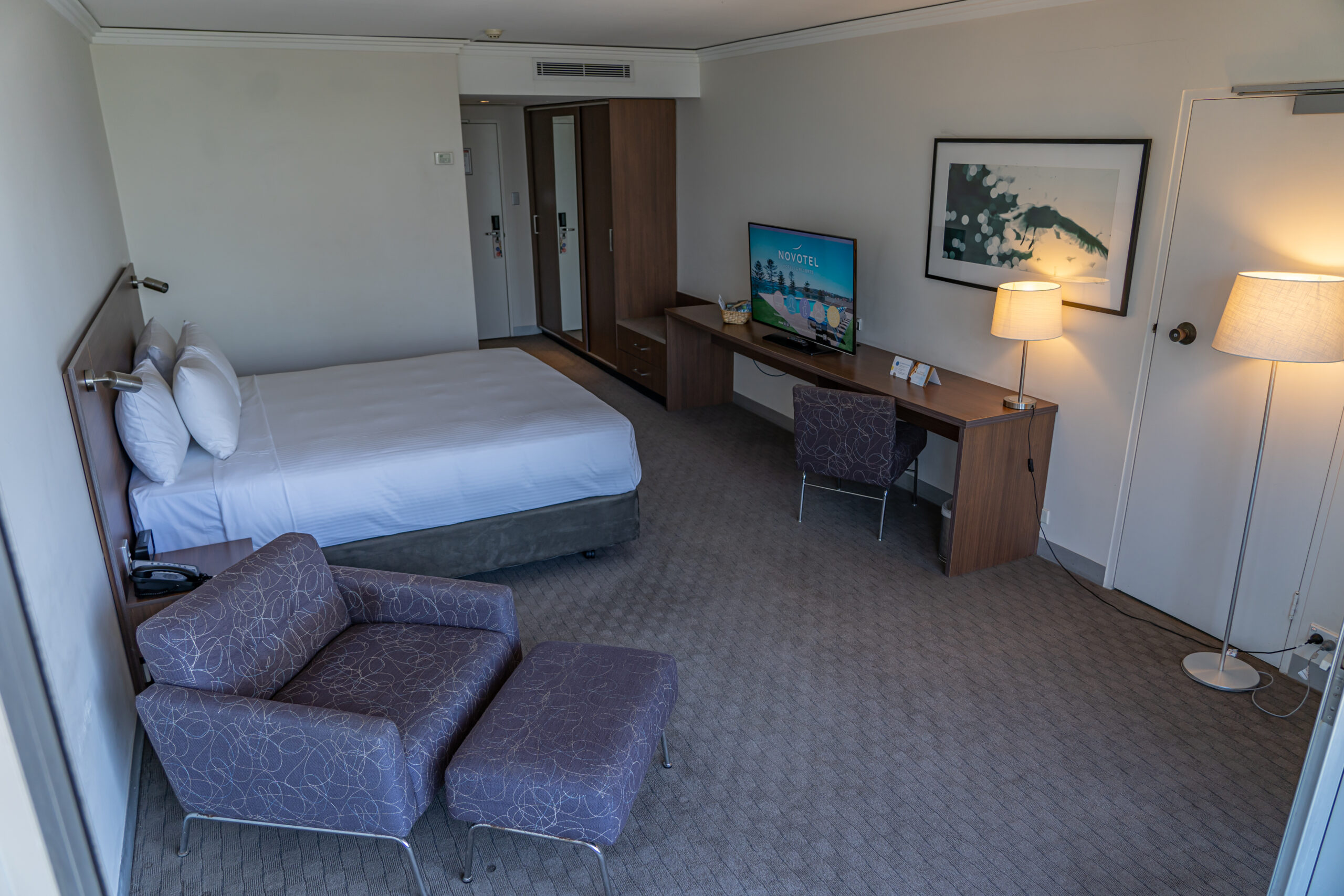 A cup of coffe and the ocean breeze please.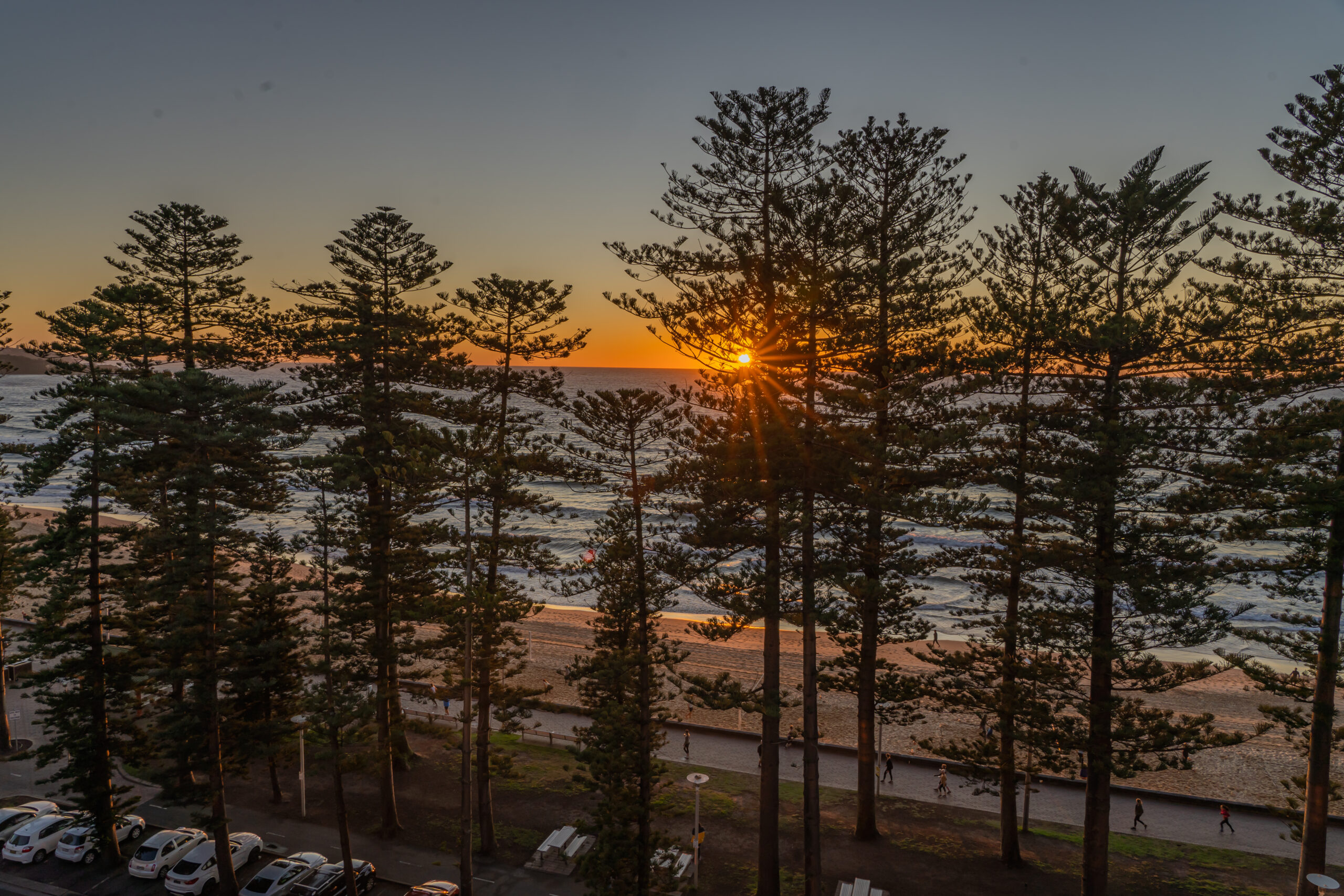 The sun is rising and people are already out welcoming a new day. 
One of the more satisfying feelings when staying in a room like this is when you leave the curtains open to wake up as the sun rise. Looking out through the windows towards the ocean we saw the sun slowly rising between the trees and would happily set the alarm for more mornings just like that.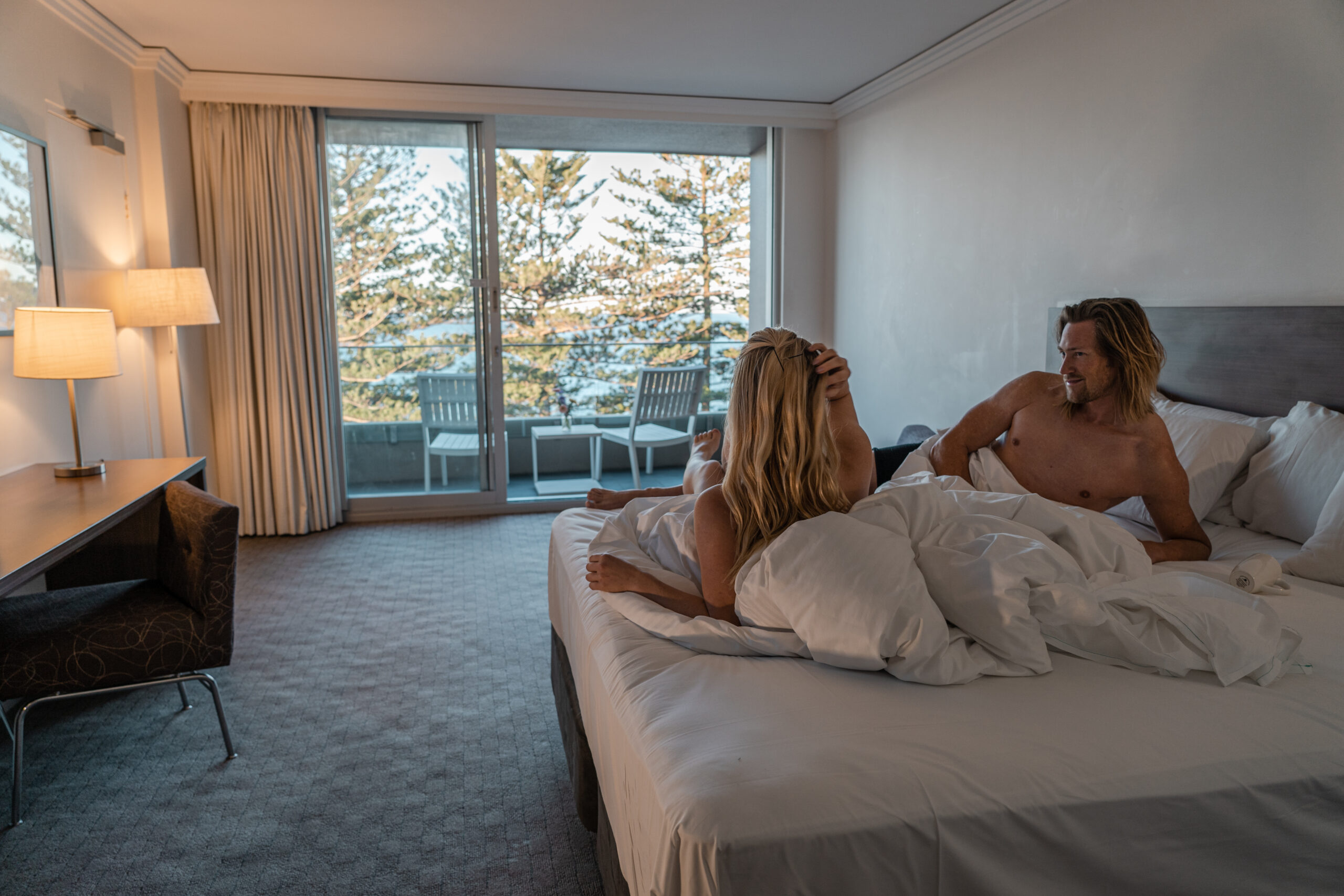 With a private balcony we enjoyed beautiful uninterrupted views over Manly Beach and the turquoise Tasman Sea. From here we vitnessed a spectacular sunrise and sunset that painted the sky pink and blue. It was the perfect spot to unwind with a glass of wine after a day full of activities.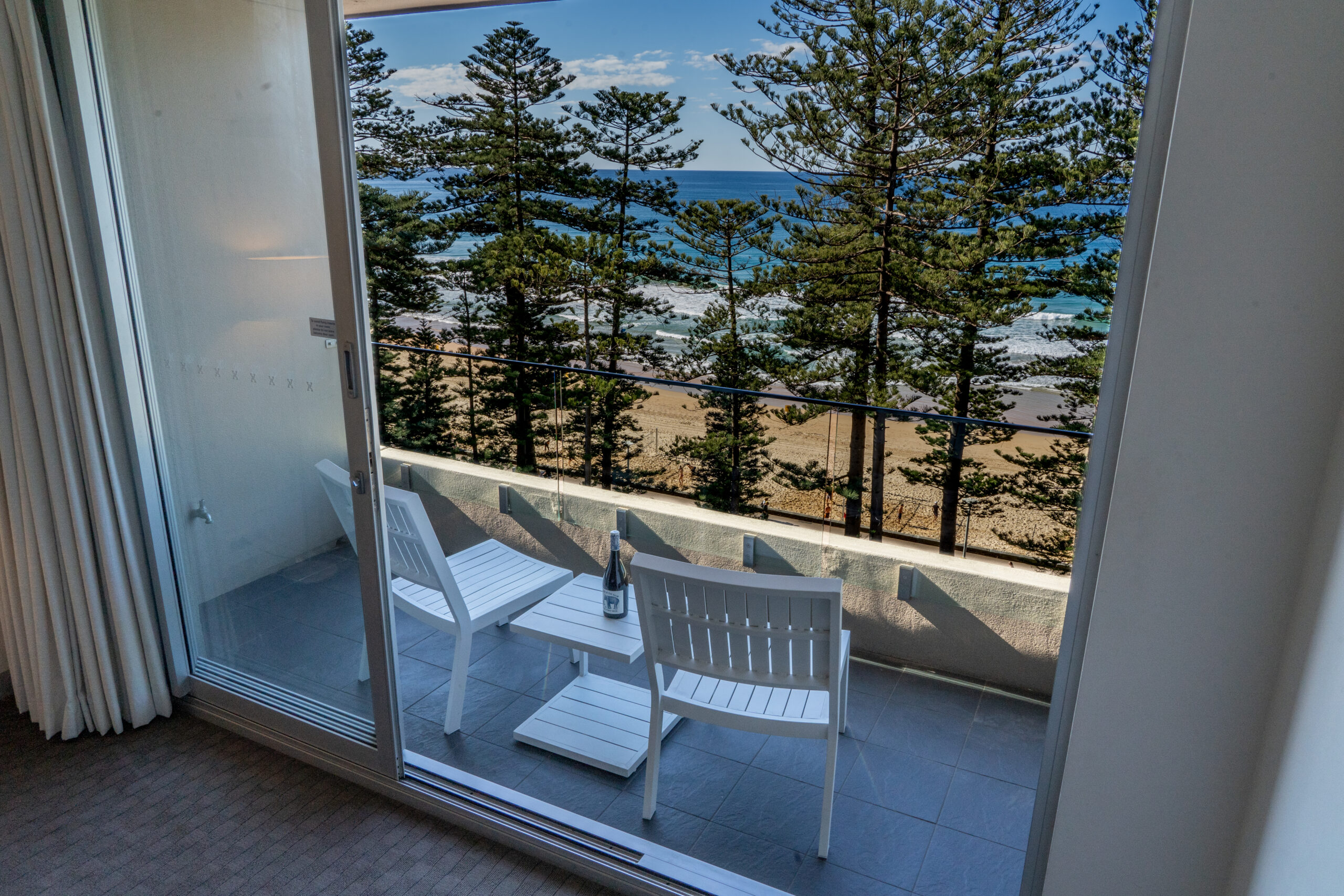 When sitting on the balcony you will appreciate the feeling of a gentle ocean breeze, the subtle noises from the Manly street pulse and the opportunity to watch people either sun bath, surf or play volleyball at the beach – from a great vantage point. Or, there is always the daily bird song during sunset provided by hundreds of parrots finding their way down to the trees along the beach. If you appreciate the small things, this is actually quite the experience.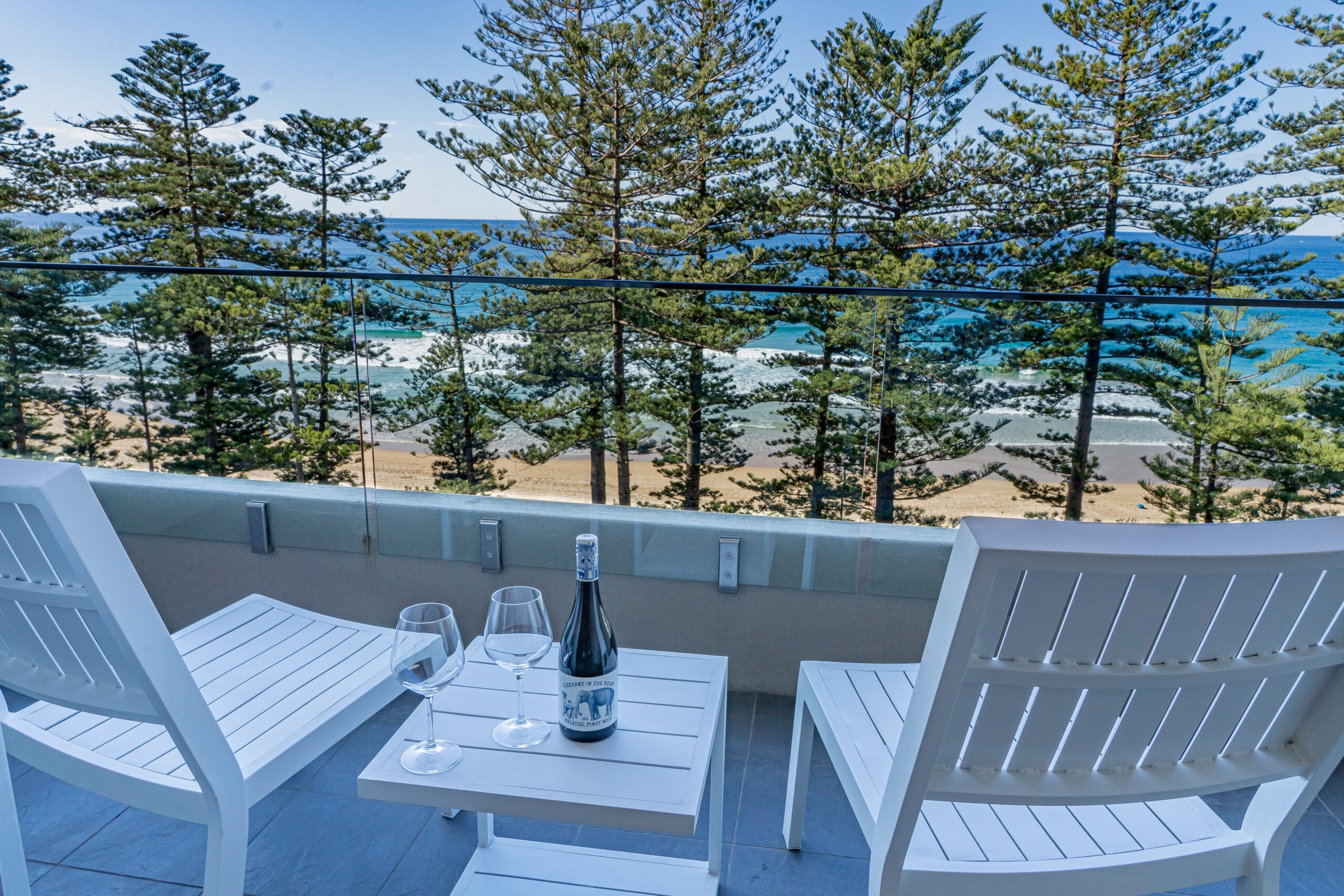 How about a glas of wine on the balcony. TV? No, thanks I have the ocean. 
The newly opened Bistro Manly offers waterfront dining overlooking the Manly beach. With its bright interior and massive windows – you will have a casual hotel dining and drinking experience.
A delicious á la carte breakfast. The perfect way to start your day.
We were served a delicious á la carte breakfast during our stay and were more than satisifed with what was offered. But you can also choose between lunch and dinner and savour the French cousine, local seafood, bistro classics or fresh seasonal produce as well as wine from both Australia and France.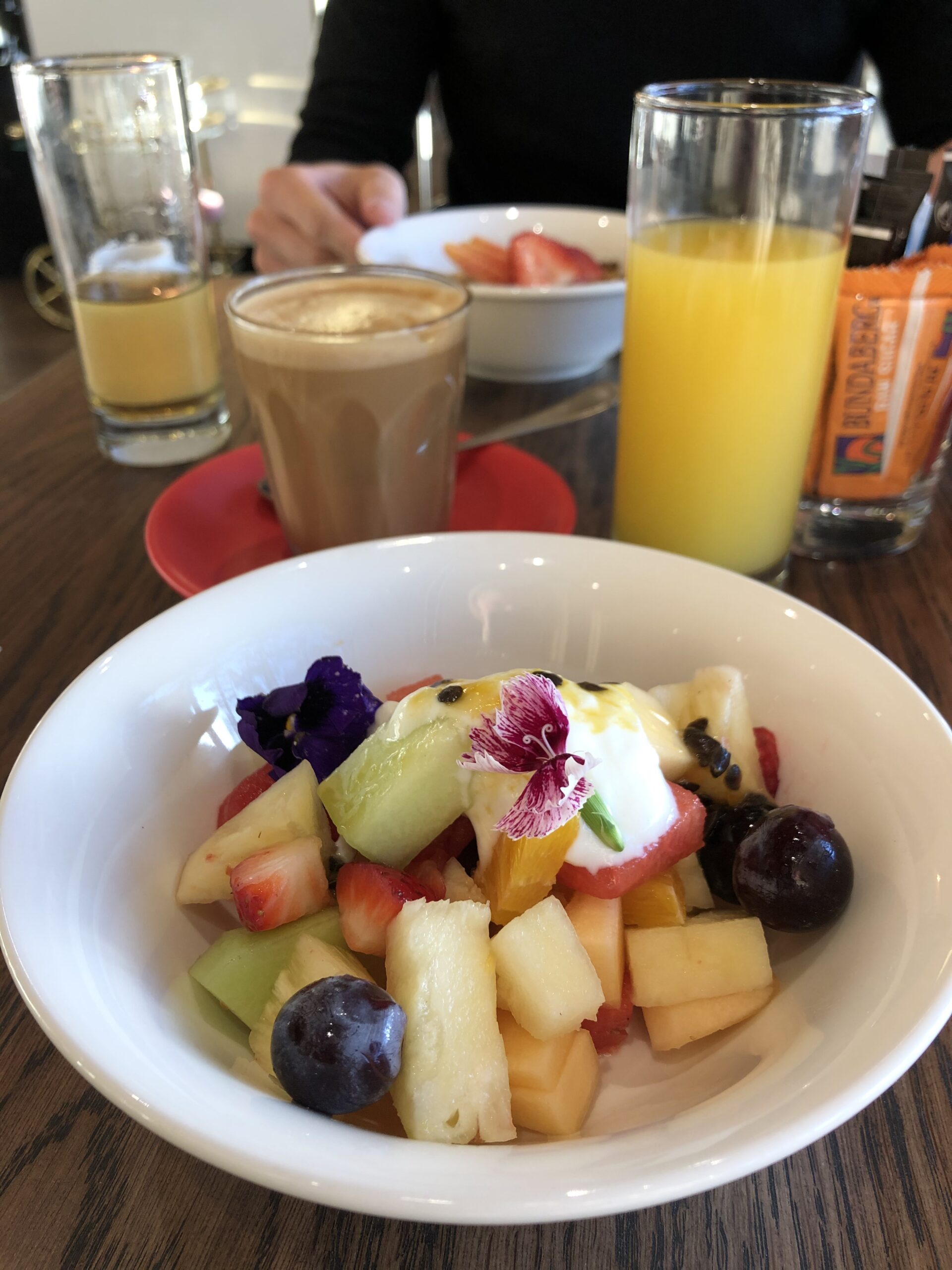 With a plethora of activities in and around Manly you can easily fill your days with wonderful experiences, when not spending time at the hotel. If you are adventurous by heart there are beautiful coastal bush walks, whale watching as well as surfing and snorkelling possibilities in the protected marine reserve.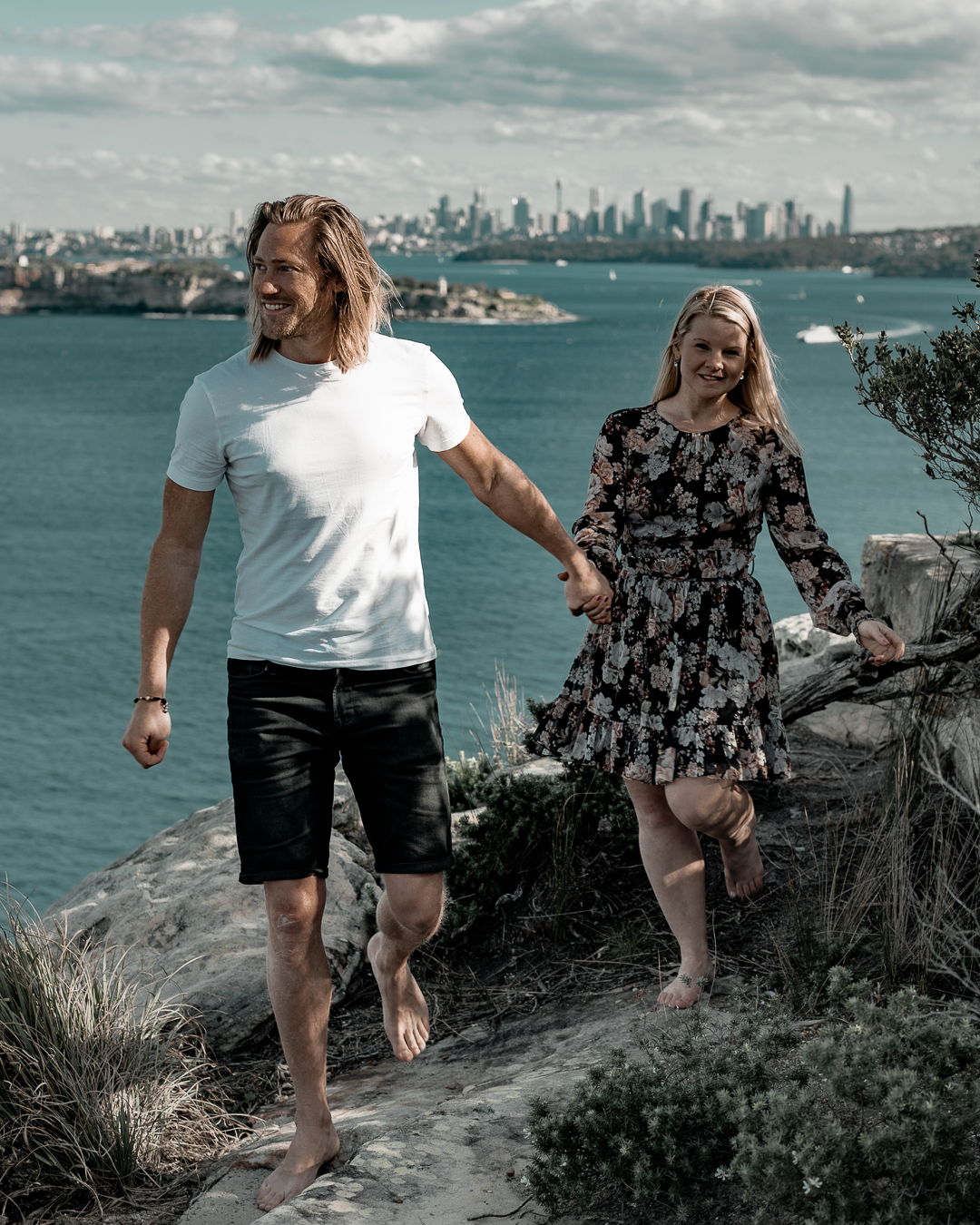 A stroll along the scenic North Head in Manly. Sydney city skyline in the background.  
On the other hand if you are looking for those relaxing moments you can choose between hundreds of cafés, bars and restaurants. Manly has that special coastal village charm and you'll be satisfied with just walking around as well, embracing the atmosphere.  
Novotel Sydney Manly Pacific is located just minutes from the heart of Sydney. Situated in an ideal location, surrounded by water on three sides – Novotel is close to restaurants, bars and shops.
You'll only have to cross one road to get to the beach or you can choose to walk along the beachside promenade for those laidback moments.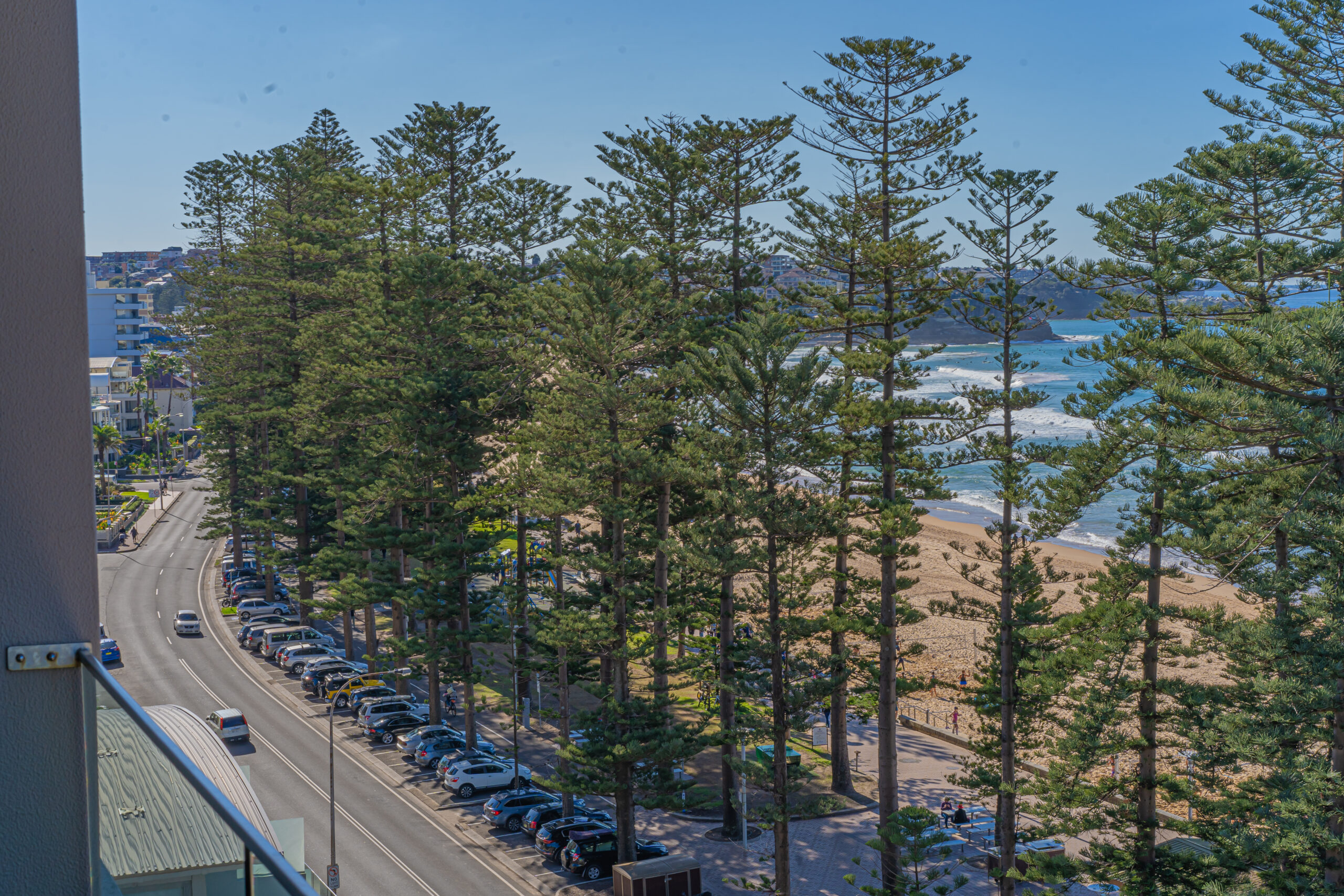 View from the balcony, overlooking the beautiful Manly Beach and the turquoise Tasman Sea. 
With only 5 minutes walking time to the Manly Wharf you can easily travel to Sydney's CBD by fast ferry and be there in 18 minutes. If you travel by car – Sydney Airport is located 35km away and Sydney's CBD within a distance of about 15km.
No matter if you are visiting Sydney or Manly for a couple of days, a stay at Novotel Sydney Manly Pacific is a great choice. You are close to everything in Manly and can even take the ferry to Sydney's CBD if you wish to explore the big city by day and relax in a charming seaside village in the evening. Perfect combo.
To book you stay at Novotel Sydney Manly Pacific just surf to their website, or click the book your stay button below.
THANKS FOR READING OUR BLOG ♥
Hi! We are Sofia and Fredrik - and we have been traveling
the world for more than 10 years. We live a travel lifestyle
and create travel content as bloggers, photographers and
digital nomads. Our aim is to inspire you to explore the world
and enjoy the freedom that comes with it.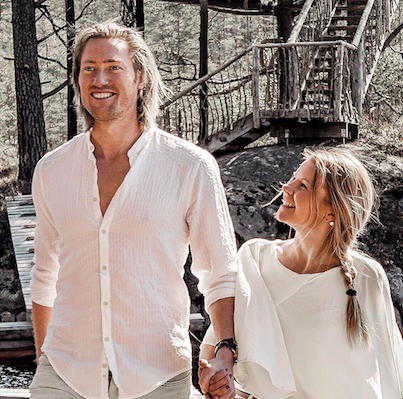 Copyright © 2020 Vagabonds of Sweden. All rights reserved