MOJOSURF – LIVIN' THE DREAM
Spot X is one of the best locations that Mojosurf can offer. Here at Arrawarra beach. 
Mojosurf is the world's leading and largest surf travel company and learn to surf specialist. Naturally, the choice is easy where you should turn if you find yourself longing for the possibility to learn how to surf. Surfing is a lifestyle, and chances are you'll fall in love – even if you only get to taste a small portion of it. But once you catch that perfect wave, you are hooked – and hooked for life. Some people even begin a lifelong search for those special moments, where seconds become a lifetime and a lifetime is captured within seconds.
We have been driving South on the Australian East Coast for about seven months now, ever since we left Cairns, and back then we didn't really know when and where we wanted to surf. The only thing that we knew was that we just had to do it and that surf camp was the way to go. To spend a couple of days really getting into the surf culture. Way before we even came to Australia we knew that this was THE place for surfing and little did we know at that time that Mojosurf and in particular Spot X was the ultimate place to learn how to stand on a board and ride a wave.
To learn how to surf has been a dream for both of us for a very long time and we have actually "tried" surfing twice – once on Hawaii and once on Bali. But never with the feeling of mastering the surfboard or harnessing the power of the wave and finally be one with it. That feeling of riding something as powerful as the sea is as addictive as any drug out there and once you catch a big wave a.k.a. green wave, you'll want more.
In a way, that feeling of riding a wave is something we are chasing also in life, traveling the world. A state of mind and a lifestyle where we are the masters of our own time and where we strive for those moments of freedom that touch our souls.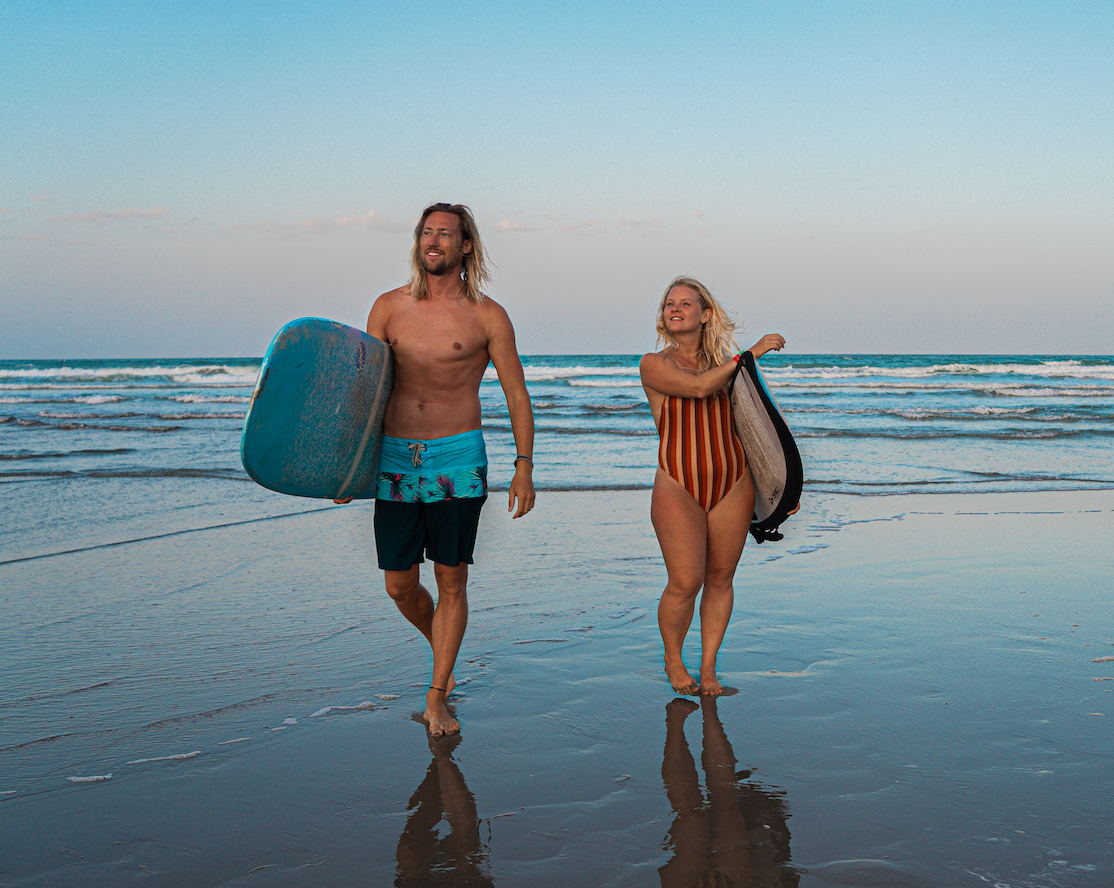 Surfing is a lifestyle and very addictive. 
Spot X is without a doubt the ultimate beachfront surf camp for anyone wanting to learn how to surf and we recommend staying here at least a couple of nights to really get a feel for the place. You will not regret it. There are certain things in life that will stay with you forever, experiences that sort of stands out from the rest. Mojosurf and Spot X is that kind of experience.
We joined the 4 days and 4 nights epic surf adventure and totally loved every second of it. If we didn't have to head South to start working we would have extended our stay. Undoubtedly! The atmosphere was perfect, the people were legendary, surfing was epic and the location was great. To be honest, we have nothing negative to say about this place at all. Should we have found anything to complain about – all the other great stuff would have totally annihilated it. That's right mate!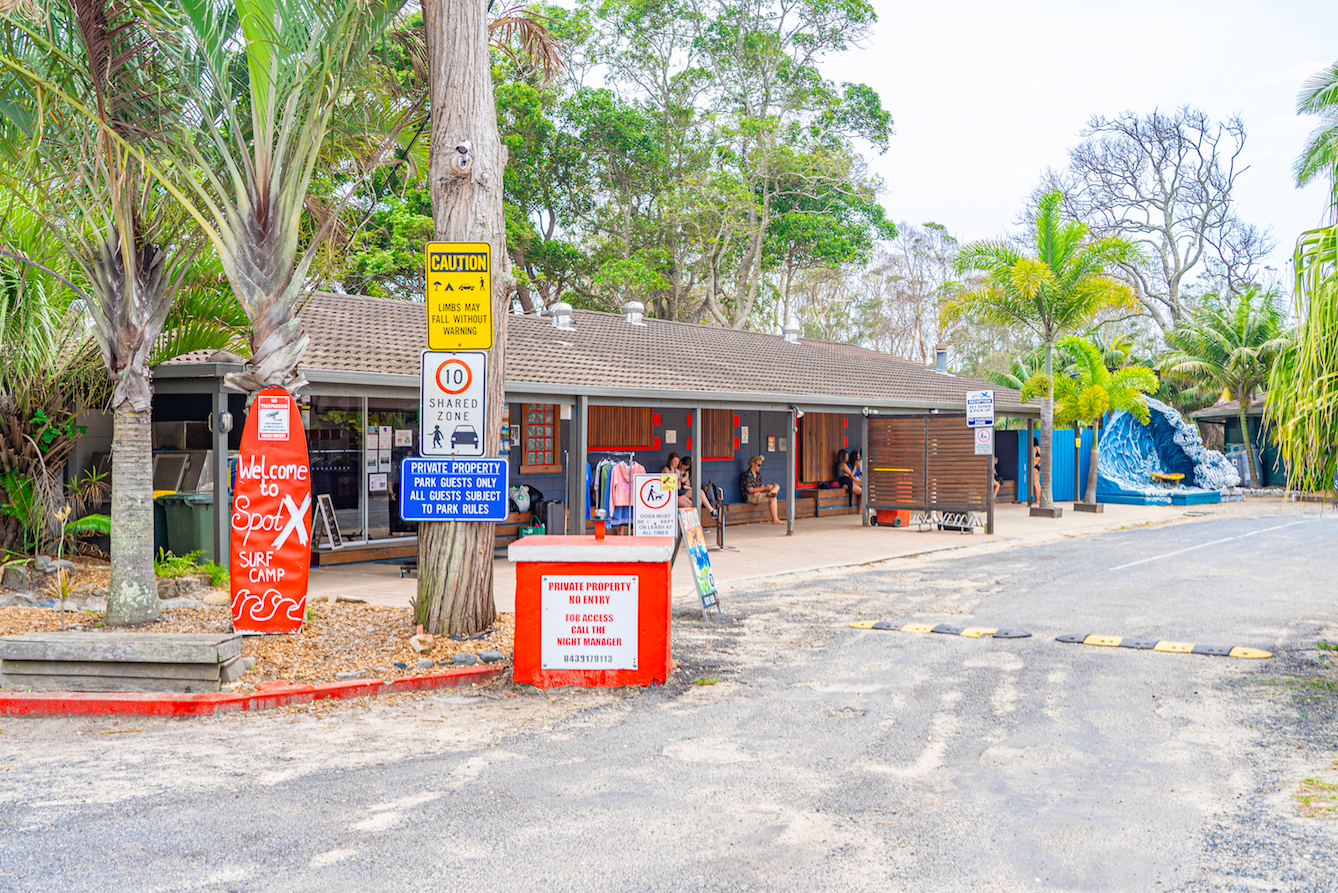 Reception and main building. Welcome to Spot X and Mojosurf.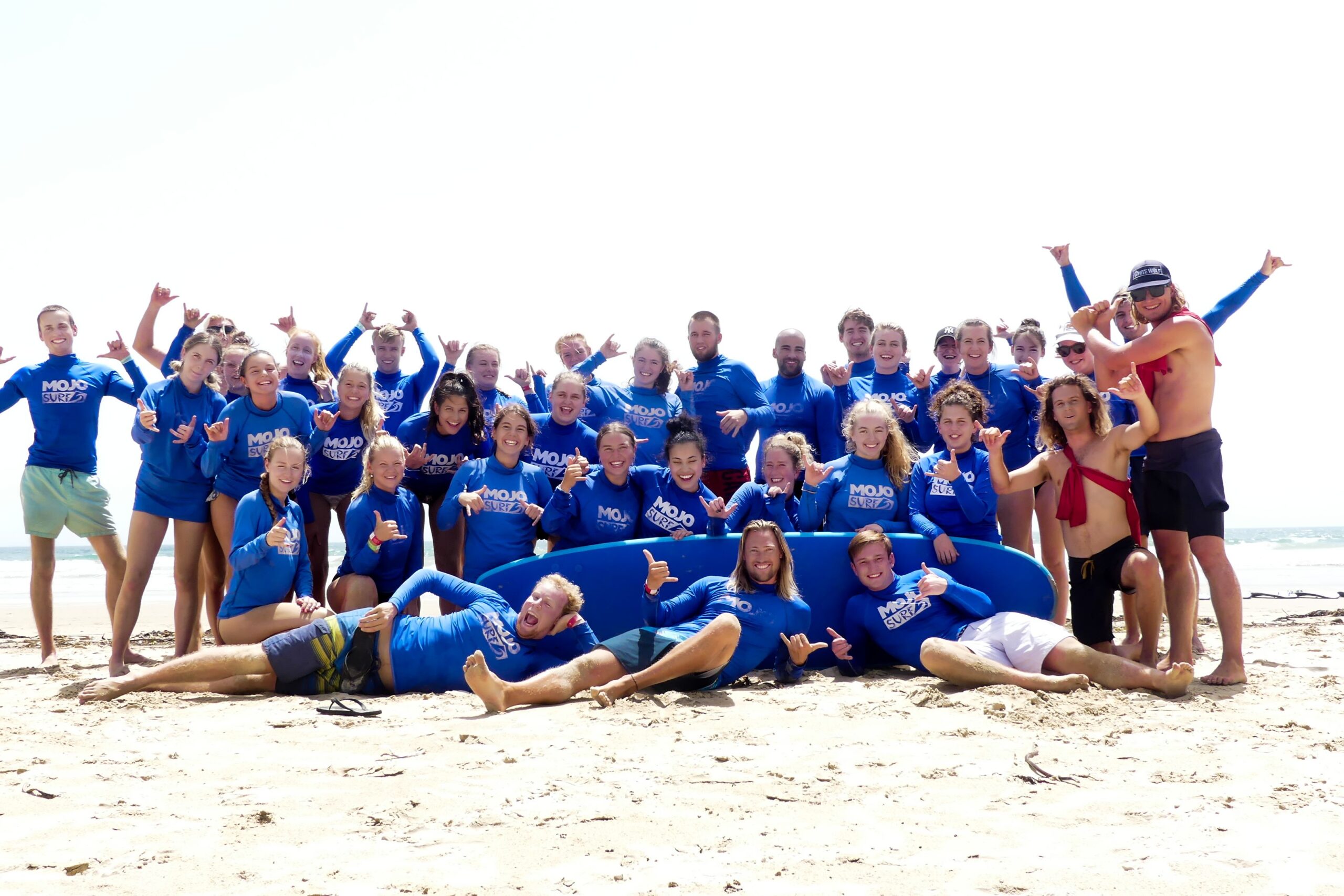 One of the many groups at Spot X full of adrenaline junkies and surf freaks. 
A little shaka for ya! Surf instructor Sam is keeping an eye on Sofia.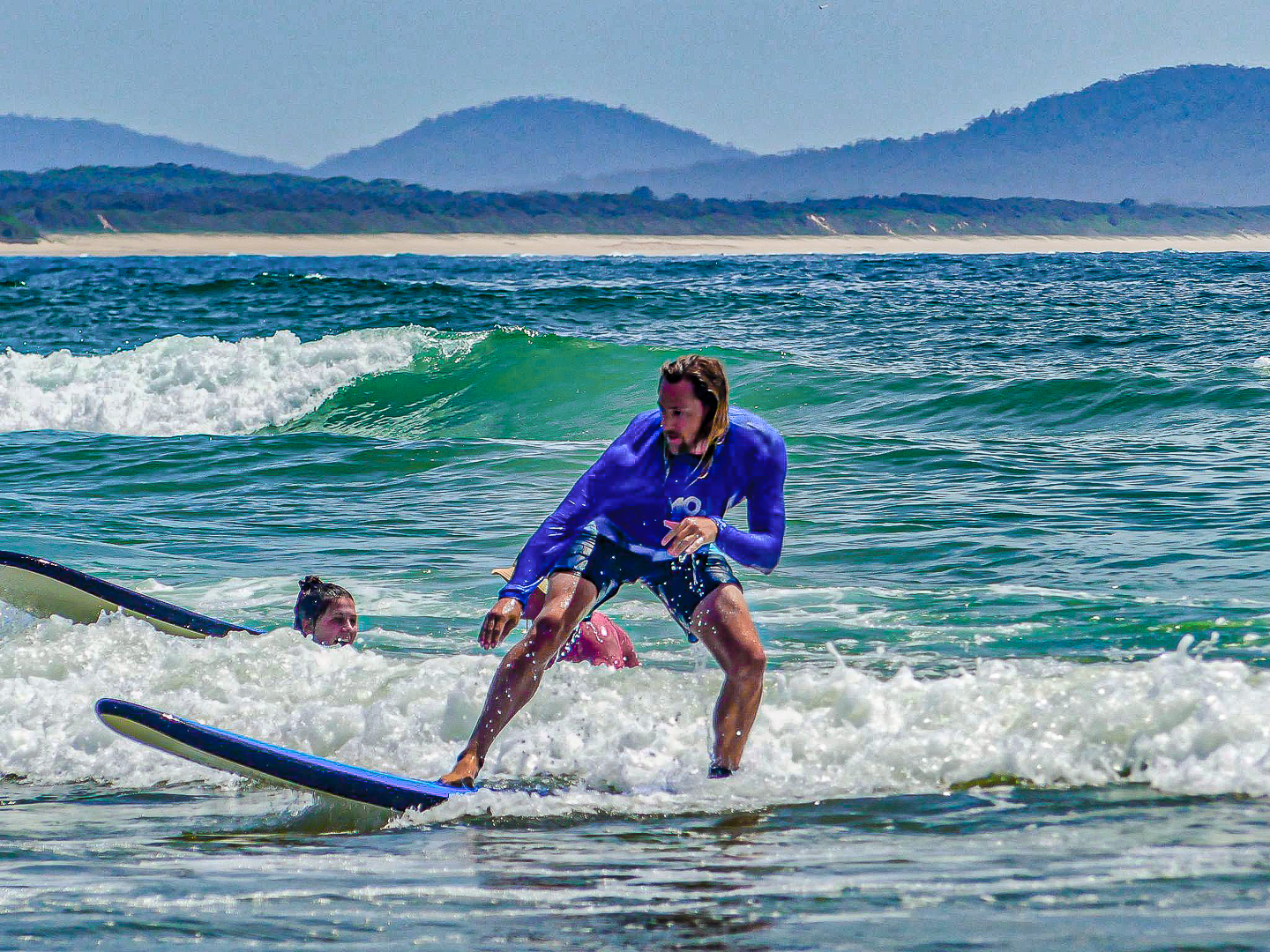 Looking good, but don't be fooled. I probably hit the water just a second after this shot.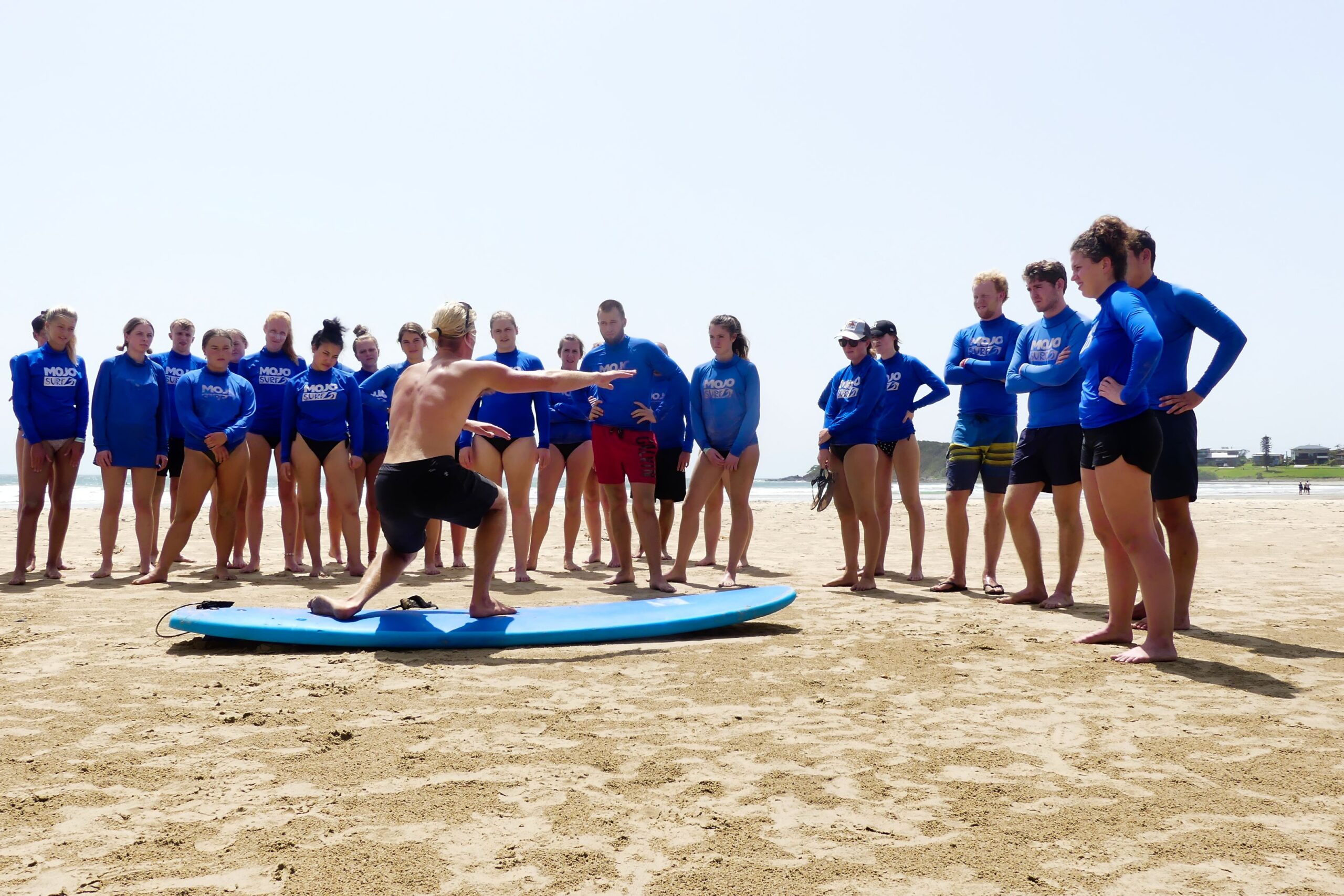 Surf instructor Charlie demonstrating the perfect stance on the surf board.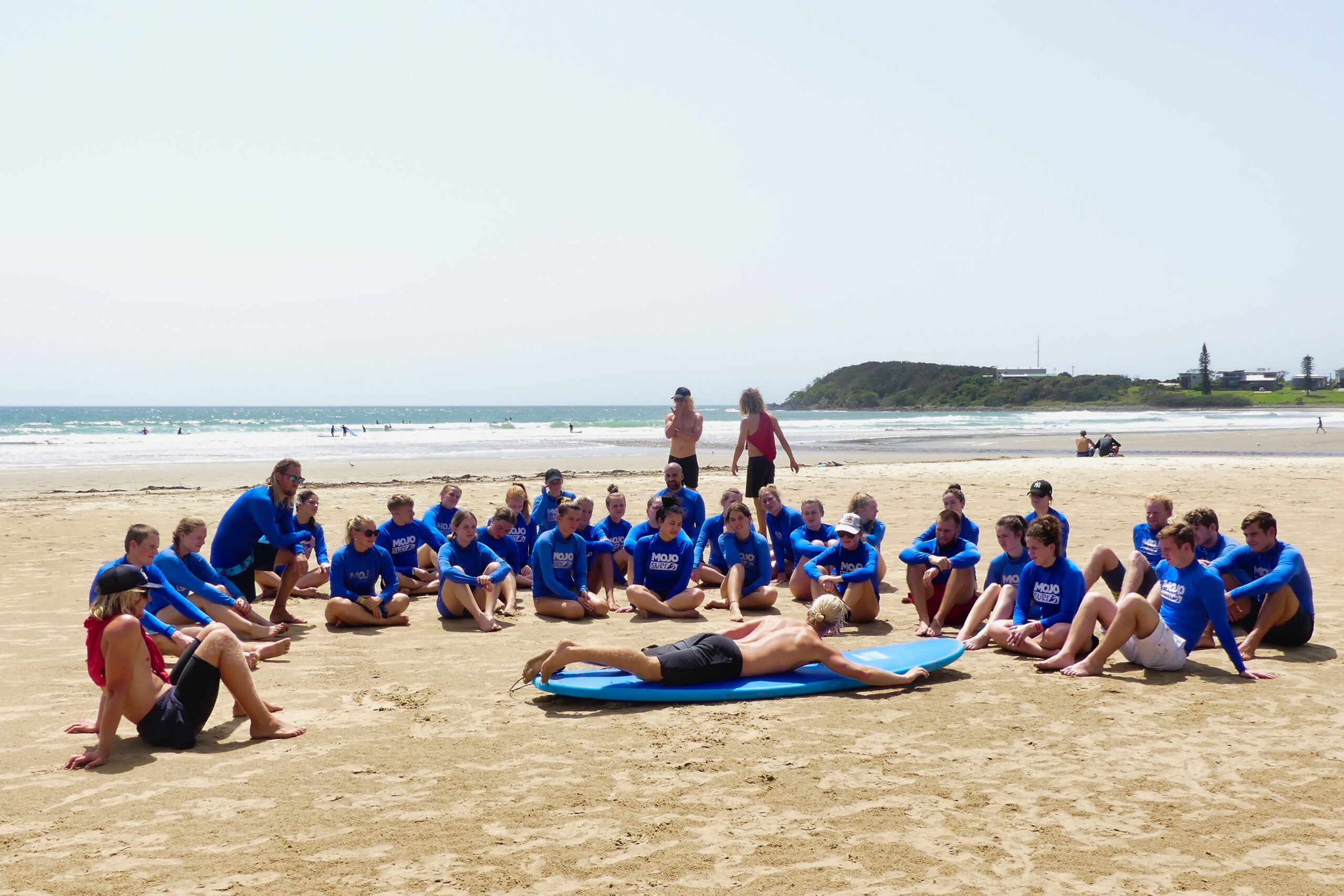 How to paddle correctly and efficiently.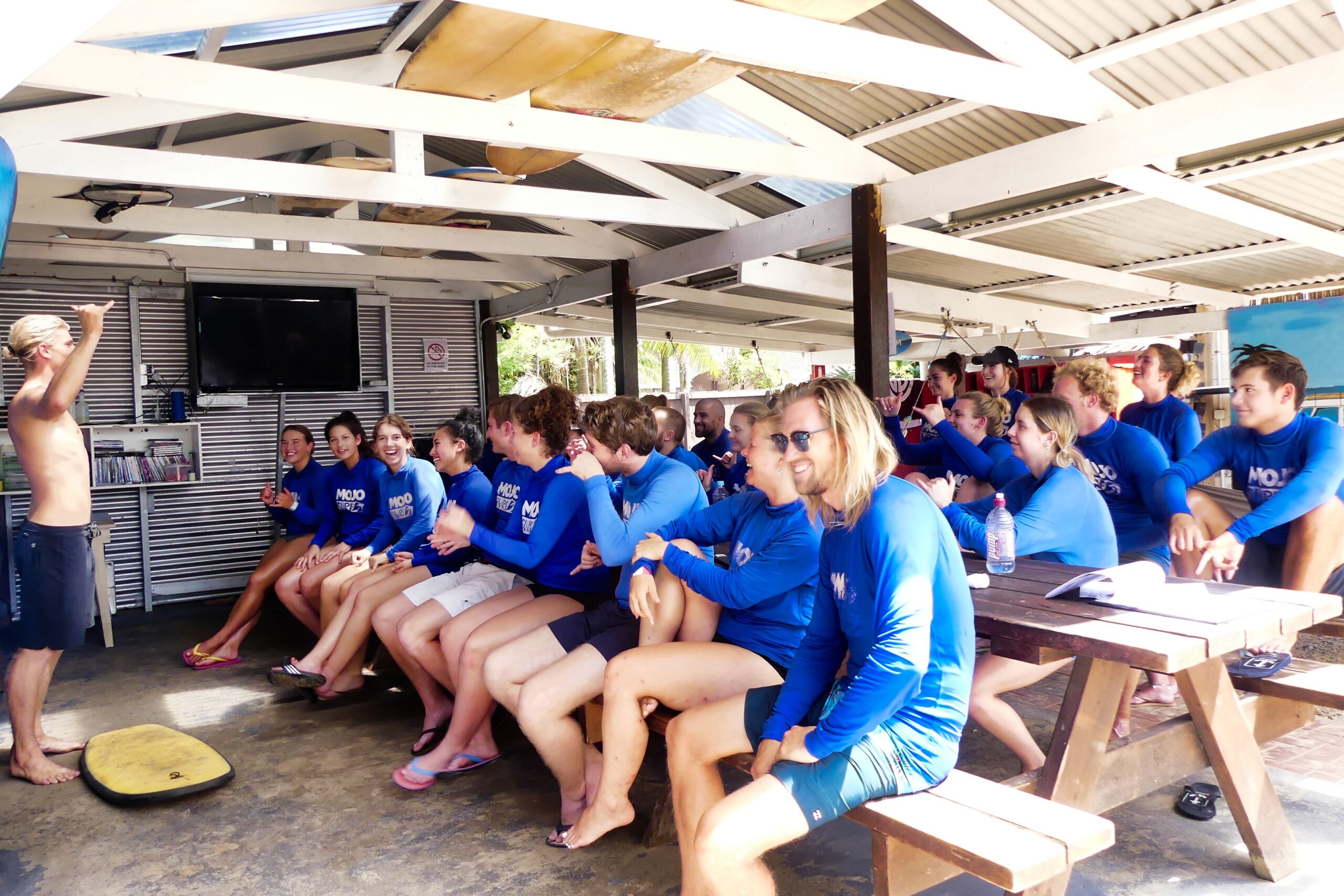 At the Surf School with Charlie.
A little Love and Safety before we go out to surf – and of course the importance of using Shaka or "Hang Loose" when you are standing up on that board. 
On Spot X surf camp you'll find the kitchen and common area, which is also the evening chill area – more or less the center of the camp. Here you will eat your breakfast, lunch and dinner in company with your fellow surfers and instructors. You'll find a pool table, axe throwing area as well as The Shack and PhotoShack where you can watch all those epic photos of you either surfing or doing an hilarious star fish as you fall off the board.
Surfschool, where you gather before surfing and when you come back.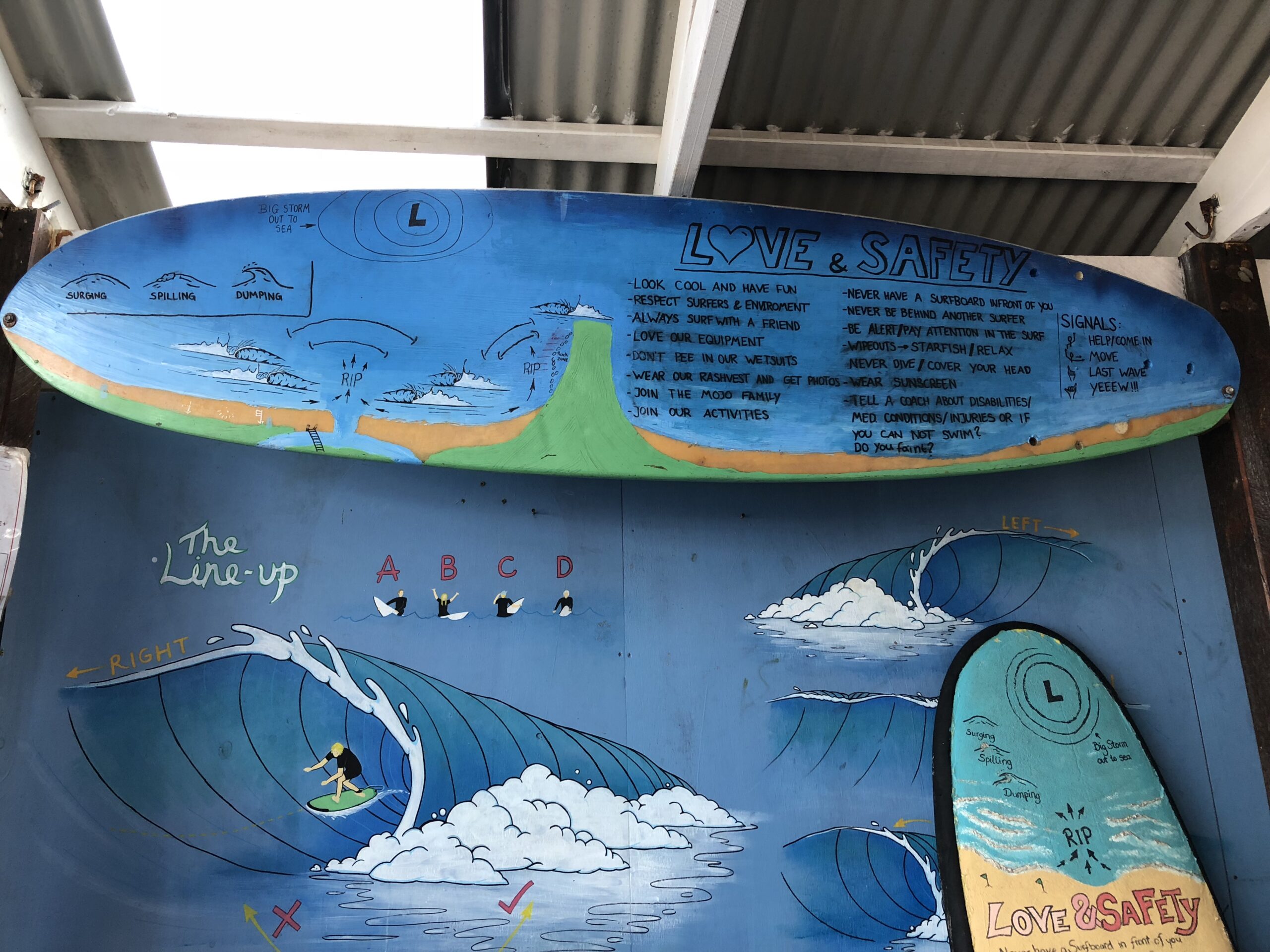 The surf school is where you always gather before going out to surf and when you come back in. Here you learn important things about surfing such as the Love and Safety information, that explains the basics of surfing as well as the dangers of it. 
Sunscreen and wetsuit on. Extremely important. A lot of people even used zinc sunscreen lotion.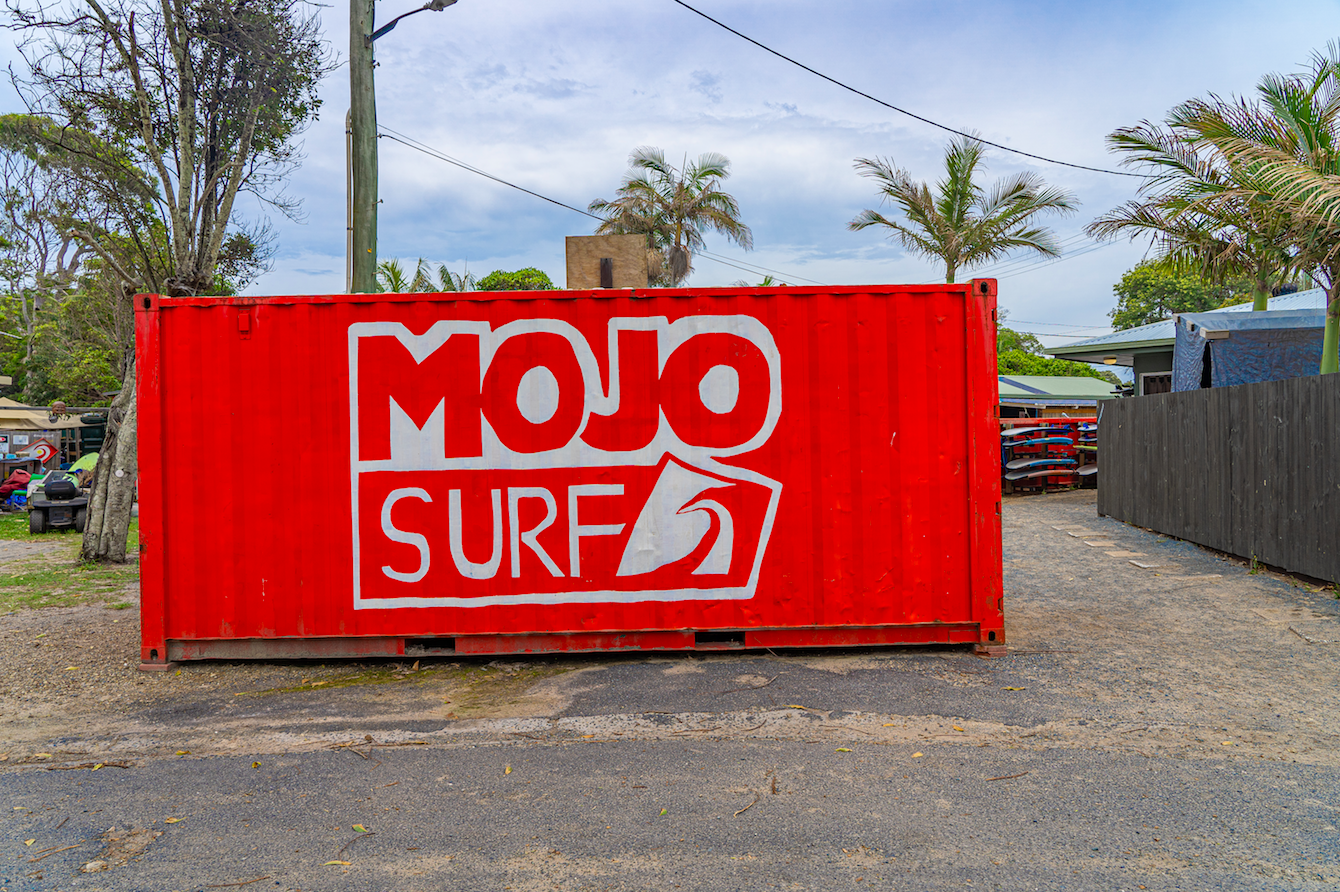 Container full of surfboards.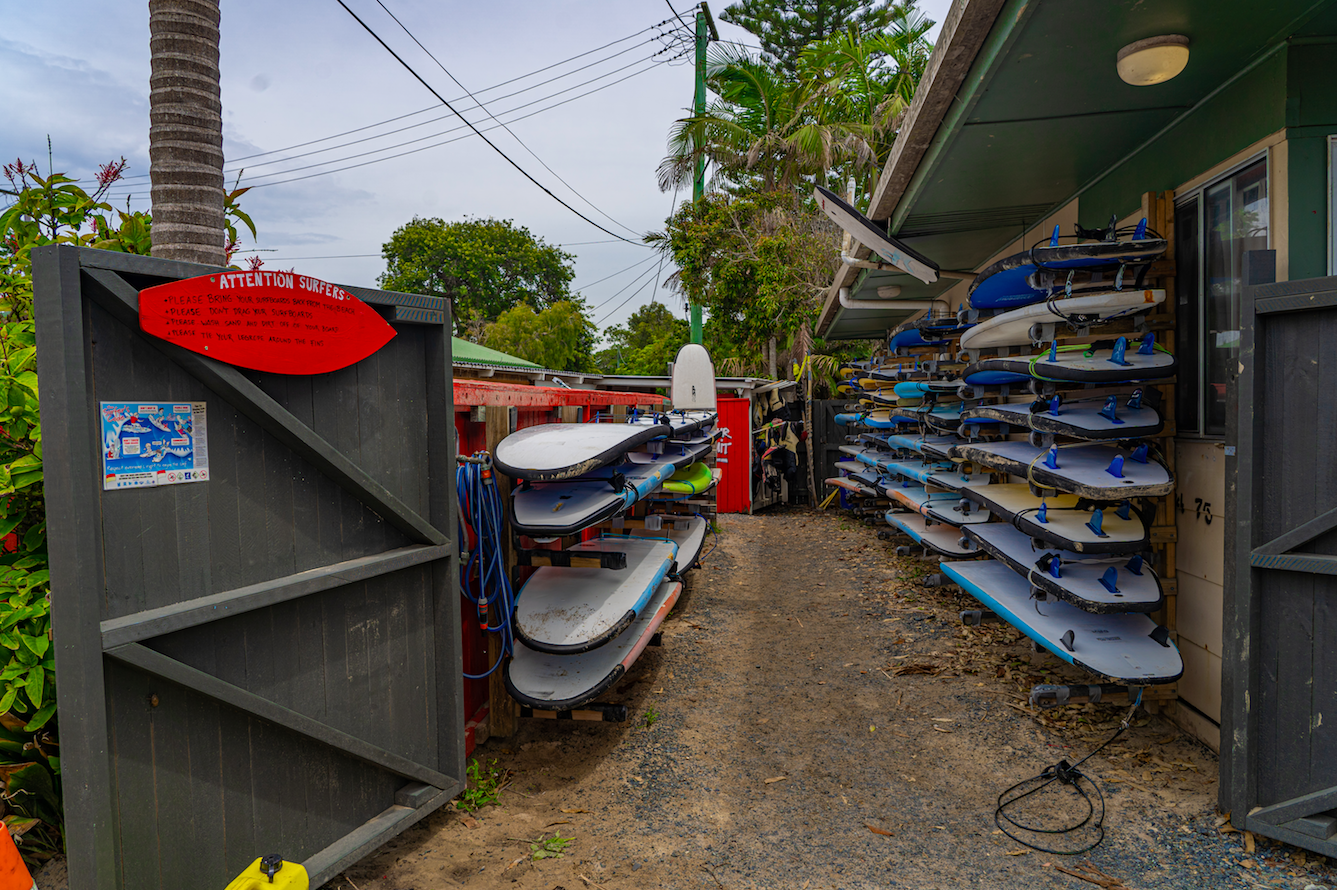 When you go out to surf you pick surfboards either from the container or from these shelves.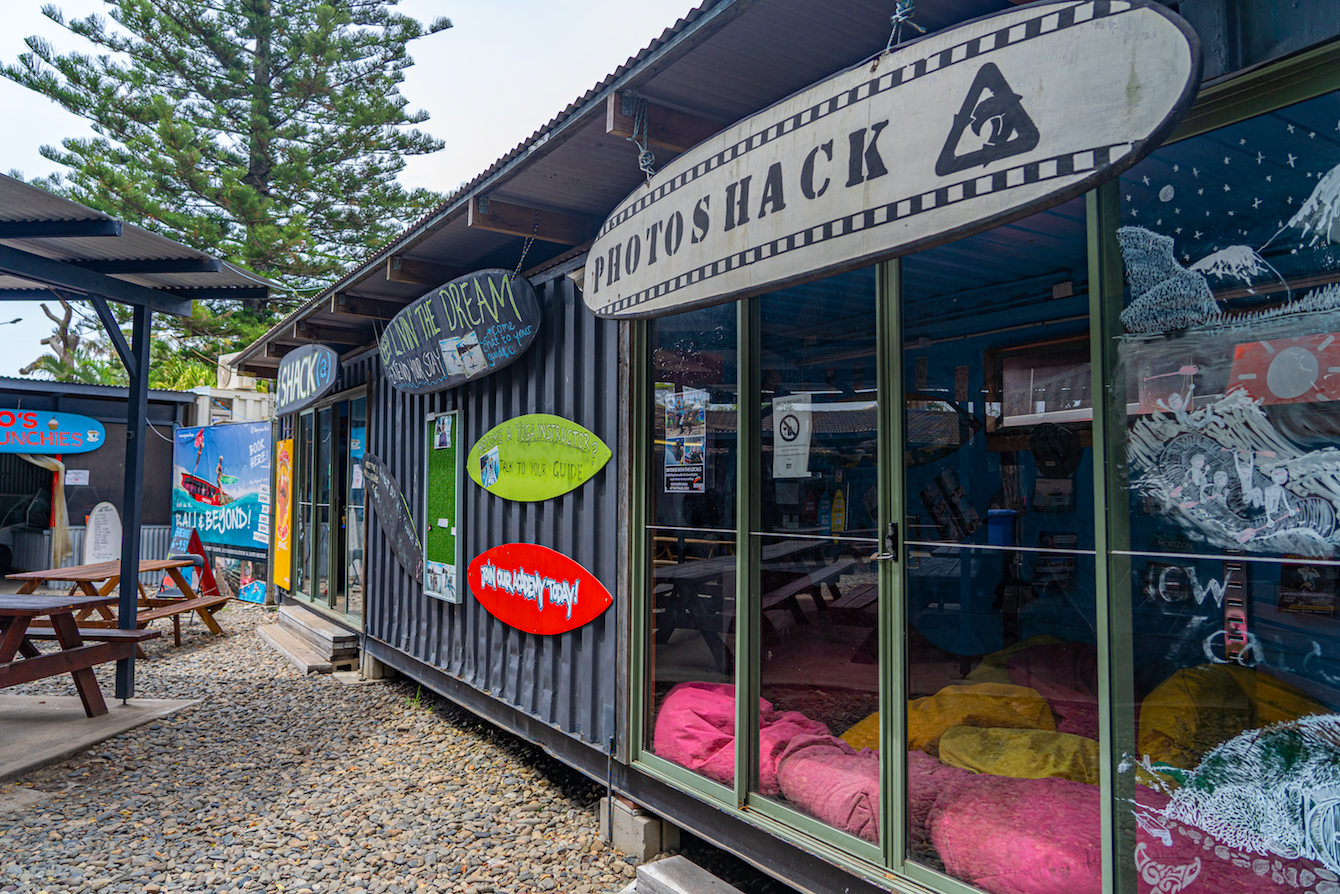 The Shack and Photoshack.
Here you can buy something to drink or snacks and in the Photoshack you can watch all photos taken of you and your friends during the surf session.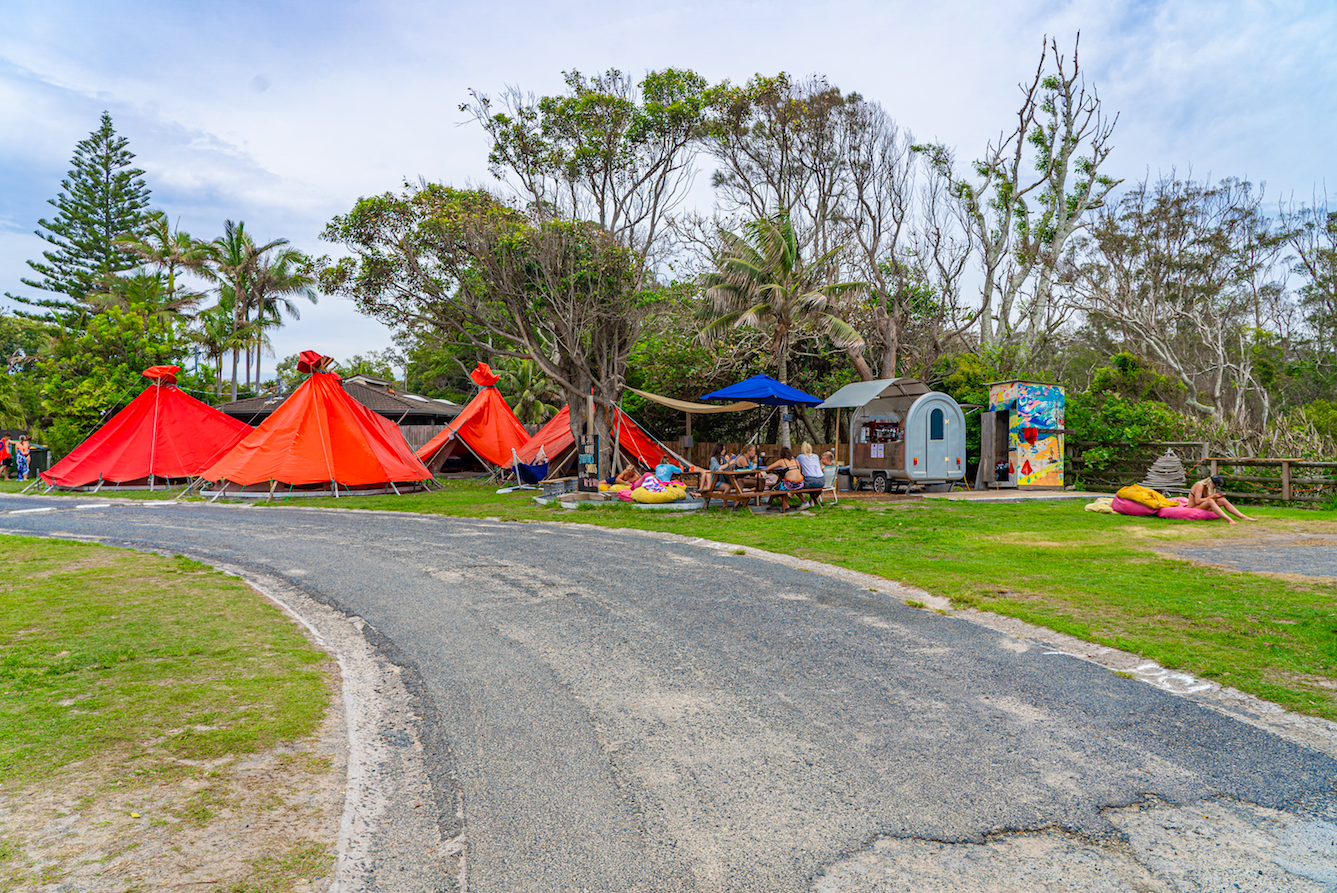 The little Café with those comfortable bean bags. Perfect spot to chill out after a day full of surf and activities – and savor a smoothie or just soak up the sun. 
Spot X Surf Camp from above.
From the café and red tents up to the green tents is the surf camp with Surf School building and accommodation pretty much located in the center of the photo.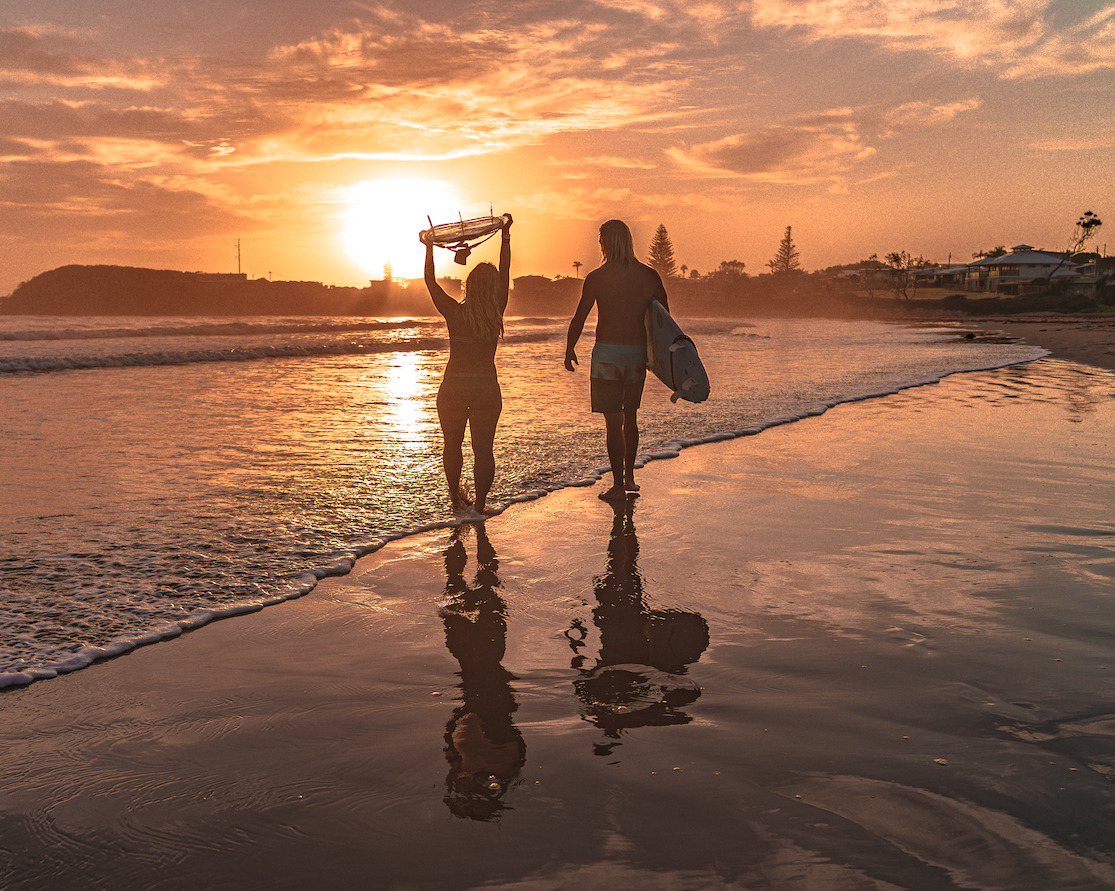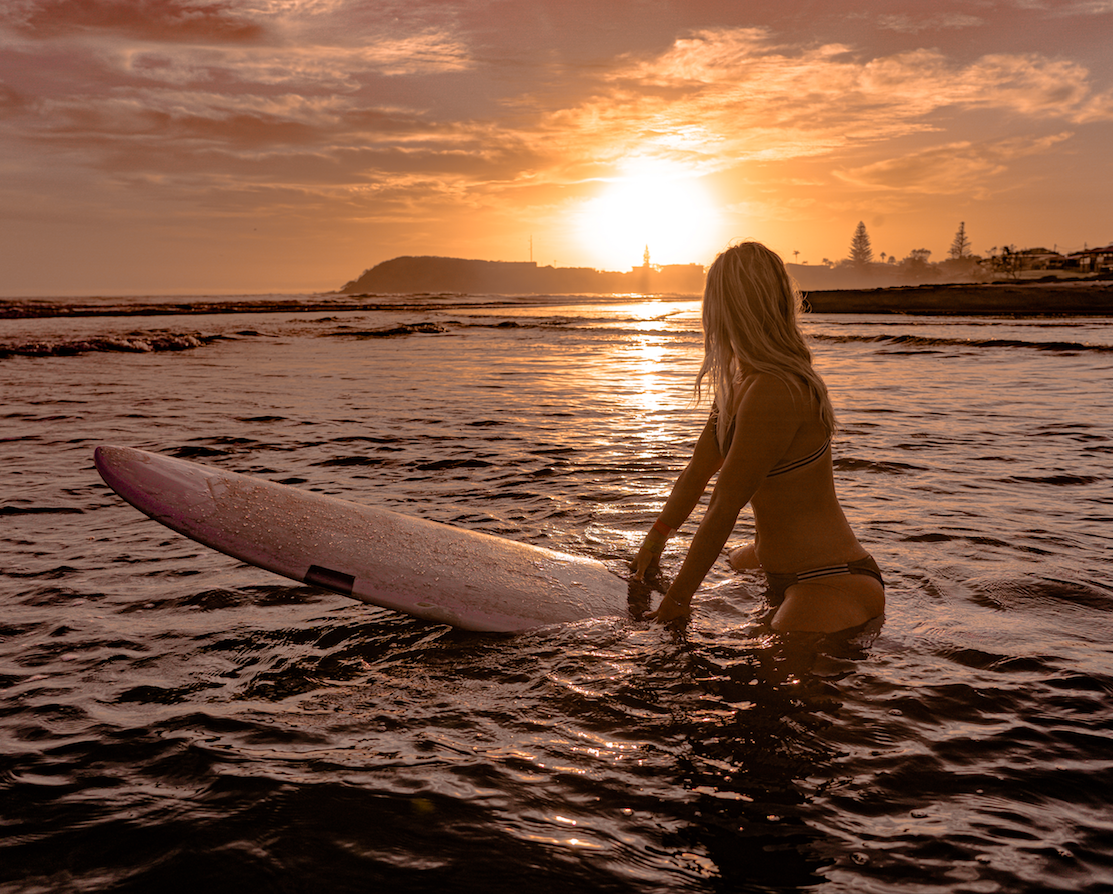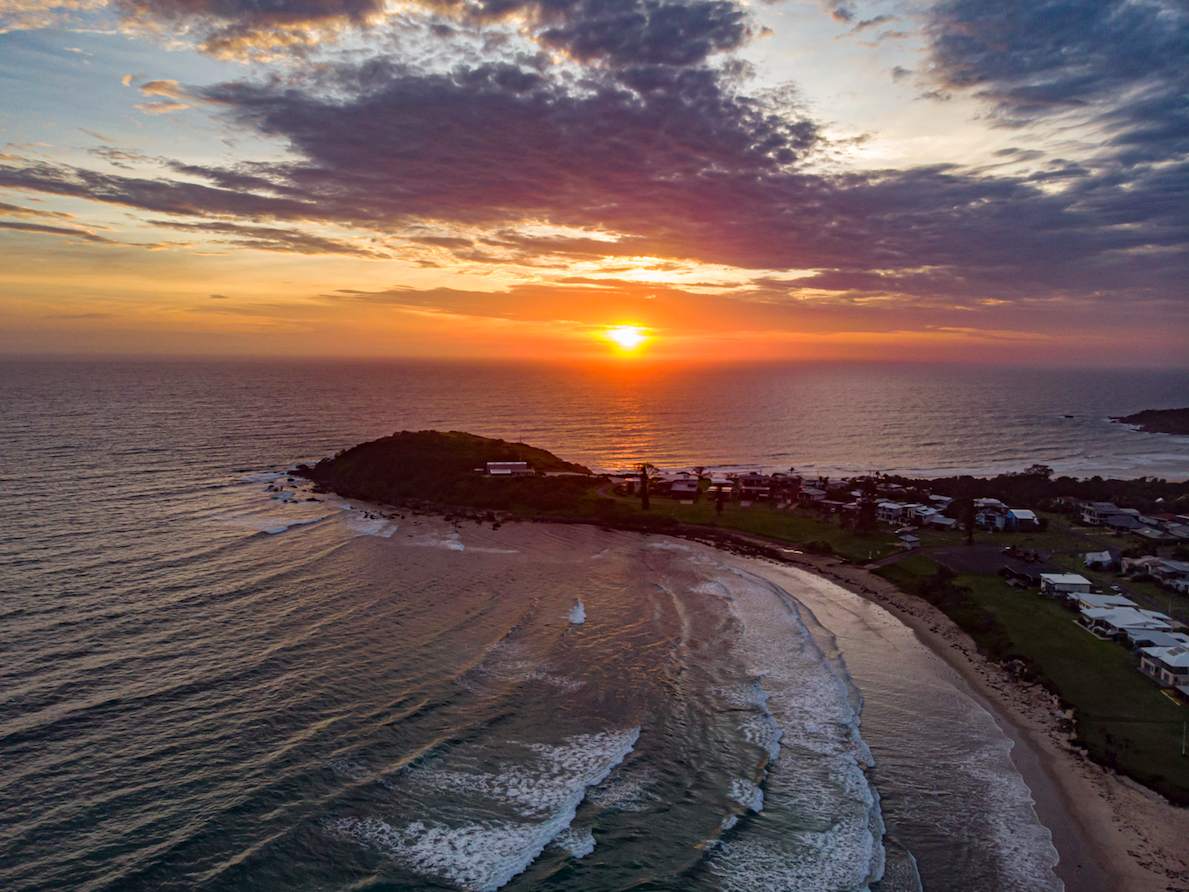 One of many incredibly beautiful sunrises here at Arrawarra Beach. 
All around the camp you will find the various accommodation types, most commonly the containers which have been rebuilt to fit beds, shower and toilet. The thing about Spot X is that here you'll find a very simple accommodation à la hostel style more or less – and that is what makes it so perfect. Coming here to learn how to surf – you don't want too much of the comfort you might be used to back home. You want the easy life and having lived it we can surely testify to that. All you need is your boardshorts or bikini and your surfboard as well as a little shaka and great spirit and off you go.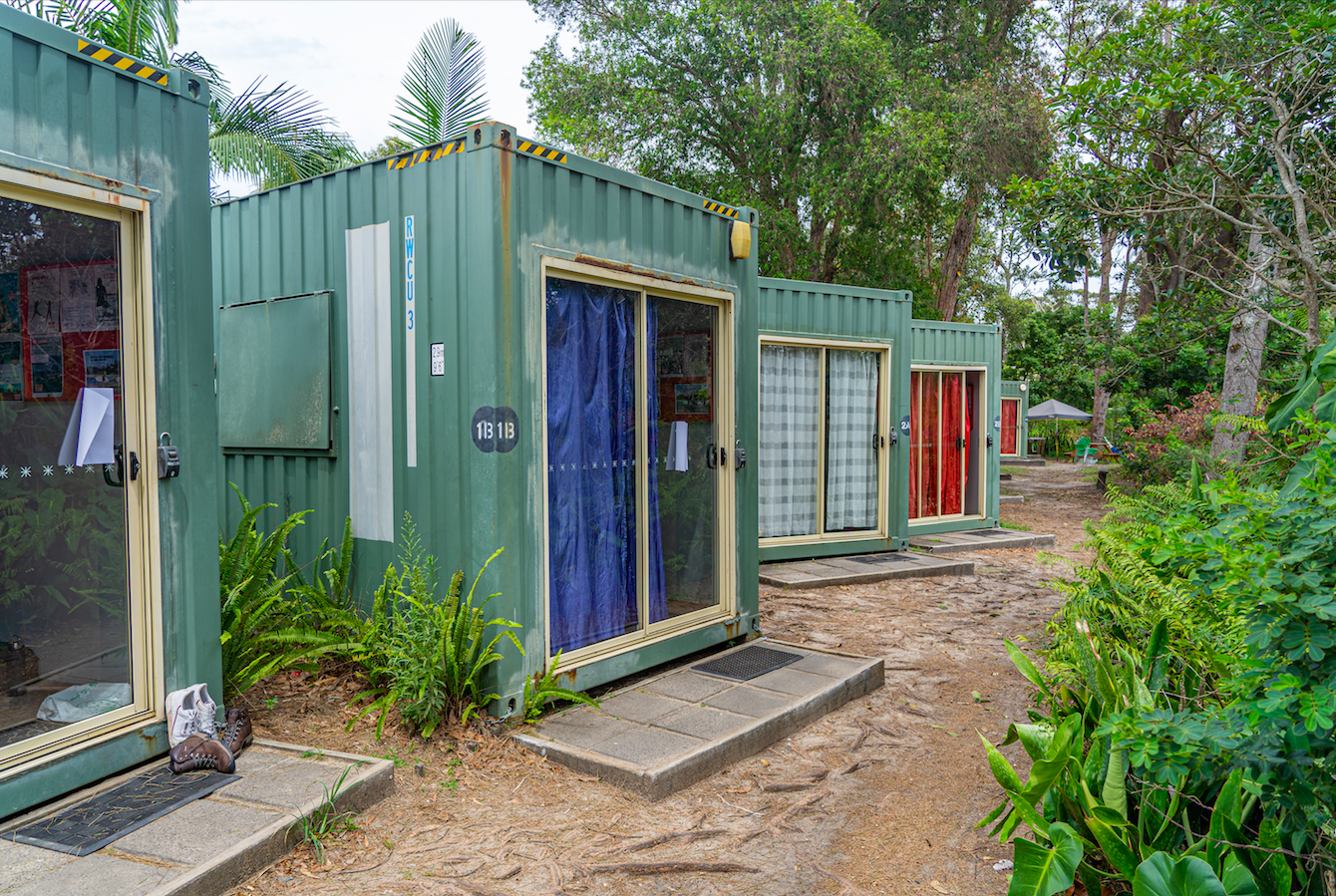 This is where we slept. Simple accommodation in container à la hostel style with two bunk beds, air condition and a bathroom with shower. 
We very much enjoyed the food served at Spot X and it wasn't just because we were starving after the surf sessions and activities. You will get breakfast, lunch and dinner every day. Breakfast and lunch is always the same and dinner varies. We had tacos one day which really hit the spot after a fully packed surf and activity day. For breakfast you can for example choose from toast with jam or peanut butter, oatmeal and cereals and for lunch there was plenty of sallad to stuff your tortilla bread and spice it up with some dressing. Yummy!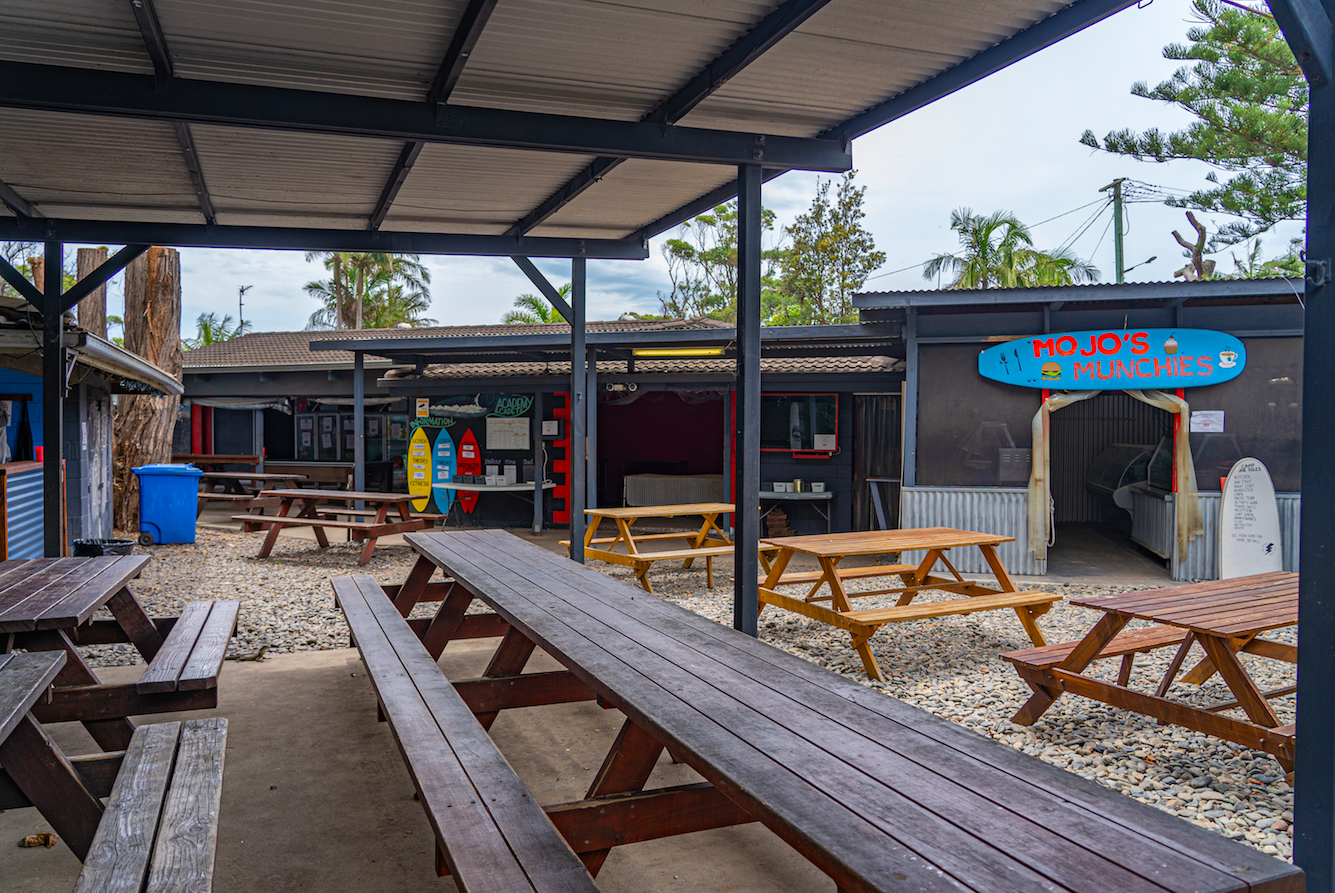 More or less the center of the camp.
This is where you gather to eat breakfast, lunch and dinner as well as chill out during the day or evening with your newfound surf friends.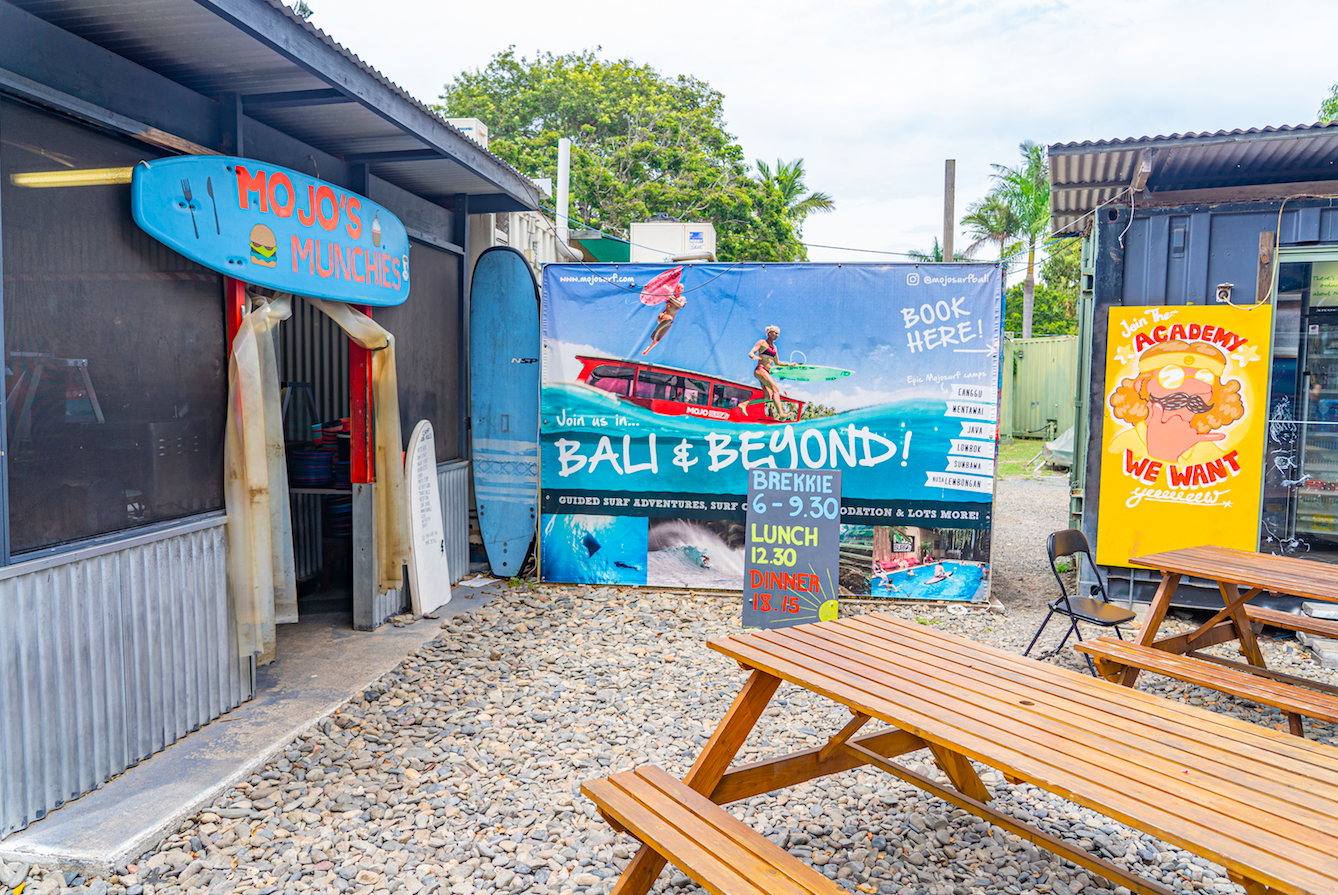 Mojo´s Munchies – where you stand in line to get your long-awaited food. 
Besides the obvious – there is also many other activities to participate in such as kayaking, kangaroo trek, ocean rafting or why not axe throwing to see if you are in touch with that inner viking of yours. To connect with people and take some time of surfing we tried to join in on as many activities as possible and therefore recommend anyone coming here to get the V.I.P. pack which includes access to all activities, surf photos, Mojo's epic surf wear as well as expression sessions where you get to surf even more. 
Besides the physical activities there is also music/general knowledge quiz, bingo or beer pong – all of which makes up for a perfect atmosphere in and around the camp itself.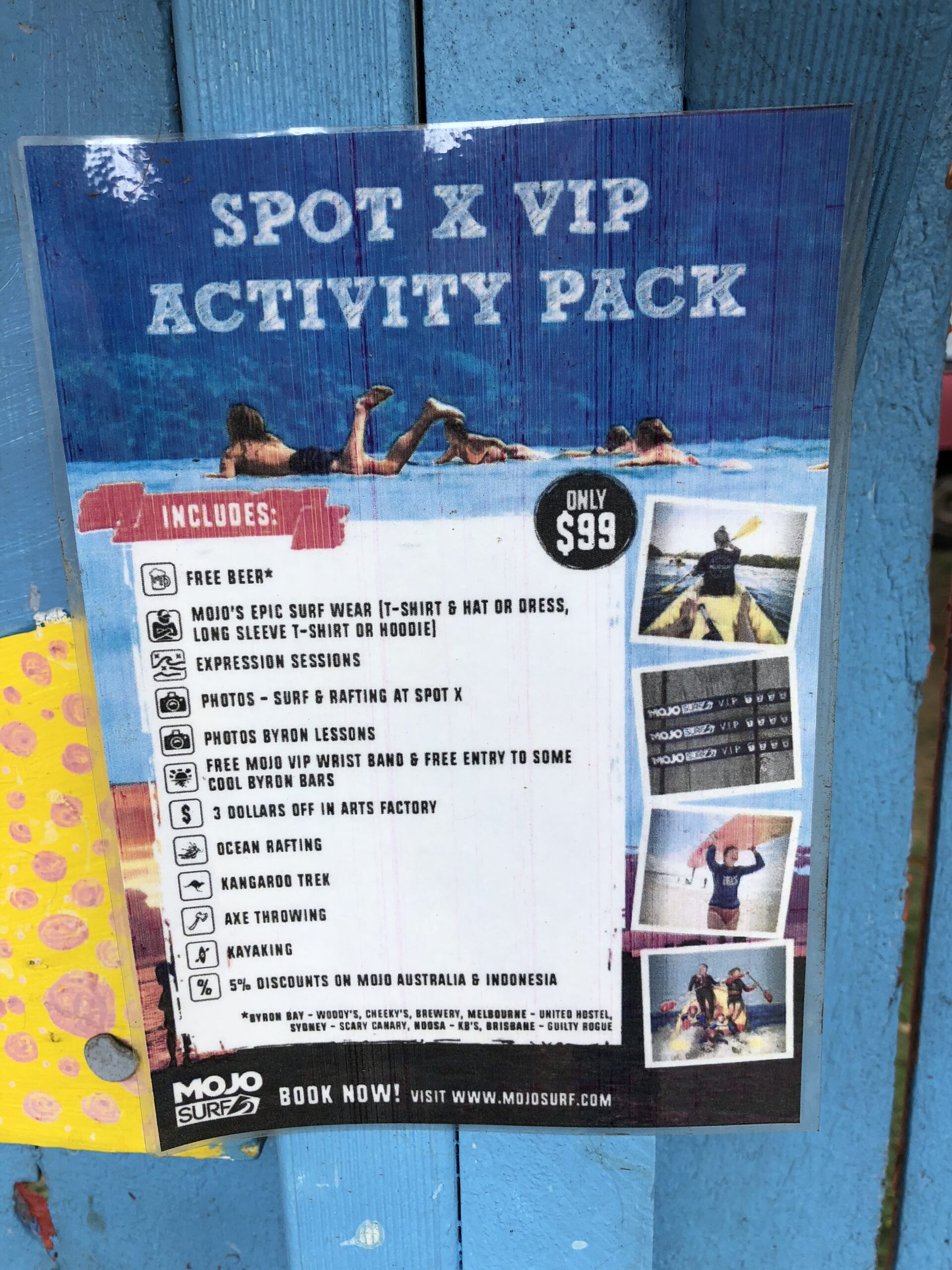 THE STAFF AND INSTRUCTORS 
One of the best things about Mojosurf is all the amazing people who work there – everyone from the kitchen staff to the reception and the surf instructors. A special thanks to the instructors/guides Sam, Charlie and Josh – the legendary trio that turned ordinary people into adrenaline thirsty surfers. If you get one of these cool dudes as your instructor you are lucky.
At Spot X you feel like being part of a big family. The atmosphere is friendly and there is room for mistakes. Not everyone coming here might actually ever surf again but there is a welcoming and understanding for everyone and even if you totally suck at getting up on that board you get the same kind of attention as anyone else out there and treated with the same level of respect.
One thing we liked was the everyday dinner presentation. Some of the instructors, guides and staff jumped up on one of the tables to introduce themselves, give general information about the next day surfing or to those who were about to leave the camp. We liked it very much because it gave of that special sense of community, friendship and family.
Spot X is located more or less in a residential area in Arrawarra just outside of Woolgoolga – not so far away from the bigger city Coffs Harbour. The location is incredible and absolute beachfront. You pick up your surf board, walk 100 metres and you are literally on the beach ready to dazzle.
There is really nothing in the area around the camp where you can go visit a restaurant or general store to do some shopping, but its not like you actually need it. You'll find everything in and around the camp itself. However the bust leaves at around 19:00pm everyday if you do want to buy for example some alcohol. 
Most of the people coming here either travel from Byron Bay or Sydney coming in with the Greyhound buses. If you do travel here on your own like we did just look up Arrawarra Beach on google maps and you'll find your way.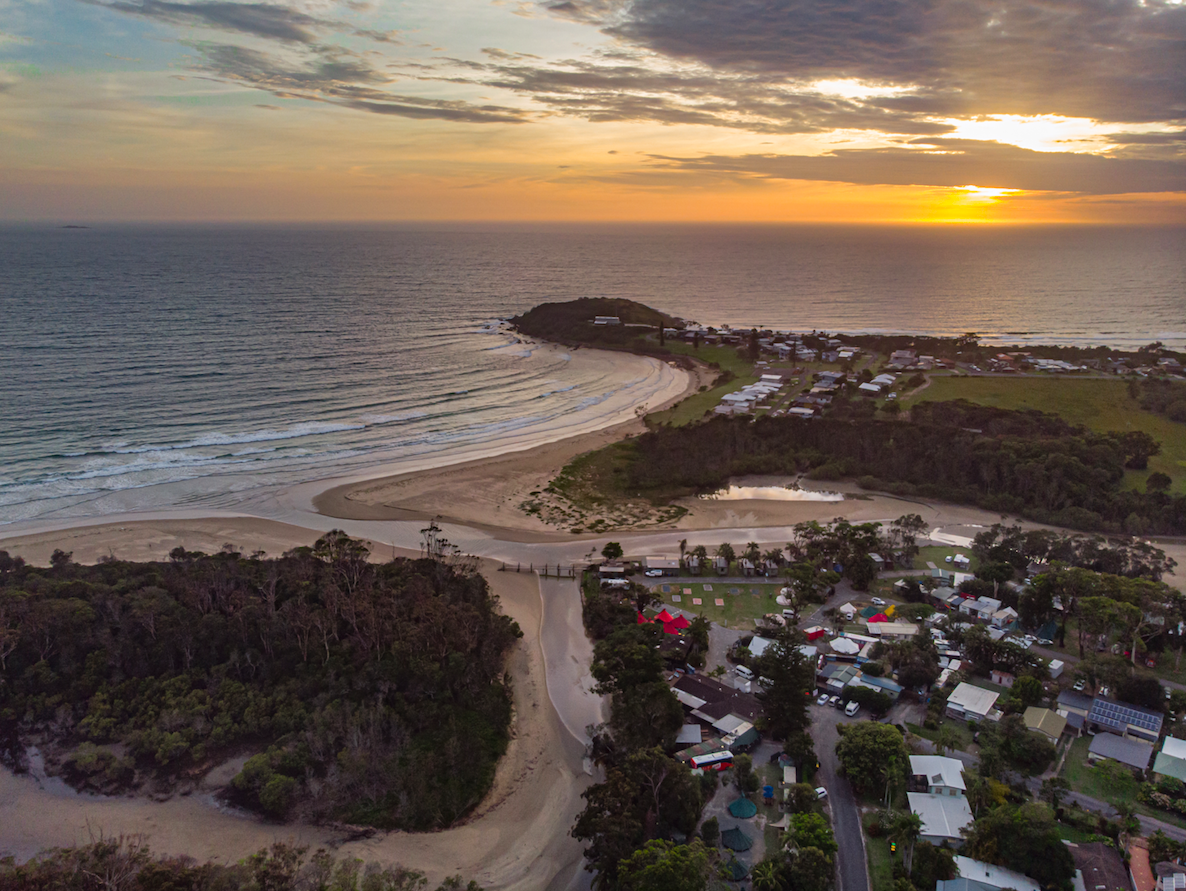 Incredible location with absolute beachfront. The big red tents is where Spot X surf camp is located. 
BOOK YOUR OWN SURF ADVENTURE
Surfing will change your life, and its NEVER too late to start surfing. We suggest you don't even hesitate about joining a surf camp, it will be well worth it. With Mojosurf you get a lot of value for your money. We actually loved the experience so much that we would welcome the opportunity to join Mojosurf again somewhere, perhaps on Bali or New Zealand. Some adventures should be on every persons bucket list, and this one should right up there among the greatest.
Check out Mojosurf on their website or give them a follow on social media to find out more and be inspired to live the dream. 
THANKS FOR READING OUR BLOG ♥
Hi! We are Sofia and Fredrik - and we have been traveling
the world for more than 10 years. We live a travel lifestyle
and create travel content as bloggers, photographers and
digital nomads. Our aim is to inspire you to explore the world
and enjoy the freedom that comes with it.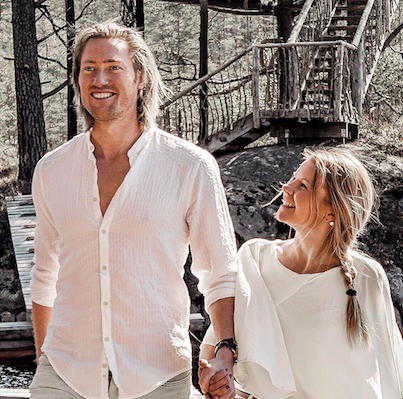 Copyright © 2019 Vagabonds of Sweden. All rights reserved