Icehotel – A fairytale of Ice
The Deluxe Suite; 34 metres in Icehotel 365 is glacier inspired and made up of 32 tons of raw ice from Torne River
The original Icehotel in Jukkasjärvi Sweden founded in 1989, offers one of the most unique accommodation options anywhere in the world where you can sleep on ice in minus degrees surrounded by beautifully handcrafted ice sculptures. It is entirely made out of ice from the nearby Torne River and every year it´s reborn with a unique structure and beautiful design by artists from around the world. Then around spring it all melts back again, completing its life cycle – reminding everyone part of its creation and touched by its beauty as well as the fairy tale like story that everything was only for a brief moment in time borrowed from mother nature to manifest dreams in art.
Since 2016 you can also experience what its like to sleep on ice all year round in Icehotel 365. This permanent part of the Icehotel consists of Deluxe Suites and Art Suites as well as an Experience Room and the Icebar. 
The Deluxe Suite 365 is the most exclusive room type that Icehotel offers and all suites are individually themed and have never been created before. Each suite is hand carved by artists from around the world and available year-round.
Entrance to our suite: 34 meters. This suite is glacier inspired and has 34 meters of ice walls that together weigh around 32 tons. 
Design by Luca Roncoroni and Dave Ruane.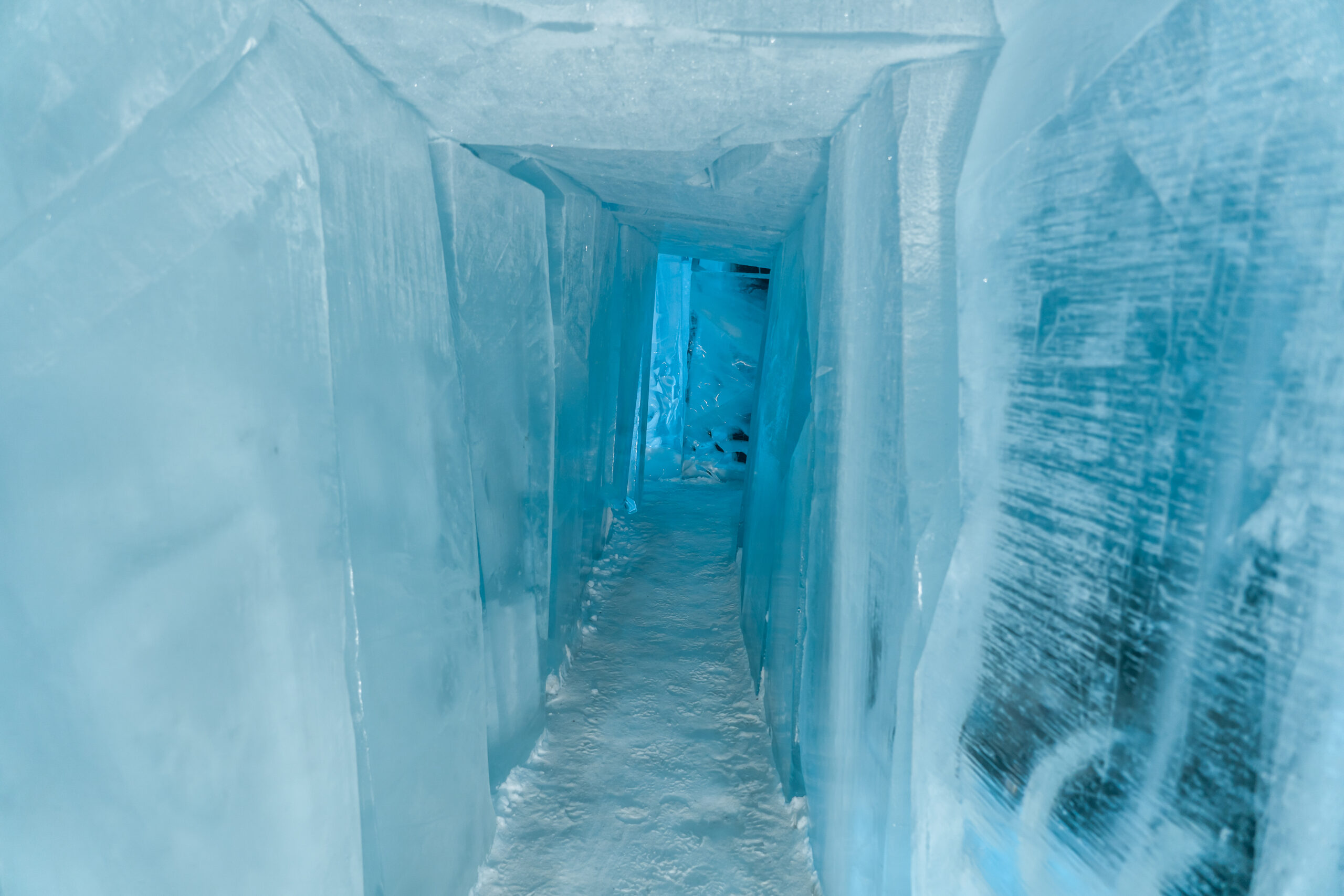 The long and narrow glacier entrance that will take you to your bed and the relaxation area.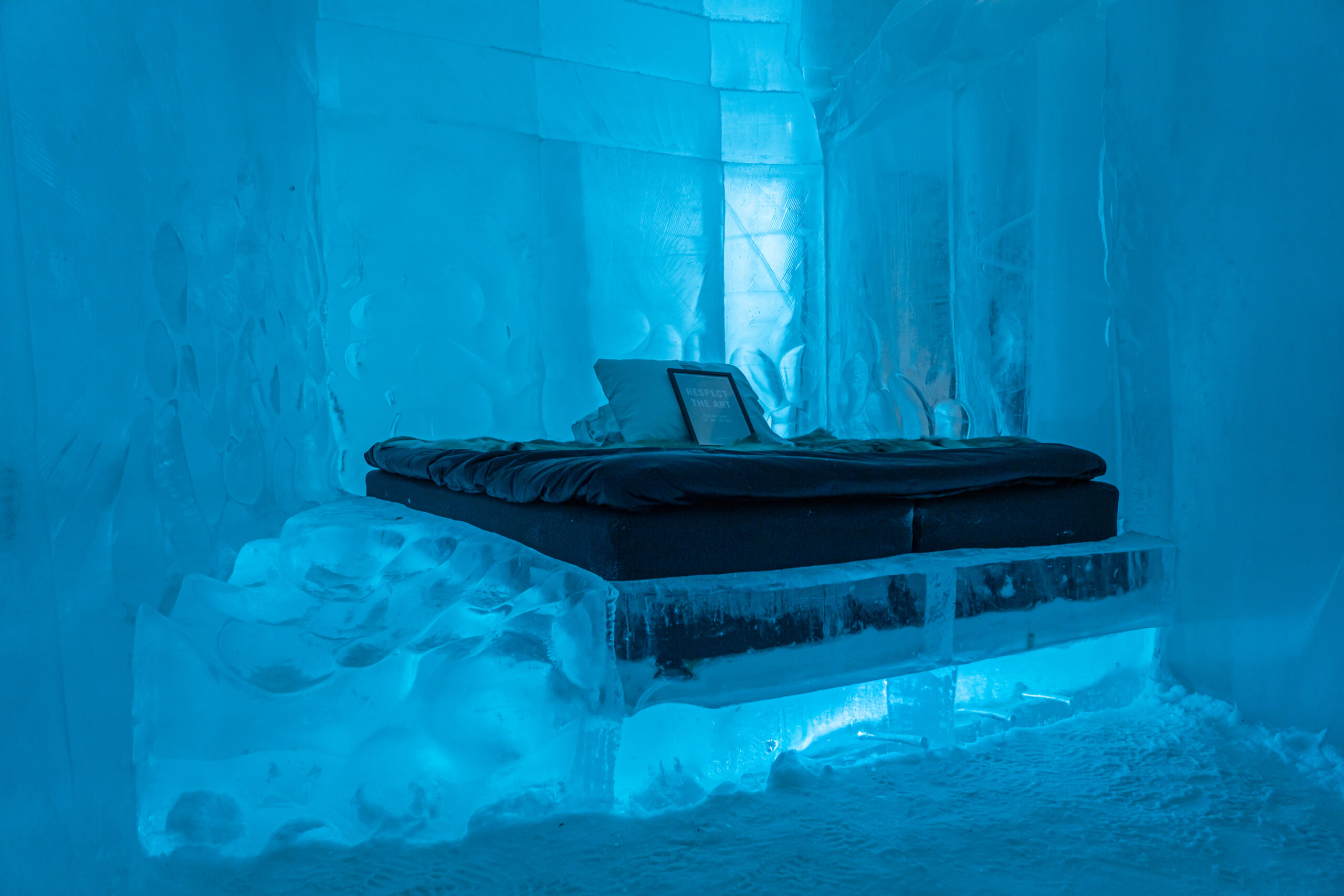 The bed in Deluxe Suite 309.
The Deluxe Suite Hilla (number 309*) in Icehotel 365 goes by the name 34 meters this year 2020 and it's one of 9 Deluxe Suites that holds a separate heated relaxation area complete with sauna and ensuite bathroom. With 34 meters of ice walls and 32 tons of raw Torne River ice, this record breaking glacier inspired suite is -5 degrees colder than the other suites and it felt like walking inside a labyrinth as you navigated towards the bed.
The separate heated relaxation area complete with sauna and ensuite bathroom.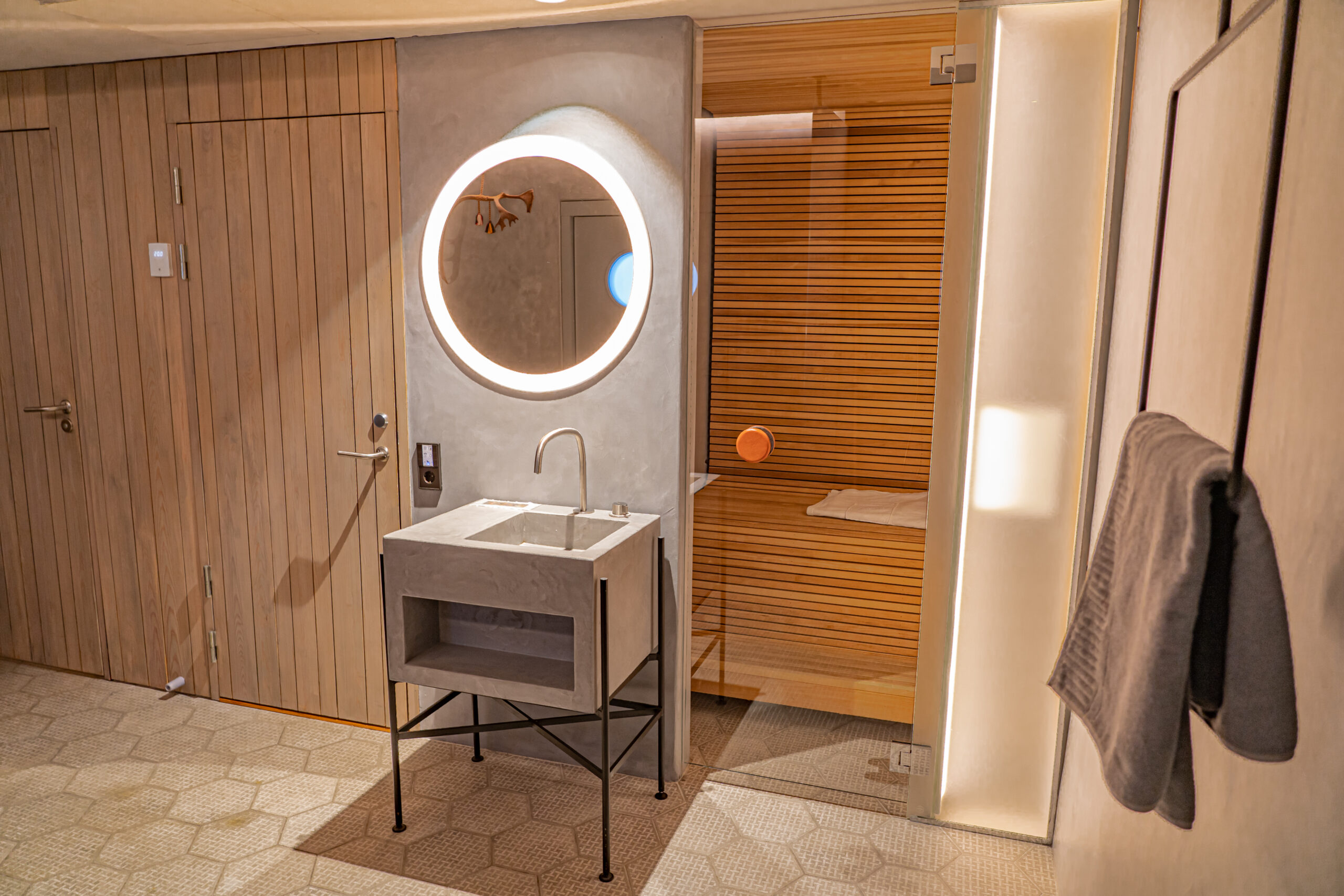 Sauna with perfect size for two people. The door in the middle goes to the ice art and bed and the door to the left is the bathroom.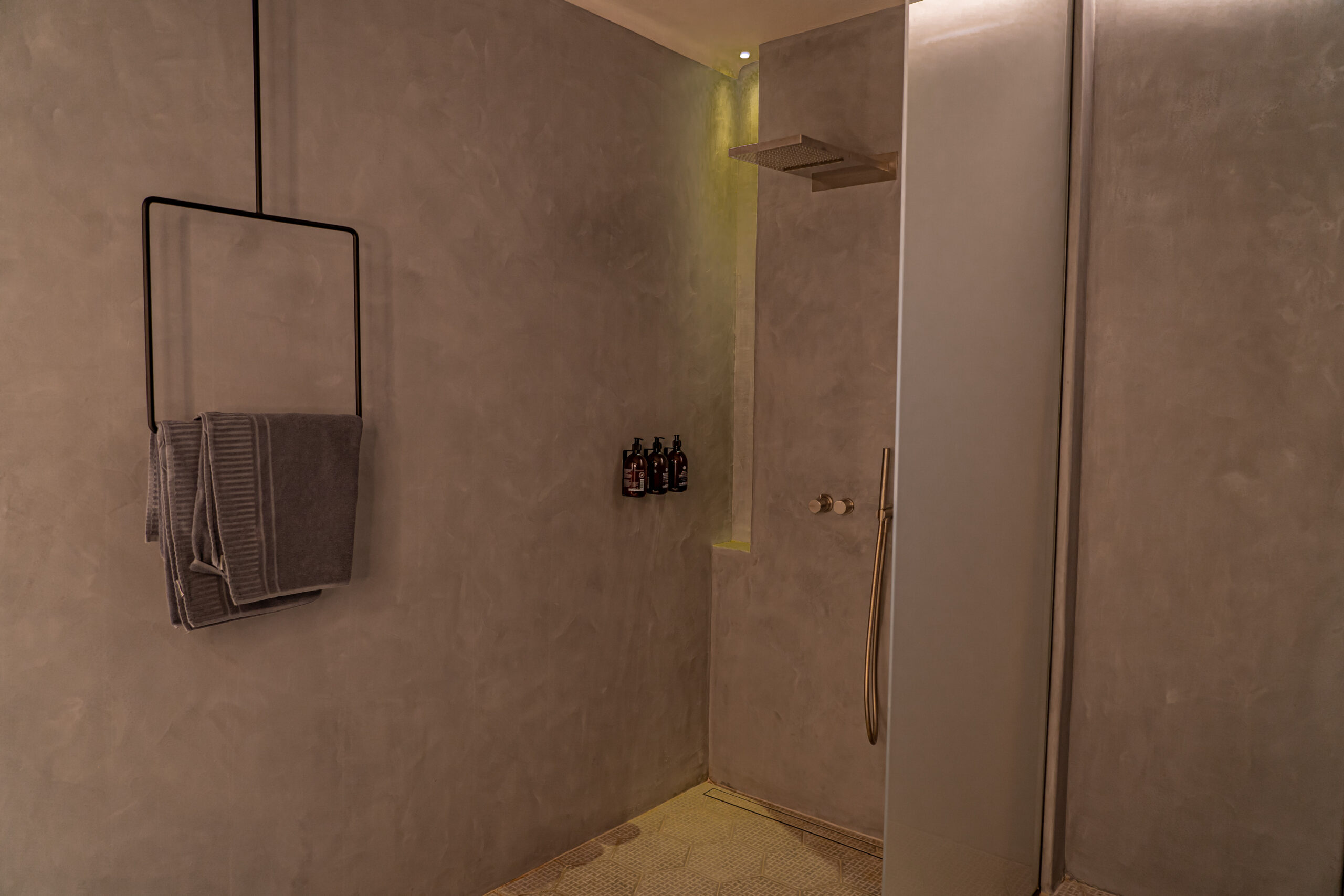 There is also a door in the relaxation area where you can step outside of your suite to the backyard of the hotel. 
Icehotel 365 is the permanent part of Icehotel and it is open all year round to guests from all over the world. It includes 9 Deluxe Suites and 9 Art Suites as well as an Icebar that serves ice cold drinks and an Experience Room where you can learn more about the Icehotel and even watch a short film and get an insight into Icehotel's history.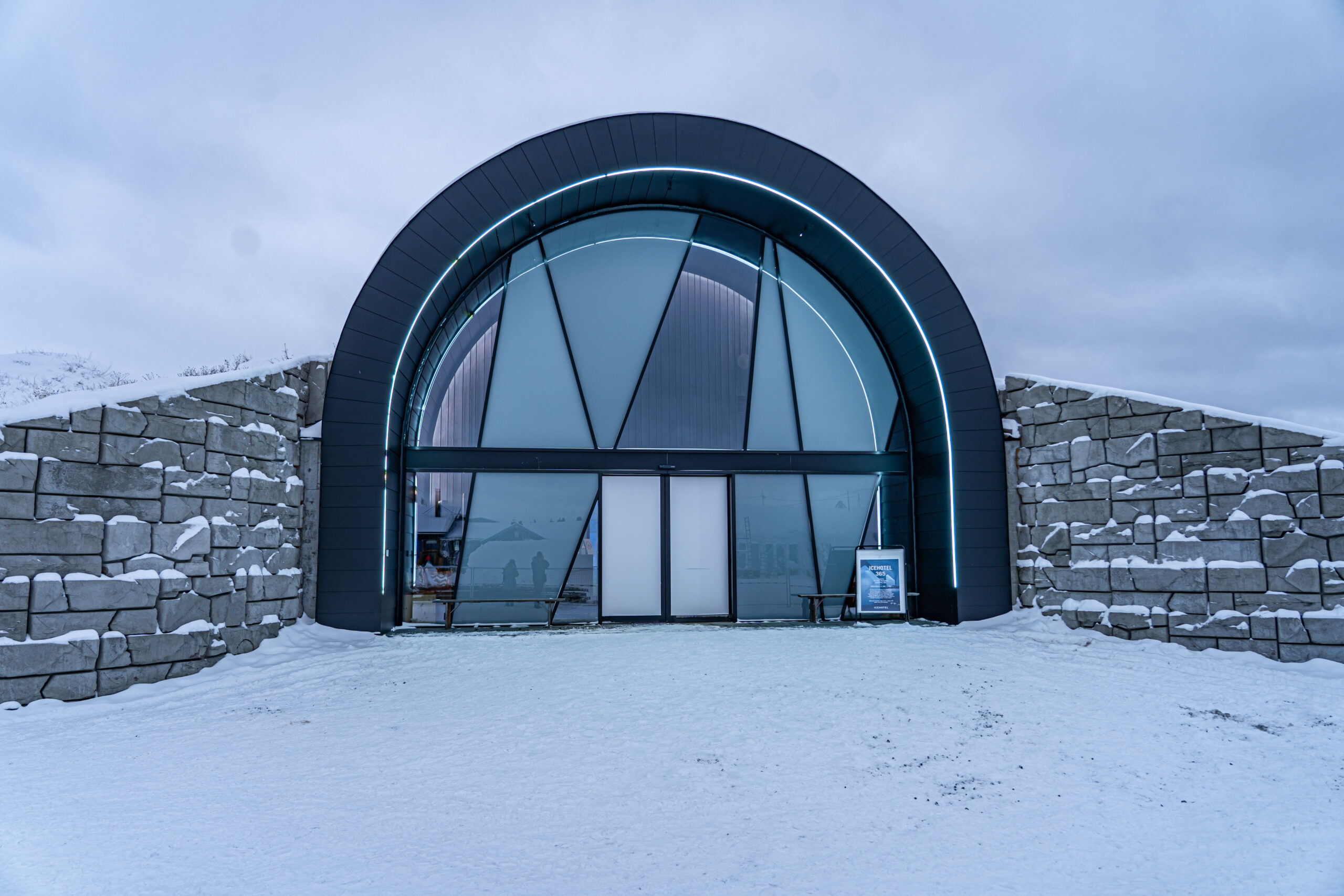 Entrance to the Icehotel 365 which consists of 9 Deluxe Suites and 9 Art Suites, Icebar and Experience Room.
The Icehotel 365 concept makes it possible to experience sleeping on ice even in summer time, even though that might be hard to comprehend at first. A chance to mix hot summer days with cold summer nights on ice. And its all made possible thanks to renewable energy and solar power.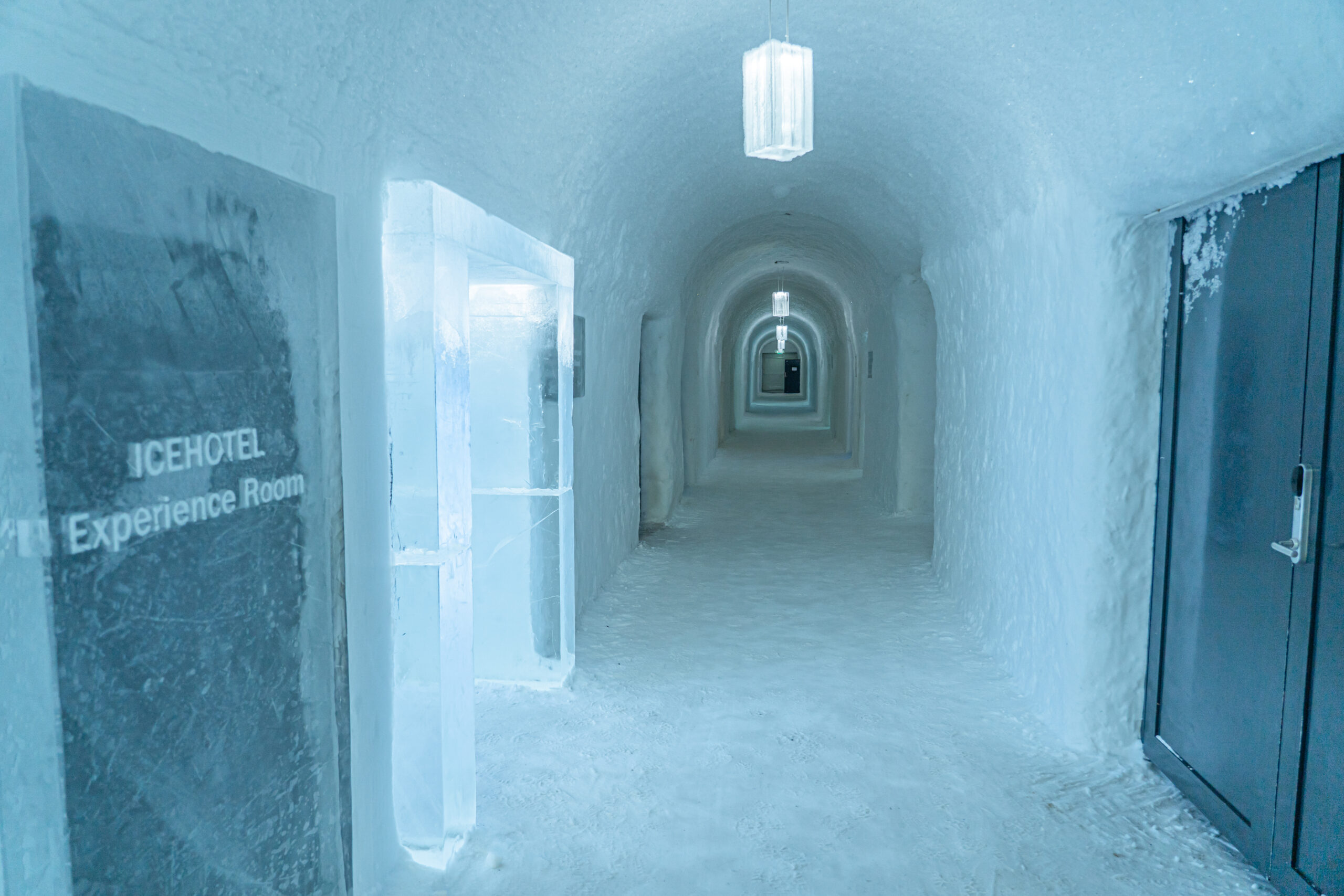 Experience Room to the left and the long corridor with 9 Deluxe Suites on the right hand side and 9 Art Suites on the left side.

A SELECTION OF
ART AND DELUXE SUITES IN ICEHOTEL 365
Art Suite 318: You are here
Design by Elisabeth Kristensen and Dave Ruane.
Deluxe Suite 301: Kodex Maximus
Design by Julia Gamborg Nielsen and Lotta Lampa
Art Suite 312: Sauna 
Design by Luca Roncoroni
The Icehotel Winter is the part of the Icehotel that melts away every year at spring time and then reincarnates the next year in a completely new and unique design between December to April. This process has then been repeated for the past 30 years through the aid of countless artists and Icehotel workers that has participated in its continued legacy and survival.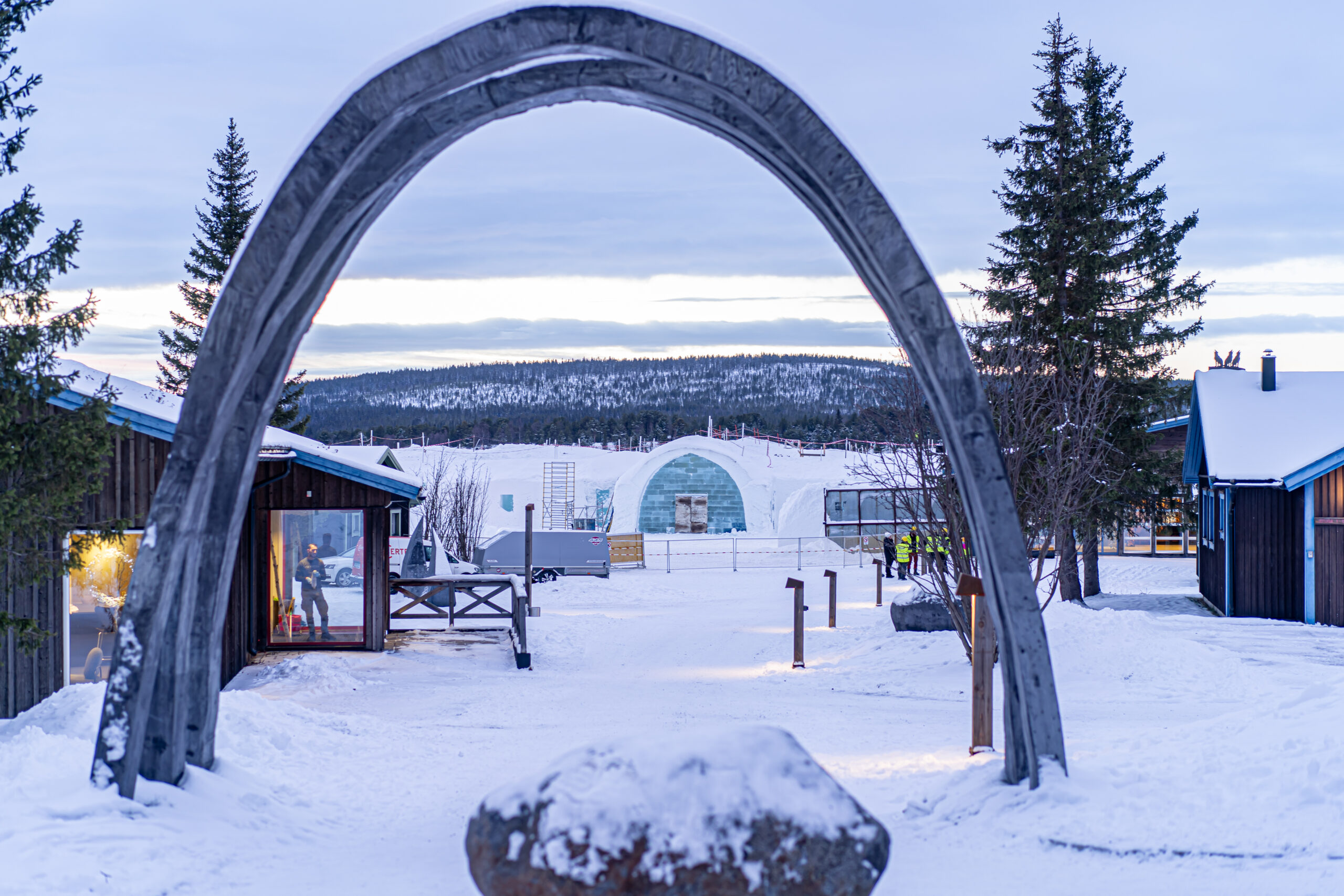 Icehotel Winter straight ahead, with cabins and warm accommodation to the left and right.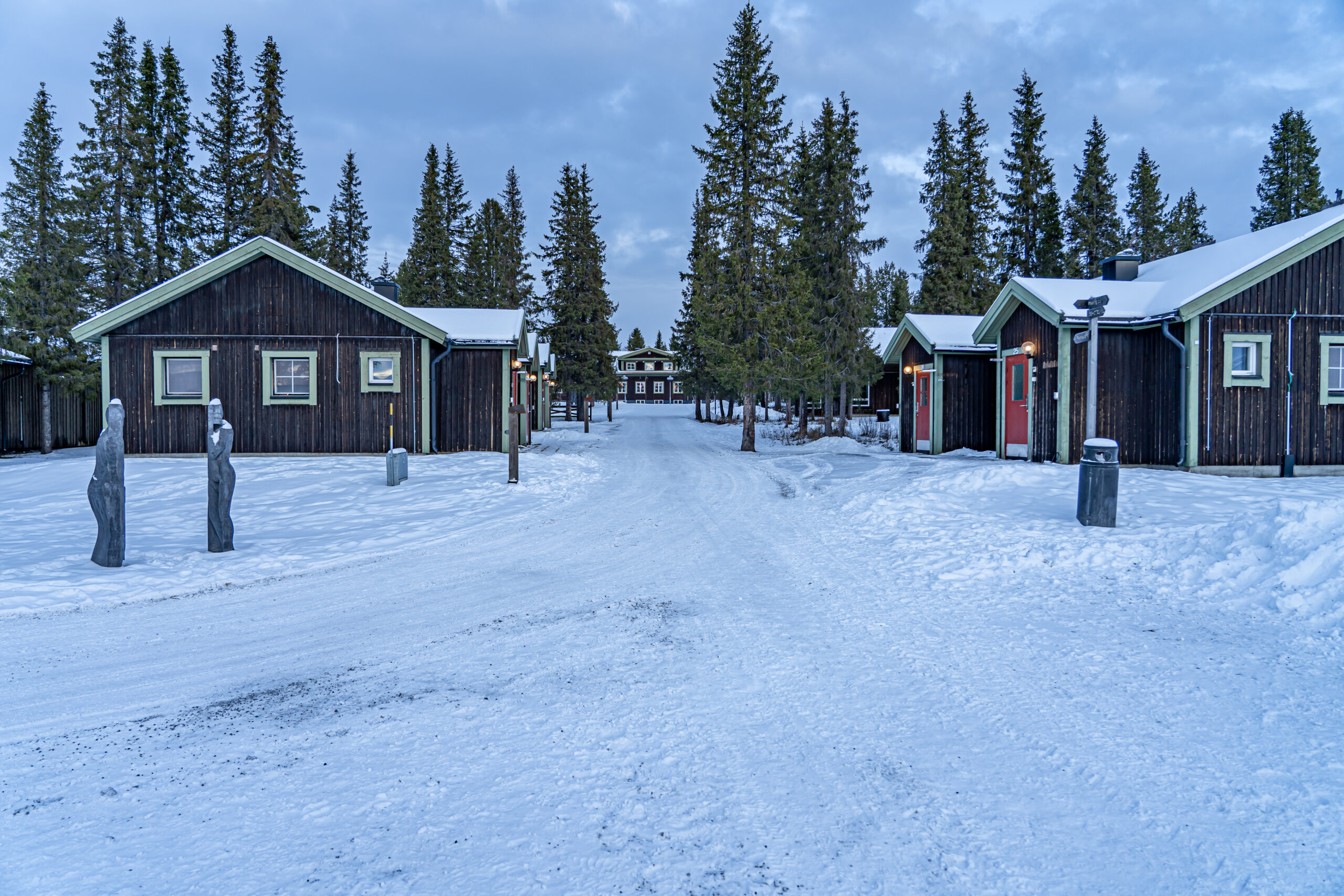 Several cabins is part of the Icehotel and its the perfect mix between warm and cold nights.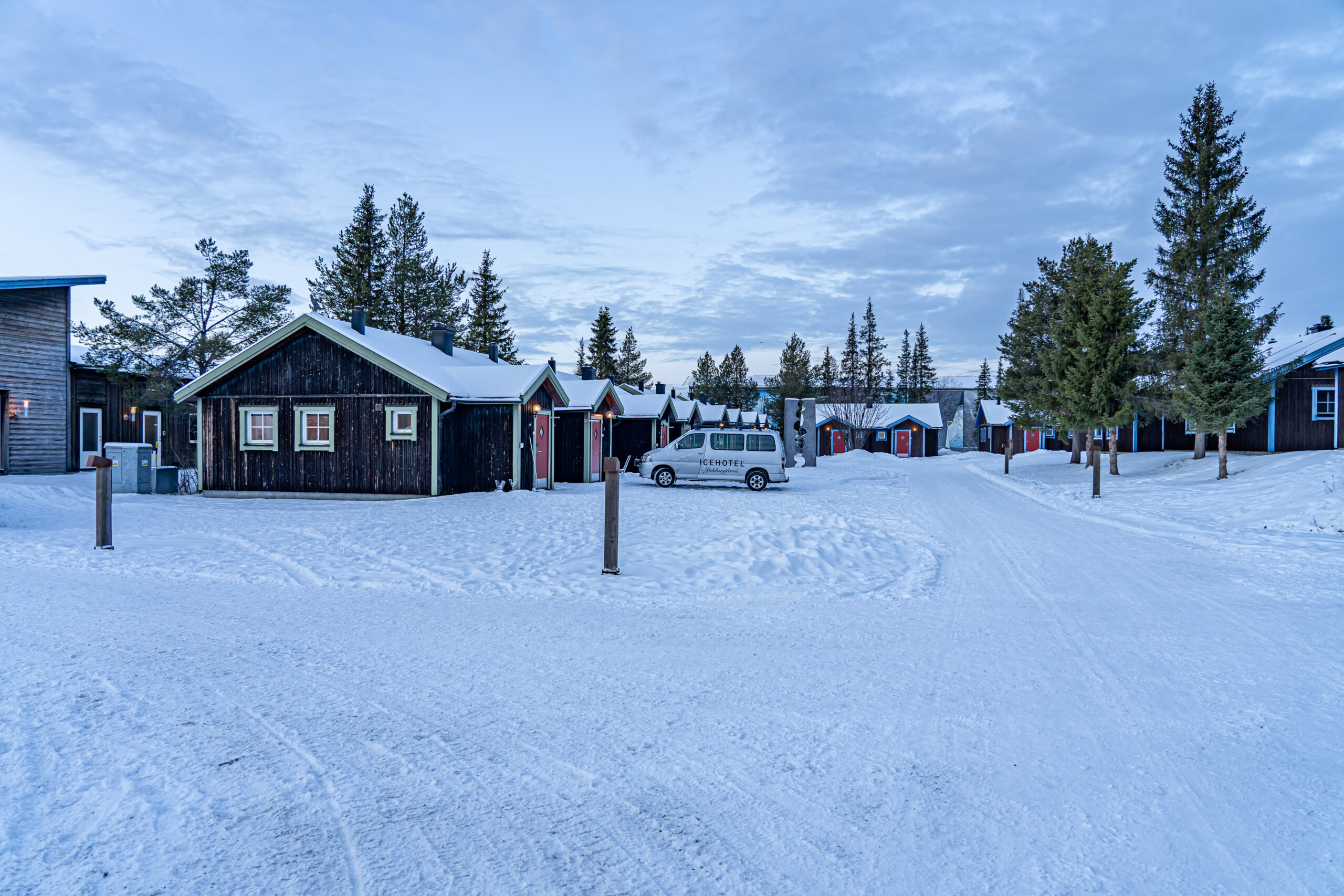 Outside of Icehotel Winter when they are still working on the final touches before opening date.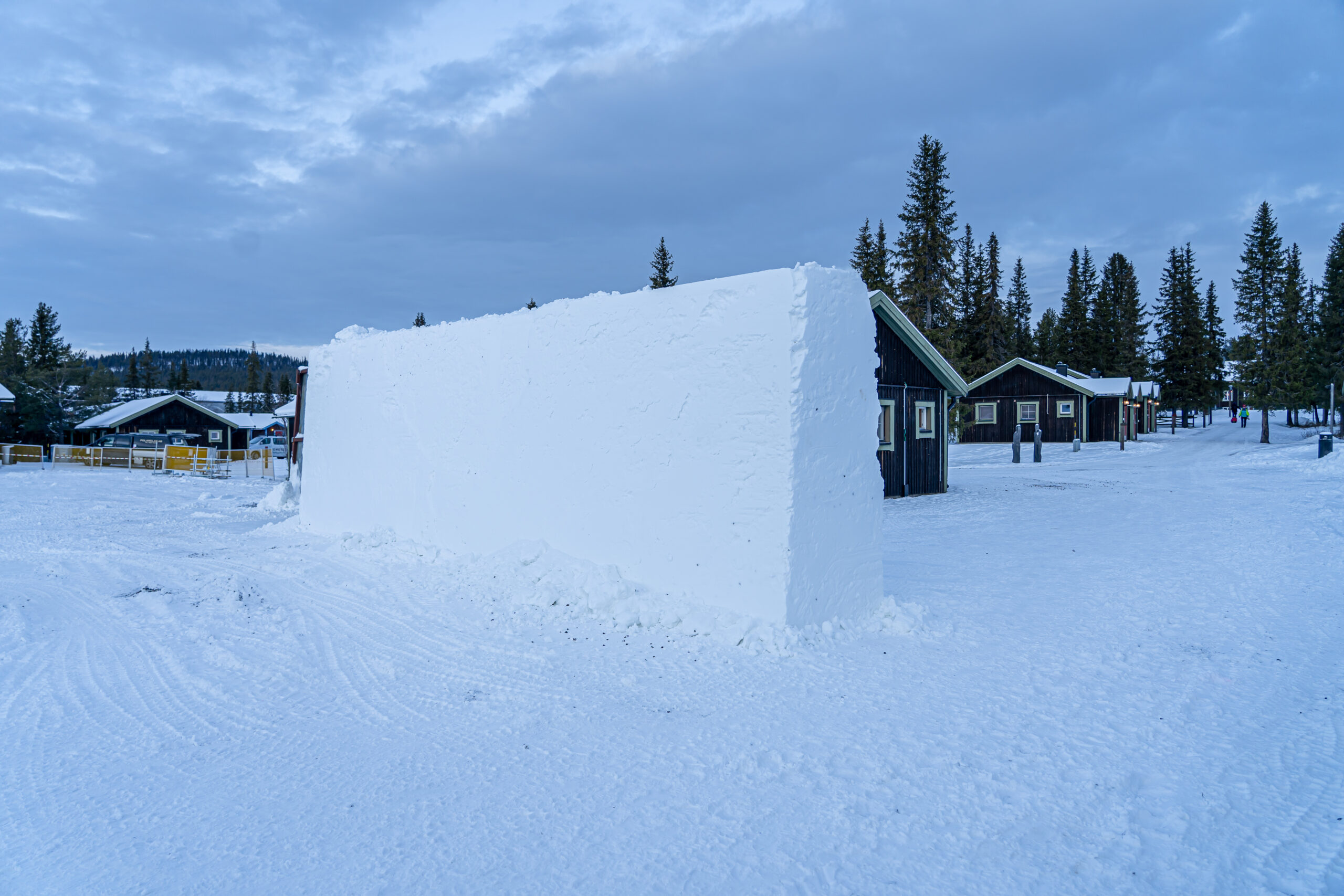 One of the many snice (snow+ice) walls around the Icehotel. 
We also went behind the scenes on a guided tour with Icehotel Art Director Luca Roncoroni who showed us the unfinished parts of the Icehotel Winter. It was quite the experience to see something of this magnitude take place, hear the stories and see the artists chisel away on the ice. Inside the Icehotel Winter you will find a Ceremony Hall, about 15-20 Ice Rooms and 12 Art Suites.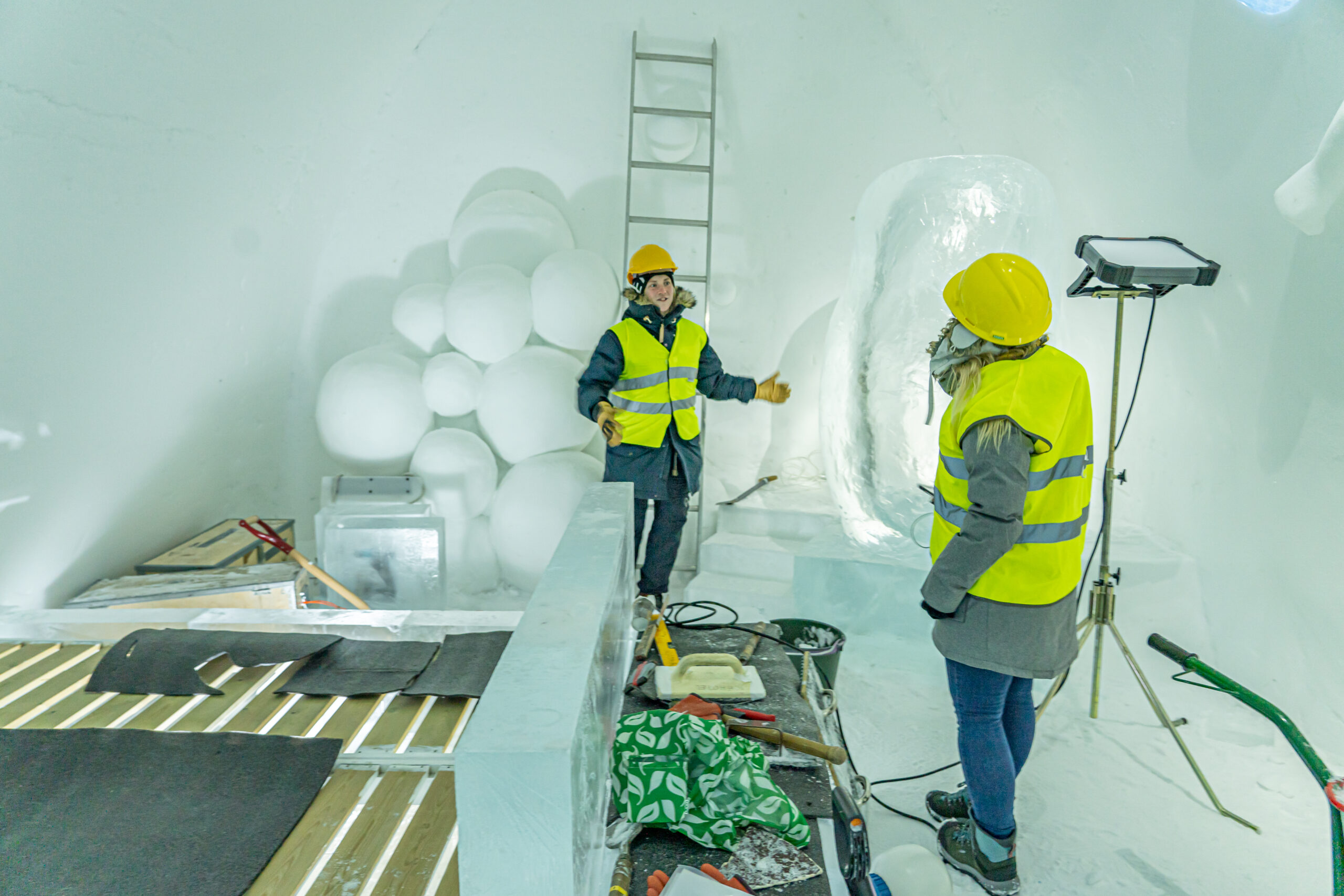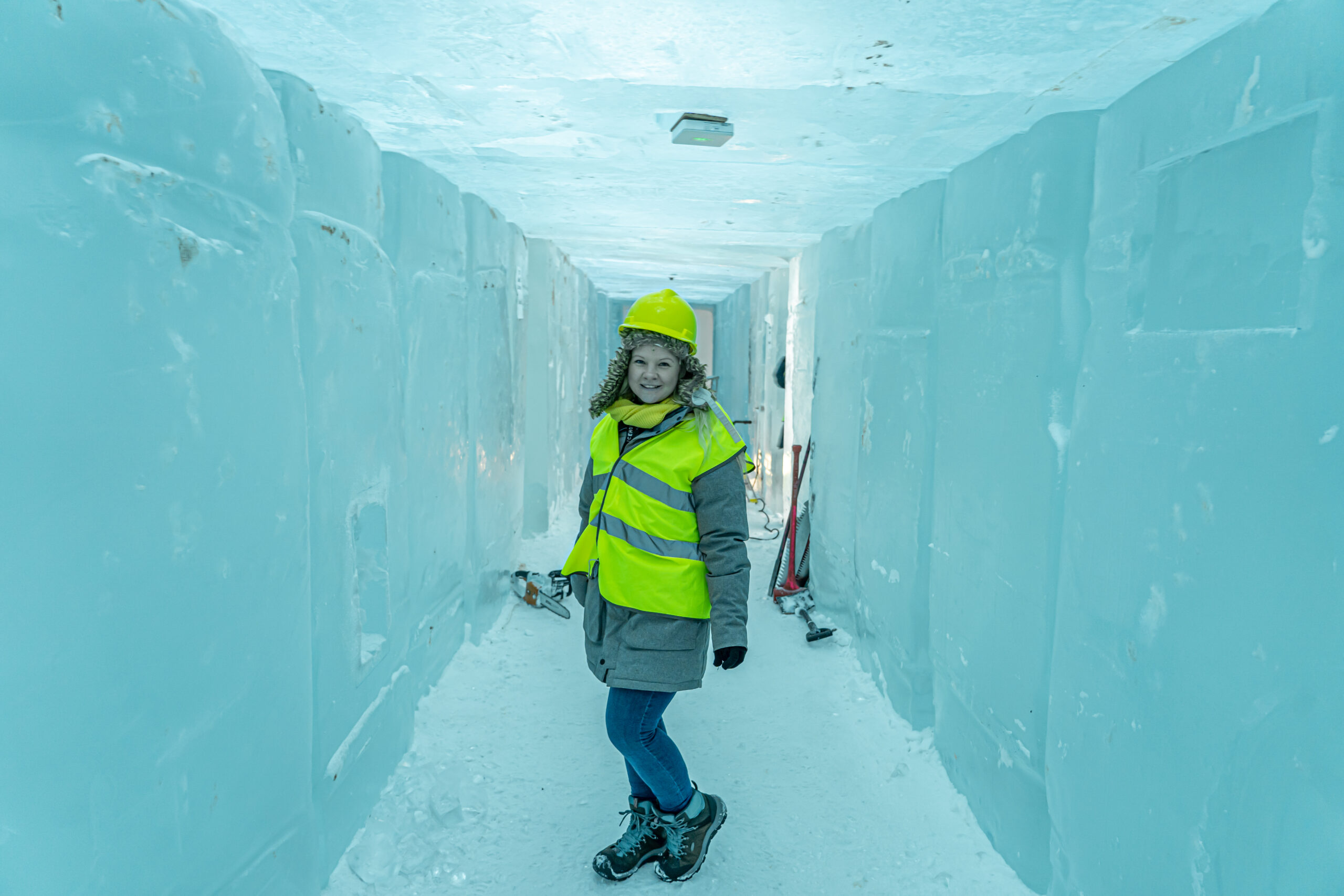 The feeling of spending a night in a sleeping bag surrounded by ice and snow in sub-zero degrees is a bit surreal but it appeals to our adventurous side. Its not often at all that you get to experience something similar and perhaps for some people, its once in a lifetime.
When it was time to cuddle up in our sleeping bags at night with hats on dressed only in our undergarment we felt both excited and privileged. We switched the lightings off by pressing a button attached directly to the ice bed and felt the arctic cold embrace us in the darkness.
Our room was around -9 degrees Celsius, about 5 degrees colder than the other rooms due to its volume of ice and snow.
The Icehotel restaurant is ranked the top restaurant in Kiruna and among top three in Swedish Lapland. A cozy restaurant with an international kitchen that serves local delicacies such as moose, reindeer, arctic char and bramble berries – always backed by excellent service. Some dishes are even served on ice if you order the ice menu which is an extra delight for your eyes.
We had a wonderful culinary experience at Icehotel Restaurant and honestly had the best meal we have eaten in a very long time. In this 5-course Ice Menu they served us among other things – moose filet with potato puree, browned onion and baby beets along with arctic rasberry sorbet and reindeer tartar. Exquisite tastes that were sort of dancing in your mouth kinda like the northern lights in the sky.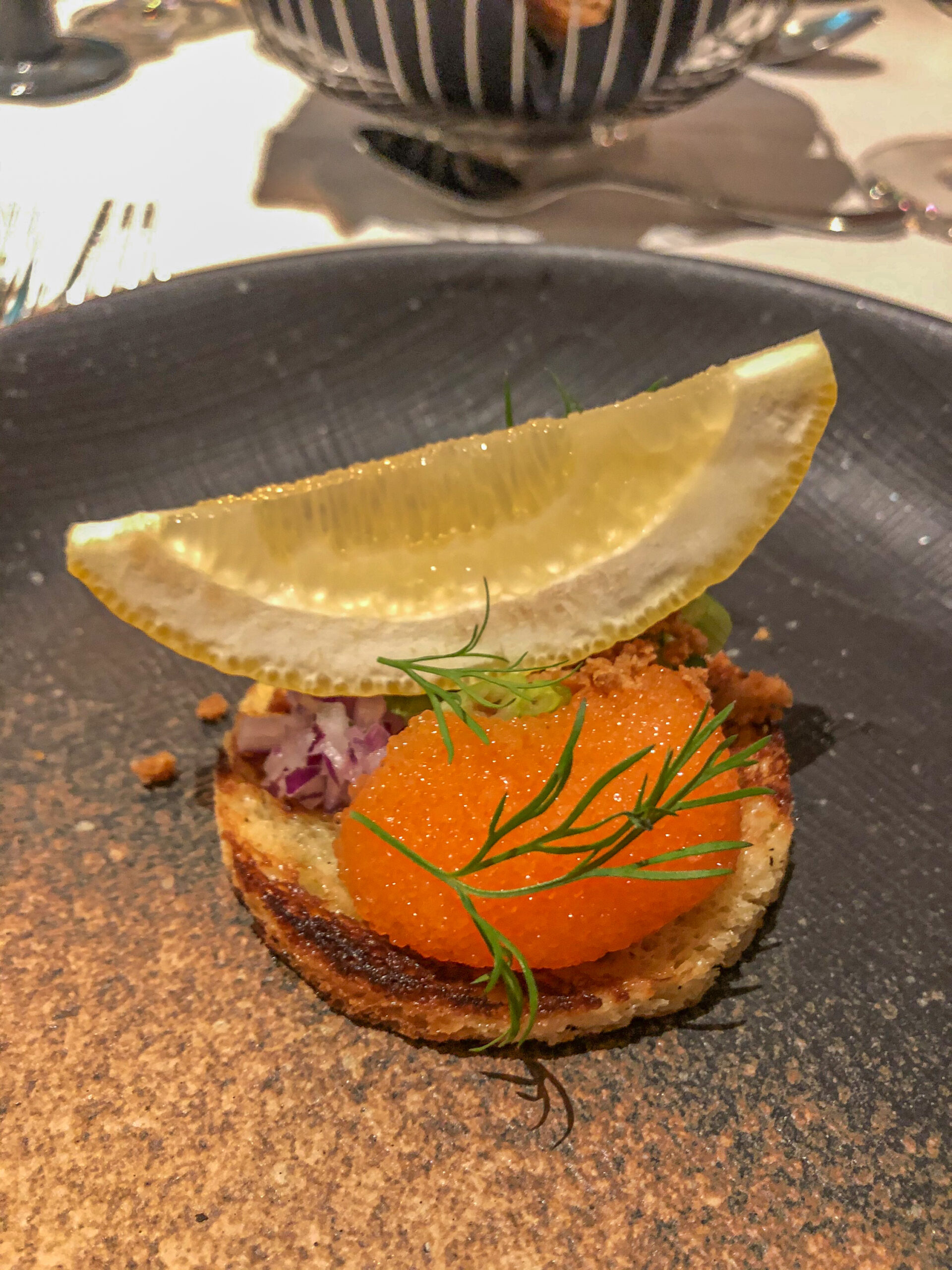 Bleak Roe from Kalix served with Classic Trimmings.
House cured arctic char, Västerbotten cheese emulsion, pickled tree chanterelles – served on ice.
Reindeer Tartar, butter fried capers, black garlic mayonnaise, kohlrabi and crispy onion. 
Moose filet served with potato puree, browned onion and baby beets. 
Arctic rasberry sorbet with white chocolate and freeze-dried arctic rasberries – served on ice.
The Icebar is a wonderful addition to the already breathtaking interior made completely out of Torne River ice in Icehotel 365. Here you can of course enjoy colorful signature cocktails or why not Champagne served in glasses made from ice. We tried the Torne Breeze and Wolf Paw and were definitely satisifed with the tastes.
You can take a seat on reindeer fur next to tables made from ice and sip that cocktail in an ice cold glass while you breath in the arctic cold. That is something you don't do very often.
Icebar from Icehotel is actually a concept which you can experience in other places too besides just the Icehotel in Jukkasjärvi. Another location where you can walk in from the hot streets outside in summer time for example and enjoy an ice cold drink served in glasses made from ice is Stockholm.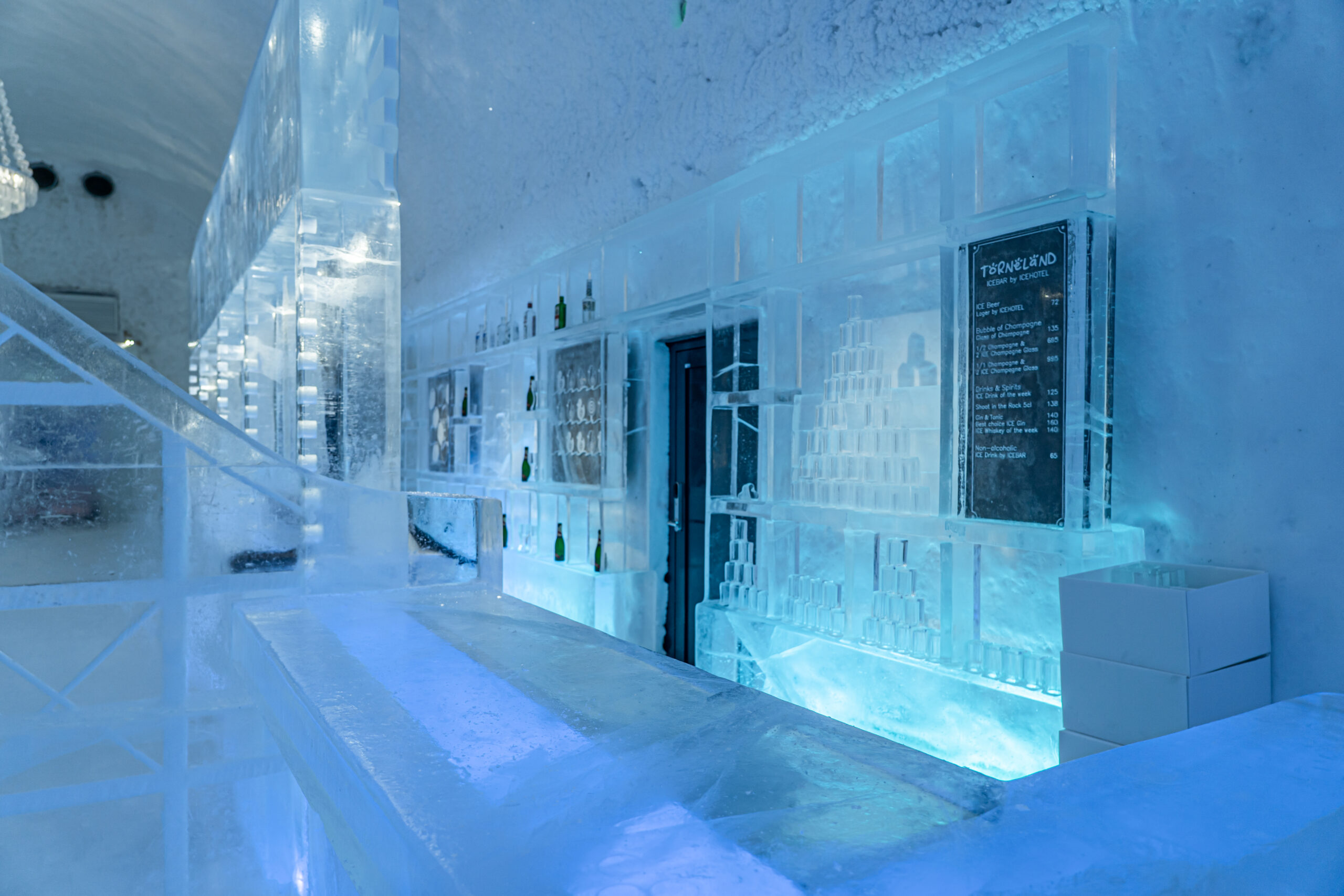 Signature drinks on the menu includes Torne Breeze and Wolf Paw.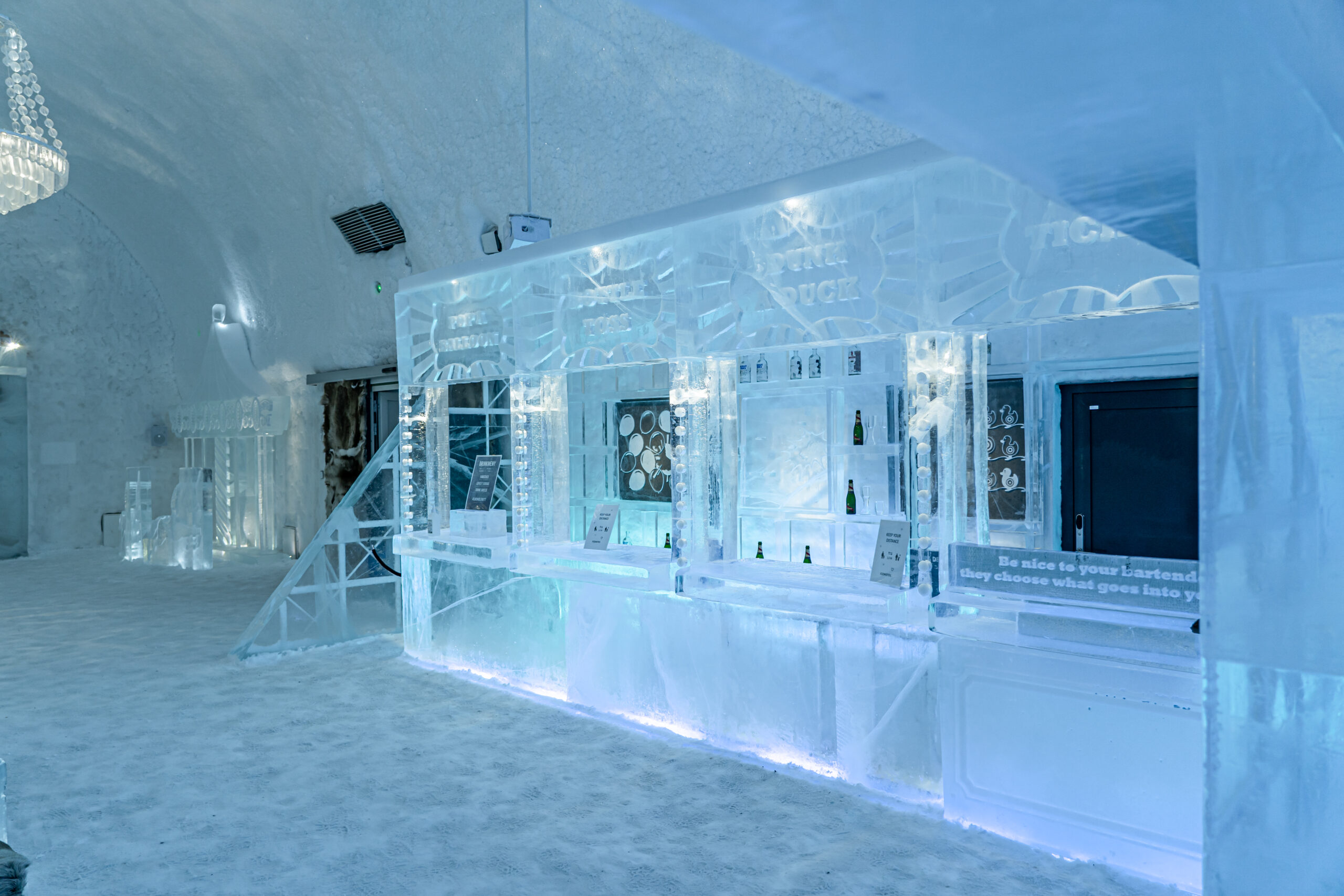 There are plenty of activities to participate in and around Icehotel with top adventures such as Drive your own Dog Sled, Snowmobile Tour, Northern Lights Safari on Snowmobile or perhaps Ice Sculpting. All the tours start and end at the Icehotel. In addition Icehotel itself offers all guests warm outdoor clothing which minimizes the chances of freezing significantly.
Also if you are lucky enough you can even see Northern Lights above Jukkasjärvi on a cloudless night just standing outside the Icehotel. But be sure to keep an eye on the aurora forcast, and remember to be patient.
Icehotel is located in Jukkasjärvi just outside the mining town of Kiruna about 25 minutes away. The little village of Jukkasjärvi is a huge contrast to the size of Kiruna but quaint and cozy to walk around on foot. You can leave the Icehotel and see most parts of the village in under an hour.
To get here you can either take the bus, book transfer or drive yourself.
Icehotel in Jukkasjärvi offers the experience of a lifetime where you can sleep on ice among beautiful ice sculptures in sub-zero degrees. If you travel to Swedish Lapland this is a must on your bucket list.
There are three various accommodation options to choose from at the Icehotel; sleep on ice in Icehotel 365 and the Icehotel Winter or stay in a warm hotel room or apartment. No matter what you choose make sure you spend atleast one night on ice, you will definitely not regret it. 
THANKS FOR READING OUR BLOG ♥
Hi! We are Sofia and Fredrik - and we have been traveling
the world for more than 10 years. We live a travel lifestyle
and create travel content as bloggers, photographers and
digital nomads. Our aim is to inspire you to explore the world
and enjoy the freedom that comes with it.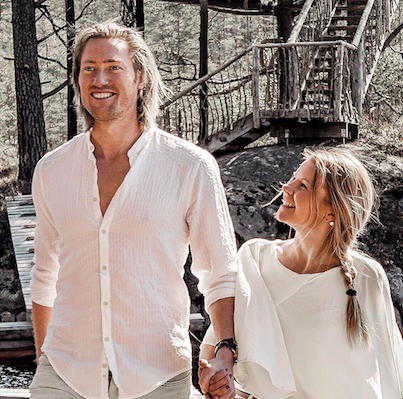 Copyright © 2020 Vagabonds of Sweden. All rights reserved