DALIA'S BLUE MOUNTAIN RETREAT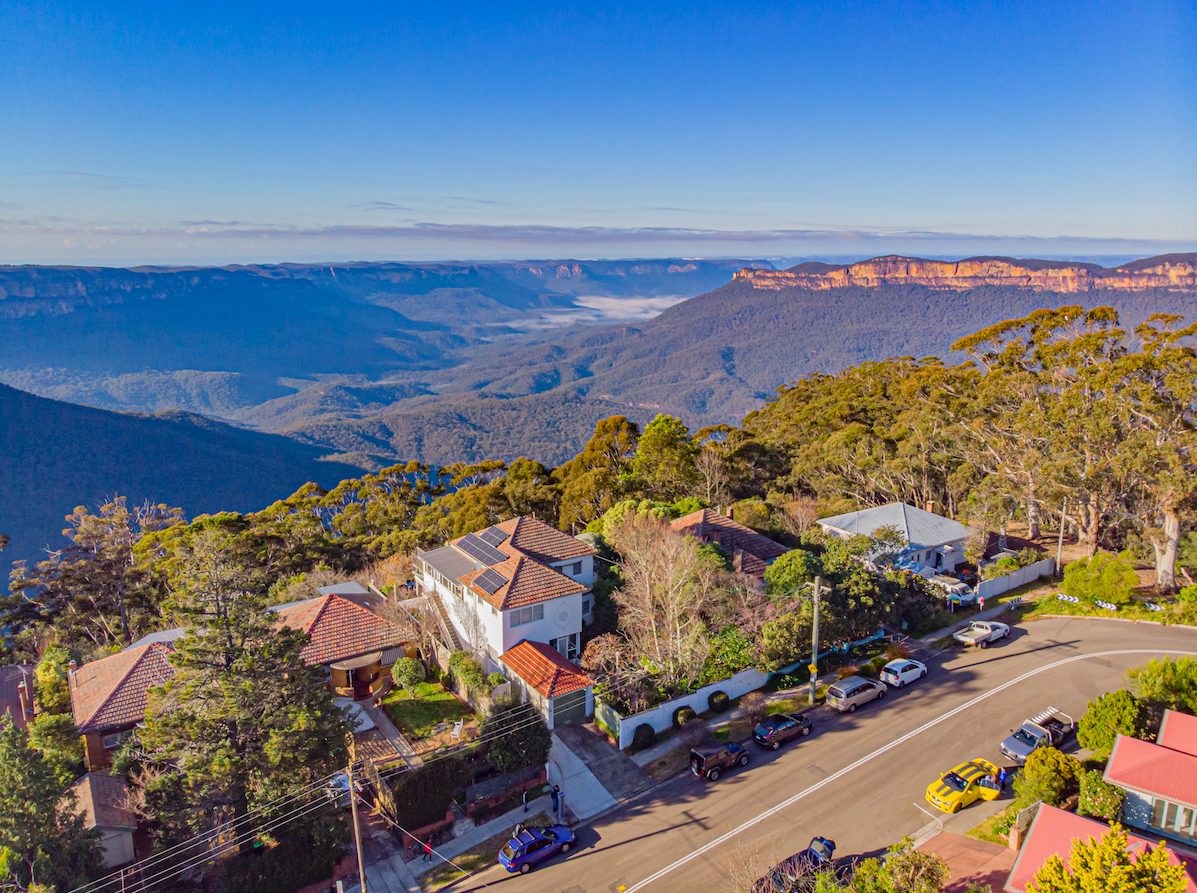 Dalia's Blue Mountain Retreat is one of the most unique places we have ever stayed at. Not only does it offer five star accommodation, a zodiac garden and breathtaking panoramic views of the Blue Mountains with its beautiful misty blue haze – but its also located right on the escarpment only 300 metres from the famous Three Sisters and several bush walks.
When you arrive at Dalia's Blue Mountain Retreat, its like you are entering into another world – where peacefulness and tranquility will embrace you like a warm blanket. While its so close to everything, its also separated from it. It's the perfect couples private retreat where you'll have a lot of space and privacy. Here you will enjoy the views, the fresh air, the magnificent garden and the sounds of nature and its inhabitants. What more can a person ask for when visiting the Blue Mountains.
Dalia's Blue Mountain Retreat includes three apartments: Cloud 9, Garden of the Stars and Sterling Manor – where Richard Sterling a well known Astrologer and Television icon lived for 50 years. We stayed in Cloud 9 for one night, but could easily have spent several nights here. Each of the apartments has its own charm for a price that will suit every budget.   
Dalia's Blue Mountain Retreat operates on a self-check in basis, and you will receive all instructions in your welcoming email. There is also promotional videos on YouTube in which Dalia will take you through each of the apartments as well as the garden.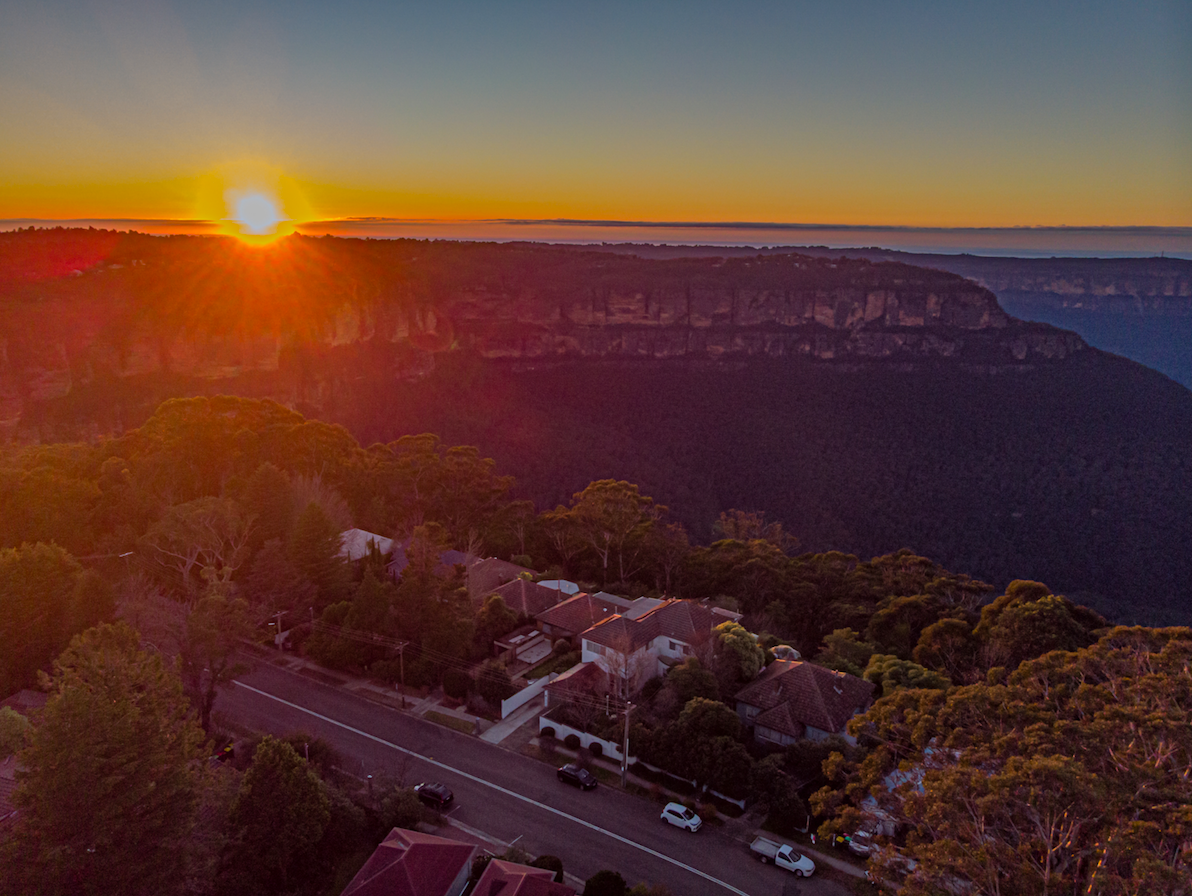 A mesmerizing sunrise over Jamison Valley. Dalia's House in the middle.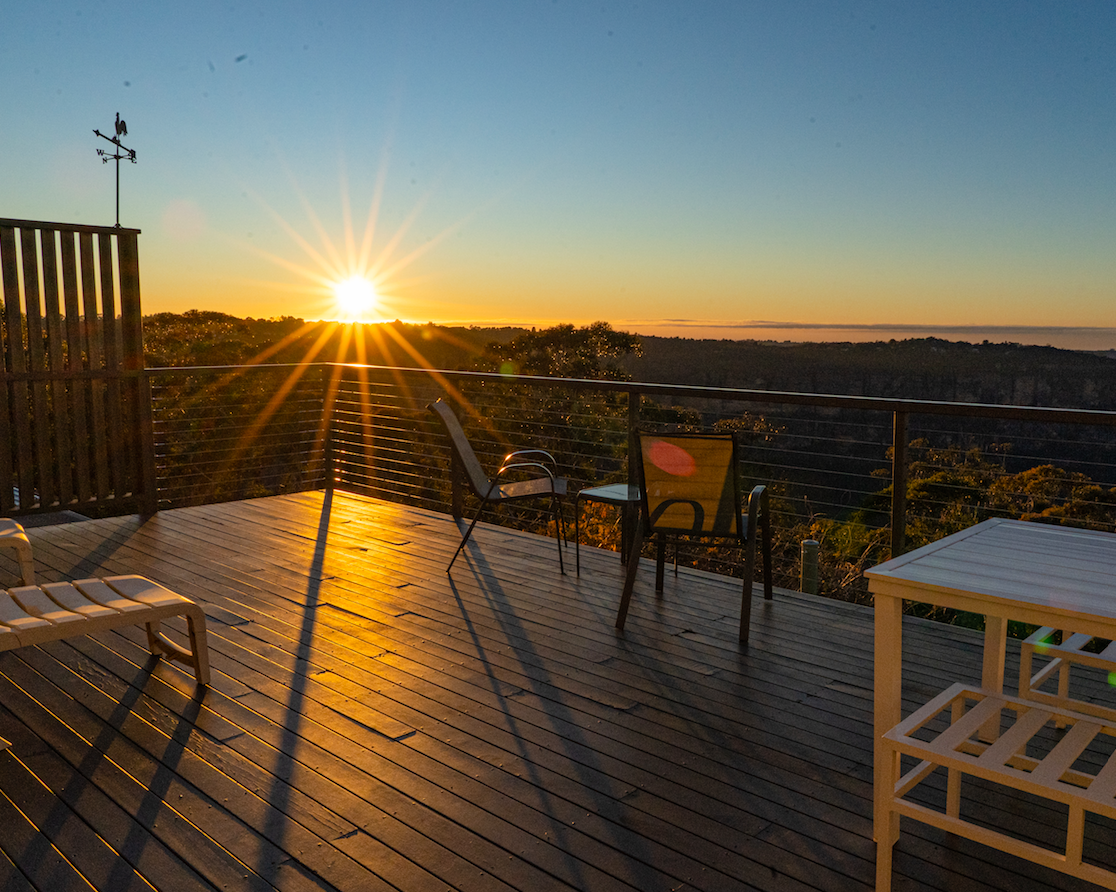 One of three apartments in Dalia's Blue Mountain Retreat and where we stayed for one night. This is the perfect romantic couples retreat and a place to rekindle love and romance. It offers probably the best views in the entire valley and the comfort of 5 star luxury living, with its own honeymoon suite. When you visit the Blue Mountains for the first time, we couldn't think of any better accommodation where you can really take it all in. 
BEDROOM
THE HONEYMOON SUITE AND SUN ROOM
The honeymoon suite, where we slept has a Queen size canopy bed with luxurious bedding and electric blankets for those cold nights. We slept like kings and queens and woke up fresh and excited for a new day full of adenture. In the bedroom you'll find a Green Amethyst, a gemstone which helps with integrating spiritual insights and seeing the divine in everyone. It has the affirmation that your body and spirit are aligned and united through your heart, meaning supreme love.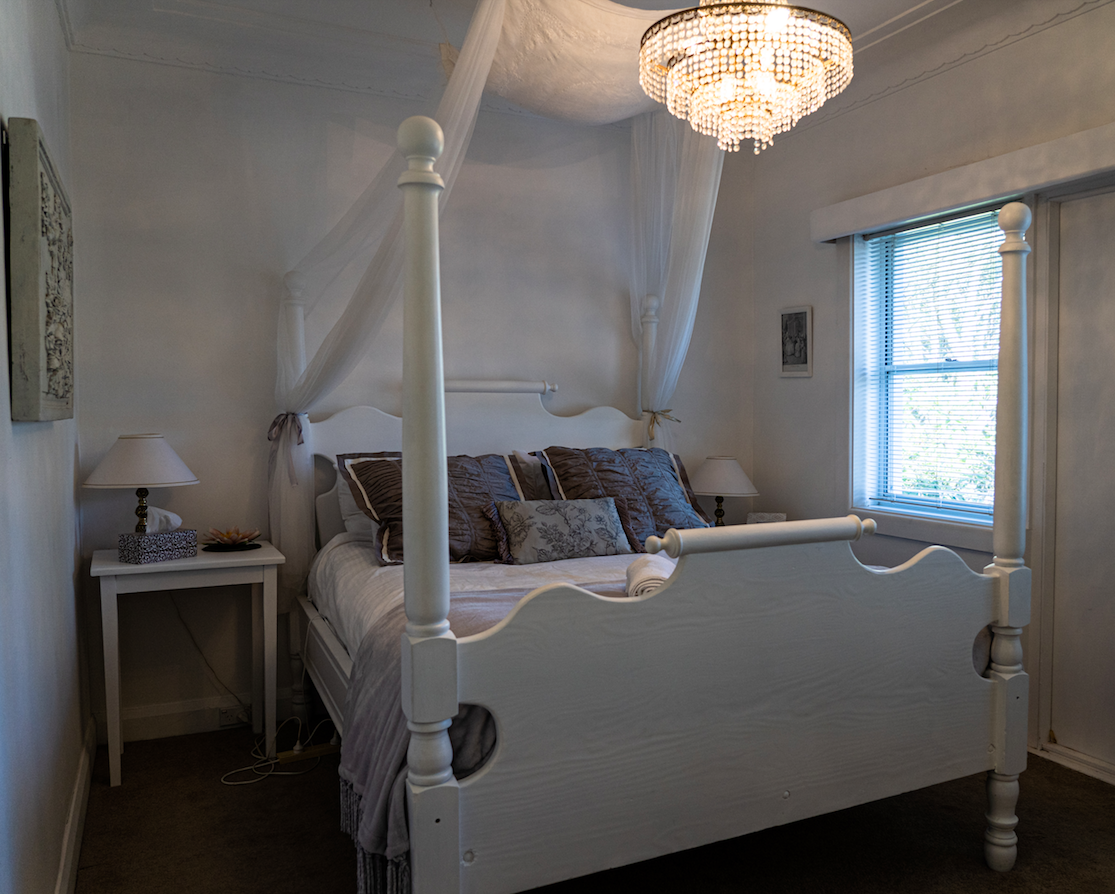 Queen size canopy bed with luxurious bedding.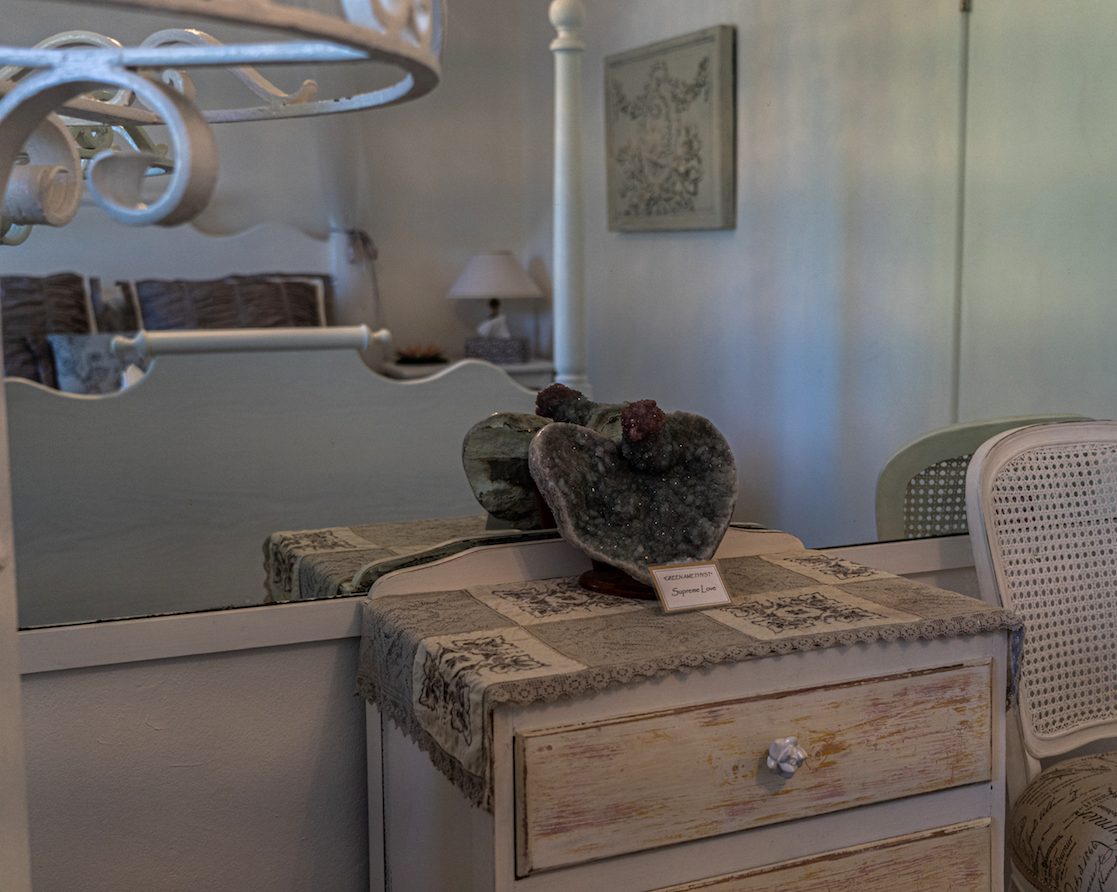 Green Amethyst = Supreme Love
There is also a sun room with two King Size beds that can be positioned together as one bed as well as a single sofa bed. If you don't take the curtains down to sleep in, you'll wake up with views over the Jamison Valley and feel the early morning sun on your face.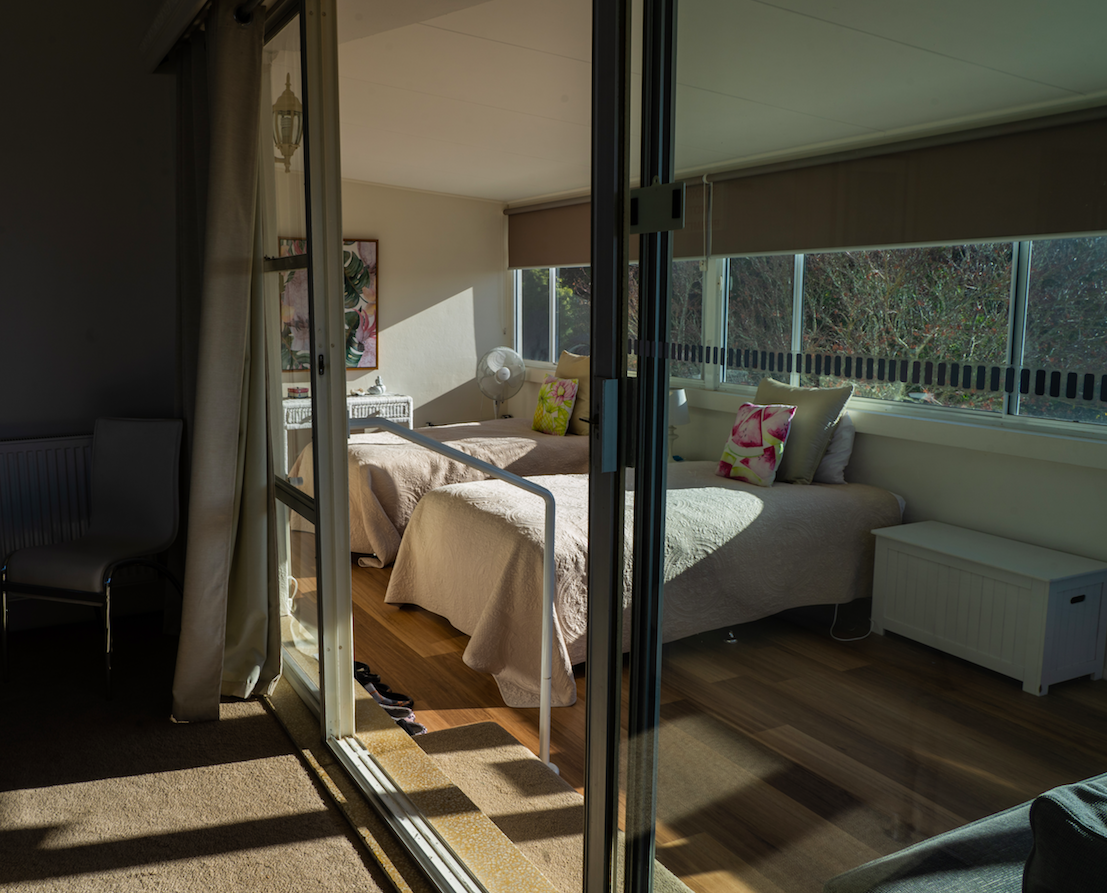 Million dollar views of Jamison Valley from the comfort of your own kitchen. Not a bad way to cook dinner. You´ll find the kitchen is equipped with modern appliances and utensils for you to make whatever food you can possibly crave. A lot of open space, lots of natural light and a spacious granite bench-top that goes all the way along the windows.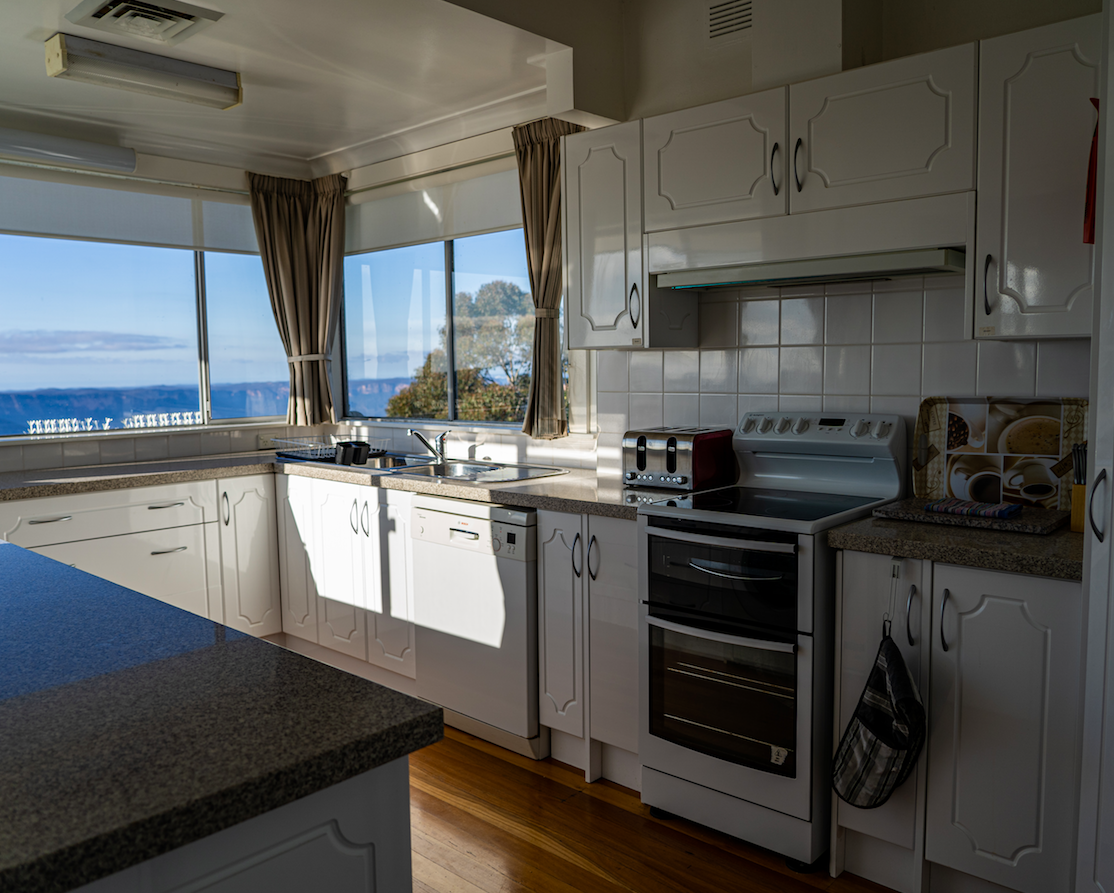 Clean, lots of natural light and a lot of open space.
With views like this to your morning coffe. 
The cozy living room with its massive wall-to-wall carpet, hyrdonic heating and L-shaped couch is a place to enjoy the TV after a full day of activities, eat your dinner or just sit down and try to digest the views on full display in front of your eyes – as the day bleeds into nightfall.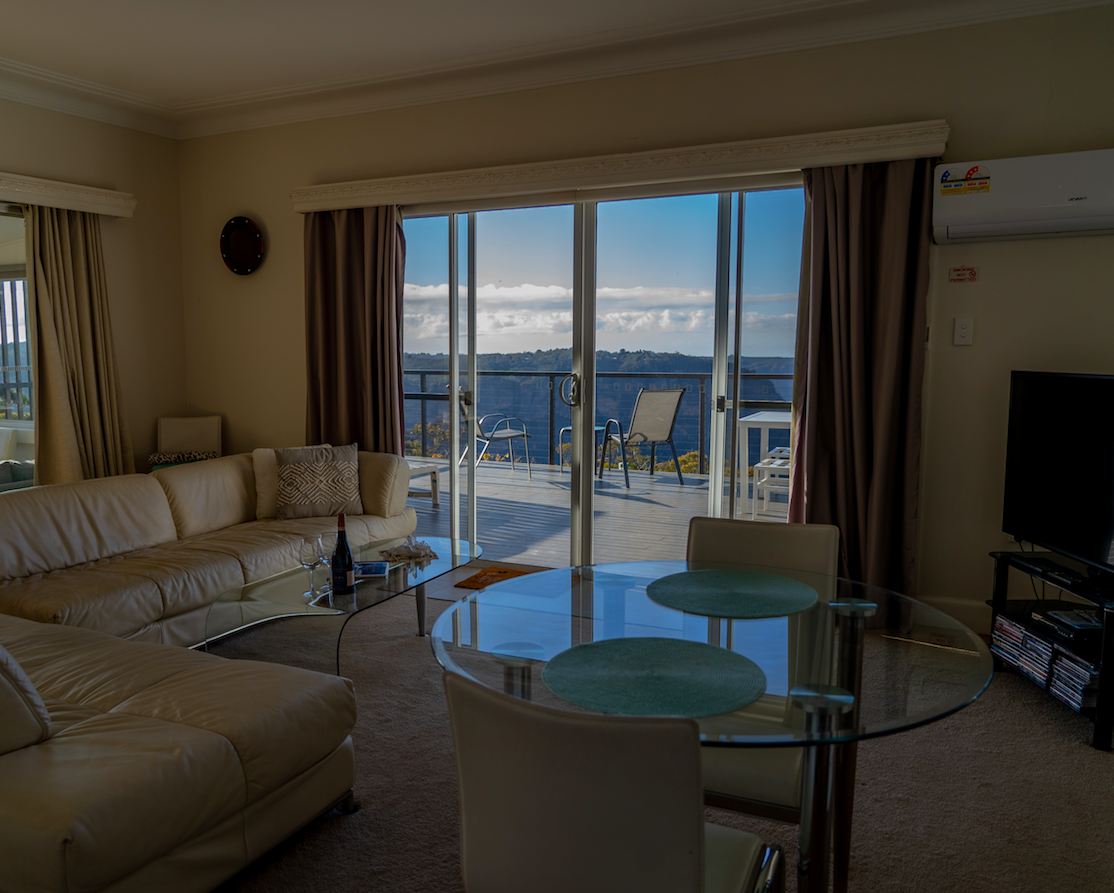 The cozy lounge room with easy access to the terrace. 
We spent the evening on the terrace but finally retreated back into the leather lounge room when darkness fell over the valley, feeling complete and blessed for the opportunity to witness such beauty.
Walking from the living room out on the terrace will leave you speechless. You are instantly greeted with expansive, 180 degrees breathtaking views that will simply leave you speechless. Through all the years of traveling the world, we have never seen views like these from the house or hotel we have stayed at. Its certainly unique but its not just the view in itself – it's the natural display from mother nature that really enhance the feeling – such as sunsets with magical colors of pink and blue, full moon or that early morning when clouds start to form in the valley. All together its like a giant canvas, painted and then repainted the next day.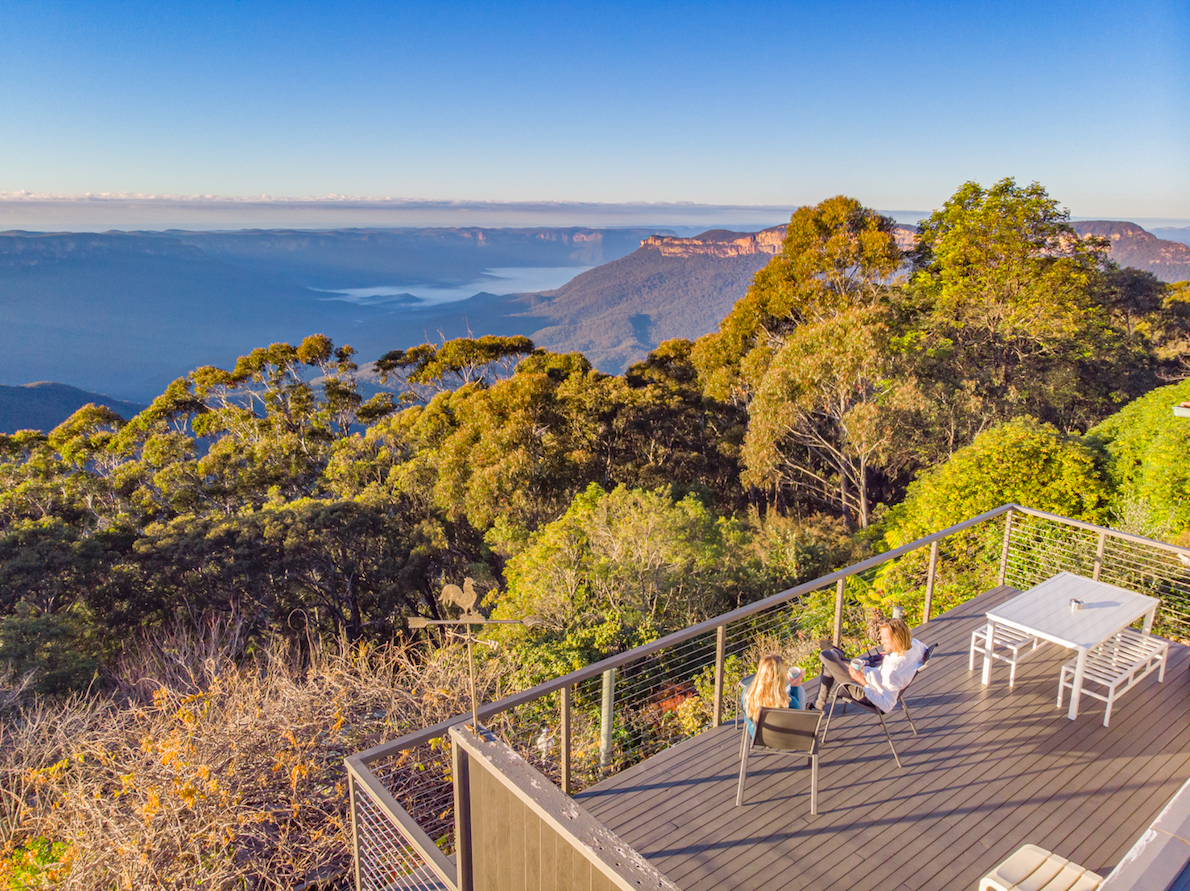 Enjoying a cup of coffe in the morning sun with views to die for. Look at the clouds coming up through the valley.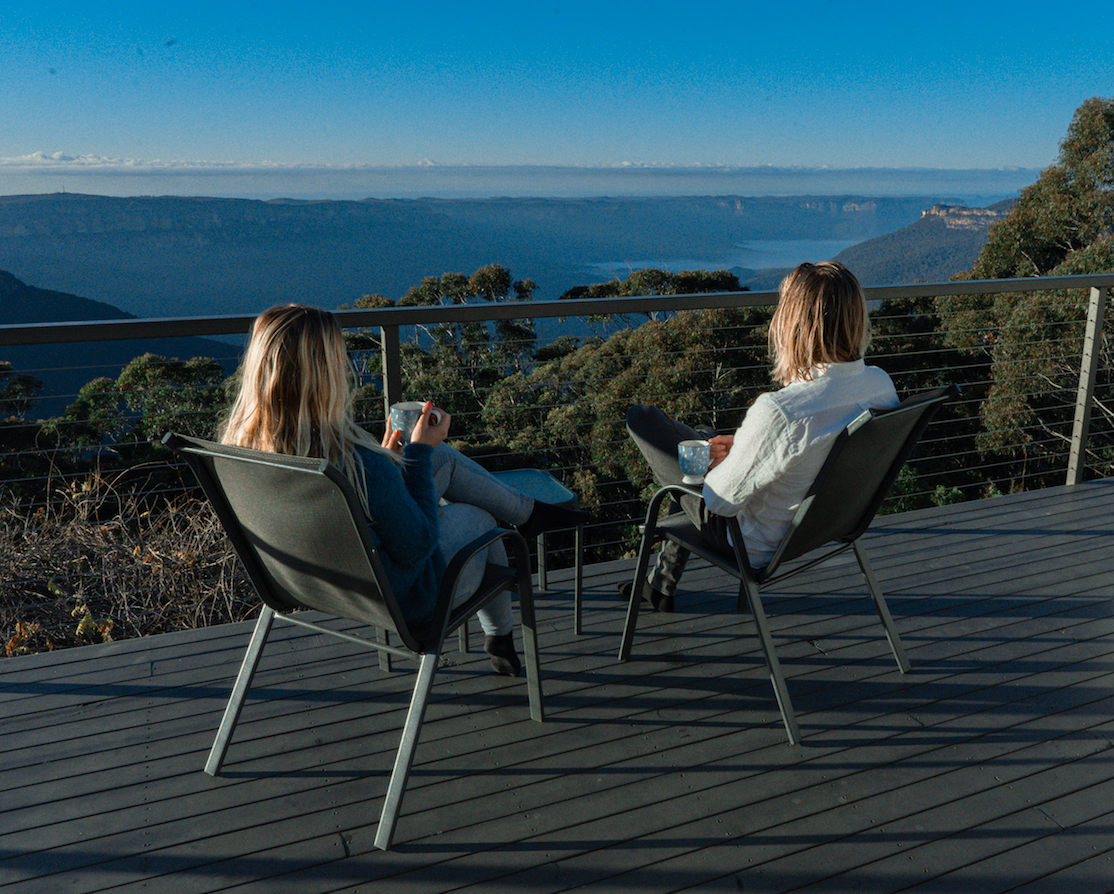 It's also worth mentioning that the terrace isn't just a place from where to drink in the mesmerizing vistas and levitate dreamily into the pink and blue horizon – it's also a place to wind down, close your eyes and look inside. Just sitting there listening to the sounds around you and feeling the fresh mountain air in your lungs is equally rewarding. One of the most spectacular moments on the terrace was just before sunset when all the sulphur crested cockatoos made their way down to the treetops to sing as the light of day came to an end. A truly unforgettable experience.
Twilight and full moon with beautiful pink and blue colors along the skyline – and the Sulphur Crested Cockatoos came and took their places in the tree tops.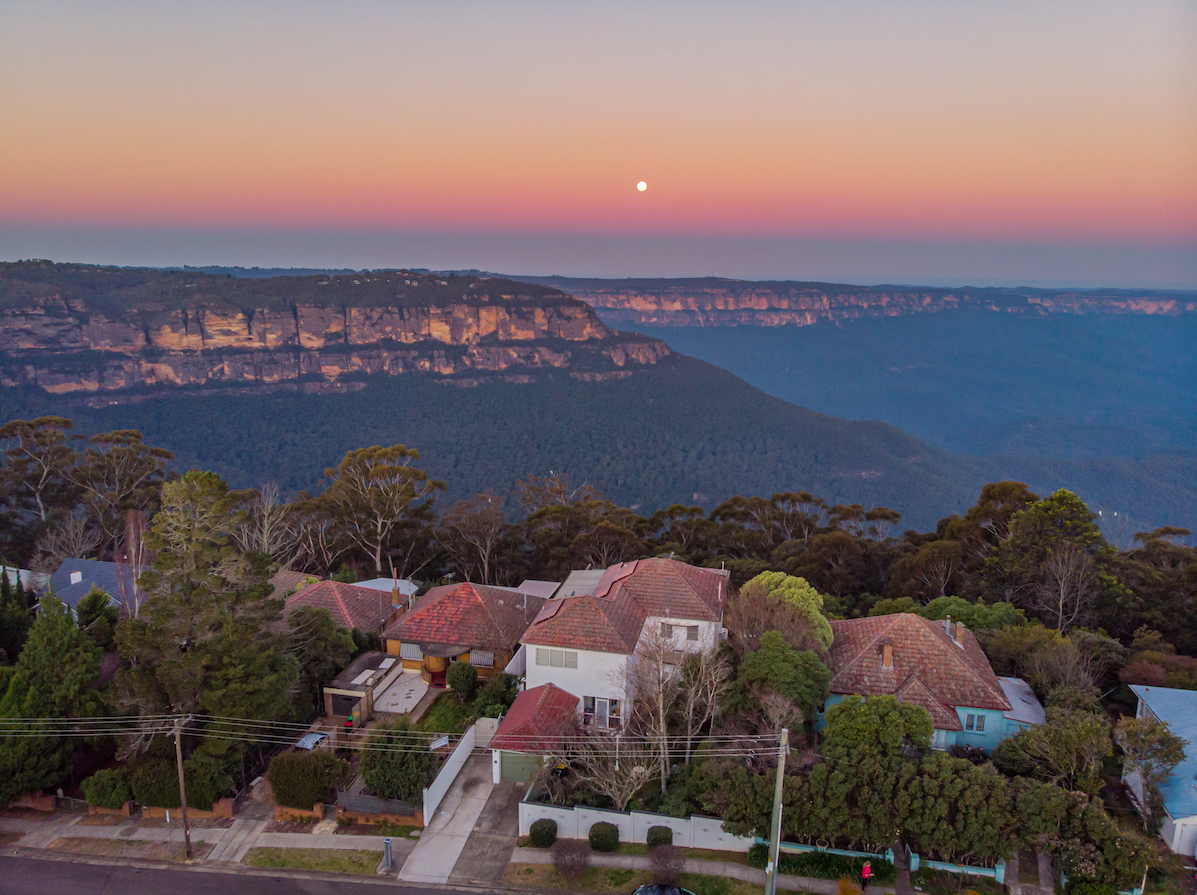 Designed and built by Richard Sterling, a renowned astrologist and former Australia Women´s Weekly columnist, more than 50 years ago – this zodiac garden is in a league of its own combining astrological formulae with standard gardening procedures. The zodiac garden is a landscaped hillside with pathways between terraced flower beds and fountains dedicated to the 12 star signs. In spring, when its alive and vibrant with colour you´ll find Rhododenron, Tulips, Daffodils and Cherry Blossom among other plants. The garden also attract several birds such as King Parrots, Sulphur Crested Cockatoos and Red Neck Wattle Bird to name a few.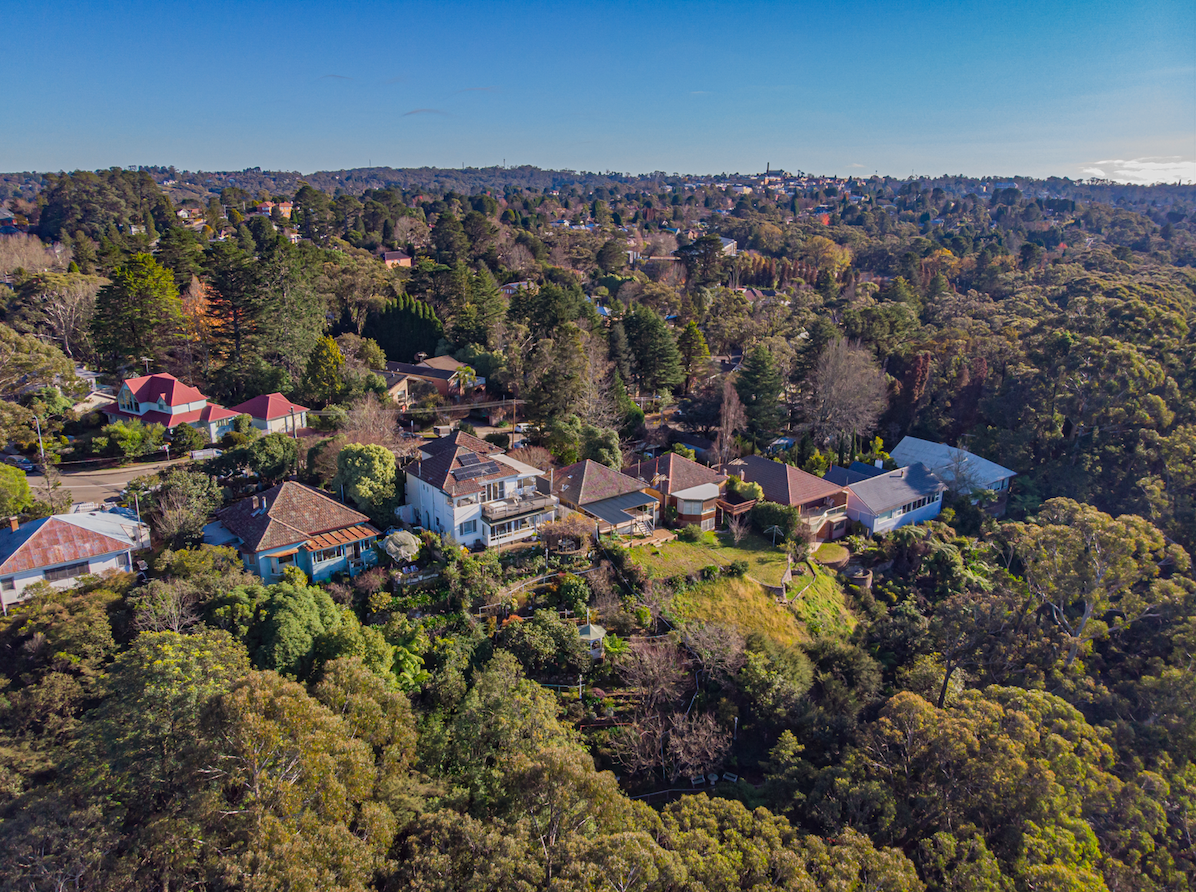 Dalia's Blue Mountain Retreat in the middle with solar panels on the roof, the big sun deck and its lovely garden below.
The Gazebo is located right in the middle and the garden stretches all the way down to the trees.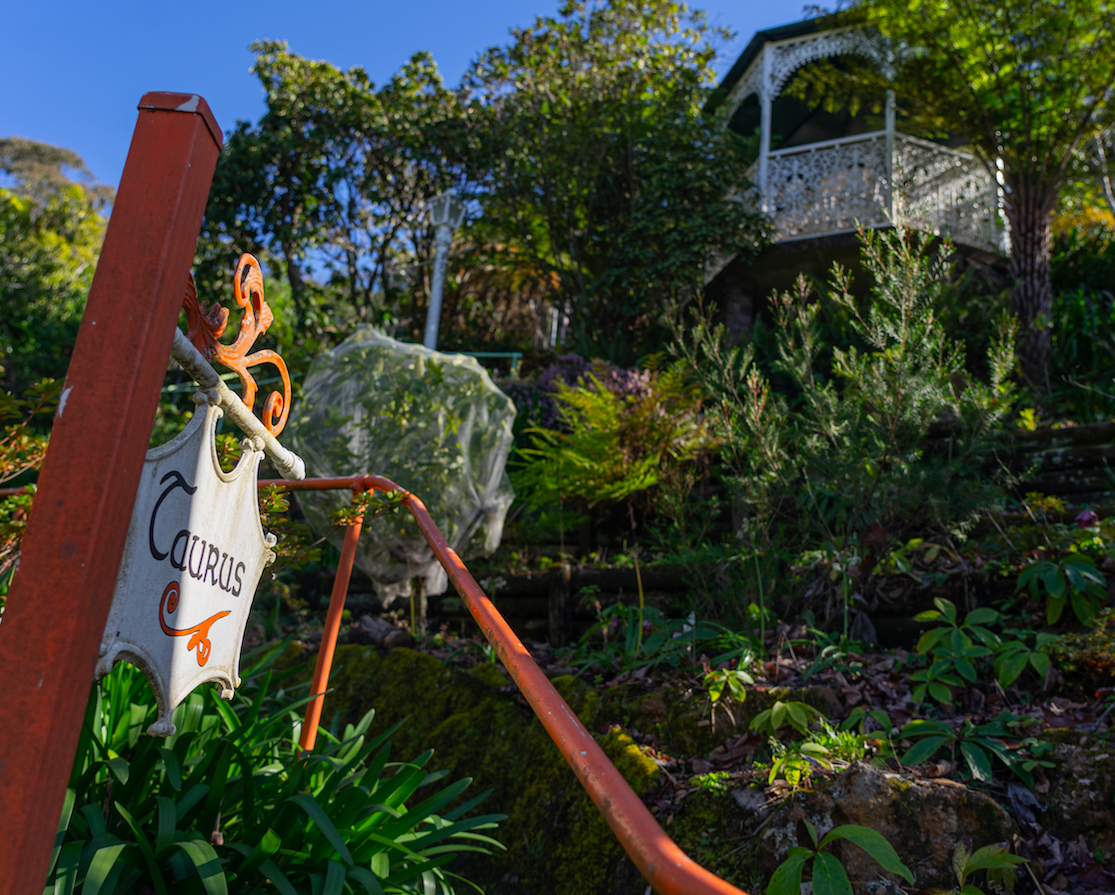 Taurus, one of the star signs and the cute little gazebo in the background. 
This enchanting zodiac garden is a zen-like cocktail of relaxing and energetic vibes, colorful plants, flowing water and chirping birds working together in harmony. Following the pathways you will in due time reach a Gazebo which is the perfect spot for mindfulness, reading a book or simply just exist in the now. This garden simply couldn't be more wonderful and we loved spending time here.
Dalia´s Blue Mountain Retreat is located approximately 2 hours from Sydney´s CBD in Katoomba, Blue Mountains and can easily be reached for example by car or train. The apartment itself is located right on the escarpment with extraordinary views of Jamison Valley and the Blue Mountains. Only 300 metres from the famous Three Sisters, Echo Point Lookout and a tourist information centre.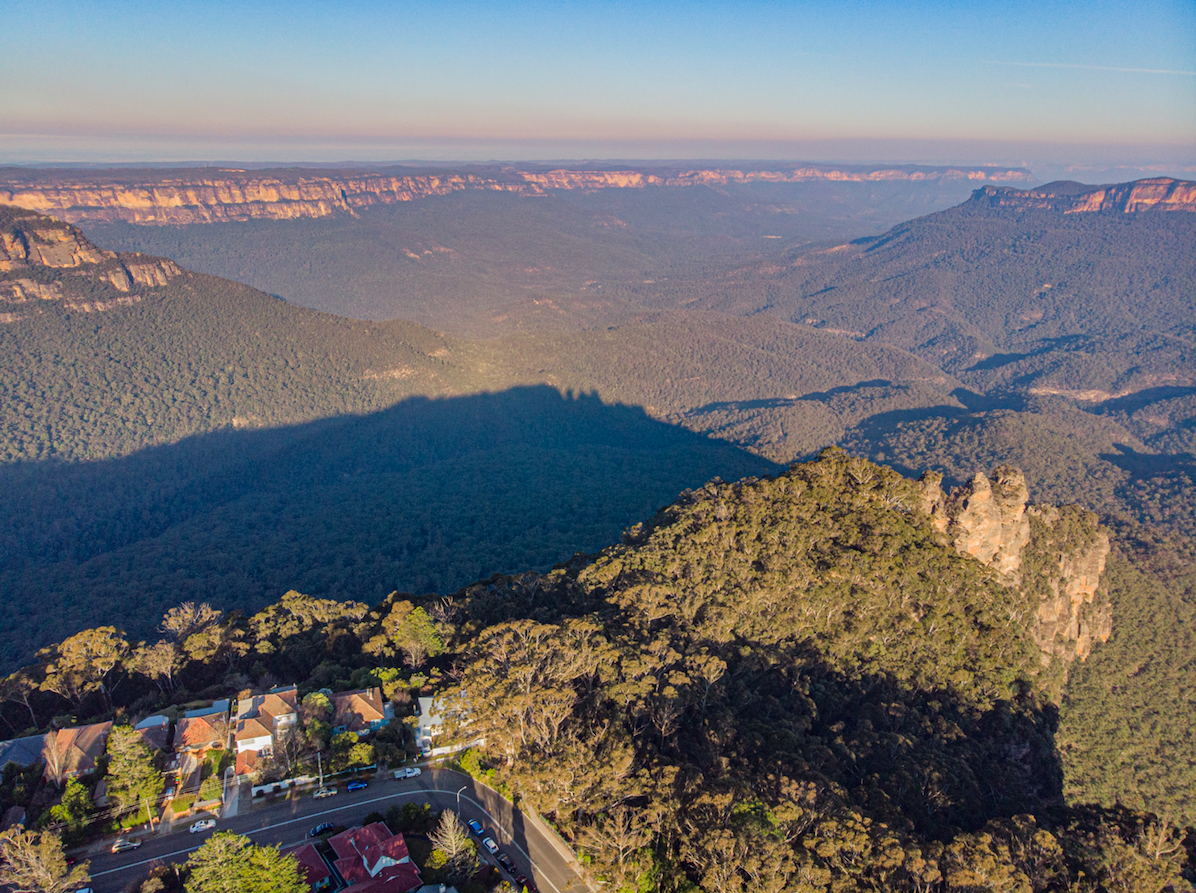 Located right on the escarpment only 300 metres from The Three Sisters (shown to the right in the picture).
Located on Cliff Drive, Echo Point its very close to cafes, restaurants, shops and nature trails such as The Three Sisters Walking Track and Prince Henry Cliff Walk. Its also very close to Scenic World, The Giant Staircase, Katoomba Cascades, Hop-on Hop-off Bus service as well as the regular bus service that will take you into city center. For a more detailed description on how to find your way you can find this on Dalia´s website.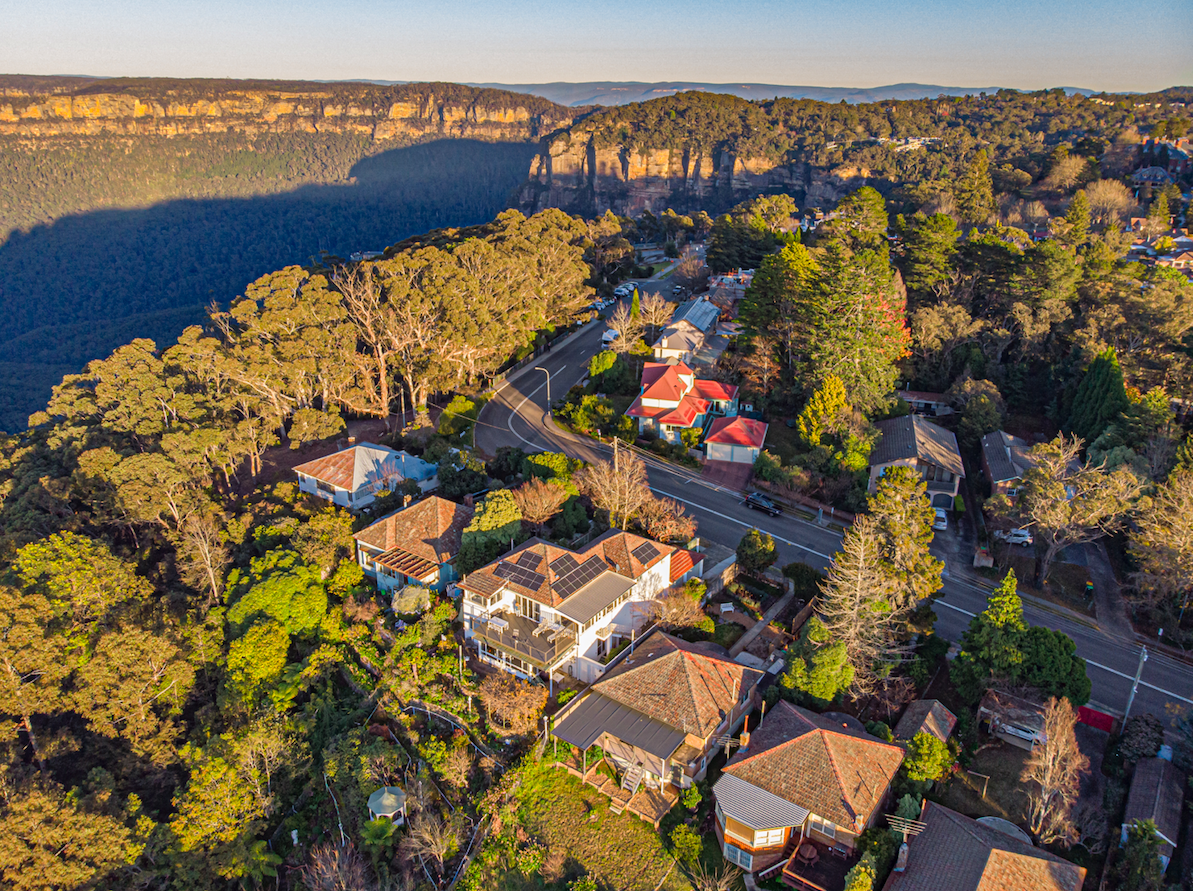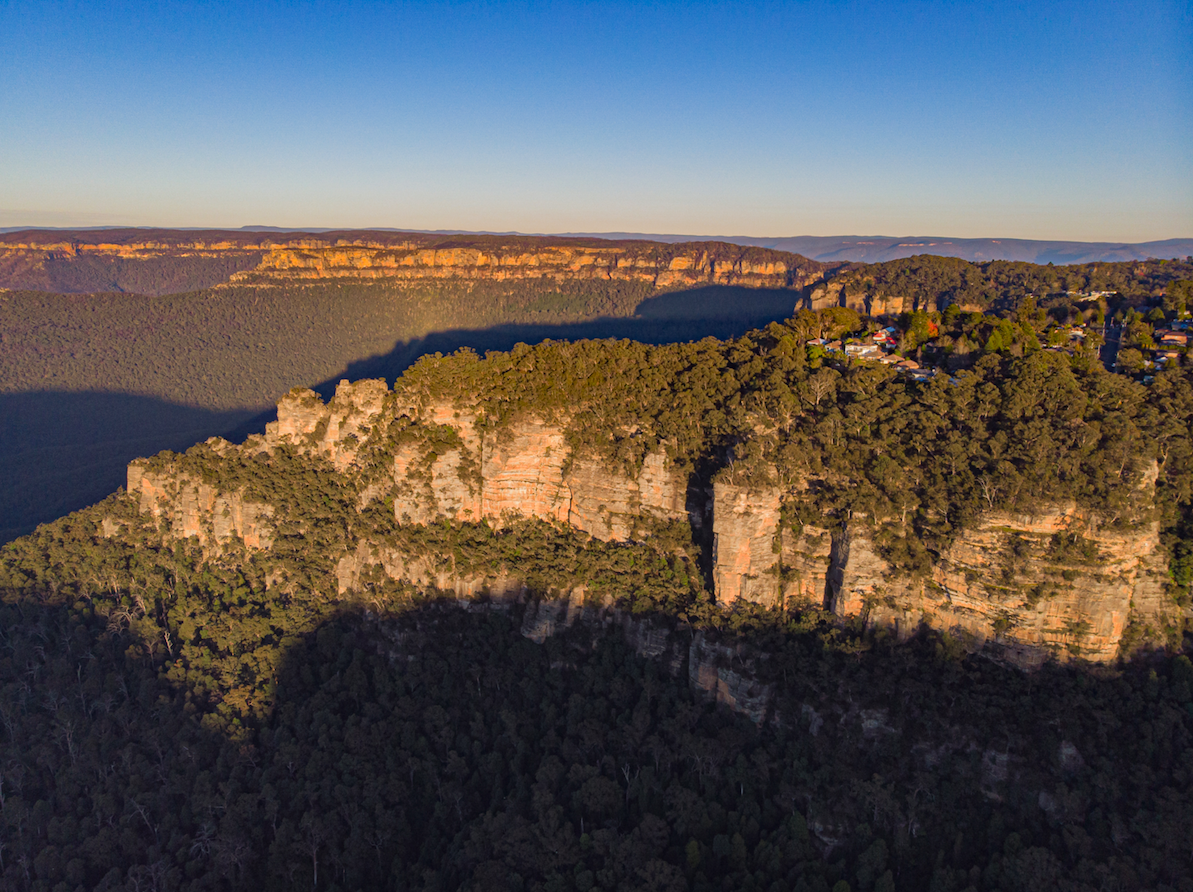 Dalia's Blue Mountain Retreat located in the residential area to the right in the picture and The Three Sisters to the left. 
The easiest way to book your unforgettable days and nights and Dalia's Blue Mountain Retreat is to simply visit Dalia's website. Here you will save around 15% on the total price, instead of booking through Airbnb or Stayz.
Dalia is a wonderful host, that goes above and beyond to make sure her guests always has a wonderful stay. She is a spiritual medium and energetic healer with all her heart and soul put into this magnificient place. If you are planning on visiting the Blue Mountains, we recommend you to book any of the three available apartments through Dalia's Blue Mountain Retreat website. You would have a hard time finding a better location for a very resonable price. And we are certain your experience will be one to remember for many years. 
THANKS FOR READING OUR BLOG ♥
Hi! We are Sofia and Fredrik - and we have been traveling
the world for more than 10 years. We live a travel lifestyle
and create travel content as bloggers, photographers and
digital nomads. Our aim is to inspire you to explore the world
and enjoy the freedom that comes with it.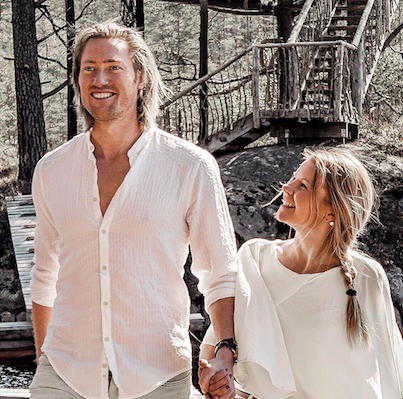 Copyright © 2019 Vagabonds of Sweden. All rights reserved