Aurora Igloo Hotel in Jokkmokk
This Aurora Igloo Hotel is located on a frozen lake in the middle of Swedish Lapland's forest, only a few kilometers north of the Arctic Circle. With five kilometers to the nearest house you will have this place all to yourself, and if you are quiet for a while you will hear nothing but the cracking ice underneath you.
HOW TO GET TO THE IGLOO HOTEL
We arrived in Jokkmokk by bus and met up with a friendly guy from Argentina who was responsible for guiding us out to the Igloo.  After a 7 kilometer long quad bike tour and a 10-15 minutes walk through a snowy forest we finally saw a frozen lake in front of us. We were welcomed to our Igloo Hotel by a beautiful pink and purple sky and the moon which was just about to rise on the other side of the lake. It was such a lovely and peaceful moment, and we instantly knew that this place would be very easy to fall in love with.
TIME FOR SILENCE AND TRANQUILITY
After a short introduction of the facilities in our new little home, our Argentinian friend left us alone with the silence and tranquility. We now had two days for ourselves ahead of us, and we couldn't wait to start enjoying this peaceful place and each other's company.
DECEMBER, MOON LIGHT AND GLISTENING SNOW
Since December was here we only had a few hours of daylight every day and very soon it started to get darker, but thanks to a clear sky and close to full moon it never got completely dark, and we were able to lay in bed and enjoy a starry sky and a frozen lake covered by snow glistening in the moonlight.
A starry sky and the full moon is the perfect company out here.
THE IGLOO HOTEL HAS ALL FACILITIES YOU NEED
Even though the Igloo Hotel is small, it has all the modern facilities you could think of. From a small kitchen area, fridge, food storage and toilet, to electricity, wi-fi and a speaker system which you can connect your own music to, or get carried away by some Sámi folk music. Just outside you can also light up a fire and enjoy a small barbeque or warm up some mulled wine or coffee over the open fire.
ENJOY THE CHANGING COLORS OF THE SKY
This place is the perfect place to stress down and enjoy the tranquility of nature. You will be able to sit inside or outside and enjoy the changing colors of the sky as the sun approaches the horizon, and if you´re lucky you will even have the possibility of seeing the magical Aurora Borealis dancing on the night sky.
If you plan on visiting the north of Sweden you definitely shouldn't miss this place. It will give you an amazing and peaceful nature adventure to remember for many years to come. If you also are interested in joining som activies during your stay the owner will be happy to help you organize this for you.
You can either book your stay at Aurora Igloo Hotel in Jokkmokk through Airbnb, or via booking.com.
THANKS FOR READING OUR BLOG ♥
Hi! We are Sofia and Fredrik - and we have been traveling
the world for more than 10 years. We live a travel lifestyle
and create travel content as bloggers, photographers and
digital nomads. Our aim is to inspire you to explore the world
and enjoy the freedom that comes with it.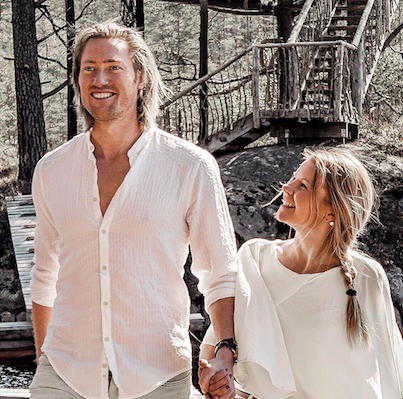 Copyright © 2020 Vagabonds of Sweden. All rights reserved