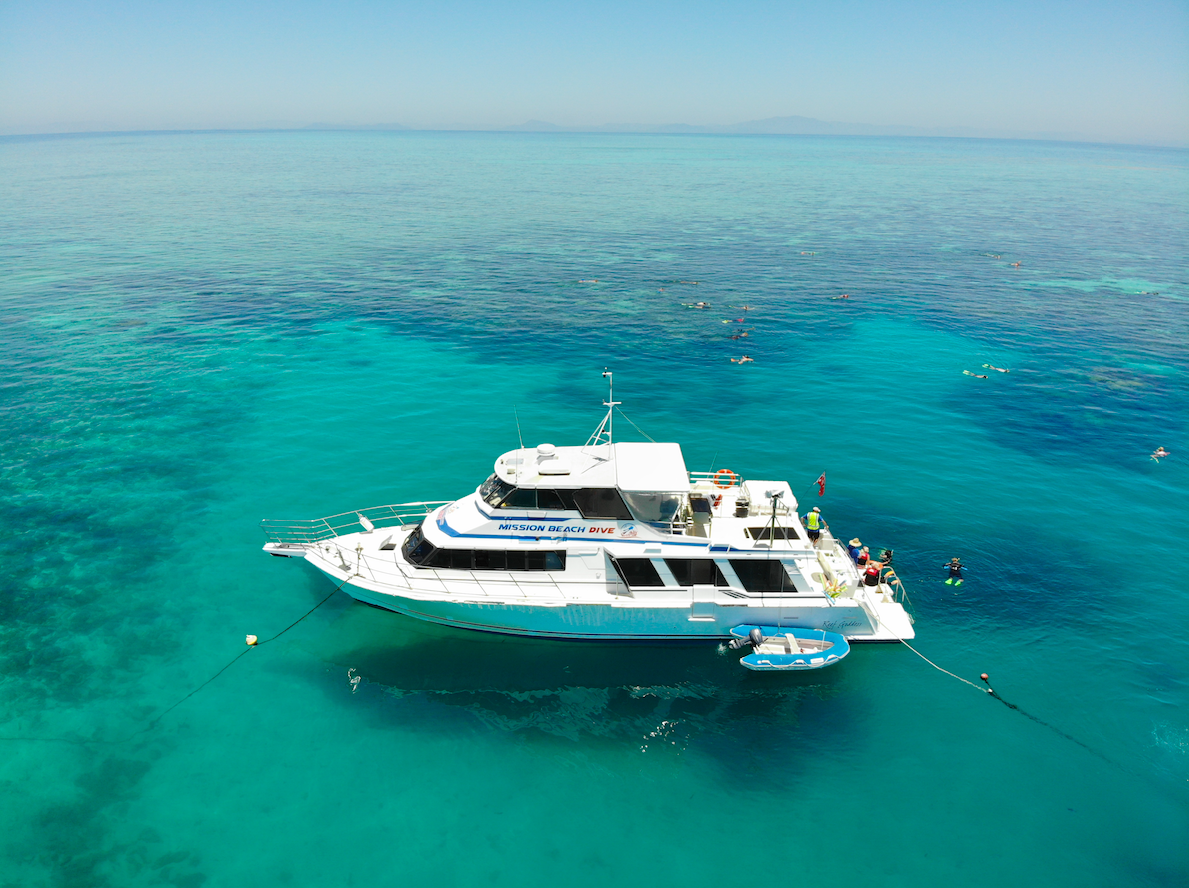 Reef Goddess – your ticket to paradise.
Recently we finished something we have been working on almost ever since we first set foot in Australia. We finished our campervan conversion, meaning we could actually hit the road. Finally! One of the first stops on our road trip was Mission Beach, right after Bingil Bay where we spent two extraordinary nights right on the beach sleeping in our van.
Mission Beach is a beautiful and relaxed beachside town located between Cairns and Townsville – the perfect spot to unwind. When not sunbathing or sleeping in the shades under a palm tree on the golden sand beach – there is plenty of adventure activities to do such as skydive, diving, snorkling, jet ski or perhaps a day trip to Dunk Island. We chose to dive and snorkel because we really love it and there is no better place to do it than in the Great Barrier Reef and Mission Beach Dive offers something you truly will not forget. 
Mission Beach Dive takes you out to the turquoise waters around Eddy reef and Beaver reef with Reef Goddess – offering spectacular views of the worlds largets living thing, the Great Barrier Reef. Even though we have been diving the barrier reef before closer to Cairns the first sight when we came out was unreal. It still gets to us, everytime. The water is as paradise blue and green as it gets and on a good sunny day you see straight down to the bottom – leaving you longing for a refreshing snorkel or dive as you look down from the stern covered by the scorching sun.
The boat itself is the perfect size with room to sit both in the front, back or on level two. We preferred level two since you both get to feel the wind in your hair and sun on your skin – while enjoying the sights of the ocean.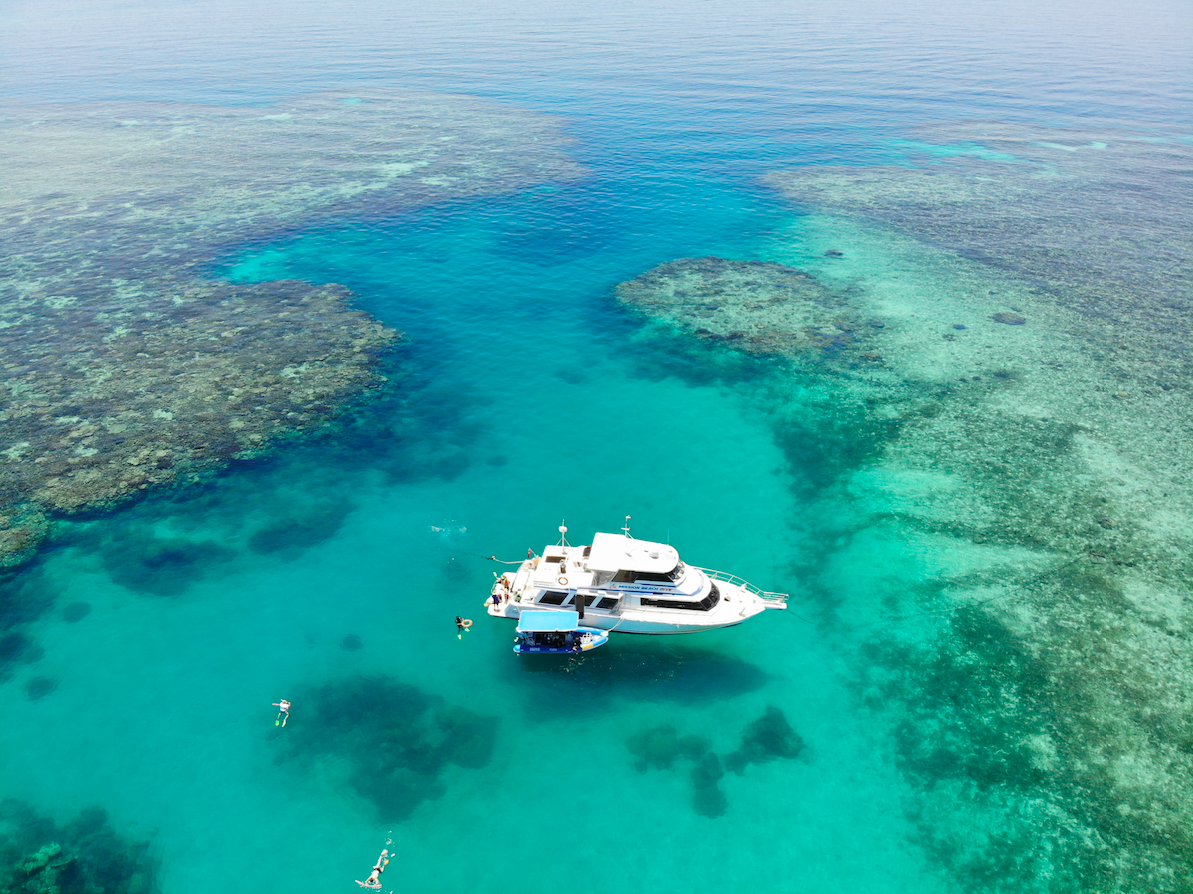 MV Reef Goddess in the middle of turquoise waters around Eddy Reef!
The main activities when traveling with Mission Beach Dive is of course snorkeling and diving and you can either mix it up and do both or pic one and then enjoy more space relaxing on the boat when all passengers dive into the water.
Snorkeling the Great Barrier Reef and more specific the Eddy Reef was an unmatched experience for us. The reef walls was spectacular in its stretch from surface to bottom and the visibility was crystal clear leaving us in awe of the marine life inhabiting this very special part of the world. To see a giant turtle slowly make its way towards you to finally surface for some air and return to the depths of the ocean – is for a brief moment like being a part of the Disney Pixar movie – Finding Nemo.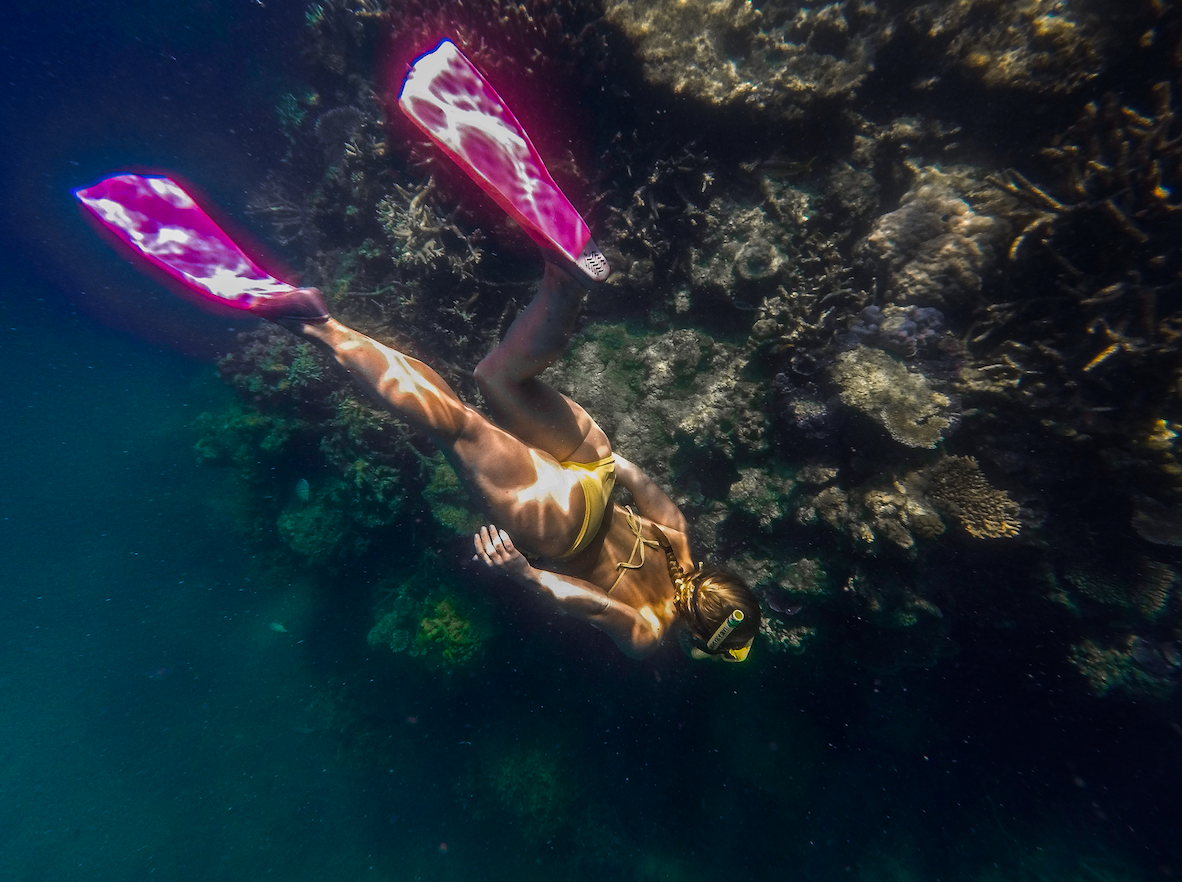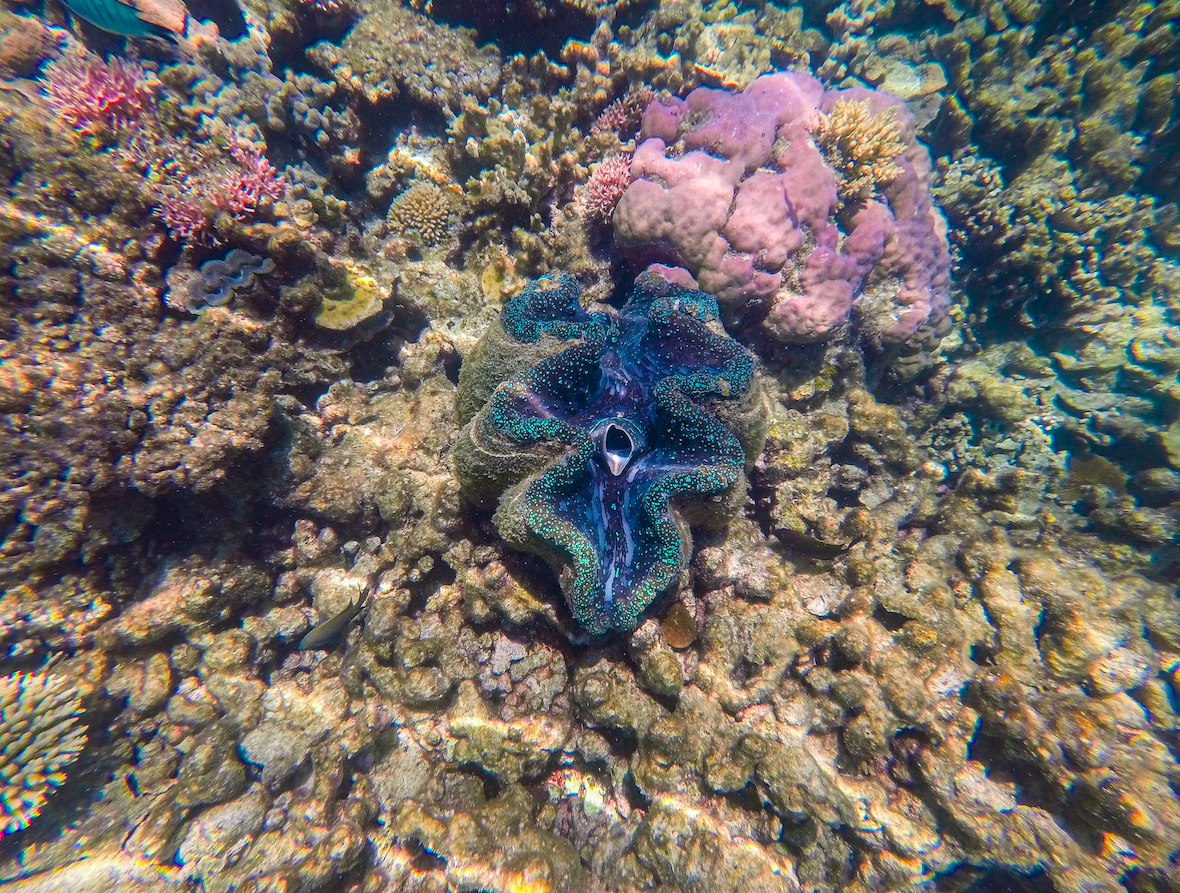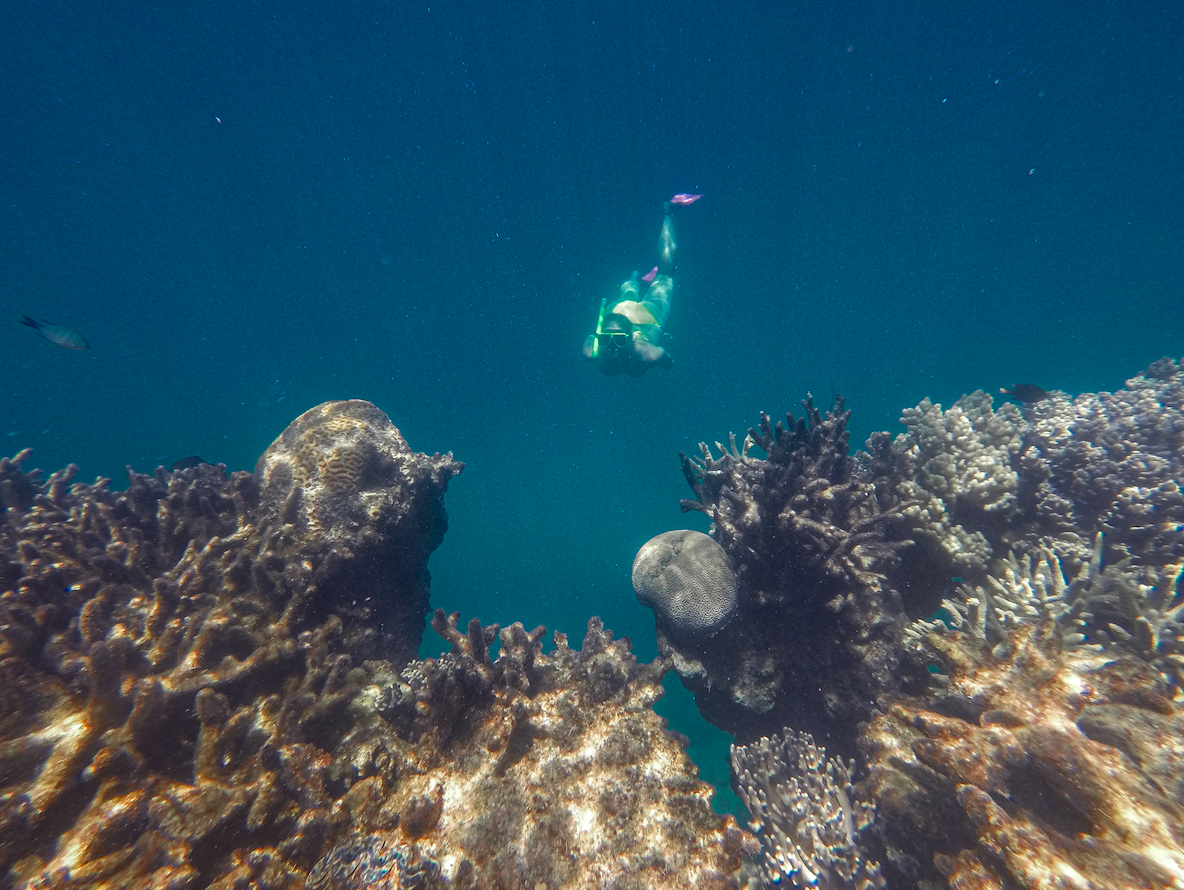 When the surface is not enough and you feel the urge to go deeper, diving the Beaver reef will surely quench your hunger. We had the pleasure of diving with Divemaster Scott who guided us around the beaver – opening up for the opportunity to see a 1,5-2 metres long stingray just resting there on the bottom before making its escape to safer waters as we approached. These are just some of the things you get to experience and there are a lot more if your lucky.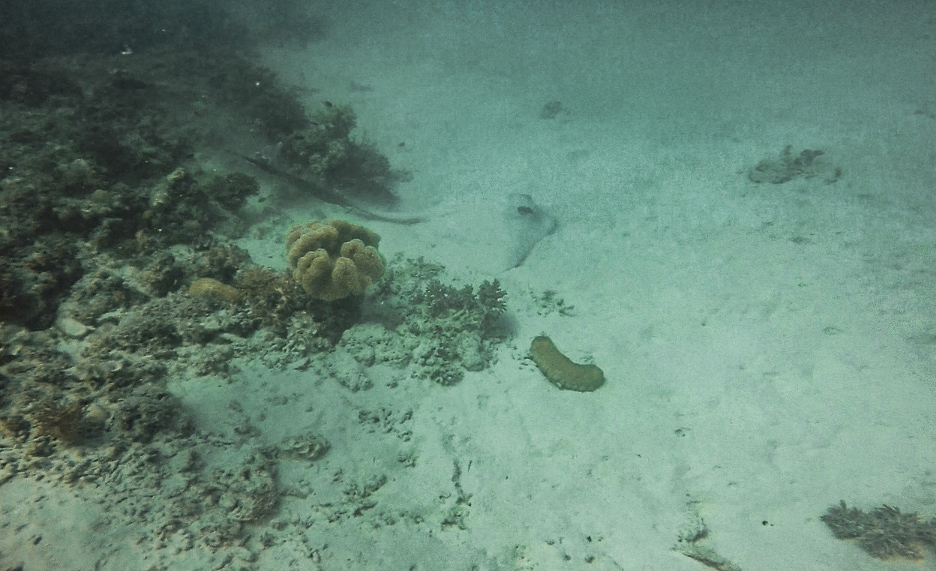 Right in the middle of it all – the giant stingray!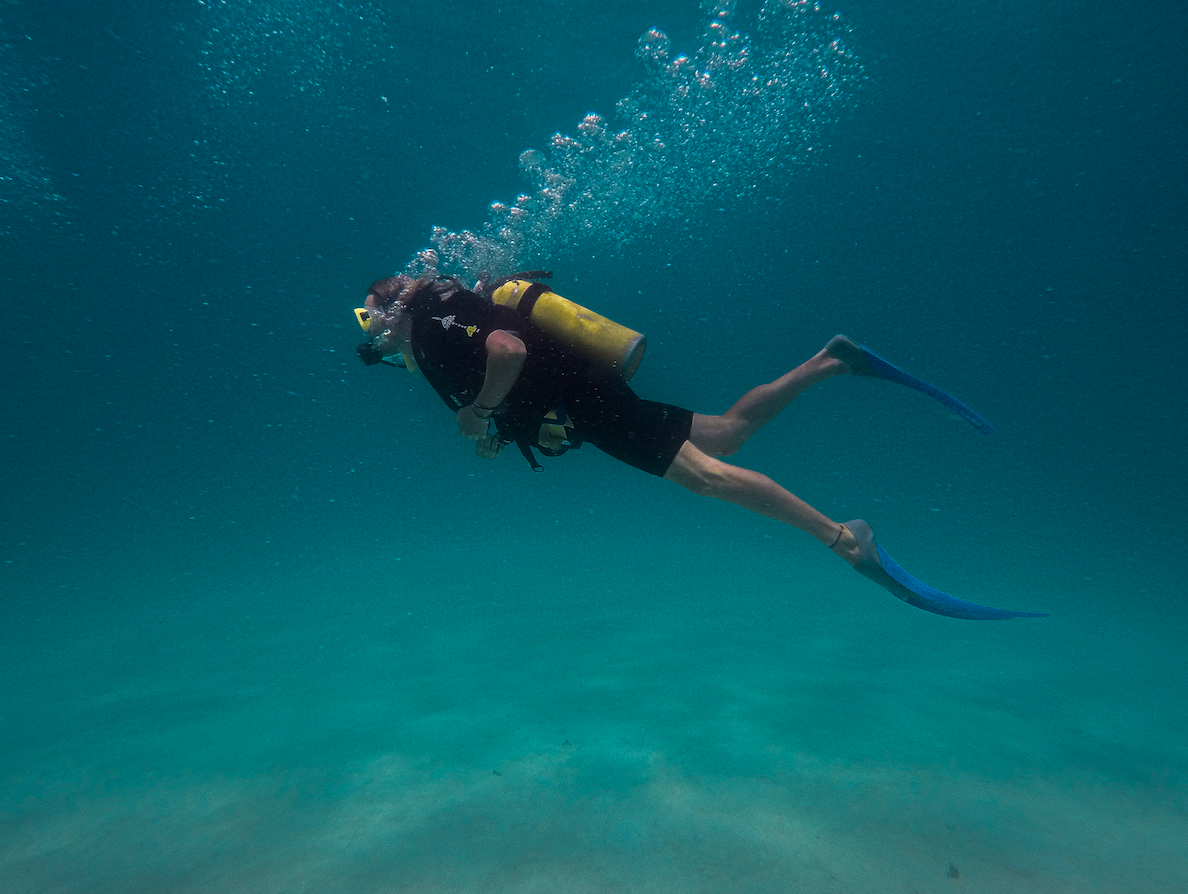 As good as it gets. We had a wonderful time aboard Reef Goddess and cannot thank everyone enough for being so warm and welcoming.
The food was flawless. We can honestly say, without the shred of a doubt, that Mission Beach Dive offers one of the best, if not THE best, food a tour company can offer. So tasty and it hit the spot perfectly. We haven't been on any tour across the world that offers food so good. A thumbs up to Castaways Resort and Spa that supplies the catering for Mission Beach Dive. Good job on ya guys! Doesn't get any better than this.
We would also like to give a huge thumbs up to Cat and Nancy who seem to be the heart and soul of Mission Beach Dive and the Mission Beach Water Taxi, taking people out to Dunk Island on a regular basis. They shine up your day as bright as the sun, putting a smile on your face from ear to ear leaving you convinced that you are in for a fantastic time.
When crusing past this cozy little beach town, we cannot recommend highly enough to stop by Mission Beach Dive and either do some snorkeling or diving if you feel up to it. It is not just for certified divers, there is even the possiblity to do introductory dives. So, book your tour today at Mission Beach Dive website.
THANKS FOR READING OUR BLOG ♥
Hi! We are Sofia and Fredrik - and we have been traveling
the world for more than 10 years. We live a travel lifestyle
and create travel content as bloggers, photographers and
digital nomads. Our aim is to inspire you to explore the world
and enjoy the freedom that comes with it.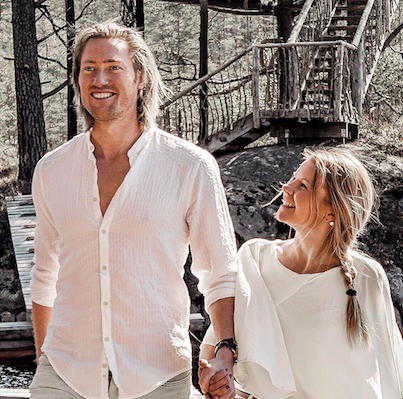 Copyright © 2019 Vagabonds of Sweden. All rights reserved