WHITSUNDAYS LUXURY ACCOMMODATION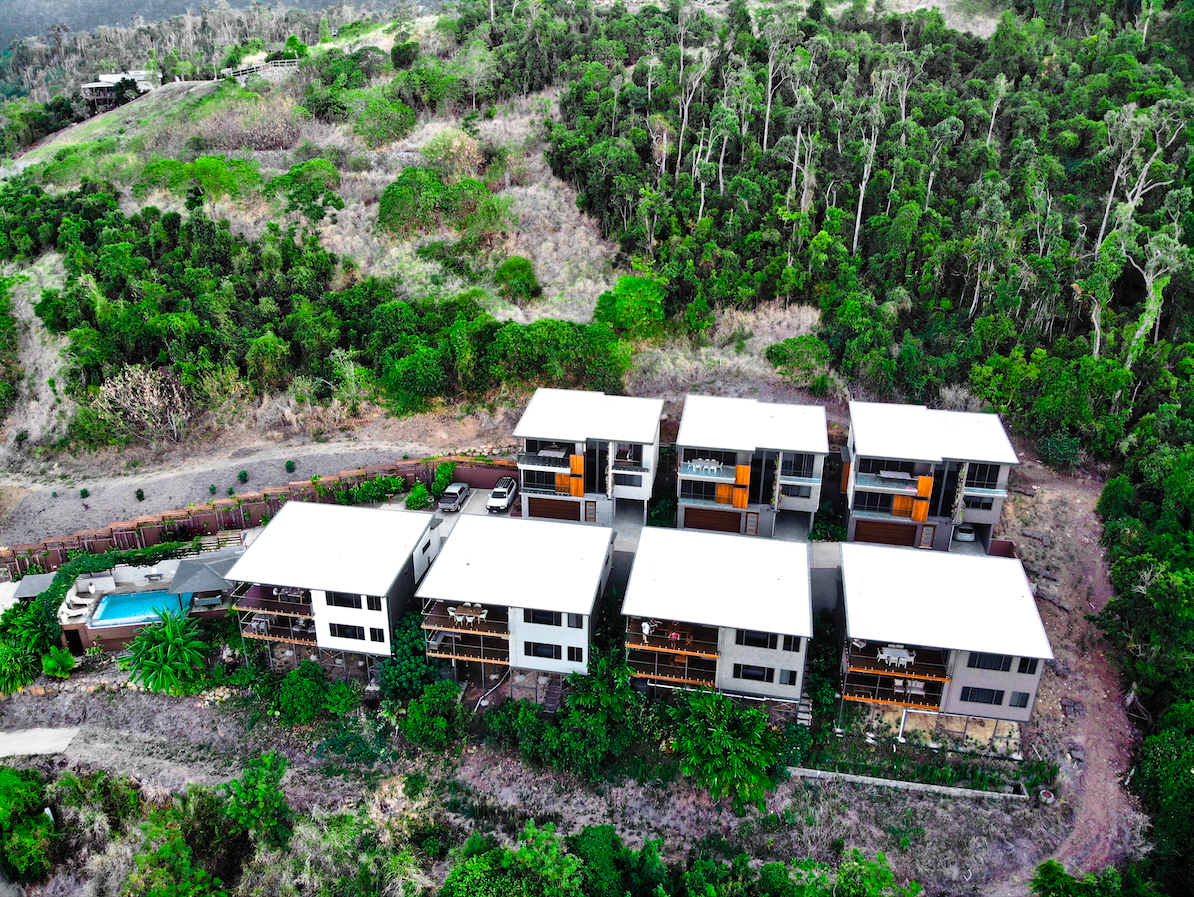 A nature inspired sanctuary nestled in the side of Mount Whitsunday. 
We fell in love with Airlie Beach and the Whitsundays the moment we arrived. It was as if you entered another world as you reached the point of highway 59 overlooking the Coral Sea Marina with its many sailboats, paradise turquoise waters and lush green islands. This made us stay for more than two weeks trying to take it all in. When we didn't explore the islands sailing on a maxi yacht, cruise the streets in our van or by foot – we stayed in style at Elementa Whitsundays, one of the most spectacular accommodations in the area offering views that will surely take your breath away. Kings and Queens would be amazed of its spectacular vistas if they were to set foot here, no doubt.
Each house at Elementa Whitsundays is uniquely different and designed to minimise impact on the surrounding environment, something we really appreciate and know is more important now than ever. We stayed in house nr 7 a.k.a. Wood Forest – the gem in this beautiful collection of luxury houses in Airlie Beach – which offers breathtaking panoramic views of the hillside, ocean and landscaping. Here you'll find Japanese shoji doors, black and white décor and nature art all around the house.
Wood Forest has two floors with a garage on ground level, meaning you have the possibility of either walking the stairs or actually take the elevator. Yes, the house has an elevator giving you the opportunity to arrive or leave in style, views to die for included of course.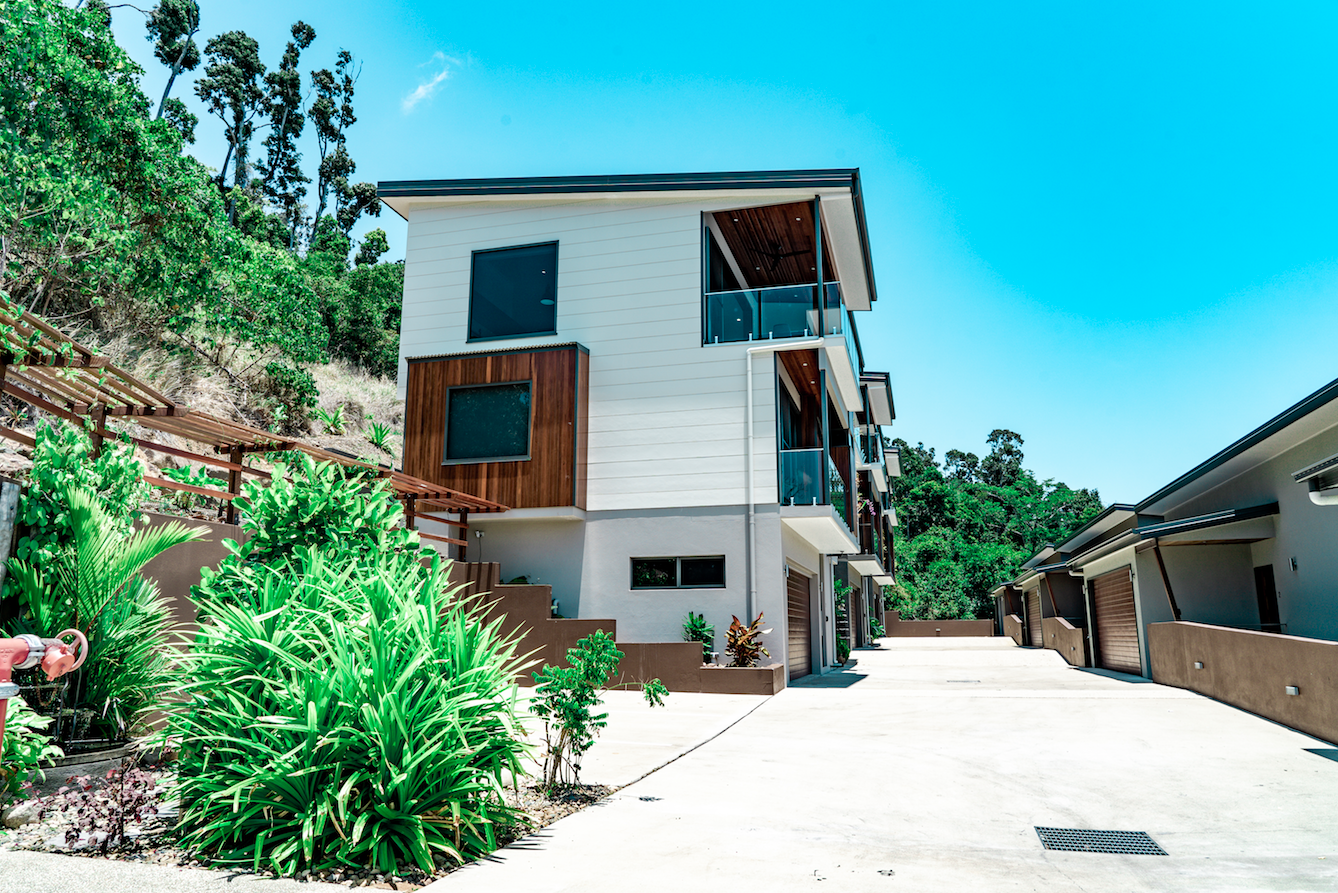 House nr 7, Wood Forest – the gem in this lovely collection.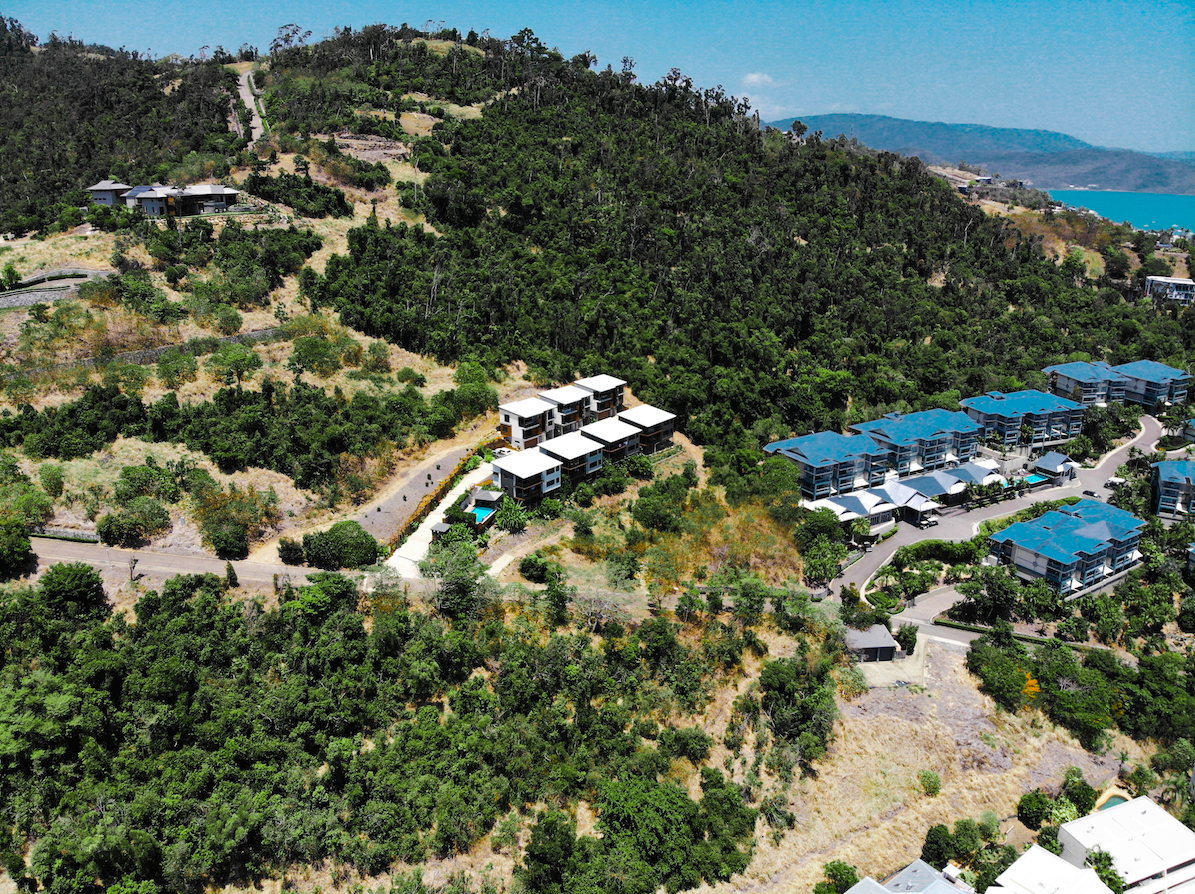 Feeling the relaxed vibe of Elementa Whitsundays.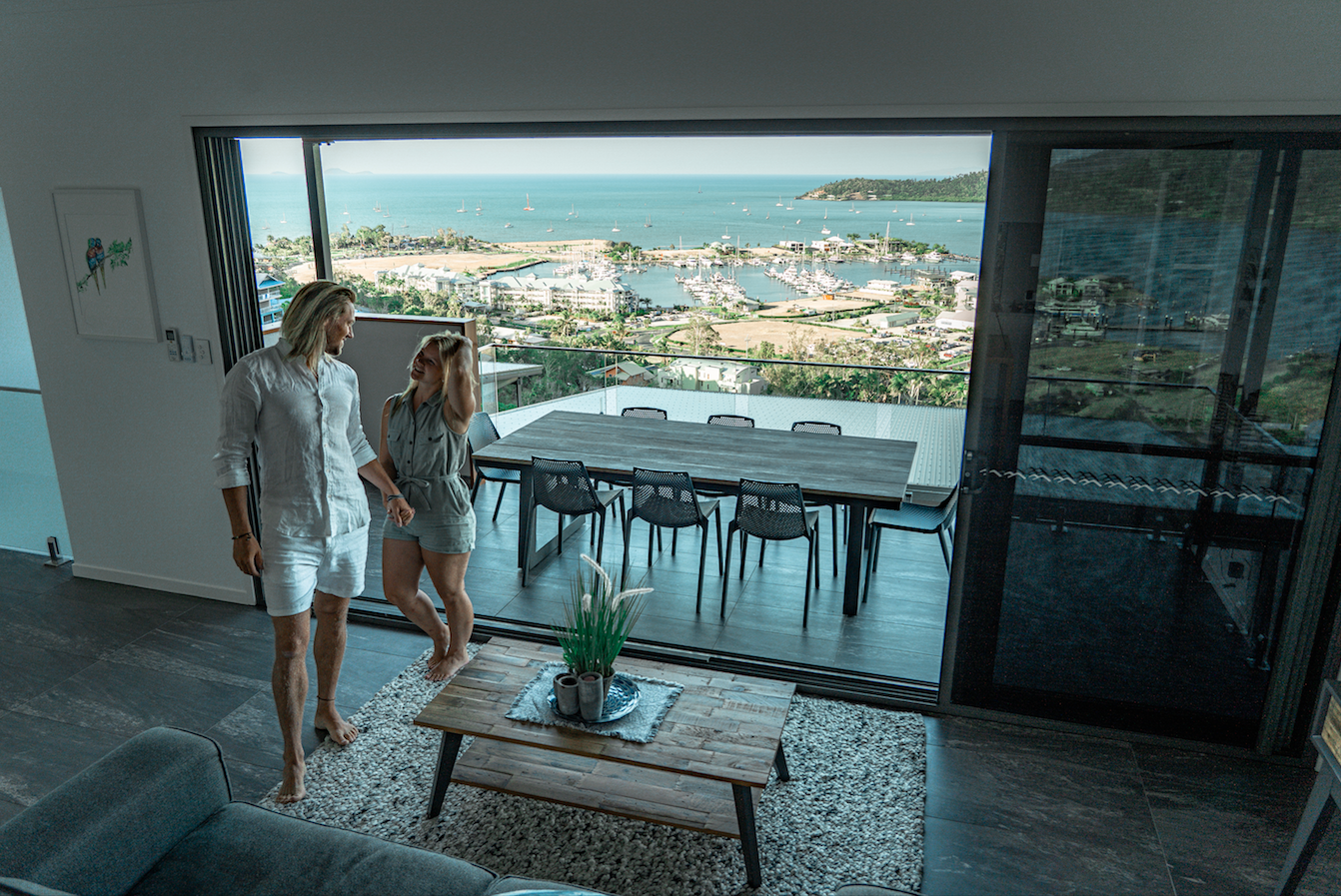 The house has three bedrooms and a double sofa bed in room four which means you wont have any problems finding a place to sleep. We of course picked the Master Bedroom on the top floor with its own balcony overlooking Port of Airlie and the lovely turquoise waters around Airlie Beach. Our bedroom was directly connected with the bathroom, giving it that open space that makes rooms breath. You could actually sit in the bathtub or the bed and look out through the balcony.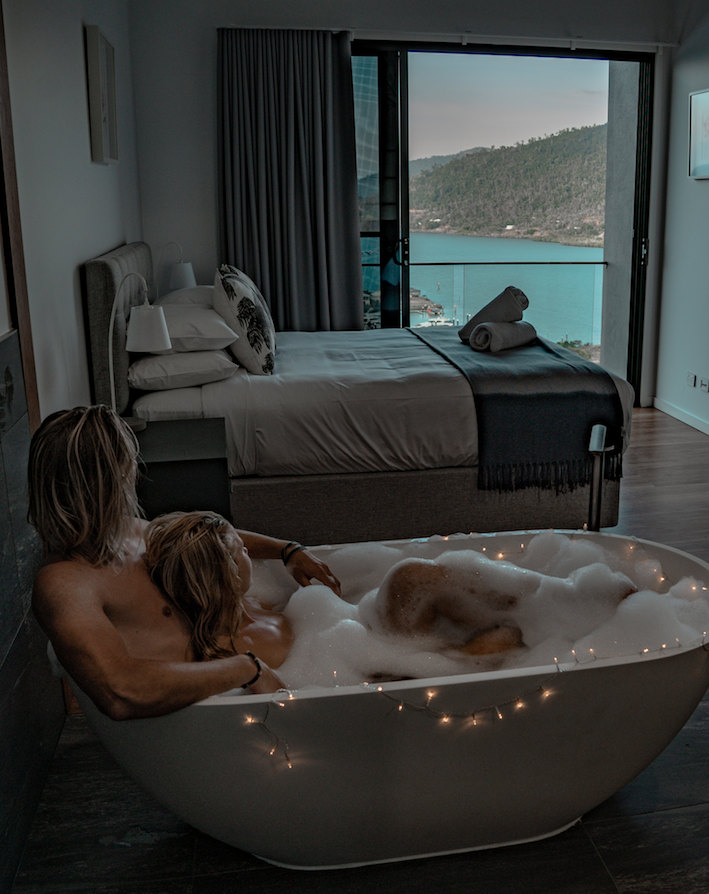 Not a bad way to take a bath.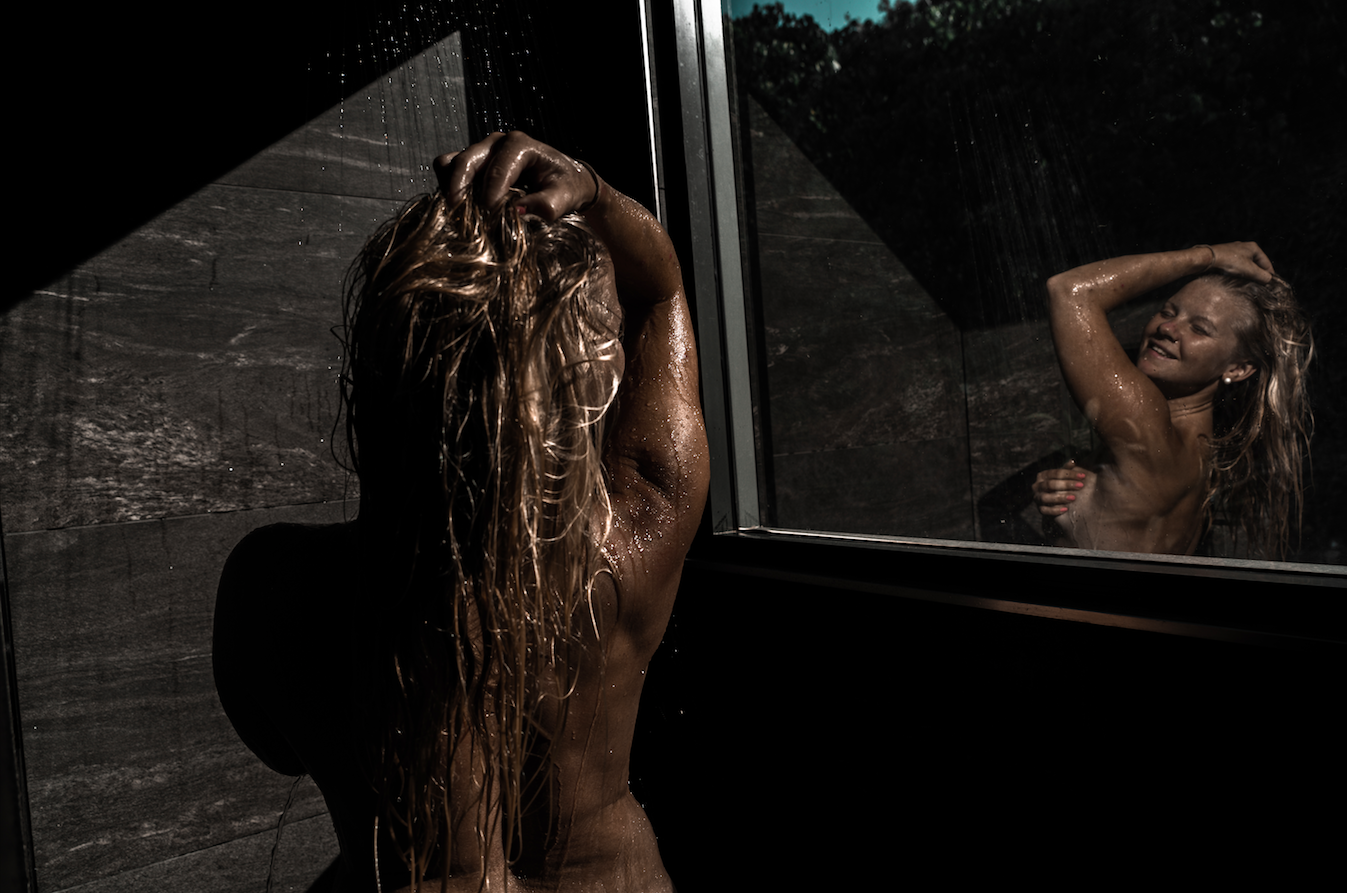 We absolutely loved the kitchen with its open floor plan and big kitchen island, blending together with the living room and balcony. On this floor, you wont find a TV – and there is a reason for it. You don't need it. The couch is facing the balcony overlooking Airlie Beach and Port of Airlie – which is entertainment enough all day for a bon vivant. Although of course if you wish to spend the evening watching Netflix – just take the elevator down to second floor.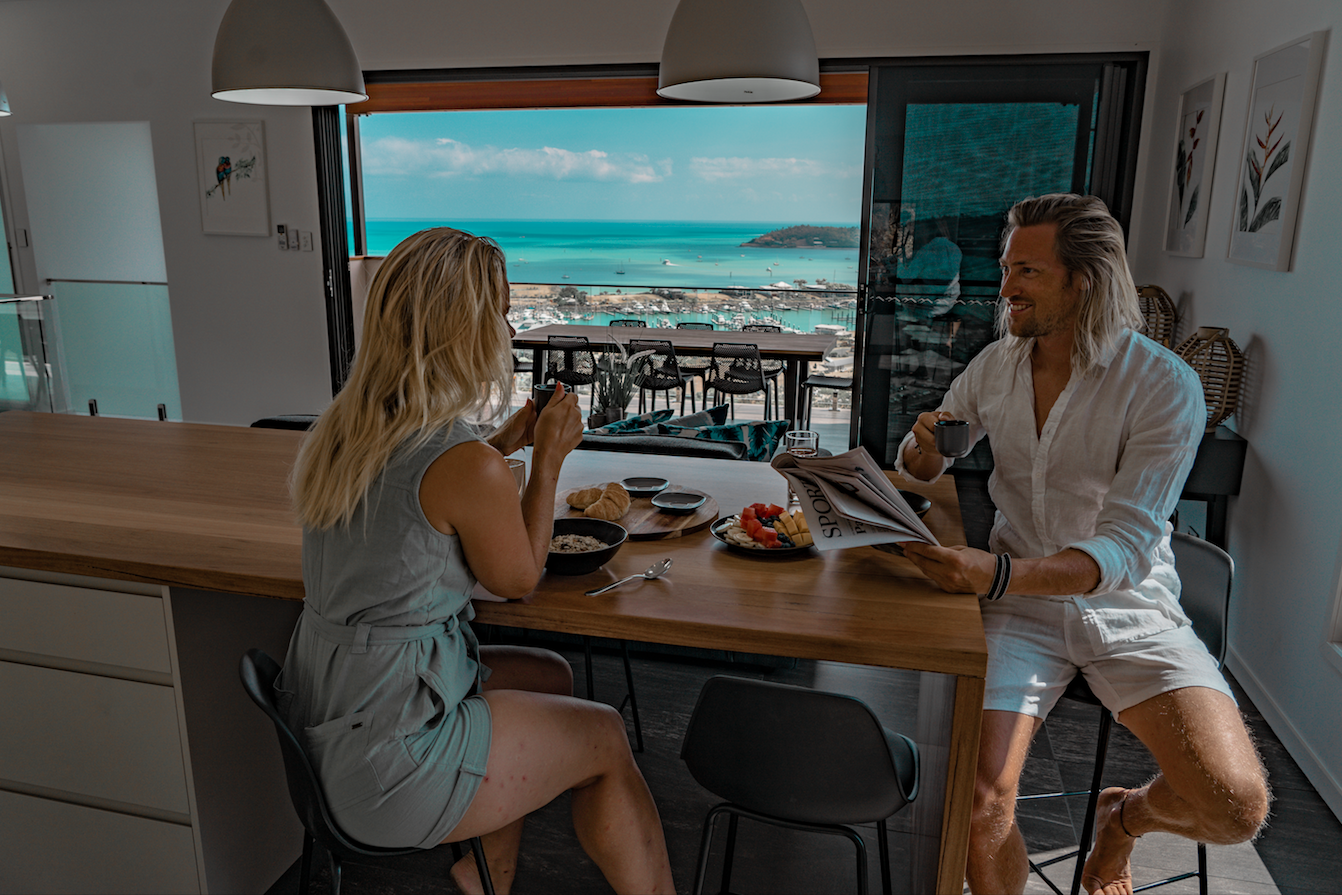 Breakfast with views to die for.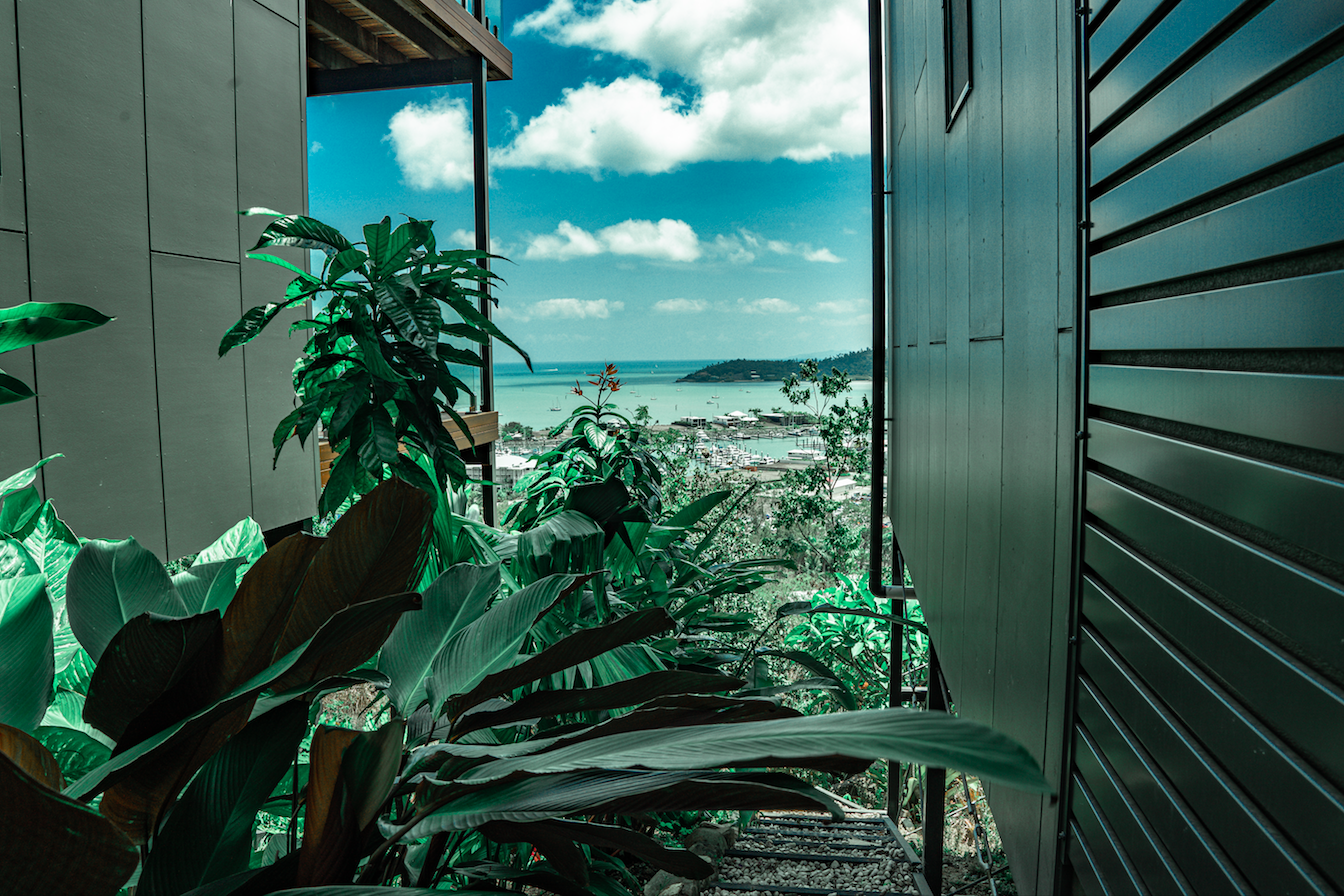 Each house has its own boutique garden, with some of the plants edible. 
Norm Silberling talking passionate about the garden at Elementa Whitsundays.
The garden is beautifully created by Norm Silberling from Conway Exotic Gardens. There is so much love and ingenuity put into making the garden blend in with the environment and the houses itself and Norm keeps on working to make it complete with the plan to make Elementa Whitsundays blend in totally with its lush green surroundings one day. The garden is a collection of quite possibly hundreds of different plants and flowers from all over the world, local as well as rare species that is handpicked by Norm to create that perfect nature utopia. One of the unique things you'll find at Elementa is the green orchard walls/vertical gardens that is hanging off the ground on some of the walls. For sure a very creative way to plant a garden. 
The infinity pool, located right next to house nr 1, Coral, is a mineral pool with pure clean water that meets the NZ drinking standards. You'll certainly feel it as you step in or when you involuntary gulp some water while laughing. The pool gives you an incredible view of Airlie Beach as you swim over to the edge.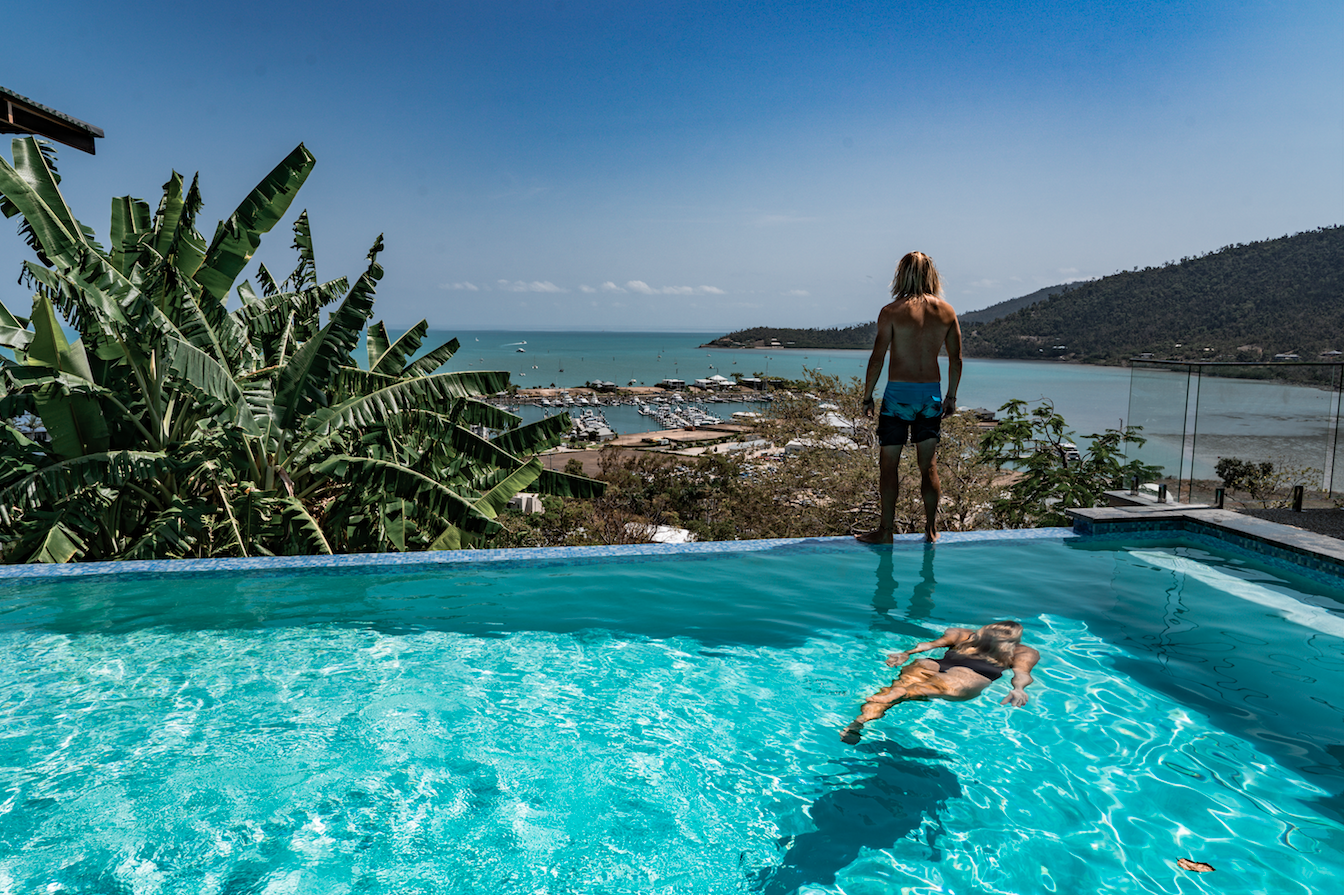 There are regular pools and then there is the infinity pool.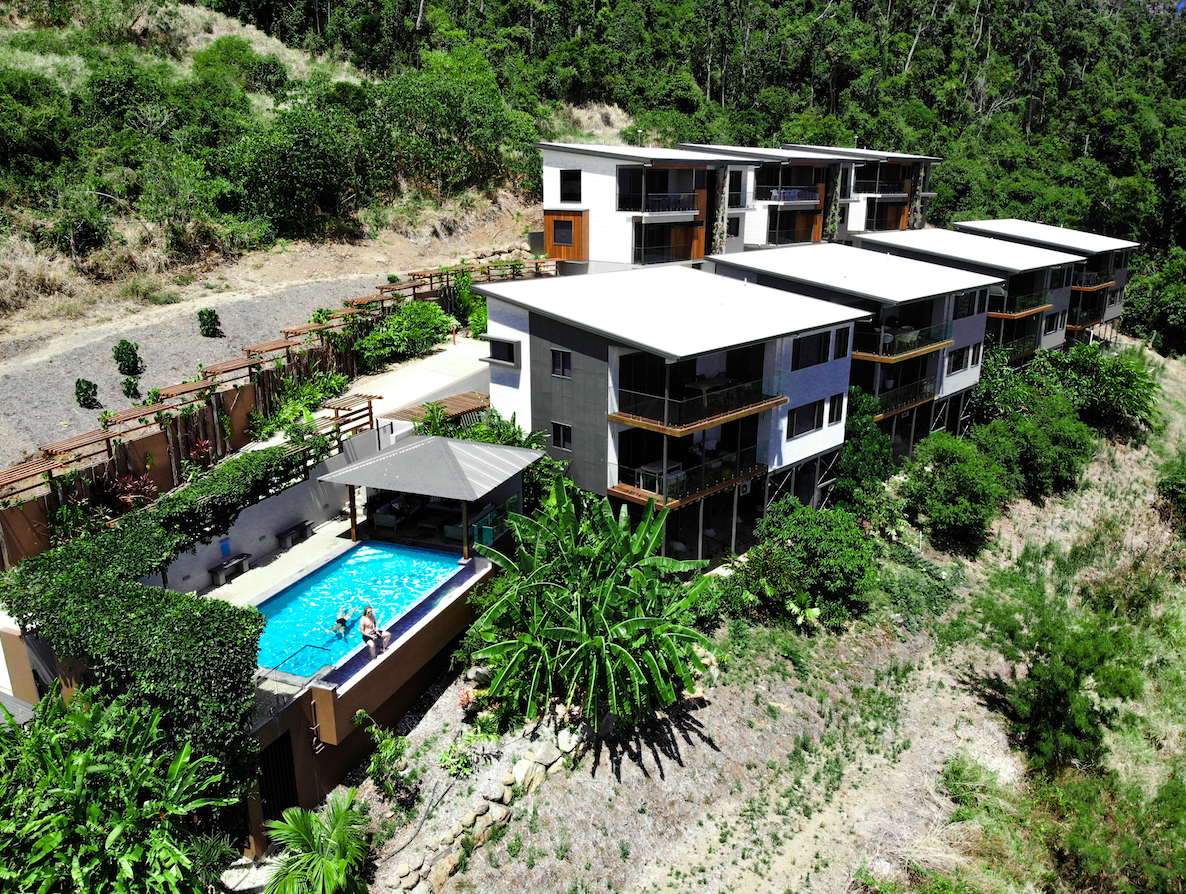 Although Glenn wasn't there personally to greet us since he is living in Singapore, everything was so smooth checking-in at Elementa Whitsundays. Glenn sent us a detailed email which included everything we needed to know before arrival, upon our stay and when leaving. The key was locked in a key box just outside the door and we found our own way into the house.
In addition, the house was so clean when we got there and no doubt this level of cleanliness is something all guests can testify to when staying here.
Elementa Whitsundays is located on Mount Whitsunday just a little further up the road going past the resort Peppers Airlie Beach, on 26 Mount Whitsunday Drive. From here its a short walking distance to Airlie Beach city center – full of restaurants, bars, shops and everything else you could possibly need.  
Its also easily accessible from both Whitsunday Coast Airport in Proserpine or Hamilton Island Airport and Elementa can help in arranging transfers.   
We would have no second thoughts about returning to Elementa Whitsundays sometime in the future. This was undoubtedly one of the best accommodations we have ever been to and we can happily recommend anyone to stay here. You will undoubtedly absolutely love it.
You can easily book your stay at Elementa Whitsundays right here or click the book your stay button below. 
THANKS FOR READING OUR BLOG ♥
Hi! We are Sofia and Fredrik - and we have been traveling
the world for more than 10 years. We live a travel lifestyle
and create travel content as bloggers, photographers and
digital nomads. Our aim is to inspire you to explore the world
and enjoy the freedom that comes with it.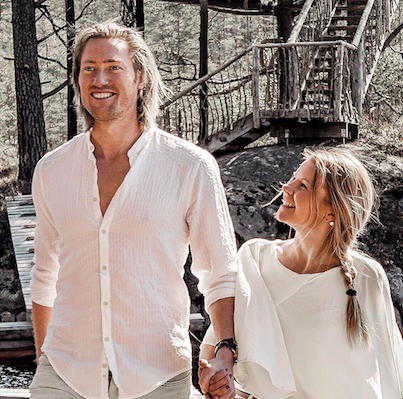 Copyright © 2019 Vagabonds of Sweden. All rights reserved