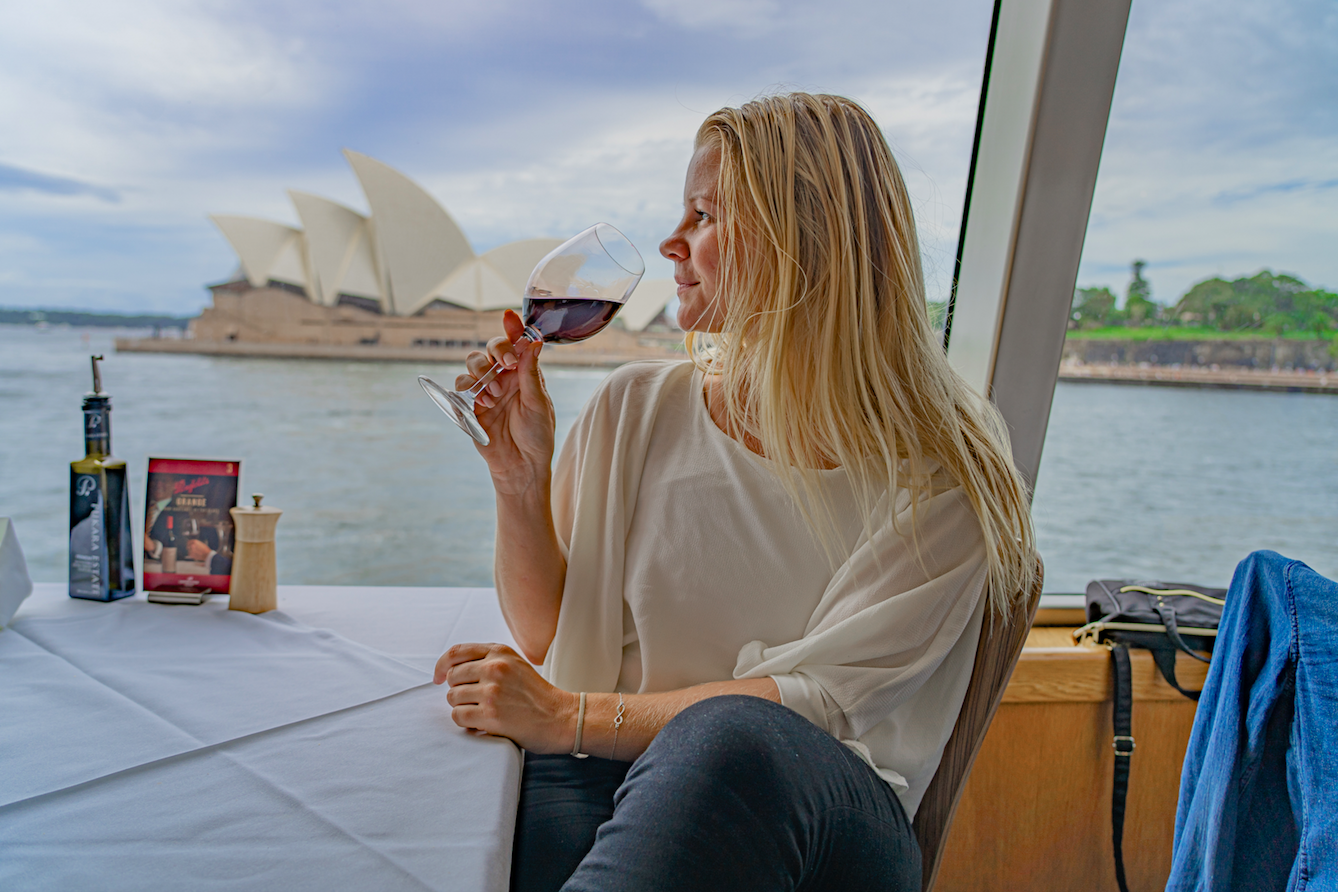 Cruising the Sydney Harbour with Captain Cook Cruises.
Captain Cook Cruises, a part of the SeaLink Travel Group, has become the market leader and premier Sydney Harbour Cruise line after nearly five decades of excellent service to its customers. With a fleet of restaurant, sightseeing, ferry and sailing vessels you have a range of options to choose from to suit your every need.
Cruising in the Sydney Harbour, one of the world´s most beautiful harbours, past iconic landmarks such as the Opera House and Harbour Bridge is spectacular on its own. Add to that a six course meny, superior beverage options, fantastic service and good company and you are in for something special. We certainly found the best possible cruise for us and couldn't have wished for anything more. This is the way to experience the best from two worlds – culinary combined with adventure.
The MV Sydney 2000 is one of Captain Cooks flagship and most prestigious crusing restaurants. With three independent decks including galley, stage, dance floor and bar – the 63-meter-long ship is the largest cruise ship operating on the harbour.
We had window seats during our lunch cruise, sitting on the Sky Deck, which is definitely something that we can recommend. This gives you the best views on the boat with the luxury of still being able to enjoy your food and drinks in comfort.
The Gold Lunch Cruise is part of Captain Cooks Gold Lunch Series – where Captain Cook has partnered with Australia's finest food and wine producers. Every cruise includes a superior beverage selection and a six course seasonal menu, tailored for each departure – which will continue every month throughout the year, except July. This is the perfect way to experience the food you like while enjoying million dollar views in the spectacular setting that is Sydney Harbour for up to 4 hours. Doesn't get much better than that.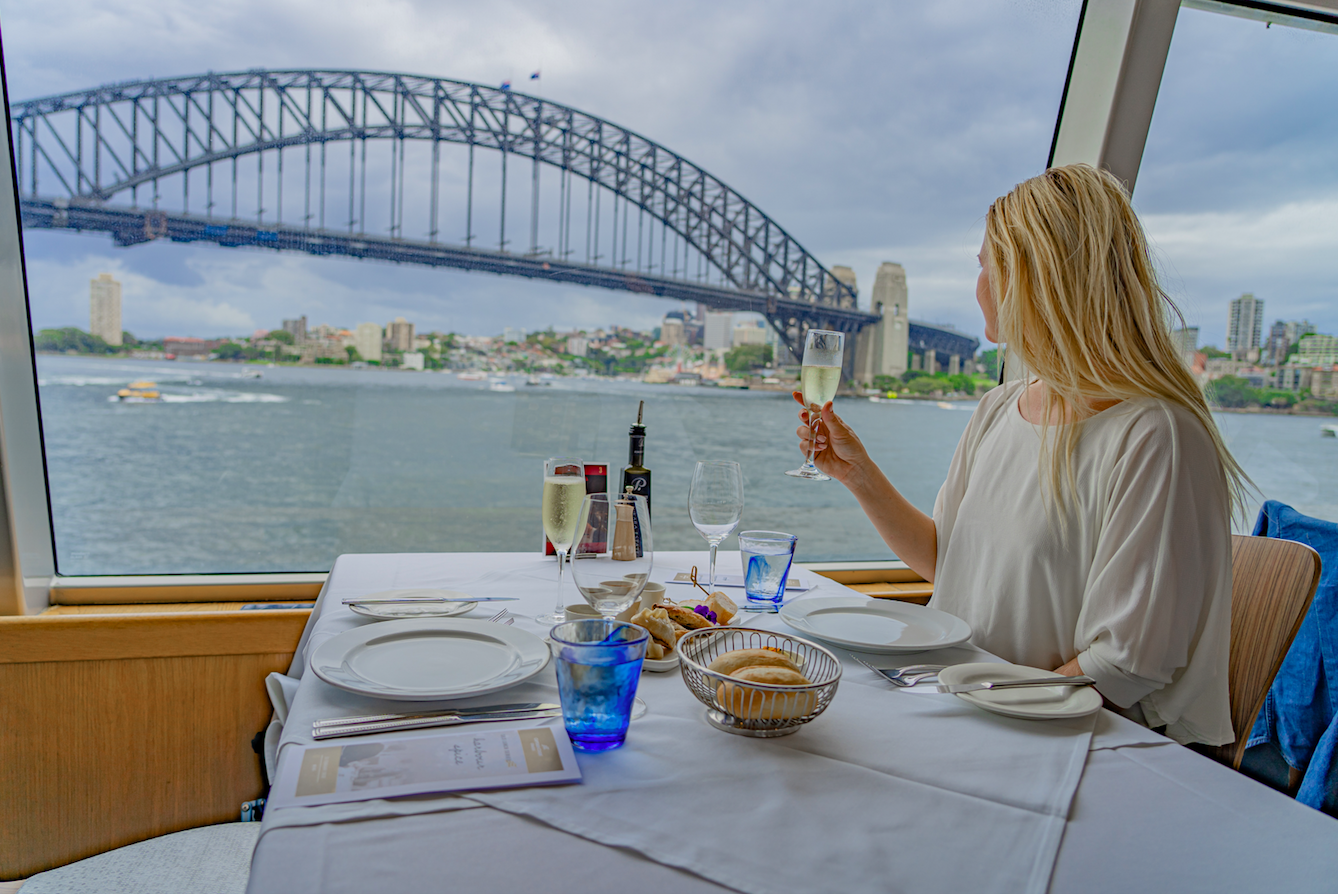 Exquisite food, superior beverage options and spectacular views – what more can a person ask for. 
We had the pleasure of savoring a 6 course menu featuring the Chef's selection of asian cuisine as well as a superior beverage selection of Australian wines and asian beers. 
The excusite Harbour Spice Gold Lunch included dishes such as san choy bao, papaya salad with fried soft-shell crab and sorbet among others. In addition, we had the possibility to choose from beers such as Asahi and Tiger to famous wines such as Pinot Noir, Sémillon, Shiraz and Chardonnay. Just hearing all that makes our mouths water and we wish we could do it all over again.
Canapés: Mini tasteful bites of Japanese gyoza, Thai vegetable curry puffs and seafood spear.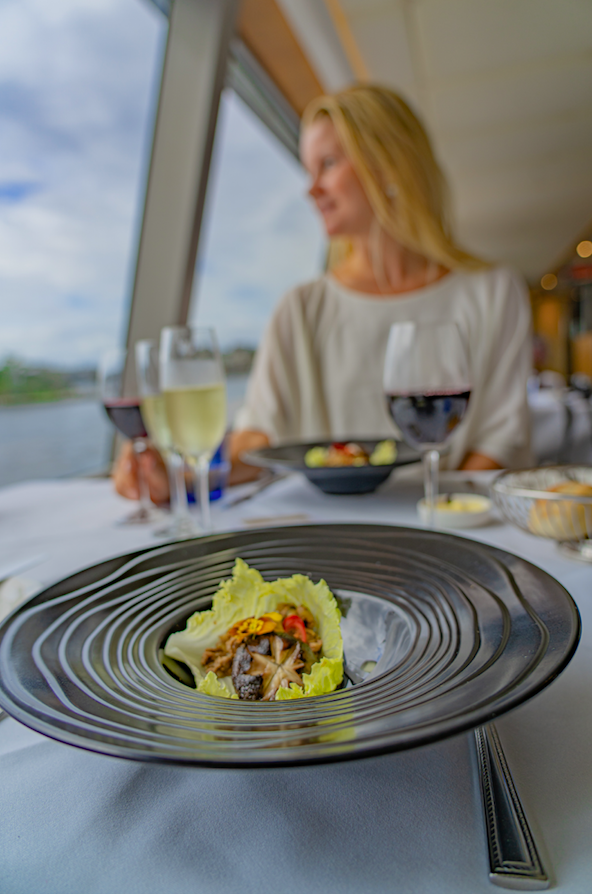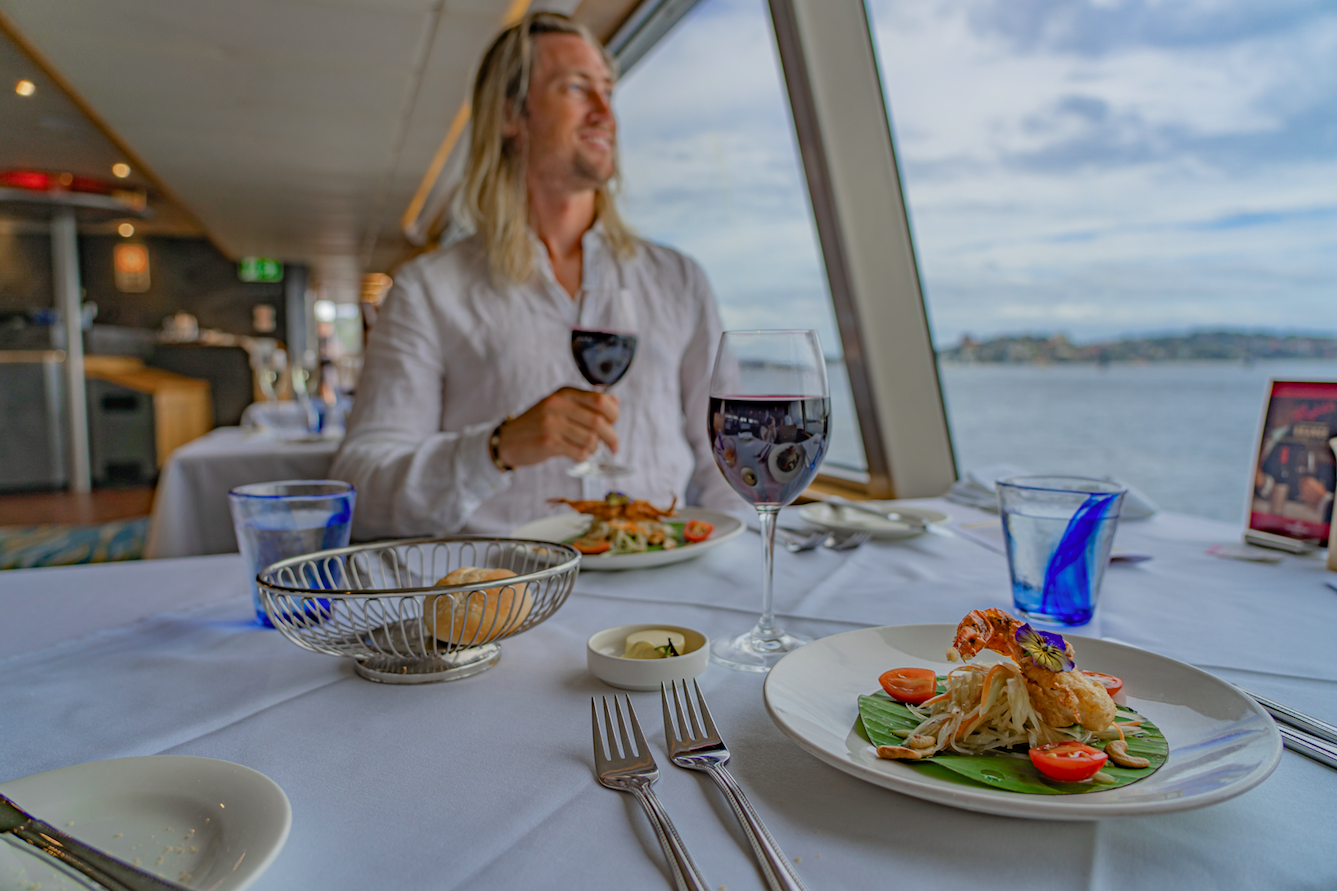 The cruise is about 4 hours and 20 minutes long, giving you plenty of time to relax and unwind.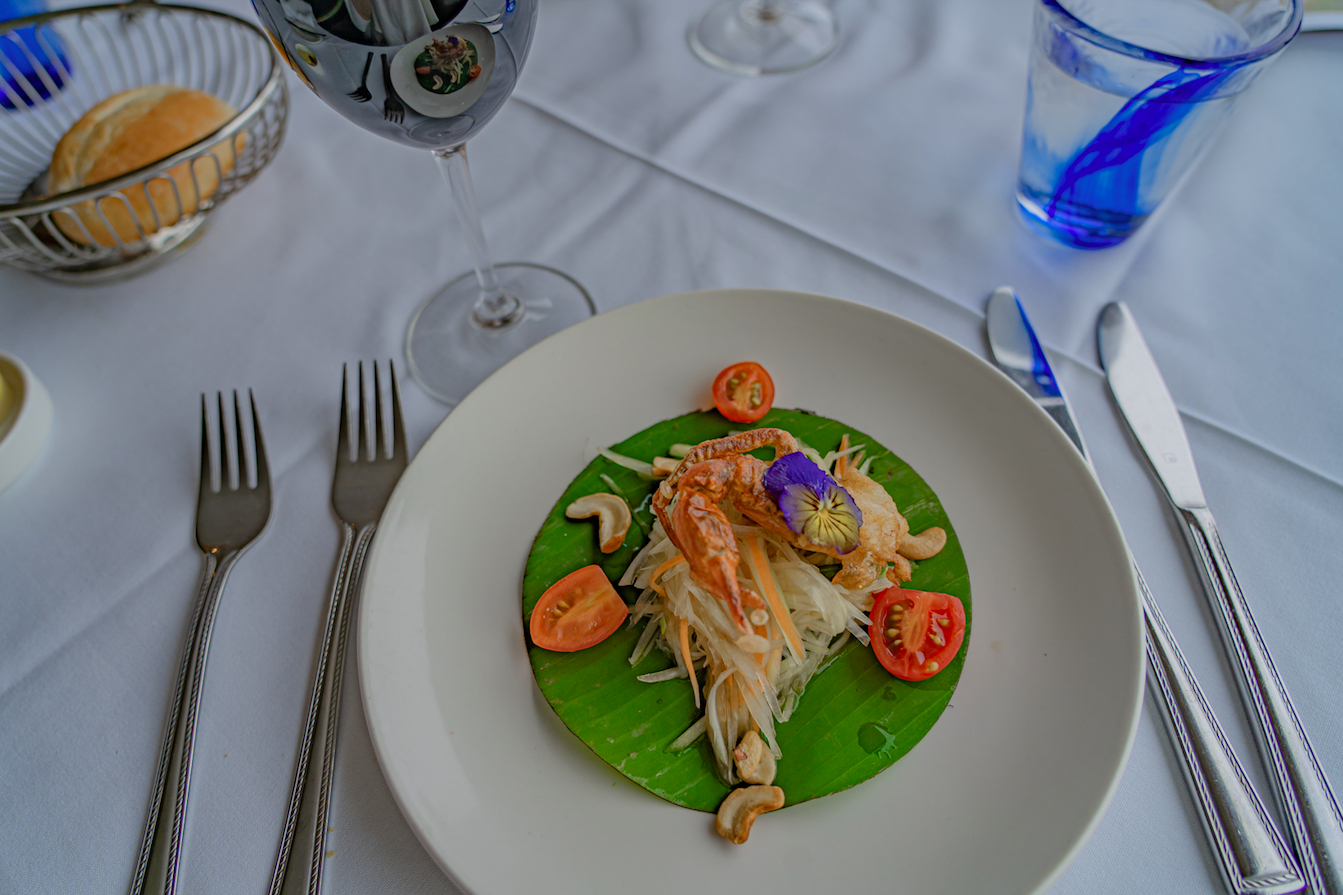 Entrée: Thai papaya salad with fried soft-shell crab.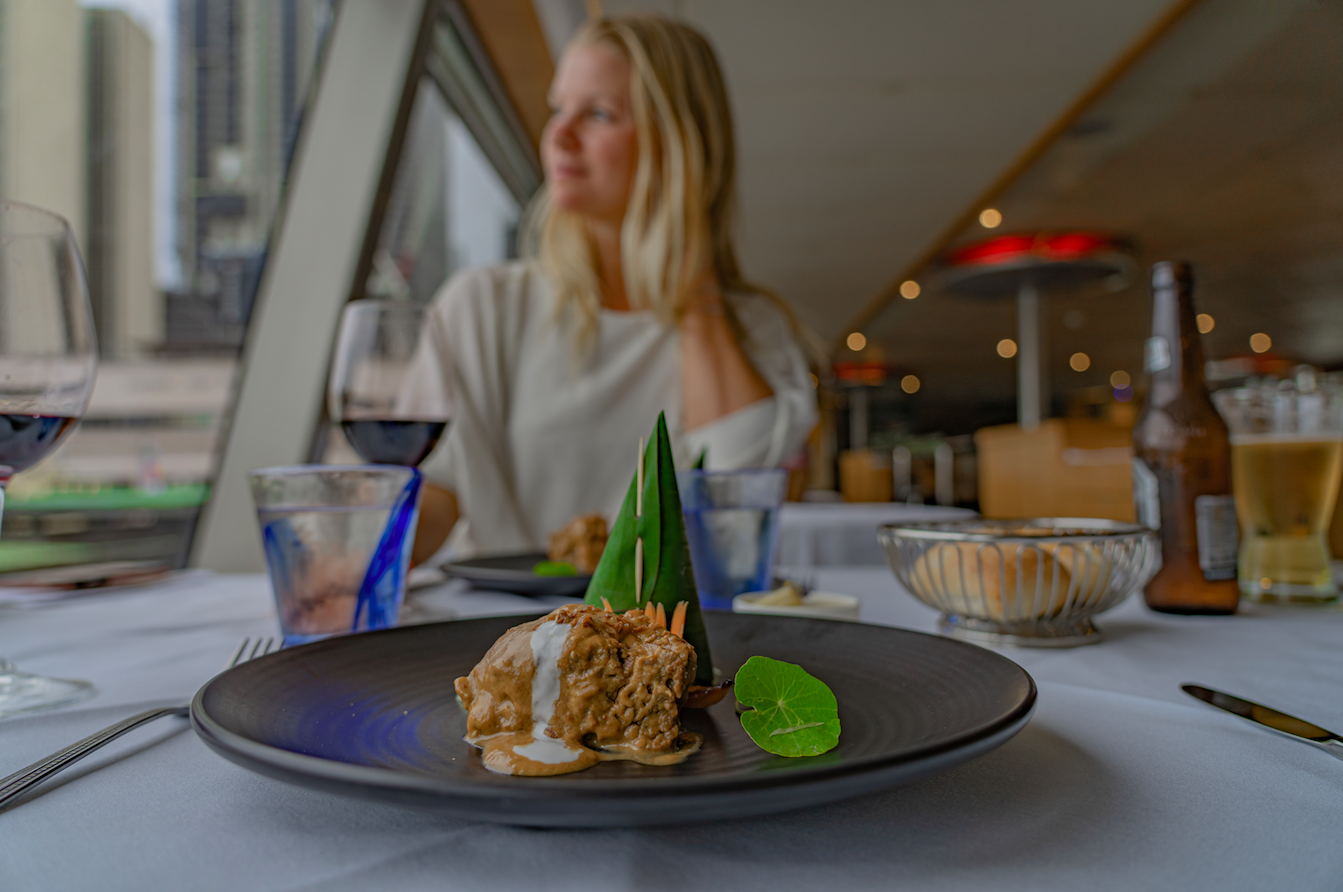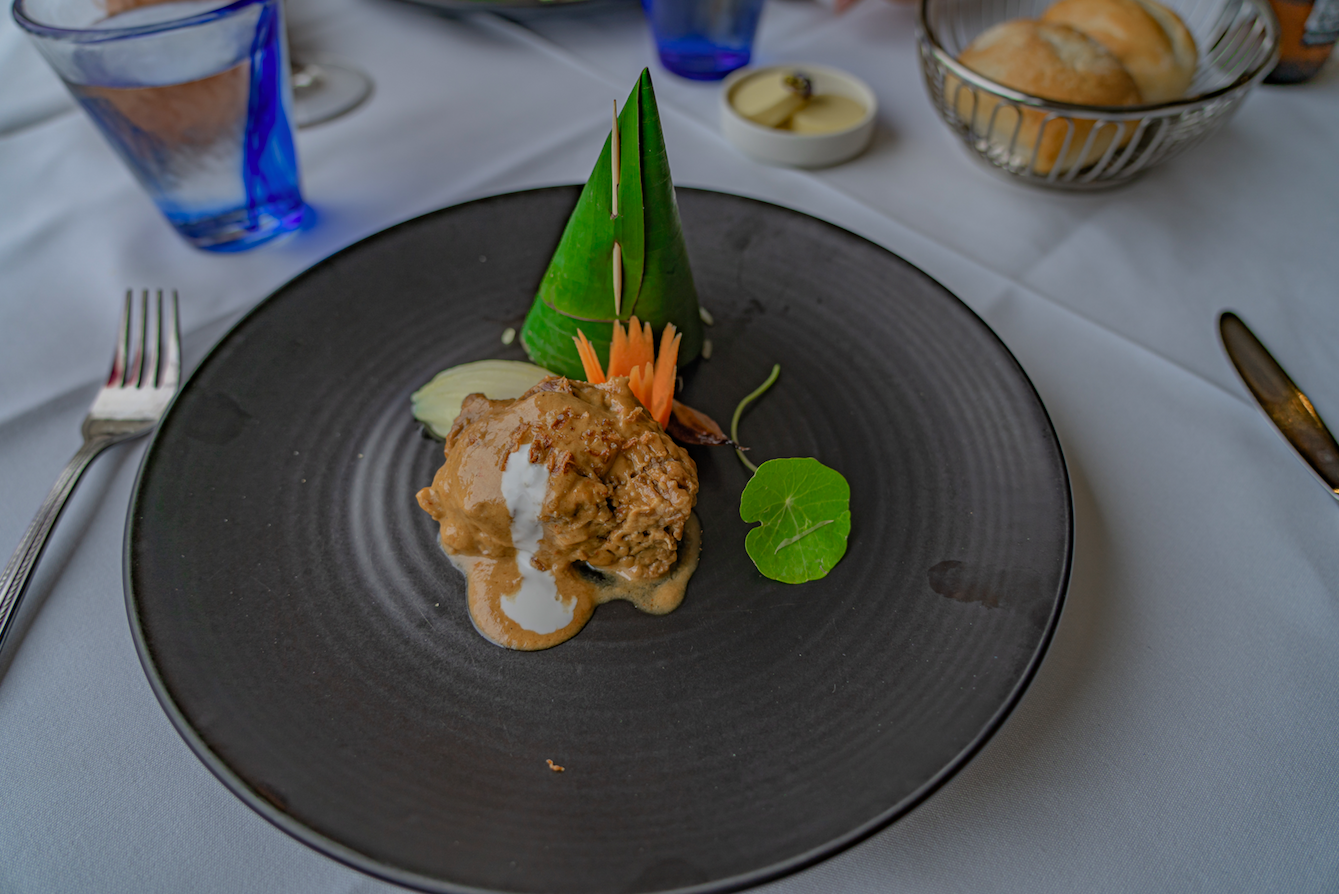 Main course: Slow cooked beef Massaman curry accompanied with steamed rice. We also tasted the Cantonese steamed fish.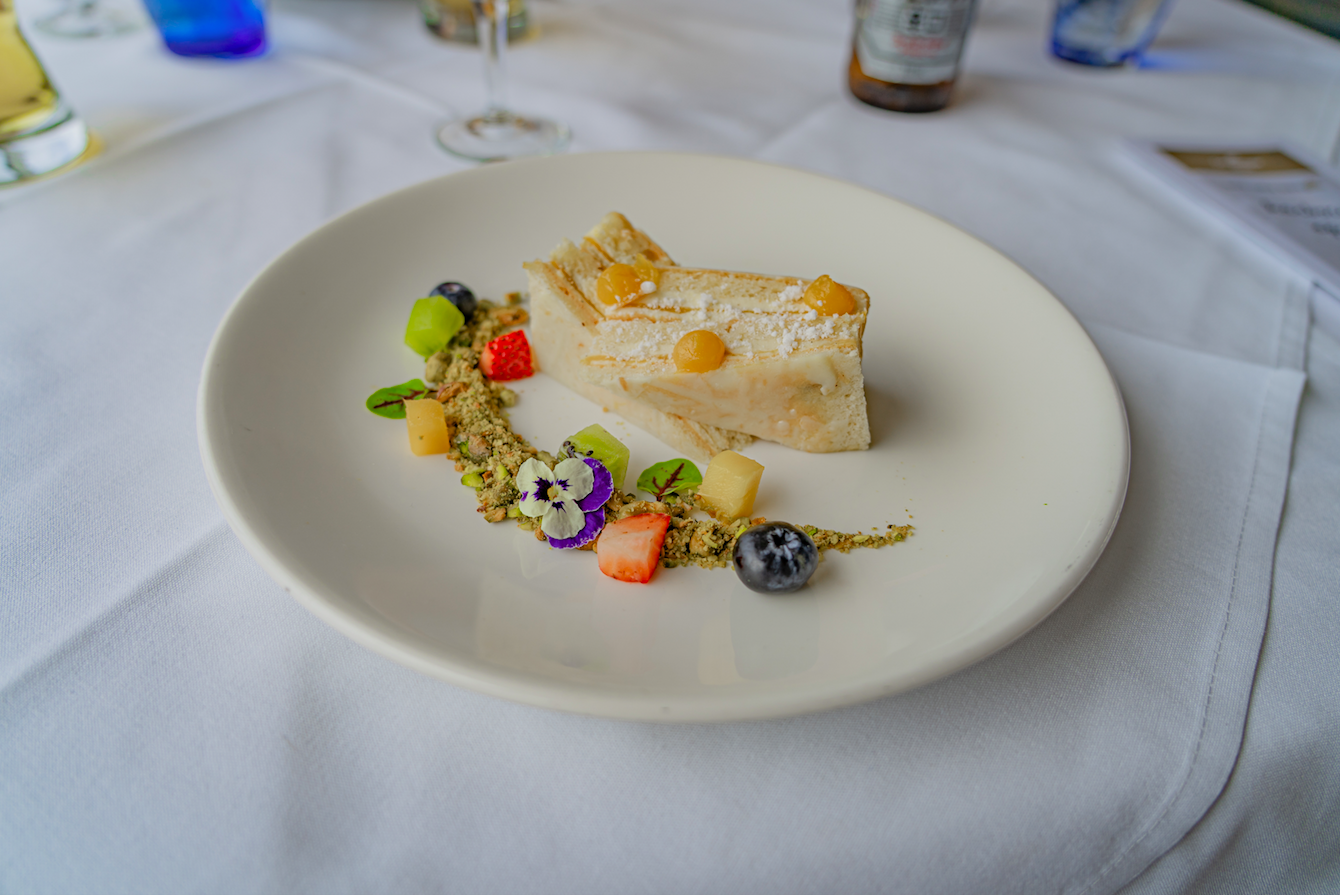 Throughout the whole cruise the service was flawless. The staff were so friendly and professional when it came to meet, greet and serve us. We had the most splendid time and couldn't have asked for anything more.
Captain Cook Cruises flagship the MV Sydney 2000 is located in the Sydney Harbour and takes of from Circular Quay Wharf 6 during the Gold Lunch Cruises.
You can easily reach the harbour by either tram, train, taxi or bus depending on your current location.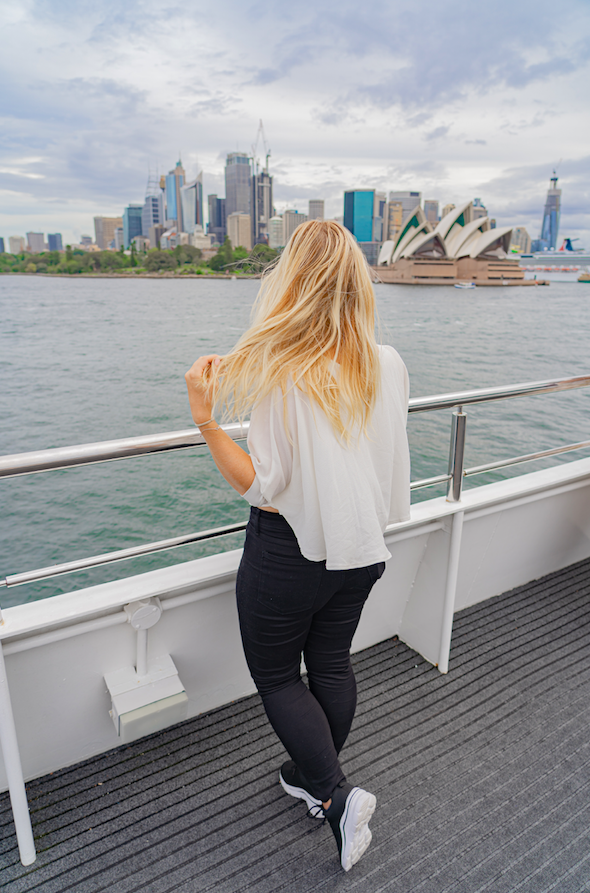 Sofia overlooking the Sydney Opera House from the top deck. 
Cruising the beautiful Sydney harbour while enjoying wonderful food and drinks is probably one of the best things you can do in Sydney when visiting here. An extraordinary experience and something you should definitely not miss. 
Book your own experience with Captain Cook Cruises today and reserve a spot
by either clicking through to their website here, or by clicking the book your cruise button below.
THANKS FOR READING OUR BLOG ♥
Hi! We are Sofia and Fredrik - and we have been traveling
the world for more than 10 years. We live a travel lifestyle
and create travel content as bloggers, photographers and
digital nomads. Our aim is to inspire you to explore the world
and enjoy the freedom that comes with it.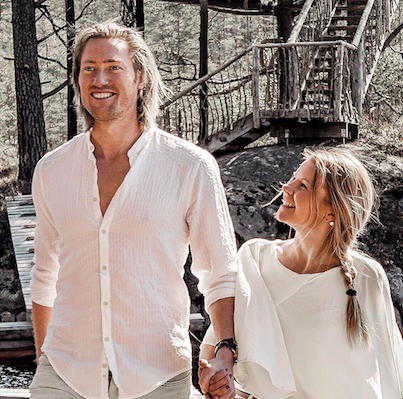 Copyright © 2019 Vagabonds of Sweden. All rights reserved